It's almost poetic that Ja'Marr Chase would be the first player in Cincinnati Bengals history to wear the No. 1 jersey. The team's first pick in the 2021 NFL Draft, Chase stormed onto the scene in Week 1, when he caught five balls for 101 yards and one touchdown. For the next four months, almost no one could stop him. The speedy, physical wide receiver's first season was filled with one brilliant highlight (201 receiving yards vs. Baltimore) after another (320 yards, 4 TDs in two games vs. Kansas City).
The LSU product easily finished the season first among rookie receivers in yards, TDs and yards-per-reception average, all while helping to lead the Bengals to their first Super Bowl appearance since 1989. If he can keep this level of productivity up for another seven or eight years, Joe Burrow's favorite target will go down as one of Cincinnati's best picks ever.
Chase has a number of rookie cards from 2021, so use this Sports Card Investor guide to see which ones we think you should focus on. Cards are broken down into tiers, ranging from the most affordable and more popular options to the most unique, expensive and rare.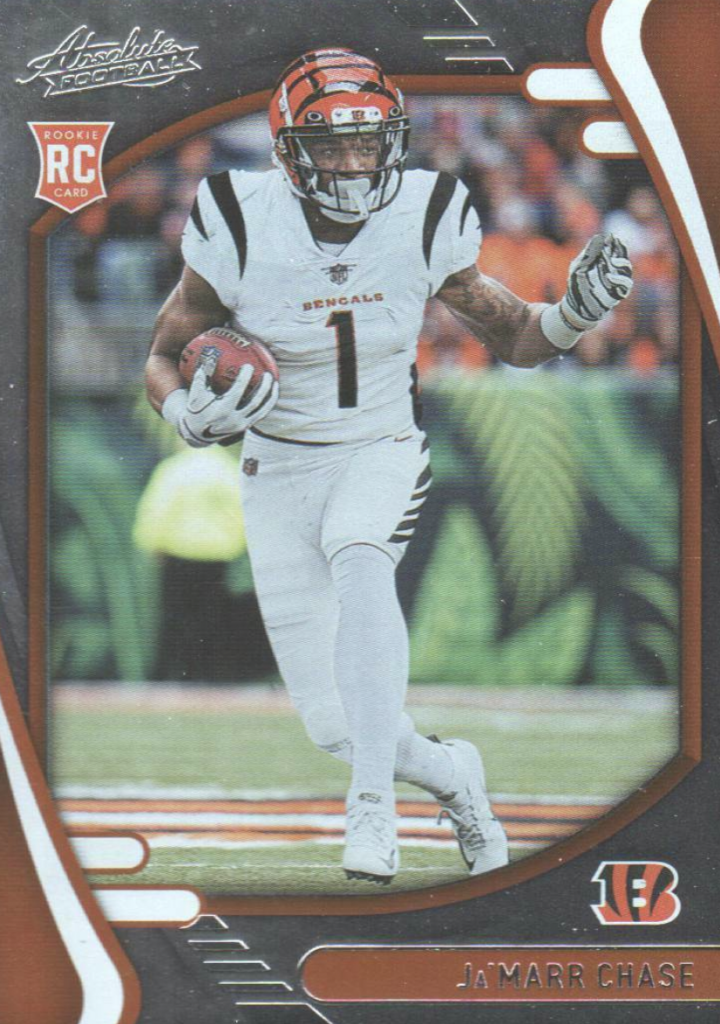 VALUE ROOKIES:
The Value Tier includes cards with high print runs or lower-quality cardstock. A good fit for new collectors or those on a limited budget.
Donruss #262: According to PSA, only 12 of these had been graded in early-February '22. Secondary markets have seen robust sales of slabs and raws. Graded cards that were going for $95 jumped over $600 once Cincy's Super Bowl ticket had been punched. Look out for the cool Rookie Revolution insert and a host of valuable autos, here, too.
Absolute #105: Absolute cards have a sturdiness and a slight sheen. Once you add in some decent imagery — like in the case of Chase, it almost appears that the receiver is prepping to stiff arm someone — you have one of the more underrated value sets.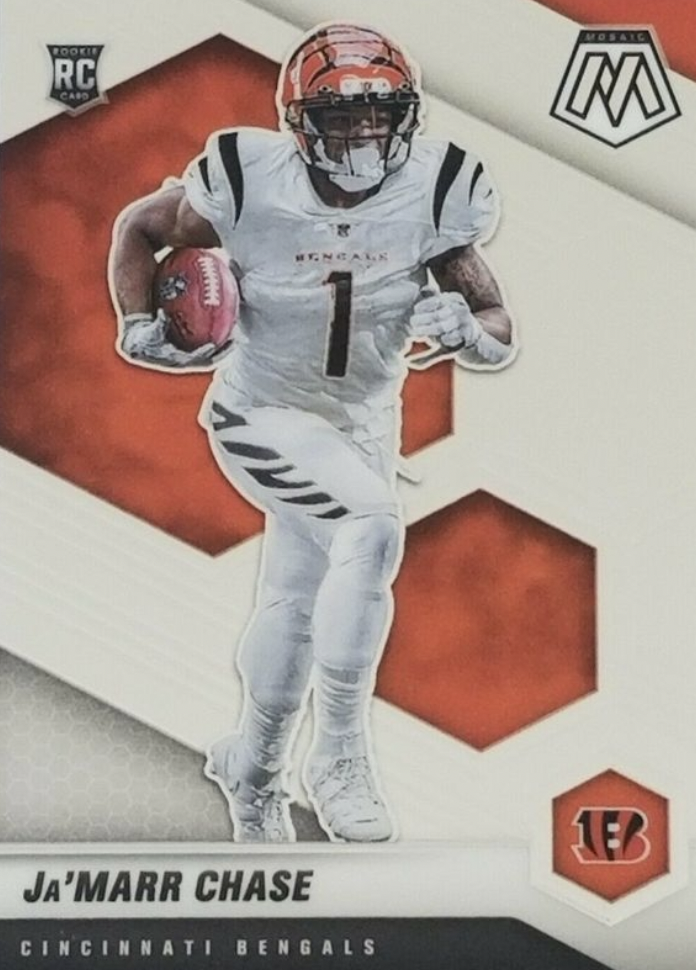 POPULAR ROOKIES:
This tier includes cards from the most popular sets across both retail and hobby formats. Typically easy to buy or sell when needed.
Origins #112: If you're looking for a bit of vibrance and artistic flair with your football cards, this is the brand to seek out. In this case, the way that the Bengals orange on Chase's helmet complements the splashy background makes for a frame-worthy piece.
Mosaic #307: With its chrome finish and hexagonal shapes, these cards have a sci-fi feel to them. And if we're talking about the future, should you get your hands on one of the WR's Silver Prizms (already going for $75 raw), your next few investing years should be bright.
Panini XR #105: While the XR base is a good-looking option, this set outdoes itself with inserts like X-Factor Materials, Triple Threads and Impending Greatness that are more than worthy of inclusion in your Chase collection.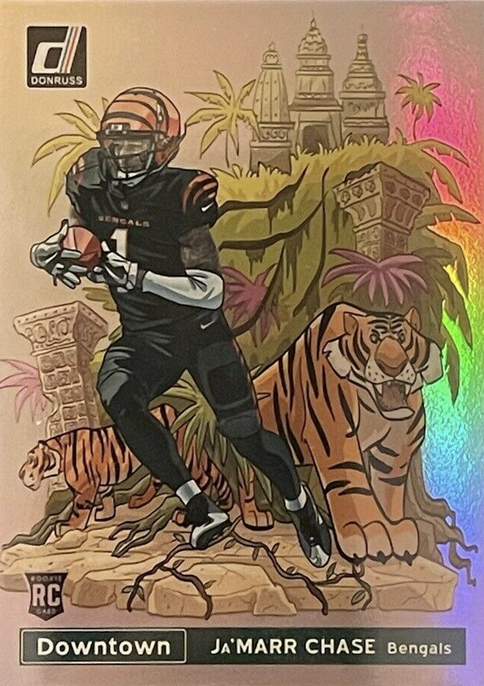 MORE UNIQUE ROOKIES:
This tier includes cards with lower print runs, unique designs, or cards from hobby-only products. Usually higher-quality cards than the Value or Popular tiers, though not necessarily more popular or easier to buy or sell.
Certified #107: Another brand that doesn't get the accolades it deserves, Certified annually produces a super clean product. You'll see what we're talking about with Ja'Marr's moderately printed card (all rookies in this set are out of 399). A host of colorful rookie patches (like the stunning Gold out of 10) also stands out.
Donruss Downtown: This insert is a hobby favorite because of its rareness (one Downtown per case) and value (Chase's PSA 10 sold for $2,850 in February '22). But the image itself of the talented wideout running atop a tiger-filled, Shangri-La-esque landscape is dope as well.
Absolute Kaboom!: If you declared that Kaboom! was one of the most important inserts of the past decade, you wouldn't get an argument from us. And after seeing the sticker prices ($750 raw) of some of Chase's recent sales, you wouldn't debate it either.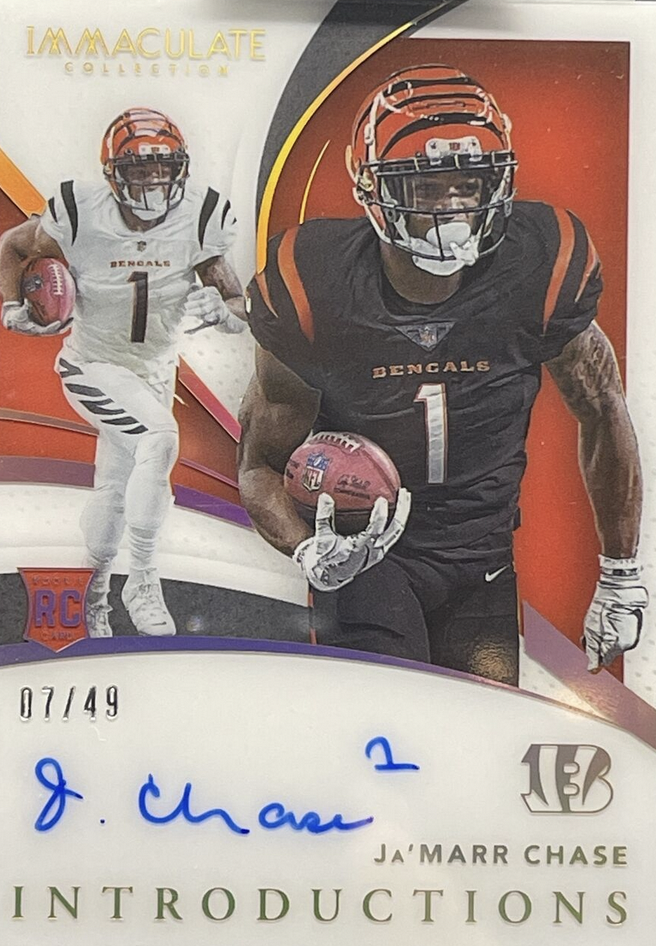 RAREST AND MOST EXCLUSIVE:
We won't spend much time here because this category is likely out of reach for most collectors due to price, but they are still fun to look at.
Sets like Immaculate typically feature visually stunning designs and low-numbered cards.
This is also where you'll find the most impressive patches paired with high-quality, on-card autographs. Don't worry if this tier is too pricey as there's a host of options in other categories that could be perfect for your collection.
Track your collection and maximize your profit with Market Movers, the hobby's most powerful sports card pricing platform! Learn more here.
Note to readers: If you purchase something through one of our affiliates, we may earn a commission.