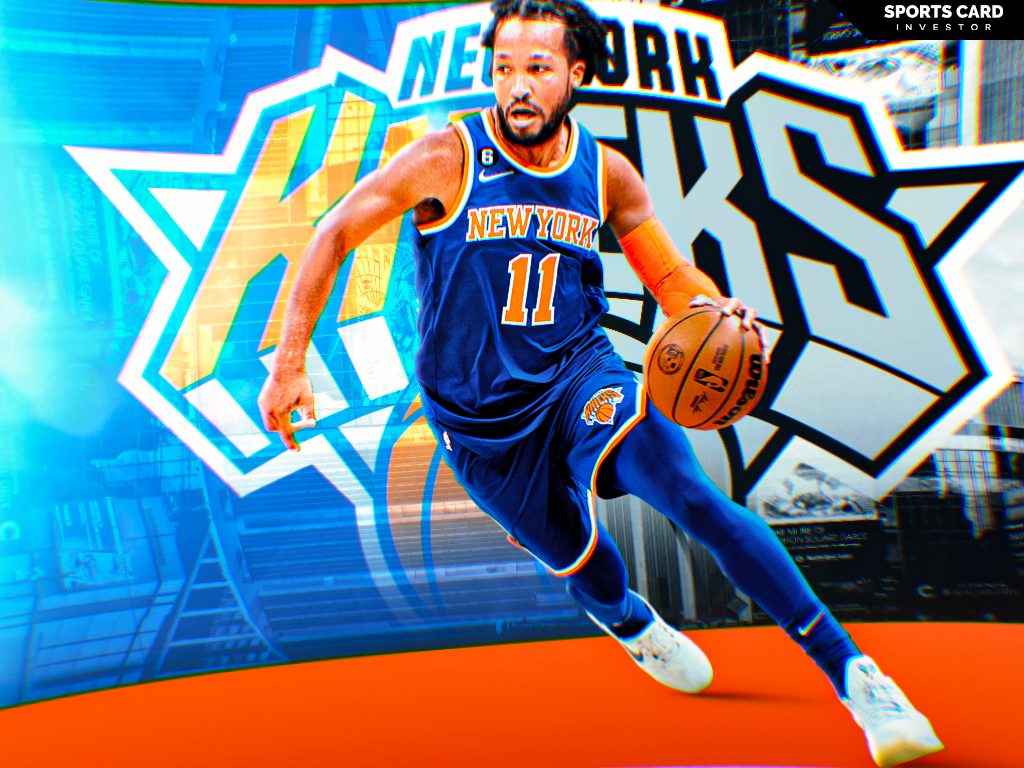 Jalen Brunson Rookie Card Guide: Best Sets & Parallels
Since entering the NBA, Jalen Brunson has outperformed expectations and continued to improve year after year. Now entering his 6th season, the crafty point guard looks to lead a rapidly improving New York Knicks franchise into a successful playoff run with the likes of Julius Randle and R.J. Barrett. Coming off a season where Brunson averaged 24 points per game, there are a myriad of cards to choose from. Let's dive into his key cards.
Value Rookies
The Value Tier includes cards with high print runs or lower-quality cardstock. A good fit for new collectors or those on a limited budget.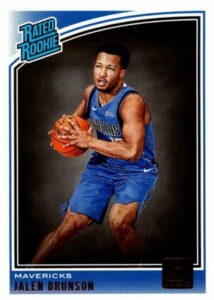 2018 Donruss Base #179 PSA 10: Kicking off our selections is Brunson's 2018 Donruss Base in PSA 10. This card can be purchased for less than $25, and offers a low pop count of just 49. The card art features Brunson sporting his Mavericks jersey, and is color matched by the blue-bordered finish. A great option for those on a budget or looking to buy in bulk, this card sold for as high as $45 in 2022, and with the amount of upside the Knicks and Brunson have, arguments can be made that there are several markers that could get this card near that value again this season.
2018 Prizm Base #250 PSA 10: Next is his 2018 Prizm Base in PSA 10. Recently sold at $40, this card is currently undervalued, as the 365-day average was $51. At the end of last year's regular season, the card was trading for as high as $99, a number that could be seen again if the Knicks make the playoffs in back-to-back seasons. The card also features a desirable pop count of 142 while still being decently liquid, trading 29 times.
2018 Optic Base #179 PSA 10: Rounding off our value picks is Brunson's 2018 Optic Base. Down 33% in PSA 10 the last 365 days, this card is currently in a spot we believe to be undervalued, as it can be scooped up for just $30. Card art featured is also color matched between the jersey and border. 
Popular Rookies
This tier includes cards from the most popular sets across both retail and hobby formats. Typically easy to buy or sell when needed.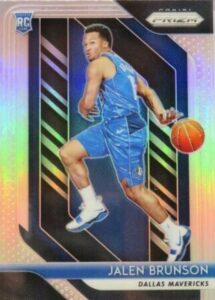 2018 Prizm Silver #250 PSA 10: The most popular Brunson rookie card over the last 365 days is his 2018 Prizm Silver. In PSA 10 the card was swapped 99 times and sold for as high as $250. However, you can pick one up now at a discount as it is currently being traded for $133. It spiked heavily towards March of last year as the Knicks made their charge for 5th in the East, and you can expect to see similar gains if they can repeat a similar regular season performance. The card features a sweet-spot pop count of 352, and is high on our recommended list of Brunson profit plays.
2018 Prizm Red White Blue #250 PSA 10: You'll see a similar theme here of Brunson's Prizm prints being popular for him, and his 2018 Prizm Red White Blue in PSA 10 is no different. Over the last year the card was traded 42 times, selling most recently for just $58. For an option that was traded as high as $150 in March, the Red White Blue makes up for its less-than-appealing card art colors with high upside and liquidity levels.
2018 Prizm Pink Ice #250 PSA 10: Our final popular pick is Brunson's 2018 Prizm Pink Ice in PSA 10. The card owns a pop count of 63, and was traded 29 times over the last 365 days. It's worth noting that this card has seen a decent pricing bump over that time period, but this volatility should give collectors the promise that the card is desirable enough to spike.
Unique Rookies
This tier includes cards with lower print runs, unique designs, or cards from hobby-only products. Usually higher-quality cards than the Value or Popular tiers, though not necessarily more popular or easier to buy or sell.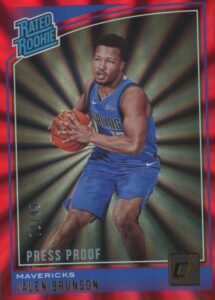 2018 Donruss Press Proof Red Laser /99 #179 PSA 10: This option is great because it holds both rarity and affordability. While having a pop count of just 1, Brunson's 2018 Press Proof Red Laser was traded most recently at just $135. This parallel was also traded for the first time just last month, and with the limited data that we have, definitely sits as a unique card.
2018 Prizm Blue Ice /99 #250 PSA 10: Brunson's Prizm Blue Ice holds an assortment of trading characteristics and stats that make it unique. To start with, the print is splendidly color matched, and holds a pop count of just 22. Additionally, this card is extremely volatile. A year ago the card was trading for $393, a number that exploded to its most recently traded value of $710. If you look at historical trading data for the card, this isn't new, as the card consistently ebbs and flows around and between these two numbers.
2018 Prizm Ruby Wave #250 PSA 10: Rounding off Brunson's unique rookies is his 2018 Prizm Ruby Wave. What makes this card interesting is its recent desirability. For a parallel with seemingly little exterior features that would warrant high levels of support, the print has spiked 1,050% in sales volume over the last 365 days, and has also seen a pricing increase of 32% over that time period. With a pop count of 41, this card can be picked up for less than $100, and might be worth paying attention to if prices drop yet interest levels remain high.
Rarest and Most Exclusive
This category may be out of reach for most collectors due to price. Don't worry if this tier is too pricey as there's a host of options in other categories that could be perfect for your collection.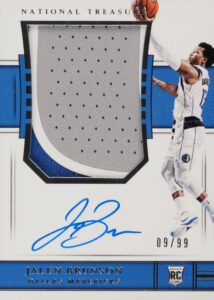 2018 National Treasures Rookie Patch Auto /99 #132 PSA 10: The first rare card we'll be discussing is Brunson's 2018 National Treasures Rookie Patch Auto in PSA 10. Featuring a desirable color match theme on top of his Maverick's jersey patch and signature, this print comes in for $3,600. With a pop count of just two, anyone able to secure this option can be sure they're adding exclusivity to their portfolio.
2018 Prizm FOTL Blue Shimmer /7 #250 PSA 10: Next is Brunson's 2018 Prizm Blue Shimmer. Being that this is a SSP out of just 7, and in PSA 10 has a pop count of just one, this card is arguably Brunson's most rare card to be holding. The card is trading at $3,000 and, you guessed it, color matched. One of our favorite cards on the list.
2018 Prizm Gold /10 PSA 10: Rounding off our list is the lefty's 2018 Prizm Gold in PSA 10. The card has a pop count of three, and was traded just once the last 365 days. This card is trading for just under $900, which could be a great deal as it sold as high as 1,900 in 2021.
With the Sports Card Investor app, you can profit from the hobby you love by keeping up with trending cards, tracking real-time prices with Market Movers and buying items on eBay. Download the industry-leading app here for Apple or Android
Note to readers: If you purchase something through one of our affiliates, we may earn a commission.
Paul Hickey is a regular contributor to Sports Card Investor, the creator of the Sports Card Investment Report at NoOffseason.com, and the host of the Sports Card Strategy Show on Apple Podcasts, Spotify and YouTube. He can be found on Instagram at @sportscardstrategy and on Twitter @nooffseasoncard.