Pairing explosive athleticism with savvy ball-handling and passing, Memphis Grizzlies star Ja Morant immediately became one of the NBA's most electric and exciting players. Morant, along with Pelicans star Zion Williamson, played a major part in the sports card hobby's resurgence in 2020 while running away with the Rookie of the Year award.
Morant has dozens of rookie cards from across the 2019-2020 season, so use the Sports Card Investor guide to see the key cards we think you should know about. This guide is broken into tiers ranging from lower-end value options to high-end and the rarest and most expensive sets.
VALUE ROOKIES:
The Value Tier Includes cards with high print runs or lower-quality cardstock. A good fit for new collectors or those on a limited budget.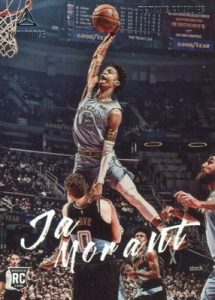 Chronicles #165: Most collectors would agree: Chronicles isn't great for resale value, but it's probably going to be one of your favorite sets. A mashup of discontinued sets from past years, the 2019-2020 release features subsets like Flux and Recon as well as fan-favorites Crusade and Luminance. Shop now >
Contenders #2: Highlighted by Rookie Ticket Autographs, Contenders also has a variety of parallels like the retail-only Green Shimmer. Morant also appears in popular insert sets like Lottery Ticket and the die-cut Superstar set. Shop now >
Donruss #202: One of the flagship products every year, Donruss has a classic look that most collectors can get behind. The 2019-2020 release introduced the super-popular Net Marvels set while buyers should also watch for Laser parallels. Shop now >
Hoops #259: Every Hoops release is a benchmark for the season as it features rookies in their NBA jerseys for the first time. Hoops also features an impressive lineup of inserts, and Morant makes an appearance in the two-card Rookie Special set with Zion Williamson. Shop now >
POPULAR ROOKIES:
This tier includes cards from the most popular sets across both retail and hobby formats. Typically easy to buy or sell when needed. Parallels like Prizm Silver and Optic Holo are among the most popular variations.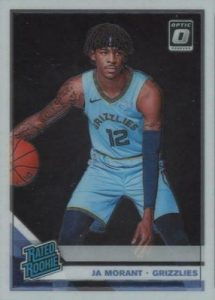 Mosaic #219: Making its debut as a standalone product in 2019-2020, Mosaic finished the season as one of the most popular products thanks to a beautiful lineup of color-based parallels. Format-exclusive parallels like Pink Camo and Orange Reactive give collectors a reason to buy multiple configurations while the ultra-rare Genesis is a popular chase. Shop now >
Optic #168: A Chrome upgrade to Donruss, Optic is likely the second-most popular product behind only Prizm. Collectors can hunt for the cello-exclusive Blue Velocity parallels or the extremely popular Optic Holo. The My House! insert set has also been extremely popular. Shop now >
Prizm #249: The flagship rookie card for the 2019-2020 season, Prizm is the most popular set. Prizm typically carries a significant premium over other sets on the secondary market, and the Prizm Silver parallel is the card to have. Shop now >
Select #72: Carried by multiple levels of rookies varying in rarity, Select also features a wonderful lineup of parallels — Tie-Dye is a fan-favorite — as well as impressive die-cuts. Hobby-only for this season, Select has a lower print run than other popular sets. Shop now >
MORE UNIQUE ROOKIES:
This tier Includes cards with lower print runs and cards from hobby-only products. Usually higher-quality cards than the Value or Popular Tiers, though not necessarily more popular or easier to buy or sell.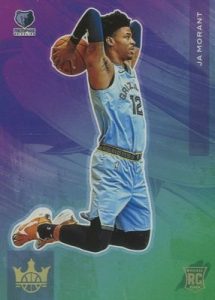 Absolute #72: While this product does have a base set, the variety of memorabilia and autograph cards is why people purchase it. Look for the Tools of the Trade set, which features cards with as many as six pieces of memorabilia. Absolute is also where you can find pieces of basketballs, hats and laundry tags. Shop now >
Court Kings #82: Built around four levels of rookies varying in rarity, Court Kings also features some of Panini's best artwork. Fresh Paint Signatures are one of the best on-card autograph products in Panini's lineup while the First Steps insert features the footwear of the game's best players. Morant also makes appearances in the Acetate Rookies set as well as the case-hit Aurora set. Shop now >
Crown Royale #29: Known for its beautiful die-cut cards, not every collector loves Crown Royale's horizontal rookie cards. The big chase from this release, however, is the ultra-popular Kaboom! insert set. Shop now >
Obsidian #167: Featuring geometric designs in the background, Obsidian is one of the most unique sets in Panini's lineup. A hobby-only product, Obsidian has a lower print run to pair with its beautiful Electric Etch parallels. Shop now >
RAREST AND MOST EXCLUSIVE: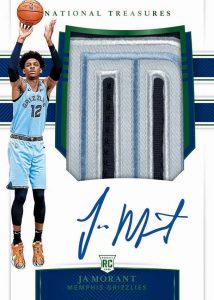 We won't spend much time here because this category is likely out of reach for most collectors due to price, but they are still fun to look at.
Sets like Flawless, Immaculate, Impeccable and National Treasures typically feature visually stunning artwork and low-numbered cards.
This is also where you'll find Panini's most impressive patches paired with high-quality on-card autographs. Don't worry if this tier is too pricey as there's plenty of options in other categories that could be perfect for your collection.
Track your collection and maximize your profit with Market Movers, the hobby's most powerful sports card pricing platform! Learn more here.
Note to readers: If you purchase something through one of our affiliates we may earn a commission.