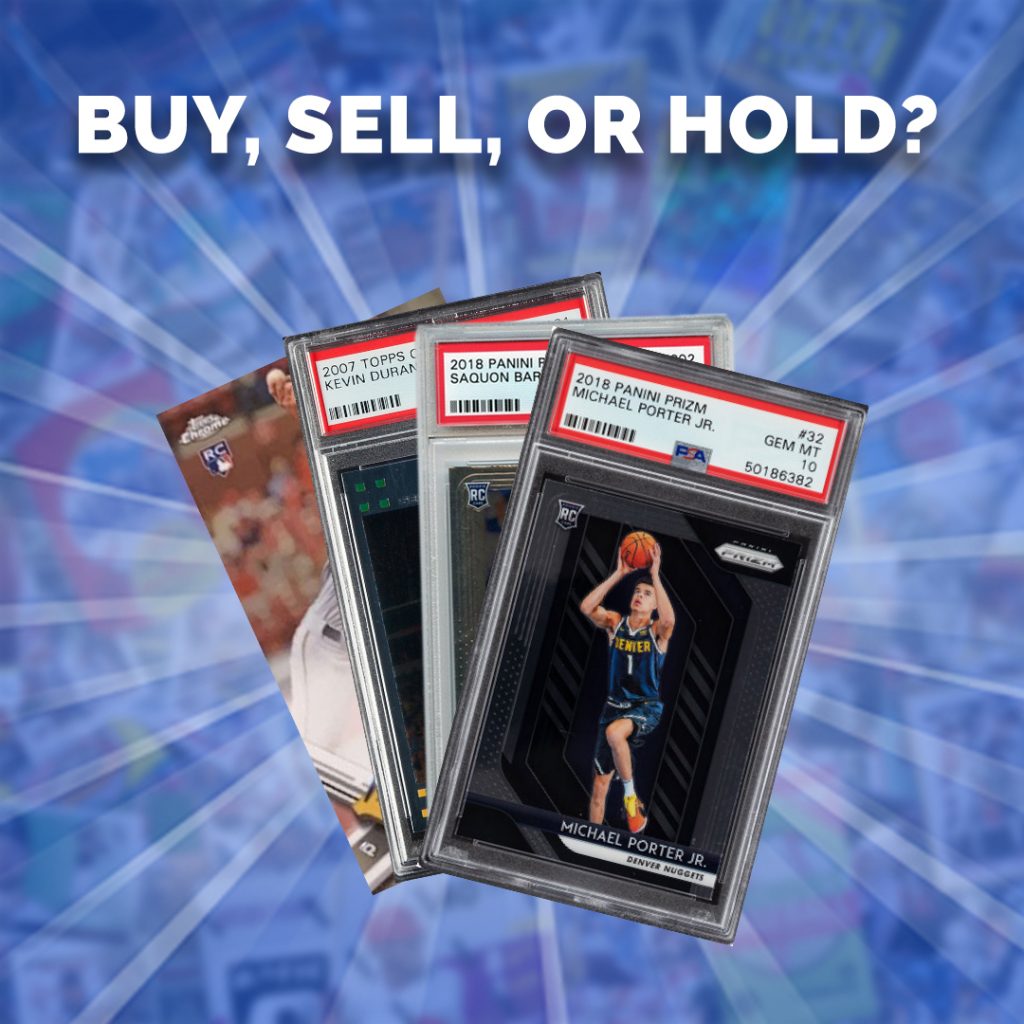 Is There Still Time to Invest in Kevin Durant? Buy, Sell, Hold
This week's Forecast is led by some injury news and a look at collecting one of the NBA's current megastars.
Already a popular purchase for some, Michael Porter Jr. could be in line for some serious burn with the Denver Nuggets after guard Jamal Murray suffered a torn ACL Tuesday night.
In the NFL, is New York Giants running back Saquon Barkley worth a buy right now? Barkley tore his ACL at the start of 2020, but should be ready for Week 1.
Here's a breakdown of this week's Forecast, but be sure to watch us on YouTube for a deeper dive on each card:
Michael Porter Jr.
Porter Jr. has been a popular target for collectors since he was drafted in 2018, but this could be his chance to finally play a leading role with the Nuggets. Nikola Jokic will still be the star in Denver, but he'll need a good sidekick to help carry the scoring load.
He's already averaging 17.5 points per game, so it'll be interesting to see where that goes with Murray out indefinitely. His 2018 Prizm PSA 10 is down 15% over the last 90 days.
Geoff's pick: Buy
Tyler Glasnow
Already off to a hot start in 2021, Glasnow is among the league leaders in strikeouts and is currently sitting at an unbelievable 0.46 ERA. That ERA will certainly go up, but the big question with Glasnow right now is if it's even worth investing in pitchers at all.
His 2017 Topps Chrome Auto Raw is up 89% over the last 90 days.
Geoff's pick: Buy
Saquon Barkley
Few players in the NFL are more exciting than Barkley, but there's still major concerns with the Giants star RB coming off an ACL tear. Running backs rarely find much traction among collectors, though Barkely has proven to be among the stars that are viable.
His health moving forward will be the key here. Barkley's 2018 Prizm PSA 10 is up 44% over the last 90 days.
Geoff's pick: Hold
Kevin Durant
One of the most lethal scorers the NBA has ever seen, Durant's place within the hobby is pretty well established. He could get a championship bump with the Nets, though, so it might not be too late to get in if you can afford it.
Durant's 2007 Topps Chrome PSA 10 is up 17% over the last 90 days, but is down 30% since an injury in February.
Geoff's pick: Buy
Track your collection and maximize your profit with Market Movers, the hobby's most powerful sports card pricing platform! Learn more here.