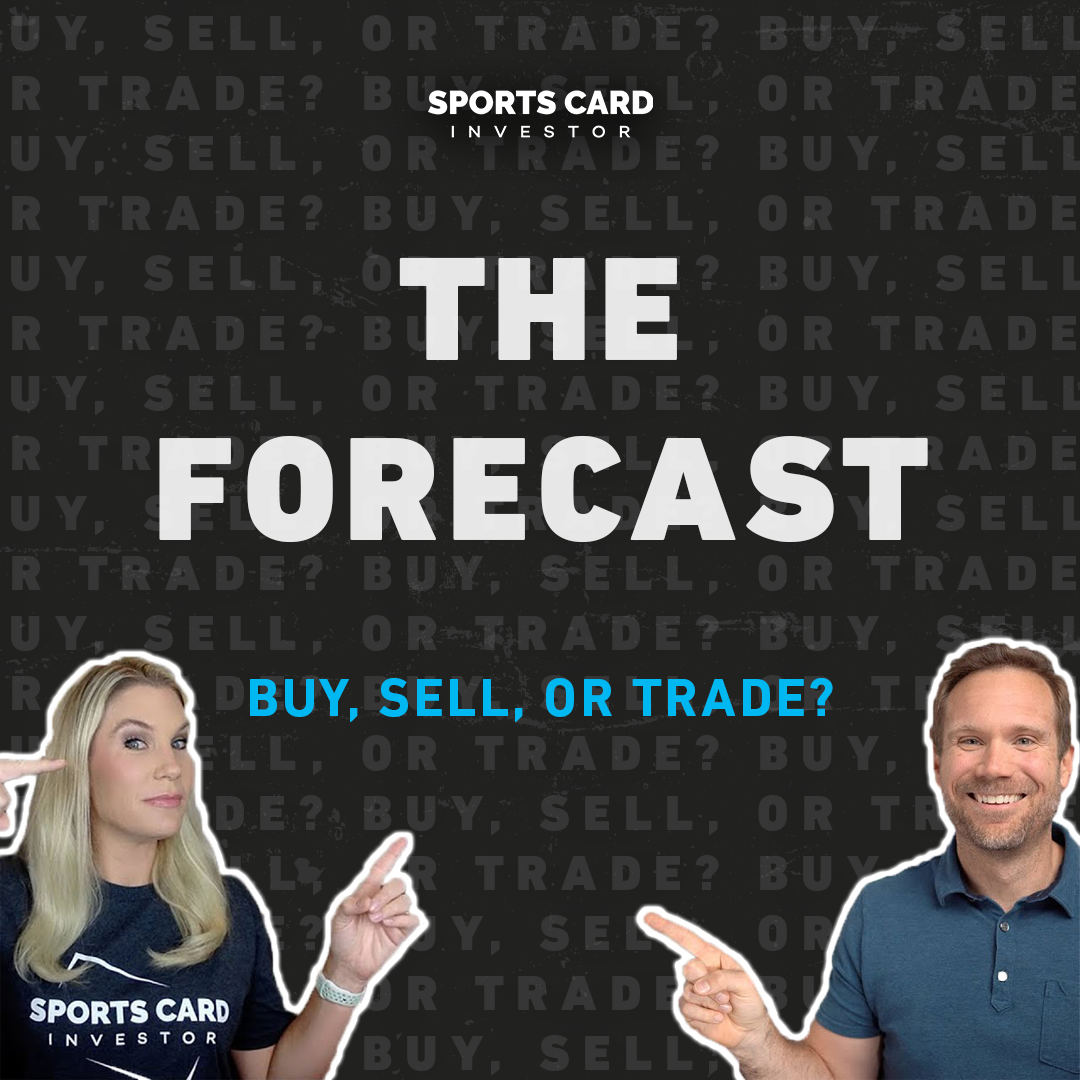 Miami Dolphins QB Tua Tagovailoa has been a hobby favorite since the 2020 NFL Draft, but hasn't lived up to the hype so far. Already out again in 2021 with another injury, is it time to move on from Tagovailoa?
We cover that and more community submissions in this week's Forecast:
Tua Tagovailoa
Tagovailoa's stretch of health quickly ended in Week 2, and he's been ruled out for Week 3. He's already had several major setbacks from injury, so his long-term health is a major concern for collectors.
The Dolphins appear committed and have been happy to build around him, but it doesn't matter much if he isn't available. Tagovailoa's 2020 Prizm Base PSA 10 is down 43% over the last 30 days.
Parker's pick: Sell
Kevin Durant
The Brooklyn Nets were almost certainly heading to the NBA Finals if Kyrie Irving and James Harden were healthy last season, so it's easy to see why Durant's cards have been surging a bit.
An early favorite to win another title, Durant has a few key rookies that are worth watching. His 2007 Topps Base (Factory Set) PSA 10 is a common purchase and is up 11% over the last 30 days. His signature 2007 Topps Chrome Base PSA 10 is up 42% over the same period.
Parker's pick: Buy
Jude Bellingham
One of the hobby's favorite young soccer players, Bellingham could see a big bump if he's part of a rumored transfer. Chelsea, Man City and Liverpool are all reportedly interested in bringing him over from Borussia Dortmund, and moving to the Premier League will certainly give his prices a bump.
His 2020 Topps Now Bundesliga Base PSA 10 (pop 704) is up 31% over the last 30 days.
Parker's pick: Hold until he transfers
Joey Votto
Votto is a Reds legend that's likely a Hall-of-Famer, but his popularity in the hobby is a serious long-term concern. He's been criticized over the years for opting to walk rather than swing, and his dip in power recently hasn't helped either.
Votto's 2008 Topps Base PSA 10 has a pop of just 530, and is up 113% over the last 60 days. It should be noted that his cards in Market Movers haven't seen much sales volume over the last year.
Parker's pick: Sell
Yadier Molina
Molina is mostly just wrapping up his Hall-of-Fame career hoping to hit a couple more milestones, and it's showing in his productivity. He's batting just .255 this season, but that shouldn't hurt his hobby standing much, if at all. One of MLB's legendary catchers, Molina should get into the Hall on the first ballot, and collectors have started preparing for that price bump early.
A low graded population has resulted in few sales, but his 2004 Topps Base PSA 10 should still be targeted. That 2004 Topps Base has a pop of just 217 and has seen a small 6% dip over the last 60 days.
Parker's pick: Buy