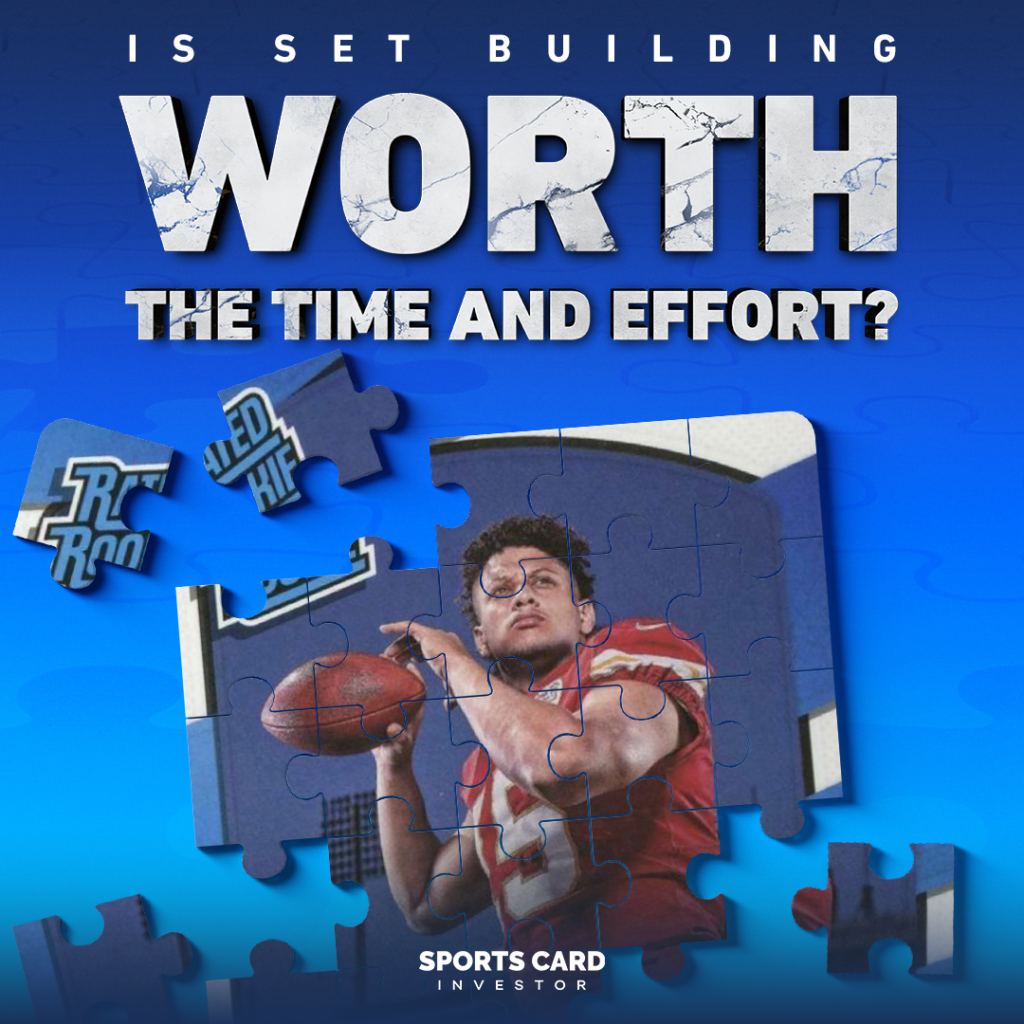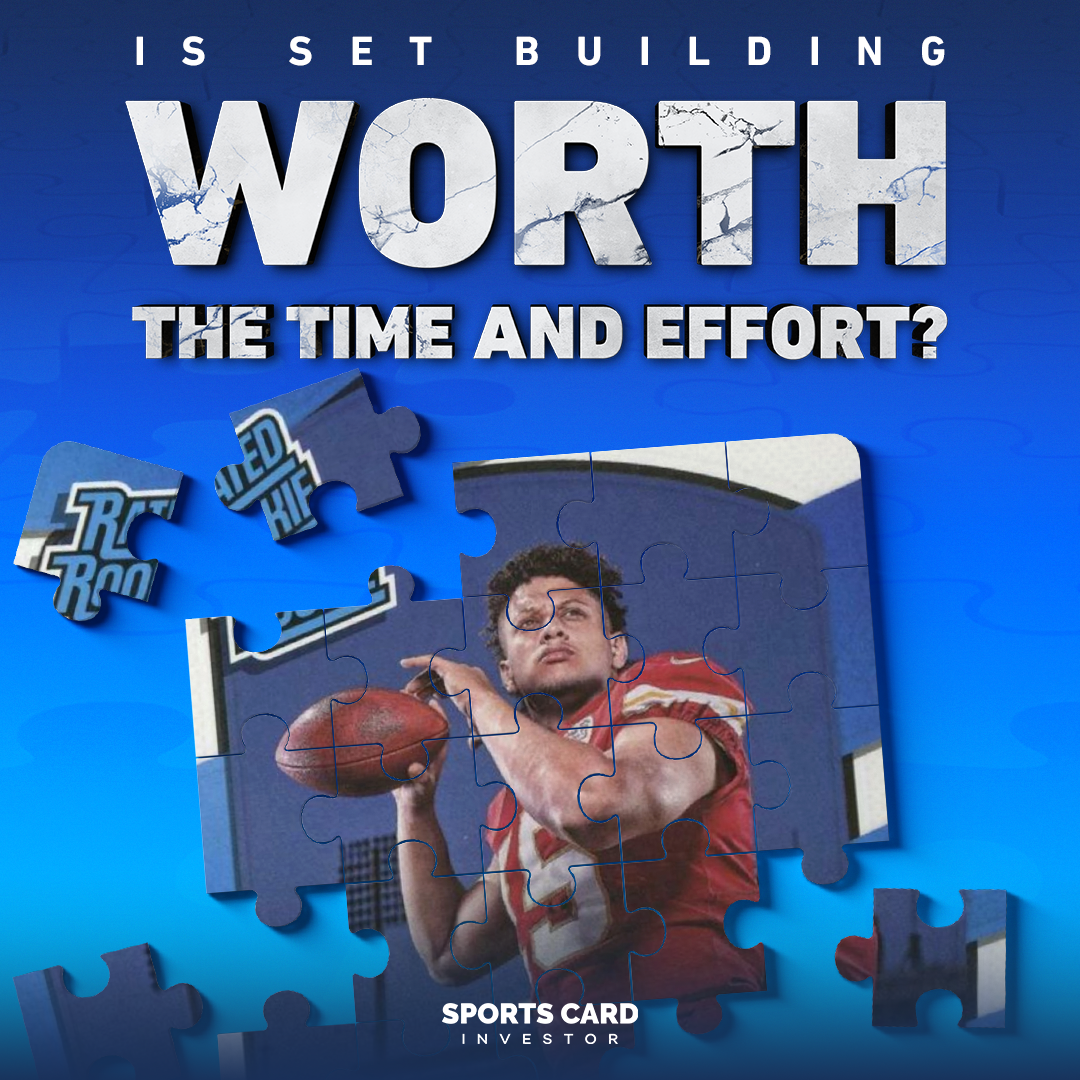 Is Set Building Worth the Time and Effort?
Have you ever scrolled through eBay's "Completed Items" category and noticed a sale for a random player's base card and wondered why anyone would buy it?
While it may look like the consumer was simply buying some no-name guy's single, more often than not, the buyer was making the purchase because he was missing said card from a set he was trying to build. That collector's not alone. The notion of investing in singles has skyrocketed over the last couple of years. And a big reason why is because set building has become such a profitable endeavor.
In the glory days of the hobby, building sets was considered a primary goal for collectors. Some of the rationale was that fewer and fewer people would take the time each year to complete a set. Keeping with that thinking, at some point in the future, there would be a finite number of collectors who owned decades' worth of sets for a specific product, thus greatly appreciating the value.
Although there is merit to this idea, there are other not-so-obvious things to consider when completing a set and assessing whether it is worth the time and effort. 
One of the more common incentives to building sets is the ability to win a "chase card." Back in 2017, Upper Deck announced its innovative Bounty Program. In essence, collectors were encouraged to build complete sets of certain Upper Deck brands. Upon completion, you could earn limited-edition variation cards. The reason this sparked excitement with hobby enthusiasts was because these special items could not be ripped out of wax. And we all know how important it is to get your hands on something rare in the hobby.
Another thing to consider when discussing chase cards is the exclusivity of certain athletes. Upper Deck has a strong relationship with a guy named Michael Jordan. How strong? Well, Upper Deck is the only card manufacturer that can use MJ's image or autographs on its cardboard. 
A slept-on brand that Upper Deck produces is called Goodwin Champions. This unique set doesn't focus on any one sport. Given that these cards have a more novelty feel, why would collectors bother purchasing them? Because you could pull a Michael Jordan autograph. Talk about a rarity!
So, while a limited Air Jordan auto didn't require building a set, Goodwin Champions collectors were still incentivized by this product for what could be considered a holy grail of exclusivity. It's important to note, though, that Goodwin Champions includes bounty cards for those interested in completing the set.  
Other companies have formed their own derivative of bounty programs in recent years, too, that have sparked set-making interest. When it comes to numbered parallels, it was not uncommon for checklists to include cards out of 100 or 1,000.
Of course, brands like Prizm have taken that concept to new levels by creating ultra-rare inserts that were 1/1s or 1/5s. Though these are not redeemable cards, collectors have needed to narrow their focus on specific products in an effort to find a card that's the equivalent of a Willy Wonka's Golden Ticket.   
This leads us to another potentially profitable aspect—creating your own "set." Rather than trying to collect hundreds of base cards for, say, a complete 2021 Crown Royale set, investors may be better off hunting for subsets. We've written before on how collectors will pay a premium for the popular Kaboom! cards. While some cards in the colorful subset are more popular than others, all of them are rare.
Of course, Kaboom! is a top-shelf example to consider. Crown Royale has Sno Globe, Heir to the Throne and other less-expensive inserts. Go with the custom collection that makes sense for your wallet.
Still, there are times, like right now, when market conditions are widely unknown. It's then that the safest approach may be to flock to blue-chip assets. When it comes to cards, re-allocating capital from prospects or young stars to the GOATs is usually a safe bet. While there could be more near-term upside to young superstars, rounding up the Tom Bradys and LeBron Jameses tends to generate superior price appreciation over the long-term.
Speaking of all-timers, one of the rarest subsets of cards is the Bath Ruth collection from 1933 Goudey print. Although several of these cards exist individually, the pop count on owning all four is extremely low, especially if they are graded. This is an example of building a mini set within a set. Instead of trying to gather the entire 1933 Goudey checklist, pursuing the four Ruths is could prove a better use of time and capital.  
But vintage hunting or not, building sets is a potentially safer way to profit from the hobby during periods of economic turbulence—especially when you consider the alternative is speculating which player will have a breakout season. During unpredictable times, it is paramount to keep in mind that there is always value creation to be had in the markets. Sometimes you just need to be a little creative. And set building may be a good place to start.
With the Sports Card Investor app, you can profit from the hobby you love by keeping up with trending cards, tracking real-time prices with Market Movers and buying items on eBay. Download the industry-leading app here for Apple or Android
Note to readers: If you purchase something through one of our affiliates, we may earn a commission.