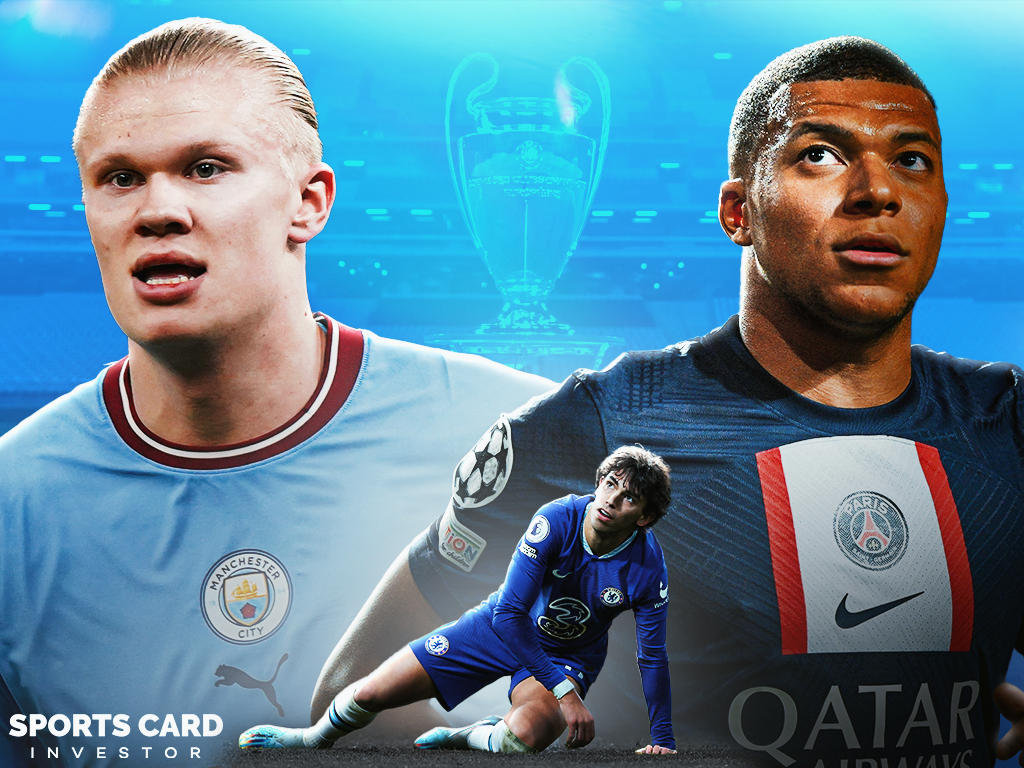 Is Player Performance Driving Prices in the Soccer Card Market?
We're into the Quarterfinals of the UEFA Champions League Fixtures and the soccer card market is still establishing how much impact UCL performances have on the card value of individual players.
With the final eight teams being Napoli, Milan, Chelsea, Real Madrid, Bayern, Man City, Inter and Benfica, players like Joao Felix (on loan to Chelsa), Mason Mount, Kai Havertz, Mykhailo Mudryk and maybe even Christian Pulisic have a chance to improve their card values. 
Of course, names like Vini Jr., Benzema, Eduardo Camavinga, Sadio Mane, Jamal Musiala and Phil Foden should be monitored as well. But all eyes are on Erling Haaland, perhaps the most investable footballer in the Champions League right now.
But don't limit yourself to the final eight teams in terms of sports card investment opportunities. Even though the following players have been eliminated, you'll see them well represented in this month's UEFA Champions League Cards Market Report — Mbappe, Pedri, Messi, Ronaldo, Jadon Sanco and Robert Lewandowski.
For clarity, in this report, we're looking at cards of players that are in the UCL, not necessarily only UCL licensed cards.
Cards listed below are PSA 10s with multiple sales over the last 30 days. 
PRICE GROWTH PERCENTAGE RISERS
WERNER PROVES PERFORMANCE DRIVES VALUE: From a percentage growth riser standpoint this past month, we saw Leipzig striker and German National Timo Werner reach 100 career goals in Bundesliga (16 this season), scoring two more over the past week in a win over Augsburg. As a result, two of his base rookie PSA 10s shot up in value after they plummeted the past two seasons in Chelsea due to his struggles on the pitch. This is a good sign for any soccer card investor looking to take a flier on a veteran hoping to rebound in a new club — Pulisic anyone?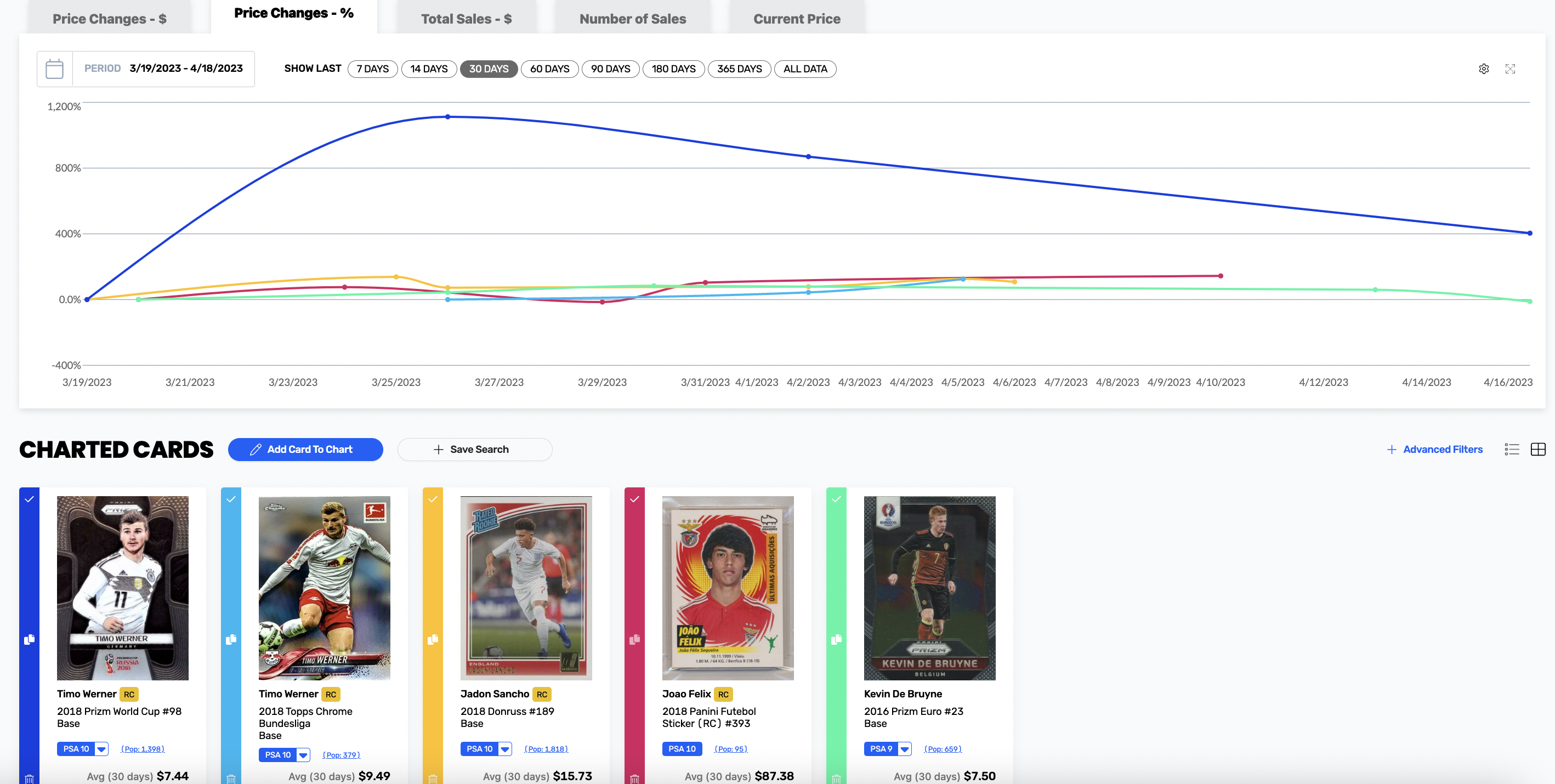 Source: Market Movers
PRICE GROWTH PERCENTAGE DECLINERS
LUKAKU UNCERTAINTY AFFECTING HIS VALUE? The news that Belgian forward Romelu Lukaku is essentially a ping-pong ball between Inter Milan and Chelsea right now could be bad for his card value. Unlike a trade in another sport or a straight up transfer to a larger club in international football, it's unclear which team he'll actually play for in the future. That uncertainty is having a negative impact here with Lukaku.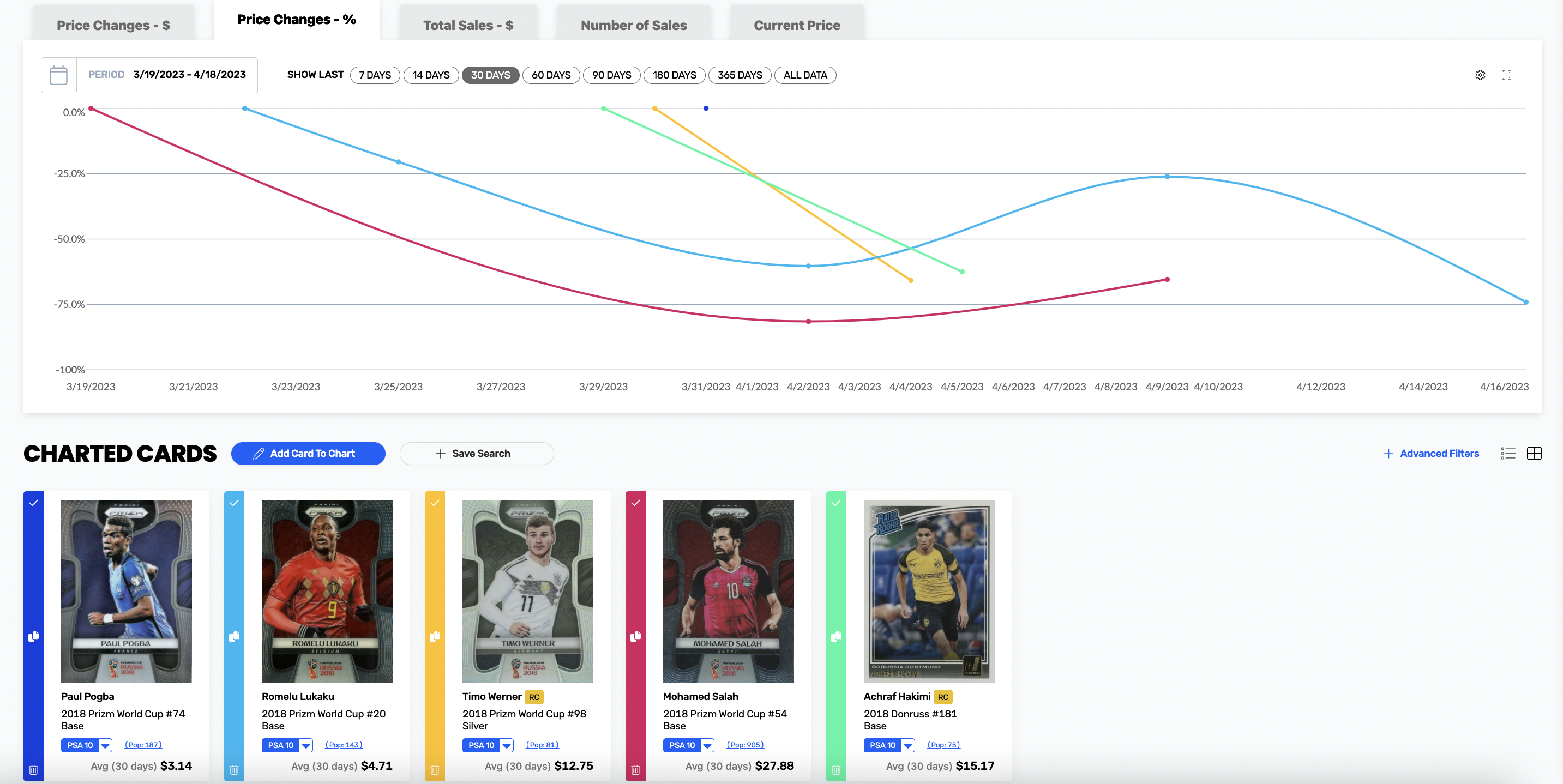 Source: Market Movers
DOLLAR GROWTH RISERS
HAALAND'S HISTORIC SEASON PUTS HIM AT THE TOP: Perhaps nothing proves the point more that performance on the pitch moves the needle than the data surrounding Erling Haaland's cards above. With 32 goals in 28 EPL matches, he recently tied Mo Salah's record for goals in an EPL season.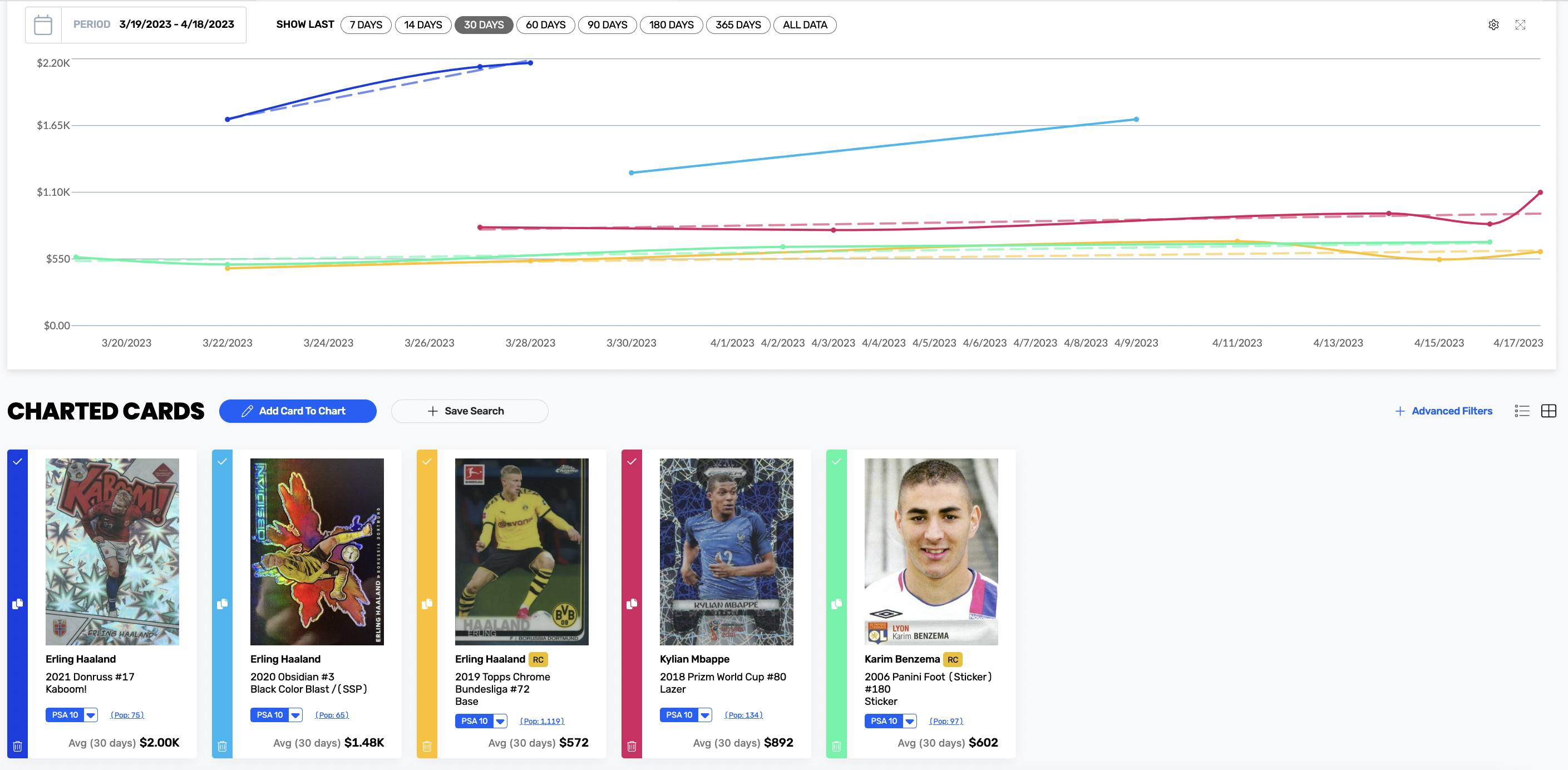 Source: Market Movers
DOLLAR GROWTH DECLINERS
OPPORTUNITY TO SCOOP UP MBAPPE? It's interesting to see two top Kylian Mbappe cards down this month. His 2016 Foot Sticker in PSA 10 is only a pop 206 and is down 11% ($450) over the last 30 days after seeing a 5% drop in our previous report. This is a card that is likely to increase in value, along with his 2021 Obsidian Color Blast SSP in PSA 10 (pop 39), which is down 23% ($250). While the 2026 World Cup is a few years away, these cards are likely to increase in value as it approaches, and could crescendo when Mbappe takes the pitch.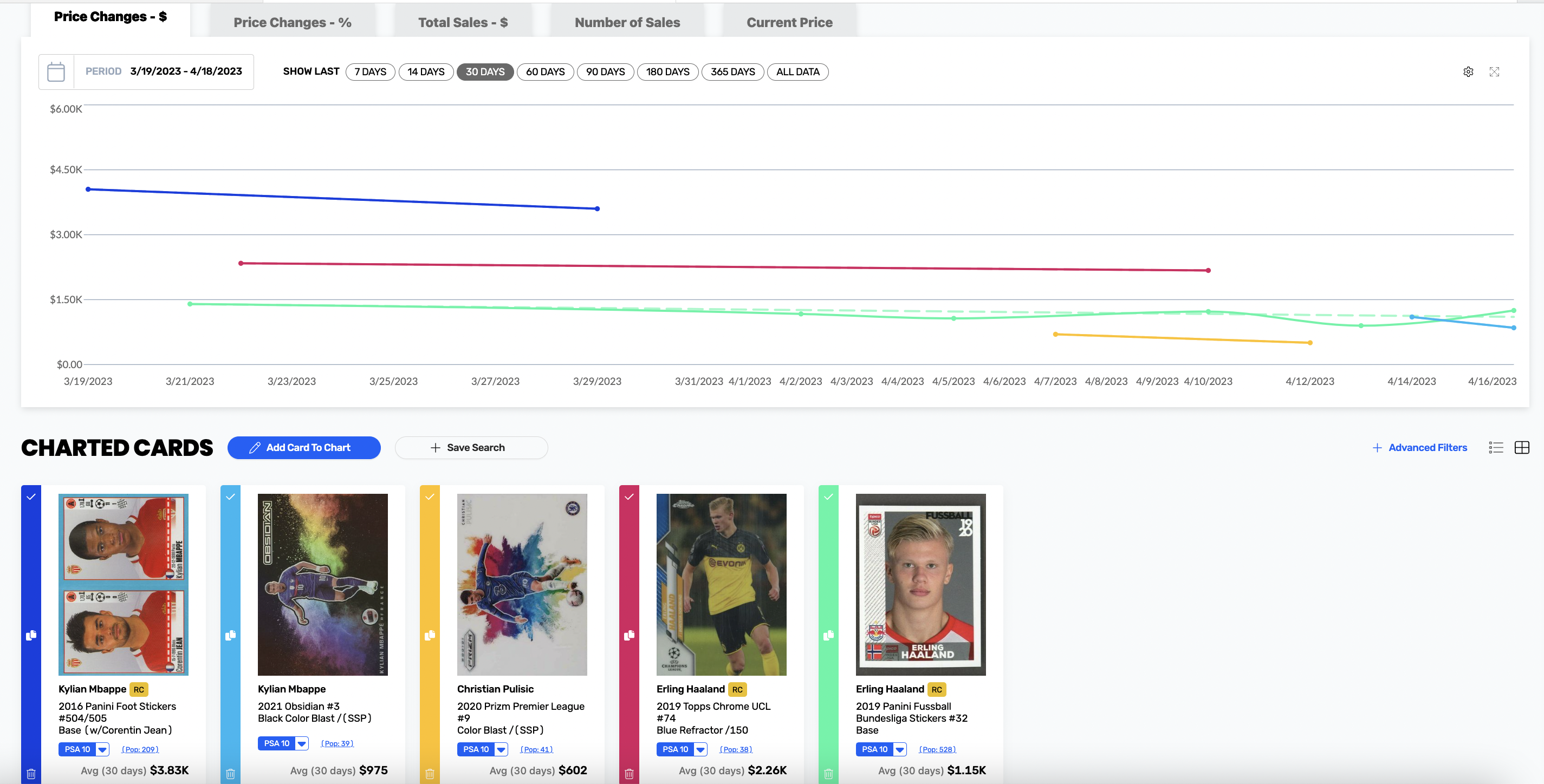 Source: Market Movers
SALES VOLUME LEADERS
Kylian Mbappe 2018 Prizm World Cup Base #80 PSA 10 – 36 sales

Kylian Mbappe 2018 World Cup Stickers #209 Black Back PSA 10 – 34 sales

Erling Haaland 2019 Topps Chrome UCL Base #74 PSA 10 – 18 sales

Erling Haaland 2019 Topps Finest UCL Base #91 PSA 10 – 17 sales

Julian Alvarez 2022 Prizm World Cup #4 Base PSA 10 – 17 sales
POPULAR SEALED WAX (HOBBY BOXES OVER LAST 30 DAYS)
2021 Prizm Premier League Soccer Breakaway Box – 36.4%

2022 National Treasures World Cup Hobby Box – 12.5%

2022 Prizm Premier League First Off The Line (FOTL) Hobby Box – 7.4%

2020 Panini Chronicles Soccer Hobby Box – 5.8%

2017 Topps Chrome UCL Hobby Box – 3.8%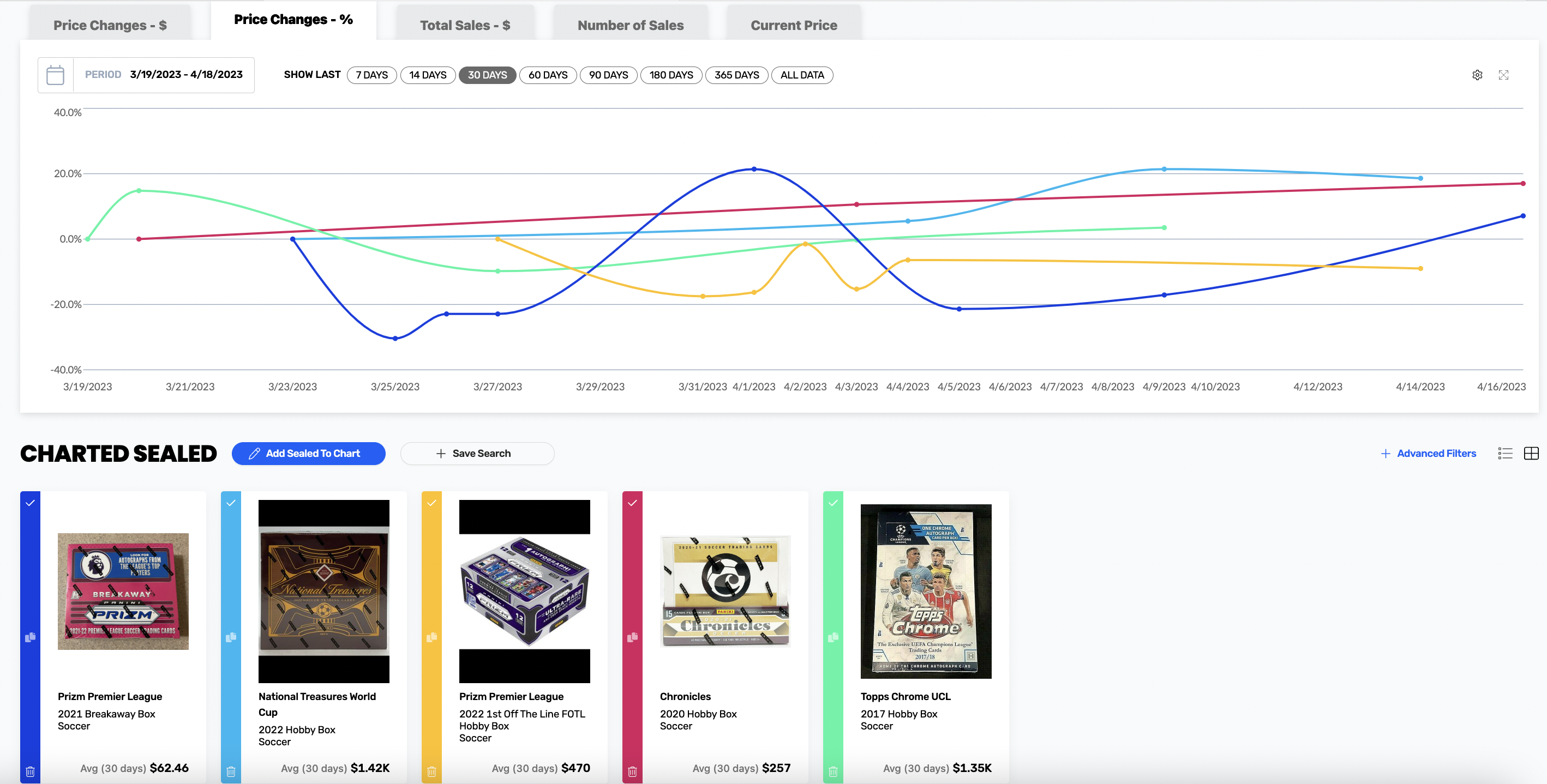 Source: Market Movers
MARKET PULSE INDEXES OVER LAST 30 DAYS
Soccer 2018-2020: 8.1%
Soccer 2010-2017: 2.1%
Soccer 2000-2009: -0.3%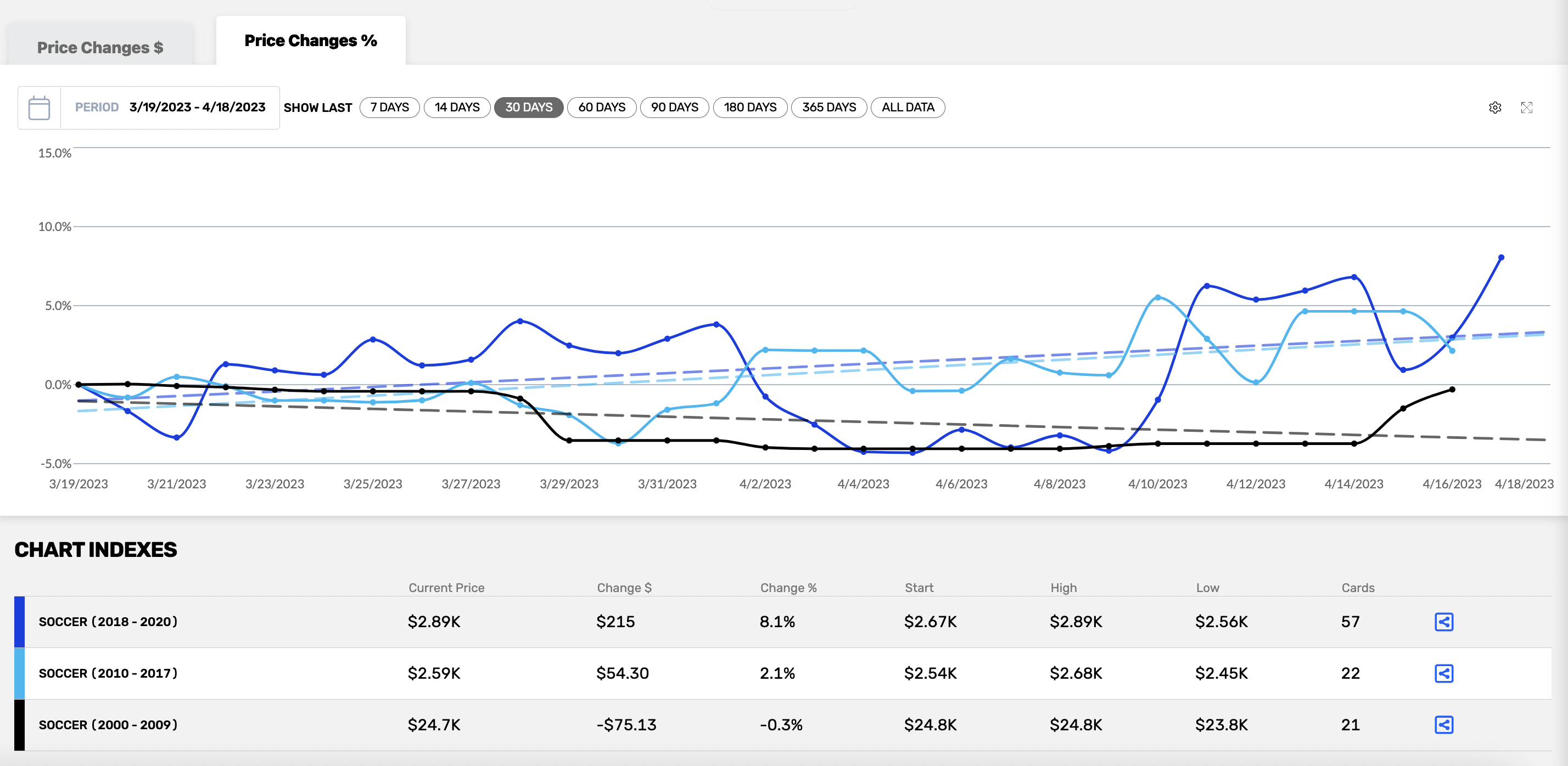 Source: Market Movers
With the Sports Card Investor app, you can profit from the hobby you love by keeping up with trending cards, tracking real-time prices with Market Movers and buying items on eBay. Download the industry-leading app here for Apple or Android
Note to readers: If you purchase something through one of our affiliates, we may earn a commission.
Paul Hickey is a regular contributor to Sports Card Investor, the creator of the Sports Card Investment Report at NoOffseason.com, and the host of the Sports Card Strategy Show on Apple Podcasts, Spotify and YouTube. He can be found on Instagram at @sportscardstrategy and on Twitter @nooffseasoncard.