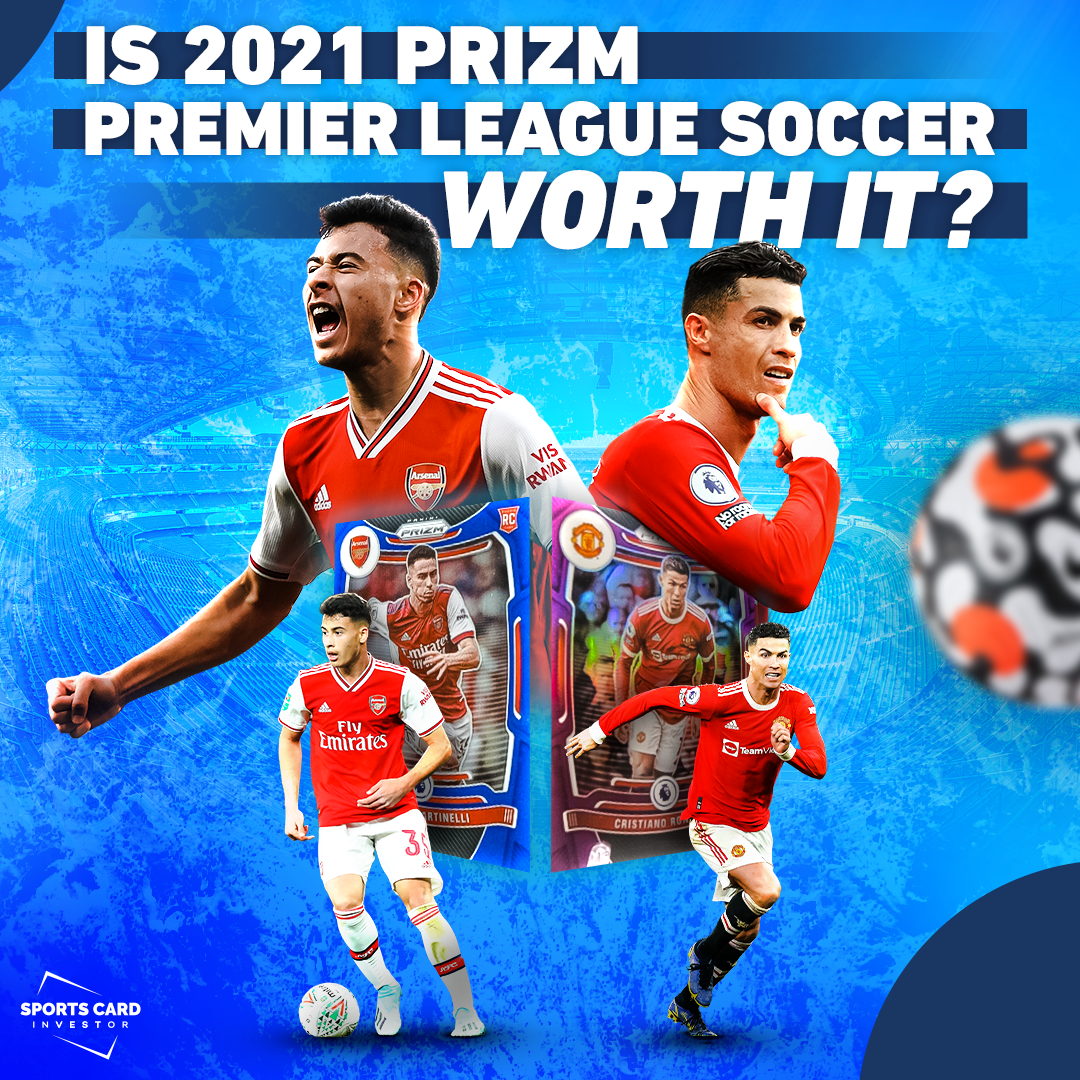 Is sealed wax a good investment? Well, we all know it totally depends on the brand, whether it's a hobby box or not, and most importantly, what the checklist reads like.
In this case (no pun intended), we're talking about 2021-22 Panini Prizm Premier League Soccer, a product released in March 2022 that we're starting to get a good feel for now.
In the time leading up to this fall's FIFA World Cup, soccer card investing has grown steadily in popularity—especially in the United States. Hobbyists are realizing that, in order to make a profit, they have to look at every possible opportunity and that could include venturing outside of the baseball, basketball or football market.
With the U.S. Men's National Team having qualified for this year's tournament in Qatar — North America is also set to host the 2026 World Cup — there are both short- and long-term plays to make with the cards.
But when 2021 Prizm Premier League Soccer debuted earlier this year, it caught my eye for a few other reasons:
-The Premier League features USMNT and Chelsea striker Christian Pulisic, perhaps the most likely American to make an impact in the 2022 World Cup.
-Nine of ESPN's 39 Best Male Players Age 21 or Younger are also included.
-Not only is this a Prizm product, but it's one that I don't have much of in my sports card investment portfolio. So, I did a deep dive into the release and its checklist.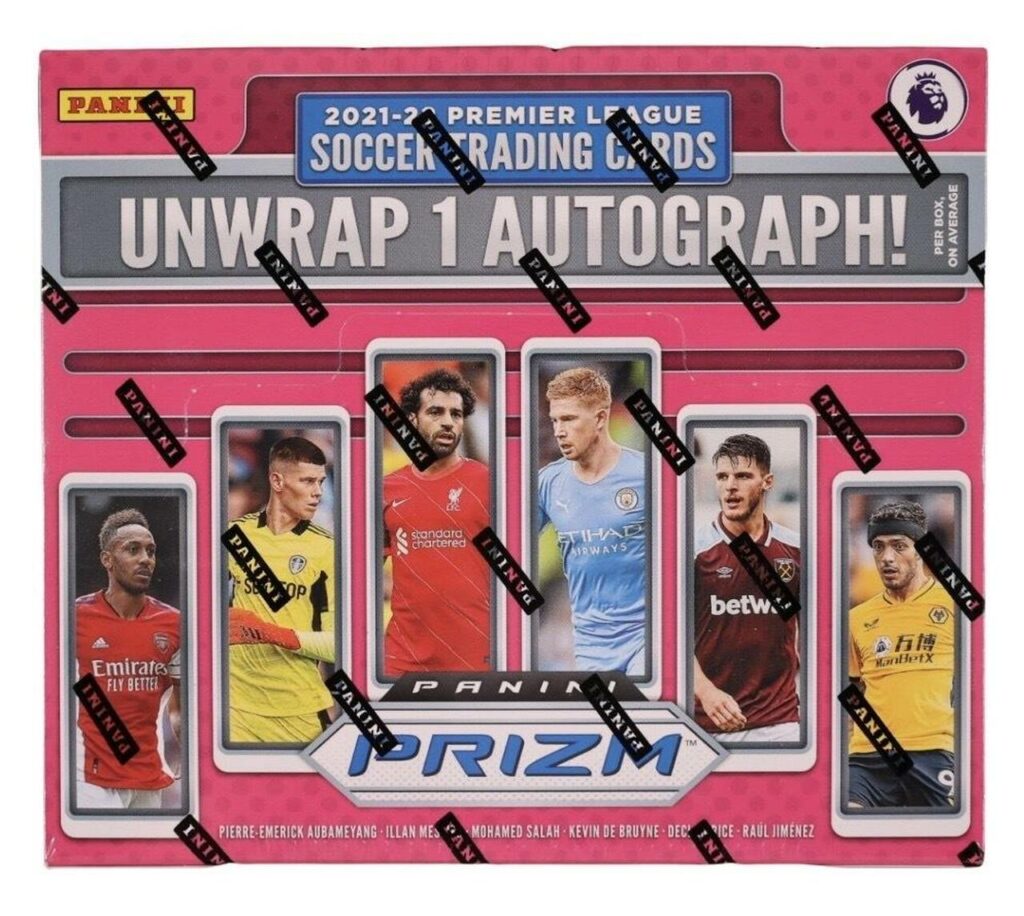 But even with all of that, I had some hesitation. Making a host of card-buying mistakes in 2021 can have that kind of effect on you. In order to counter those feelings, I came up with a list of things I'd look out for when purchasing soccer products this year.
Is it a hobby box? Most hobby boxes guarantee one autograph. In this case, hobby boxes offer one autograph along with four Silver Prizms, 13 exclusive Prizms and six inserts. The more chances of perceived scarcity a product has, the better. Right there, we were off to a solid start.
After that, you have to analyze the checklist to determine which players are in the product? Who's actually signed autographs? Are there any big names? How many different kinds of autographed cards are there? And most importantly, who are the season's top rookies, and are they featured in the boxes?
These are all important questions to ask because you don't want to buy a product assuming that you have a chance to pull a certain player's card when, in reality, he isn't even in that edition of the product. And soccer, specifically, can be VERY tricky in this regard.
After researching all of that, I came up with a tally of pros and cons for 2021 Prizm Premier League Soccer hobby boxes:
Cons
-A weak rookie class. Though Arsenal forward Folarin Balogun has a base card, young sensations like Liam Delap (Manchester City), Tino Anjorin (Chelsea), Louie Barry (Aston Villa) and Moises Caicedo (Brighton) are not included.
-A subpar prospect auto checklist, too. There are very few rookie autos and top prospect cards, let alone top prospect autos. Crystal Palace sensation Michael Oilse, for example, is not included in the set. The following nine players are the ones named on ESPN's aforementioned "Top 39 Players Age 21 or Younger in the World" list. Only two of those guys have autos in this set.
Callum Hudson-Odoi (Chelsea, has an auto)
Tino Livramento, (Southampton, no auto)
Marc Guehi, (Crystal Palace, no auto)
Jacob Ramsey, (Aston Villa, no auto)
William Saliba, (Arsenal but loaned to Marseille, no auto)
Gabriel Martinelli, (Arsenal/Brazil, has an auto)
Emile Smith Rowe, (Arsenal/England, no auto)
Bukayo Saka, (Arsenal/England, no auto)
Phil Foden, (Man City/England, no auto)
Pros
-An impressive veteran/GOAT auto checklist. From Club Legends Signatures (David Beckham, Wayne Rooney) to Flashback Autographs (Rooney, Clint Dempsey, Landon Donovan) and Signatures Set (Pulisic, Kevin De Bruyne, Mason Mount, Harry Kane, Cristiano Ronaldo), the list of icons is impressive.
-The roster of Color Blast inserts (like Foden and Mohamed Salah) and vibrantly colored parallels (everything from Pink and Purple Ice to Blue, Black and Bronze) is also a plus.
-Three solid Pulisic cards. While he's an average Premier League player, the Chelsea midfielder is "Captain America" and the guy most likely to star for the national squad on the world stage. Even non-American sports card investors will admit that U.S. drive the market, and with a trio of attractive Pulisic cards (especially the low-numbered variations), it is a huge incentive for Americans to buy these boxes.
-Price is always a factor when making investment decisions. These boxes retailed for $325. I made the call to get one based on the probability of hitting an auto that could help me make my money back. Or, if I chose, I could hold the box and sell it for a profit in a few years.
I anticipated an outlook similar to the eBay sales data of the following cards:
Cristiano Ronaldo 2021-22 Panini Prizm Premier League Soccer Color Blast #10 (Sold for $5,300 on May 14)
David Beckham Club Legends Auto EPL Panini Prizm 2021-22 Premier League Soccer ($875 best offer accepted, April 17)
Bukayo Saka 2021-22 Panini Prizm Premier League Soccer Color Blast SSP – #16 ($1,513.71, best offer accepted, March 13)
I bought two hobby boxes for $325 each when they were released. Now they're available on the secondary market ($249/box on eBay), which doesn't look great for me initially. But this is a 1-to-4-year play based on the projected rise in popularity of soccer cards, especially those from the beloved Prizm brand, here in the United States.
But it won't much matter if you rip or wait if Panini doesn't hold up its end of the bargain. The imprint has to do a better job of incorporating rookie cards with RC logos for top young players. This drives the market more than anything in any other sport. The lack of quality rookies is a drawback of buying sealed soccer wax. Makes checklist deep-diving super important, too.
Like any other sports card investment, if you're going to invest in sealed soccer hobby boxes, make sure you have a primary plan and a back-up plan. Are you going to hold it sealed? If so, for how long until you rip or sell?
I plan to keep mine sealed, but I'll continue to follow what the market does. If some of the singles listed above rise in value due to demand, that should cause the sealed prices to rise as well.
When that happens, I will sell my cards. Should things remain stagnant, though, I'm okay with ripping them to see if there's a top-tier autograph inside or piecing some of the top cards together and selling them to, hopefully, break even or come out a bit ahead.
If you invest in 2021 Prizm Premier League Soccer, I think your floor and ceiling are high, which is our ultimate goal.
Paul Hickey is a regular contributor to Sports Card Investor, the creator of the Sports Card Investment Report at NoOffseason.com, and the host of the Sports Card Strategy Show on Apple Podcasts, Spotify and YouTube. He can be found on Instagram at @sportscardstrategy and on Twitter @nooffseasoncard. 
Track your collection and maximize your profit with Market Movers, the hobby's most powerful sports card pricing platform! Learn more here.
Note to readers: If you purchase something through one of our affiliates, we may earn a commission.