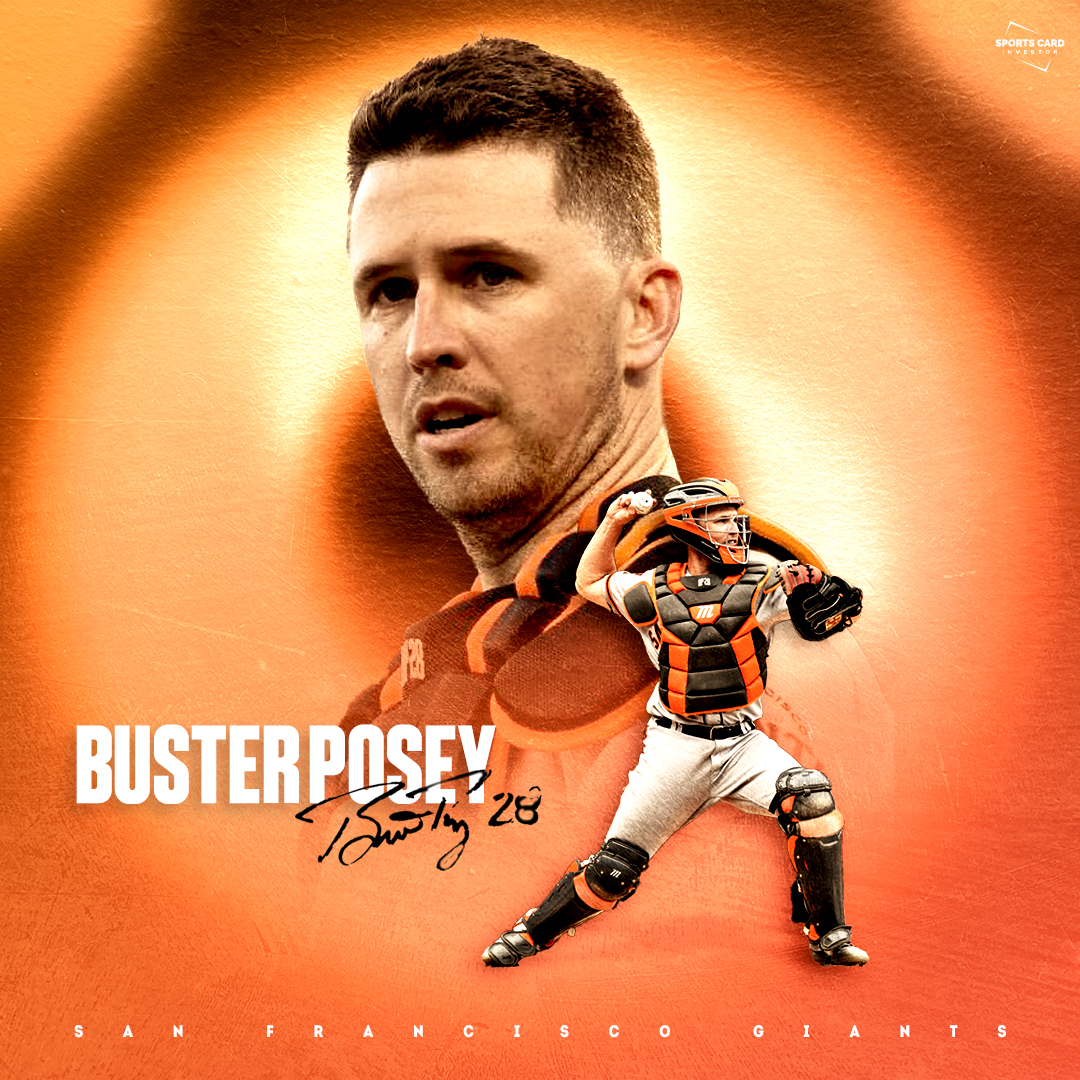 With Buster Posey's recent retirement announcement, many baseball fans are wondering if the Giants legend will end up in Cooperstown and how his card market will be impacted.
With only 17 catchers in the Hall of Fame, does Posey belong?
Let's break down Posey's career and compare him to other HOF catchers and their card markets.
JAWS and WAR
Two stats that help highlight a player's career are JAWS and WAR.
JAWS shows how dominant a player was during their seven-year peak while WAR accumulates during a career. A player will not be penalized for a short career with JAWS whereas WAR can be lacking.
Posey played in a total of 12 seasons, which is short by HOF standards. So while WAR might be lacking, his JAWS should be able to show us how dominant he was in his top seven seasons.
Two popular versions of these stats are Baseball Reference (rJAWS, rWAR) and Fangraphs (fJAWS, fWAR) — here's a look at Posey's stats as they differ in calculations for catchers.
fJAWS: 52.7
rJAWS: 40.7
rWAR: 44.9
fWAR: 57.6
JAWS Analysis
Posey currently ranks 16th all-time in rJAWS in the catcher position. The Average Hall of Famer has 44.3 whereas Posey has just 40.7.
Thirteen of the 16 players in front of Posey are in the Hall of Fame. One of those players is Joe Mauer, who many expect to be in the Hall of Fame soon.
WAR Analysis
Catcher WAR sometimes varies greatly between Baseball Reference and Fangraphs due to framing stats not being included in rWAR.
This is why there is approximately a 13 WAR difference between the two resources.
We can take this as a grain of salt as we can't calculate framing prior to 1988 — Baseball Prospectus predicts Framing Runs (BP FRAM) for catchers from 1988-2007 while Fangraphs uses FG FRAM from 2008 onwards.
Because of this, fWAR is going to be skewed to benefit catchers who played past that period while bWAR is going to be incomplete with the lack of framing included into the calculation. This also means it will skew towards offensive catchers and hurt defensive catchers.
This is the dilemma with just looking at WAR for a catcher — Posey ranks 7th all-time according to fWAR and just 16th according to rWAR.
Major Awards
In terms of major awards, Posey has won both an MVP and a Gold Glove. While an MVP is impressive, it's not too uncommon for a catcher. There have been 12 catchers who have won MVPs with seven of those players currently in Cooperstown.
Posey would likely have won more Gold Gloves if he didn't have to compete against Yadier Molina in the National League. Molina has been one of the best defensive catchers over the last 15-plus years. In fact, Fangraphs data shows that Molina is the best defensive player ever, and is even ahead of greats like Brooks Robinson and Ozzie Smith
Counting Stats
This is going to be the greatest area of concern for Posey and the main reason why it's easy to believe he is going to fall short of the Hall of Fame with many voters.
Overall, 34 catchers have more hits than Posey's 1,500 and 39 catches have more homers than Posey's 158. Since the expansion era (1961), no player has made the Hall of Fame with fewer than 2,000 hits, and Posey is 500 short.
OPS+
OPS+ is a great stat to compare players league-wise based on their eras. The formula takes into account OBP, SLG, and ballpark factors.
The average OPS+ in the league each year is 100, and Posey has a career OPS+ of 129. Here's a look at other top catchers for career OPS+:
Piazza – 142
Tenace – 136
Cochrane – 129
Ewing – 129
It's important to note that career OPS+ favors shorter baseball careers, as players age, stats decline.
Playoffs
The biggest pitch for Posey's Hall of Fame candidacy is his success in the playoffs with three World Series championships with the Giants. While it's a lot, we have to remember there is so much more to a candidate than winning a championship.
Hank Bauer has seven World Series rings with the New York Yankees and isn't in the Hall of Fame. On top of that, Posey struggled in those big games. He batted just .230 in the World Series and just .188 in the NLCS.
What does help the playoff narrative is that Posey was the face of the Giants during that run and he accumulated the most WAR of any player on the team.
All-Star Games
Seven All-Star games sounds really impressive until you break down the numbers for catchers. There have been 25 catchers who were elected to seven or more All-Star games.
Defense
Posey was great behind the plate when it came to framing, adding 13 wins while saving 129 runs, according to Fangraph projections. Remember the rWAR and fWAR difference from earlier? This is why.
Posey was also above average when it came to catching runners stealing bases. He had a 33% success rate, which is above the league average of 29%.
But in the context of the best players, it's lacking. Molina has a 40% caught stealing rate while other Hall of Fame catchers like Ivan Rodrigeuz and Thurman Munson were both around 45% and Roy Campanella was at 57%.
One additional topic to mention on the defensive side is pitch sequences. Posey caught three no-hitters, which is the 3rd-most in MLB history. The ERA for Giants pitchers was, on average, 10% lower with Posey behind the plate. This can be attributed to both his pitch calling and defense behind the plate.
Overall Hall of Fame Thoughts
I fully believe that Posey retired way too early when looking through the traditional lens of a Hall of Fame career.
It took Ted Simmons until 2020 to be elected into the HOF despite being a productive catcher who had better stats than Posey. Simmons finished with eight All-Star appearances, 50 rWAR, 248 homers and 2,472 hits.
The most similar career comparison to Posey would be Thurmon Munson (Baseball Reference has them at an 877 similarity score). Munson died tragically at the age of 32 in a plane crash, limiting him to just 11 seasons.
Munson, also like Posey, was a very popular player. He was the captain of the Yankees team which had won two World Series championships. Munson finished with seven All-Star appearances, 46 rWAR, 113 homers and 1,558 hits.
Munson is not in the Hall of Fame, yet many believe he should be.
This might be controversial, but I don't believe that Posey will make the HOF early on in the voting process. While many people claim he is a first-ballot Hall of Famer, there is so much more to his case.
The counting stats are going to be the biggest detriment. Is the Hall of Fame going to change a standard that has been around for 60-plus years? Many older voters still rely on hard numbers when voting on players.
And how is Posey different from Munson? Posey had the ability to prolong his career. Munson died tragically.
Posey will eventually get in, but I project it will be near the end of his 10 years of eligibility or on a veterans committee vote.
Buster Posey Retirement Impact
On the sports card side of things, I wanted to take a look at how Posey's retirement impacted card prices. News leaked on Nov. 3 that Posey was going to walk away from baseball and officially retire.
I waited three weeks to look at the data on his flagship rookie card: a 2010 Topps Base PSA 10.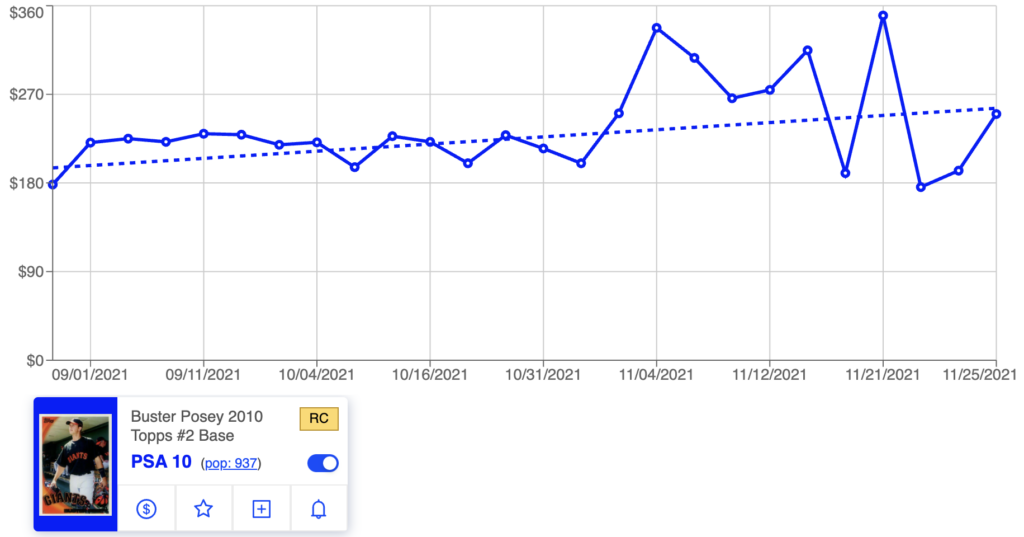 While there have been two comps at $190 and $175, most of the sales of the PSA 10 flagship rookie have been hovering between $250 and $350. In early September, the price of a PSA 10 was approximately $225, according to Market Movers.
How has the card performed all year? 
The retirement announcement caused a spike on Posey's prices. But the next question I had was how his rookie performed over the last 365 days.
In December of 2020, you could buy a PSA 10 for between $65 and $85. Even before the retirement announcement, his price had spiked to $225.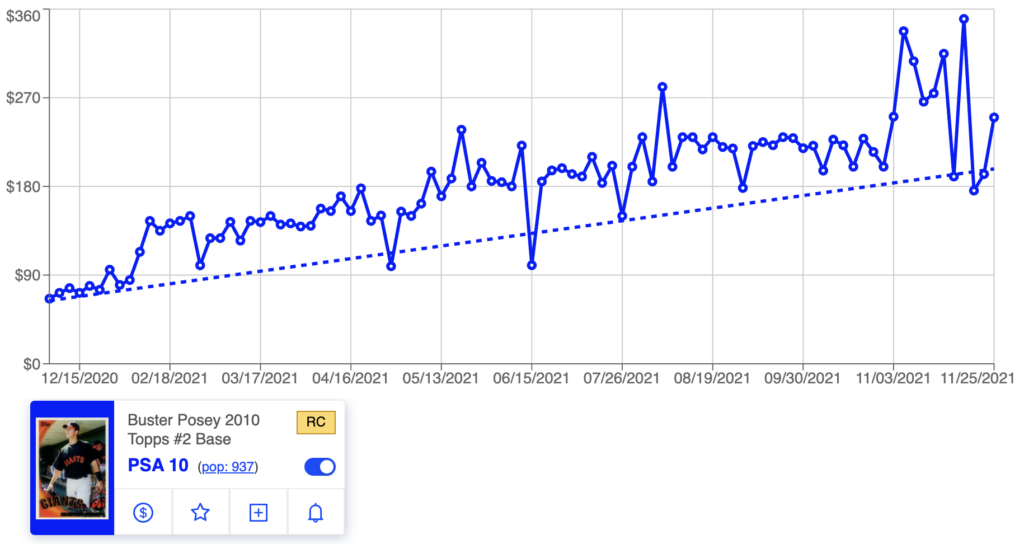 So that made me wonder, did all catchers prices rise or was it only Posey?
Posey and the Giants both excelled this season. Posey had a 140 OPS+ mixed with 18 HRs and 3.5rWAR/4.9fWAR. The Giants won 107 games.
I wanted to take a look at several more players, both modern and vintage. This will isolate what markets have been moving.
1970 Thurman Munson Base PSA 7
Career-wise, Munson has been the closest to emulate Posey. I took a look at his PSA 7 rookie — I chose the 7 grade as many vintage collectors standardize the grade by decade (EX: PSA 6 for the 60s, 7 for the 70s).
With this data, we see that Munson has also increased in value by about 40% (The data doesn't exist prior to 6/01/2021).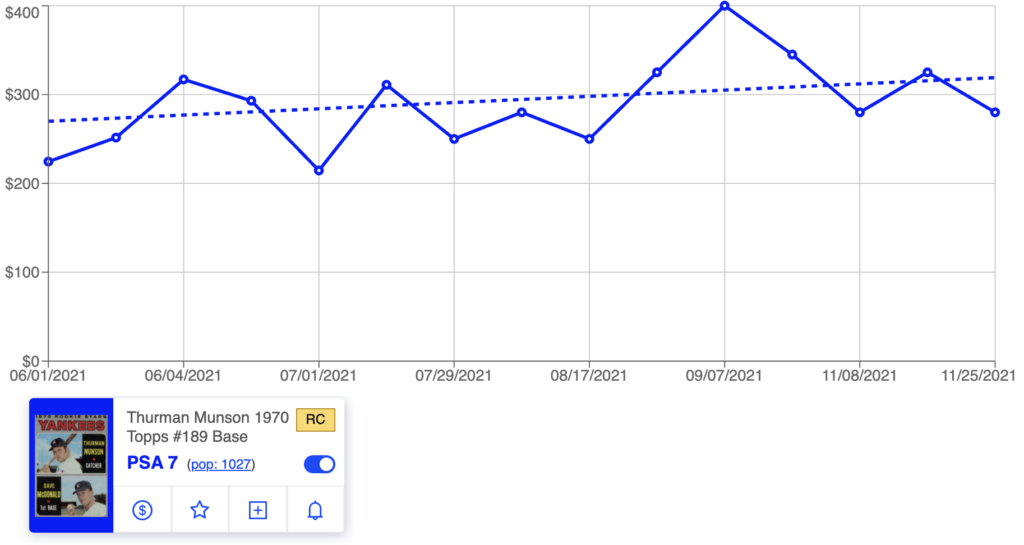 2004 Yadier Molina Topps Base PSA 10
As previously mentioned, Yadier Molina has been one of the greatest defensive catchers of all time and will be a lock for the Hall of Fame upon retirement.
Like Munson and Posey, his card prices have also been going up quite a bit this past year. They have gone from around $300 to $600.
Molina also announced 2022 will be his last season. So in the offseason you might want to pick up a few cards if they decrease in value (January/February).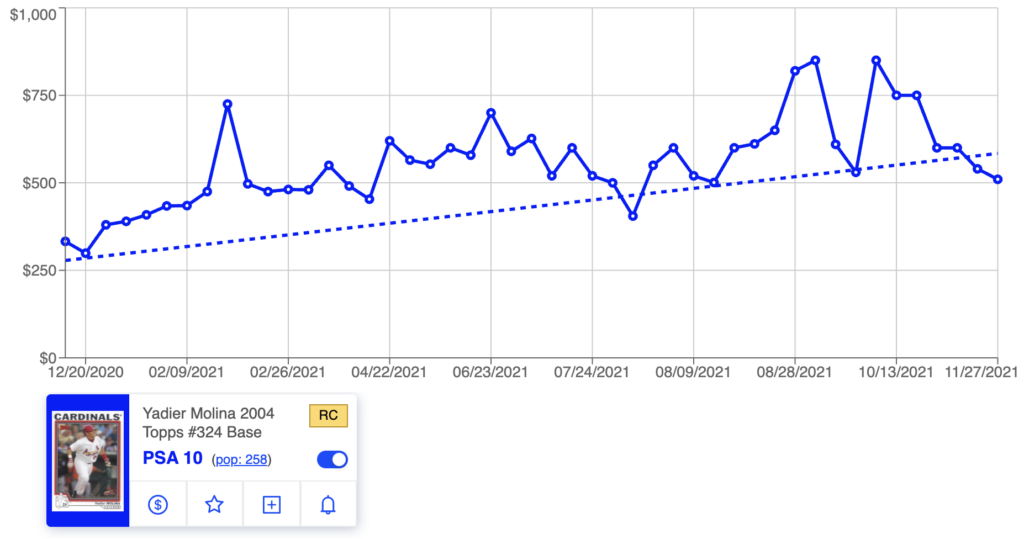 Many consider Bench to be the greatest catcher of all time. I wouldn't compare him statistically to Posey, but it would help us look at the catcher market as a whole.
As you can see on the chart below, his market has been rising along with the other catchers. Last November, a PSA 6 could be purchased for $250. One year later it's hovering around $400.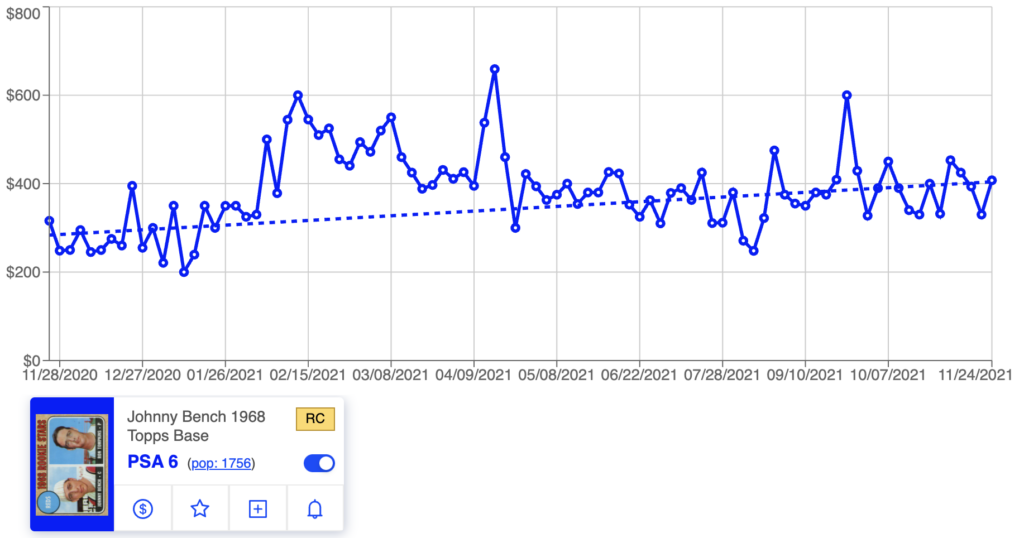 The last catcher I wanted to take a look at is Yogi Berra. The Yankees legend won three MVPs, has 10 World Series rings, and was an 18-time All-Star.
Since March of 2021, his PSA 4 rookie price has fallen from $950-$1000 to sub $750.
This contradicts the charts from above and surprised me. Why is Berra going down? He's been retired since 1965 and passed away in 2015. Many people say that vintage only goes up, yet here we see Berra's prices went down. This is something we can examine in a future article or Moneyball Cards episode.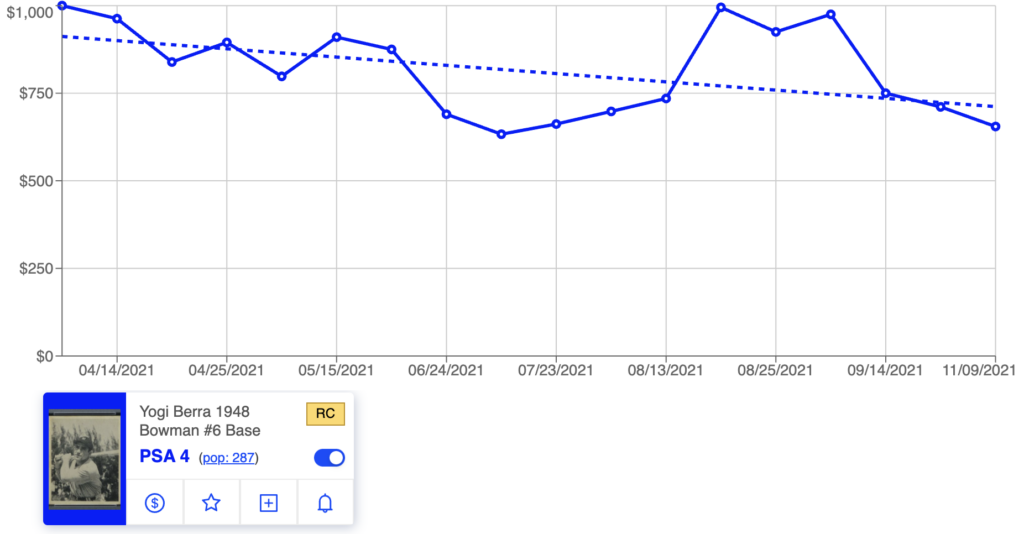 To take a look at the catcher market as a whole, we would need to analyze a lot more players. Making a full assumption off of five charts wouldn't be wise. However, four of the five players did rise in value.
I also wanted to look at Joe Mauer's data from when he retired last season, but there weren't enough sales post-retirement to make an argument. His total PSA 10 pop is just 115 compared to Posey's 937.
Mauer did rise a ton over the past two years, though. In 2019 and early 2020, his 2002 Topps PSA 10 could be found under $100. The card's last few sales have been around $300.
Overall, it's my belief that a lot of people undervalue catchers in baseball cards. Like pitchers, many will not buy cards of a catcher as they are tough to predict long term. As buyers become wiser and learn more about the sport, they realize how much of an impact a catcher can have on the game.
Ryan Nolan writes about vintage cards and other topics for Sports Card Investor. He also runs Breakout Cards and is the co-host of Moneyball Cards. Follow him on Twitter and YouTube for more content.
Track your collection and maximize your profit with Market Movers, the hobby's most powerful sports card pricing platform! Learn more here.
Note to readers: If you purchase something through one of our affiliates, we may earn a commission.