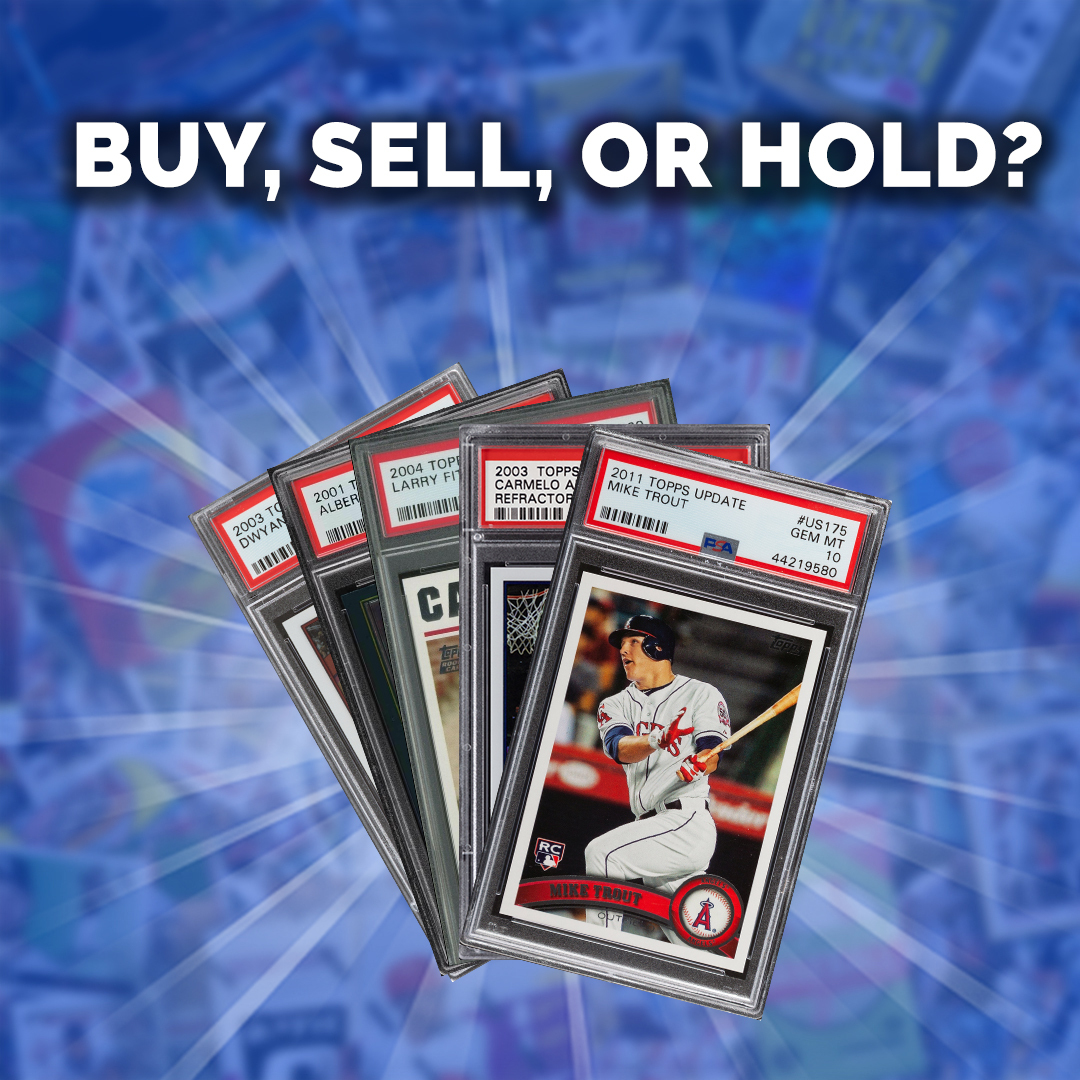 LeBron James is one of the greatest NBA players of all time — but should other stars from that stacked 2003 NBA Draft class like Dwyane Wade and Carmelo Anthony be selling for so little in comparison? We cover that, and more, in this week's Forecast:
Albert Pujols
The career of one of MLB's all-time great hitters is wrapping up. Pujols was recently released by the Angels, and while he might still land somewhere as a free agent, we're likely seeing his final season.
His cards haven't seen much movement in Market Movers in recent weeks, but his cards are way up year-over-year. Pujols' 2001 Topps Traded Base PSA 10 is up 246% over the last 365 days while the Chrome version is up 546% over the same period.
Geoff's pick: Sell
Mike Trout
Like most seasons in recent years, Mike Trout is an MVP candidate while the Angels can't get above .500. Despite being buried on a bad team, Trout continues to be a star on the field and in the sports card hobby.
He's crushing the ball so far this season while batting .365 with eight home runs and 18 RBI, but his card prices are actually going down. Trout is an incredibly expensive buy: His Topps Update PSA 10 has been averaging about $4,400 over the last 30 days despite being down 10%.
Geoff's pick: Buy
Dwyane Wade
You could make an argument that Wade is the third-best shooting guard of all time behind Michael Jordan and Kobe Bryant, but his cards don't really reflect that. Wade averaged 22 PPG while winning three titles in 16 years.
Part of the legendary 2003 NBA Draft class with LeBron James, Carmelo Anthony and Chris Bosh, Wade's 2003 Topps Chrome Refractor PSA 10 is up 255% over the last 365 days. He'll get into the Hall of Fame on the first ballot, so it might be time to buy while you can.
Geoff's pick: Buy
Carmelo Anthony
Speaking of Carmelo Anthony, the Blazers forward has revived his career in Portland and climbed all the way into the Top-10 on the NBA's all-time scoring list. He still isn't playing great defense, but the game has seen few players score the way Anthony has.
Another likely first-ballot Hall of Famer when he's done, Anthony's 2003 Topps Chrome PSA 10 is up 126% over the last 365 days while the Refractor is up 444% over the same period.
Geoff's pick: Buy
Larry Fitzgerald
Fitzgerald is currently deciding whether or not to return to the Arizona Cardinals — the only NFL team he's ever played for. Either way, he'll go down as one of the greatest wide receivers to ever play. Despite piling up 1,432 catches for over 17,000 yards and 121 TDs, Fitzgerald has never been a hobby favorite.
His 2004 Topps Base PSA 10 is up 248% over the last 365 days and has a stunning population of just 188.
Geoff's pick: Buy
Track your collection and maximize your profit with Market Movers, the hobby's most powerful sports card pricing platform! Learn more here.