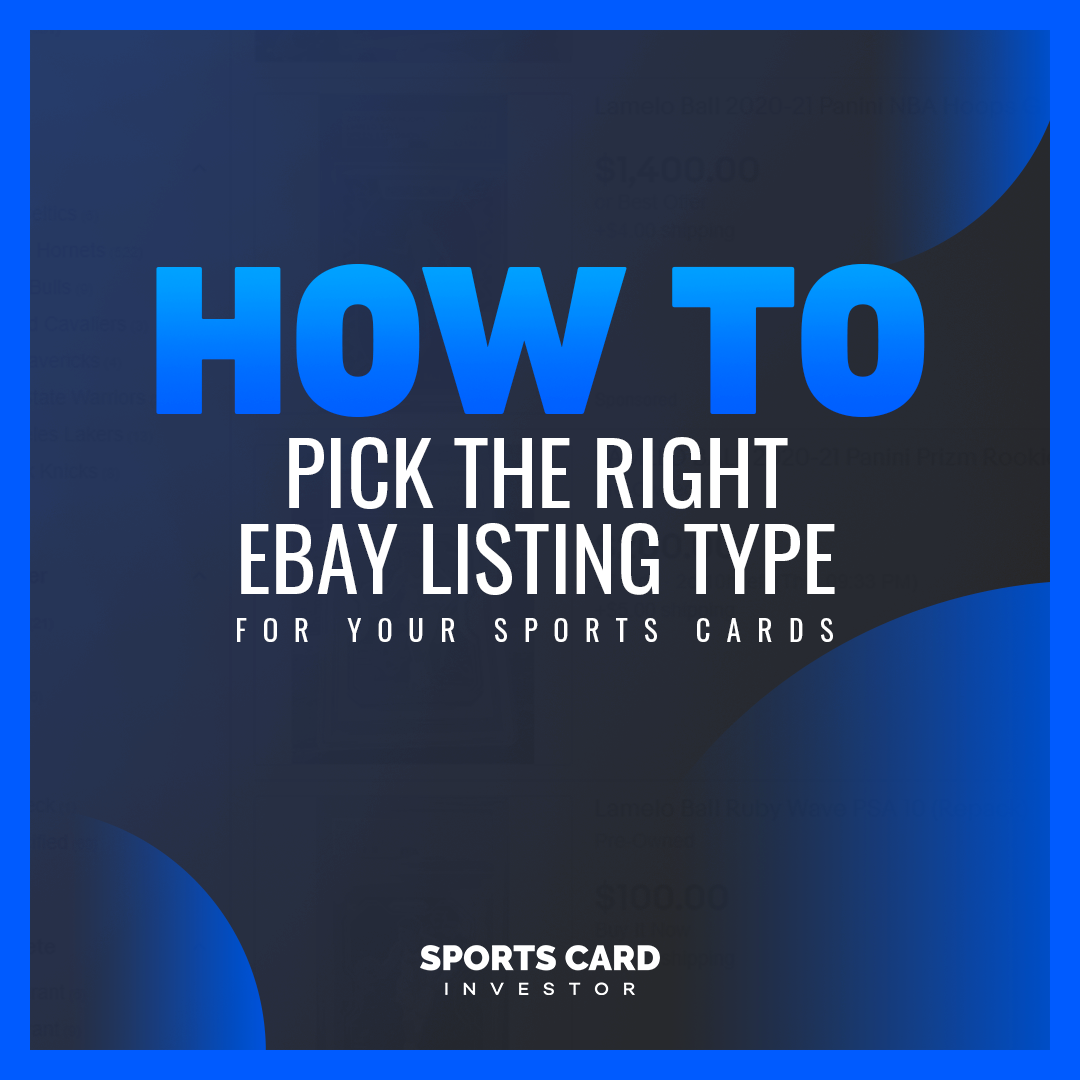 Ebay is the premier marketplace for card buyers and sellers. While the popular platform makes it a point to ensure processes for both parties run as smoothly as possible, it can all still be pretty intimidating for those trying to maneuver their way around the site. And it's for that reason Sports Card Investor has partnered with eBay for a series of articles and complementing videos that address a number of topics that are integral to positive buying and selling experiences.
The two most common ways of selling on eBay are through auctions and "Buy It Now" sales. Usually, the deciding factor between the two is with how quickly you plan on selling the item. Want to try and sell your card faster in a certain times frame (1, 3, 5, 7 or 10 days)? Sell it via auction. Trying to ensure it gets in front of the right buyer, no matter if that takes two days or two months? Buy It Now is the smartest way to go.
Create an eBay listing using these tips and tricks to make sure your cards sell quickly and for the price you want.
When to Use Auctions
While you have the assurance of something selling with auctions, items generally move for a little less this way. That's simply the nature of the bidding format. Most sellers understand this, but they happily accept that fact in return for a peace of mind knowing the card will move quicker.
Of course, you want things to sell, but you want them to go for as much as possible, too. While listing titles and clear photos are both essential (and will be discussed in greater detail in future stories), one easy tip to help your selling cause is to make sure your auction ends on Sunday. More than any other day of the week, Sunday is when potential buyers are generally relaxed and less distracted by other things.
When to Use Buy It Now
If you choose the Buy It Now route, make sure to check the "Best Offer" button during the set-up as well. Though you may have done your research and priced your card competitively in relation to recent comps, it still may be turning off buyers. With Best Offer, you can get a pulse of the public's wallet and possibly sell your item faster but at a slightly lower price.
Buy It Now with Best Offer is the way to go for higher-end cards, too. If you have a rarer 1988 Fleer Scottie Pippen PSA 10, for example, a seven-day auction only gets the card in front of a certain pool of potential buyers within that week. The Buy It Now option, however, allows for a healthy crowd of the right buyer to see it where, hopefully, someone accepts your published rate or counters with their own offer.
This philosophy may not necessarily be the wisest approach for a 2019 Prizm Coby White PSA 10 or other commodity cards, though. In those instances, auctions are best because lots of people are always scouring eBay for them.
Note to readers: If you purchase something through one of our affiliates we may earn a commission.