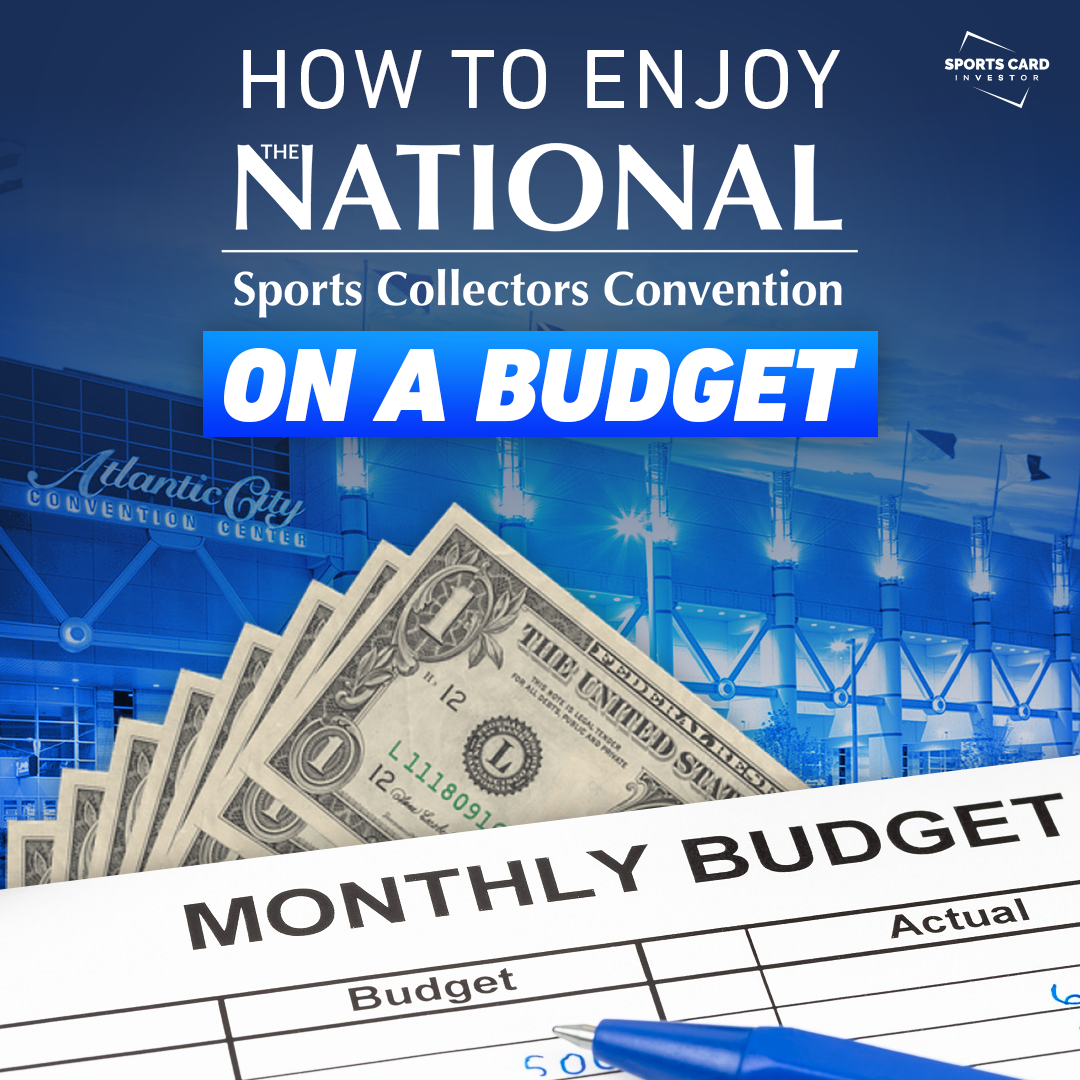 The National, the sports card world's largest annual event, is a joyous occasion so we're not going to taint the moment talking about $5 gas or surging interest rates for too long. You hear about all of that enough in your daily life.
But we can't just ignore those things and say all is rosy in the hobby, either. Times are tough. Belts have been tightened.
Even with the slimmer wallets, though, there's a way for those venturing to Atlantic City between July 27 and 31 to still have a great time at the show. The conference itself has done all it can — the show promises 460,000 square feet of retail, autograph sessions, on-site card grading and much more — to make sure your trip is worthwhile.
Sports Card Investor wants to help out, too. By adhering to the following financial tips (SCI's numbers-crunching friend Brad Jarryd aka The Comeback Card Investor helped out here, too), we're confident you can have a great time making wise buys this week that you won't regret when it's time to pay bills next month.
Have a Budget… and Stick to It!
A wise man once said, "Never go grocery shopping when you're hungry." Walking down the aisles with a growling tummy, you're going to grab any and everything that sounds remotely appetizing. By the time you get to the check-out line, your cart will be filled with stuff you don't really need. The same adage works for card shows. Temptation is going to be strong at every turn at the National. But if you walk in the convention center with a solid plan, you won't be tempted to sample from every table, making chances of staying within your means much better.
"If you know that $500 is your budget," says Jarryd, "have a couple of cards in mind ahead of time. You don't want to go in and succumb to your emotions and buy the first cool card you see, only to regret it." He's right. If you're there for '09 Topps Chrome Basketball, don't get distracted by '19 Optic. Need to round out your Cal Ripken Jr. PC? You can't get caught up in other stuff.
Know Where (and When) to Look
Did you attend the '21 show in Chicago and find some solid deals with a particular shop? Check out the '22 show's lineup to see if that same company is showing up again this year and click the map to find out where they'll be situated on the massive layout.
But even if you can't find that same booth, one sure place to find deals will be the many $1 and $5 bins. These are great for PC finds and for colored (and some low-numbered) parallels. Just about every show we've attended, we've had decent luck with these.
Another tip that has proven effective at smaller shows (but certainly worth a try at the Natty) is scoping out the vendors hidden in a corner or far from a main pedestrian stretch. The owners behind these tucked-away tables may be willing to bargain a little more than others in heavily trafficked areas to generate some buzz and business.
Be Smart
When you walk onto the showroom floor, you're going to be bombarded with sounds, smells and sale signs. Don't immediately pull out your Visa at the first PSA 10 Kyler Murray rookie you see. Take a beat. Walk around. Compare prices. When it comes to the latter, image-recognizing capabilities on SCI's Market Movers app makes the process a breeze. Simply snap a pic of the slab in question and the app will show you the card's latest sales chart so you can know if you're being given a good deal.
Another wise play is zigging with your purchases while everyone else at the show is zagging. If you see folks getting into a football frenzy with the new NFL season right around the corner, maybe you should be looking at Marvel or international soccer. Notice a lot of collectors being high on the scorching hot Austin Riley? Might be time for you to score rookie cards of Riley's injured Atlanta Braves teammate, Ozzie Albies, for the low.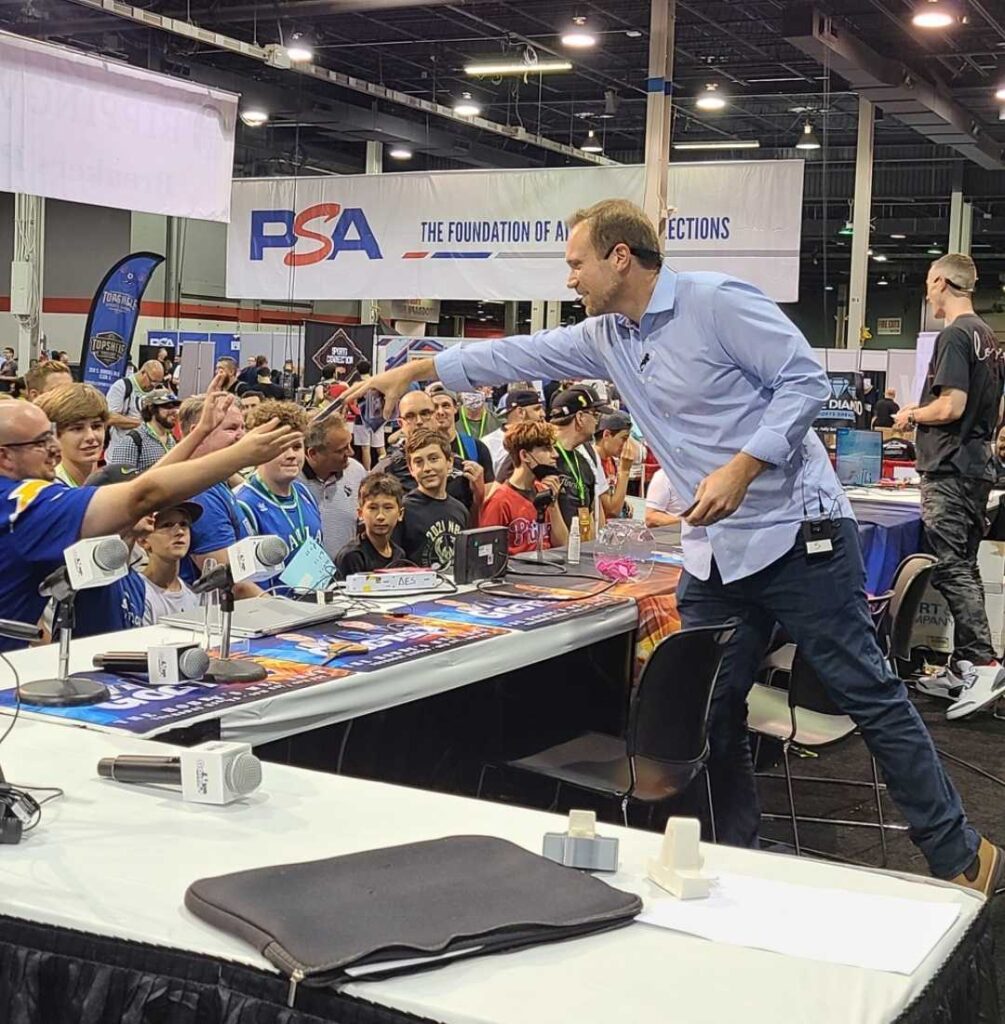 Don't Give in to Pressure
Walking the floor, you can't help but see big shots fanning thousands of dollars on display cases. You're going to overhear crazy trades happening right beside you. It's the National. That's just the way it is. But if that kind of high-stakes wheelin' and dealin' is not your reality, fine. Don't let the Vegas-like atmosphere entice you to spend an extra $250 you're going to need for rent.
"Credit card companies want you to constantly have a balance so they're making money on the interest they're charging," says Jarryn. "When it comes to sticking to a budget, it's a lot like how I operate with ice cream: if it's in my home, it'll get eaten. If I have to go out and buy ice cream, it's very rare that I'll actually do that. For the average collector, I'd say bring the cash you're ok with spending and leave the credit and debit cards at home. Don't test your willpower. Instead, make your environment your ally, not your enemy."
Have Free Fun
This may be the most important tip. Getting the cards you've been hunting is great, but catching a glimpse of Bo Jackson as he's walking by or having a few laughs with guys you've befriended on Instagram over the past two years is what truly makes this event so wonderful. And on top of that, these things cost you nothing.
One of the most underrated aspects of the National is that there's so much free stuff to get into. Lots of tables have goodie bags (SCI will have swag at booth 1837) and giveaways (DJ Skee's Kanye West-inspired cards were a big hit last year) throughout the weekend. There will be Whatnot-powered box breaks worth checking out every day. And if the AC show is anything like Chicago's, companies like eBay and Goldin Auctions will have museum-worthy showings of priceless cards and collectibles to gawk at, too.
With the Sports Card Investor app, you can profit from the hobby you love by keeping up with trending cards, tracking real-time prices with Market Movers and buying items on eBay. Download the industry-leading app here for Apple or Android
Note to readers: If you purchase something through one of our affiliates, we may earn a commission.