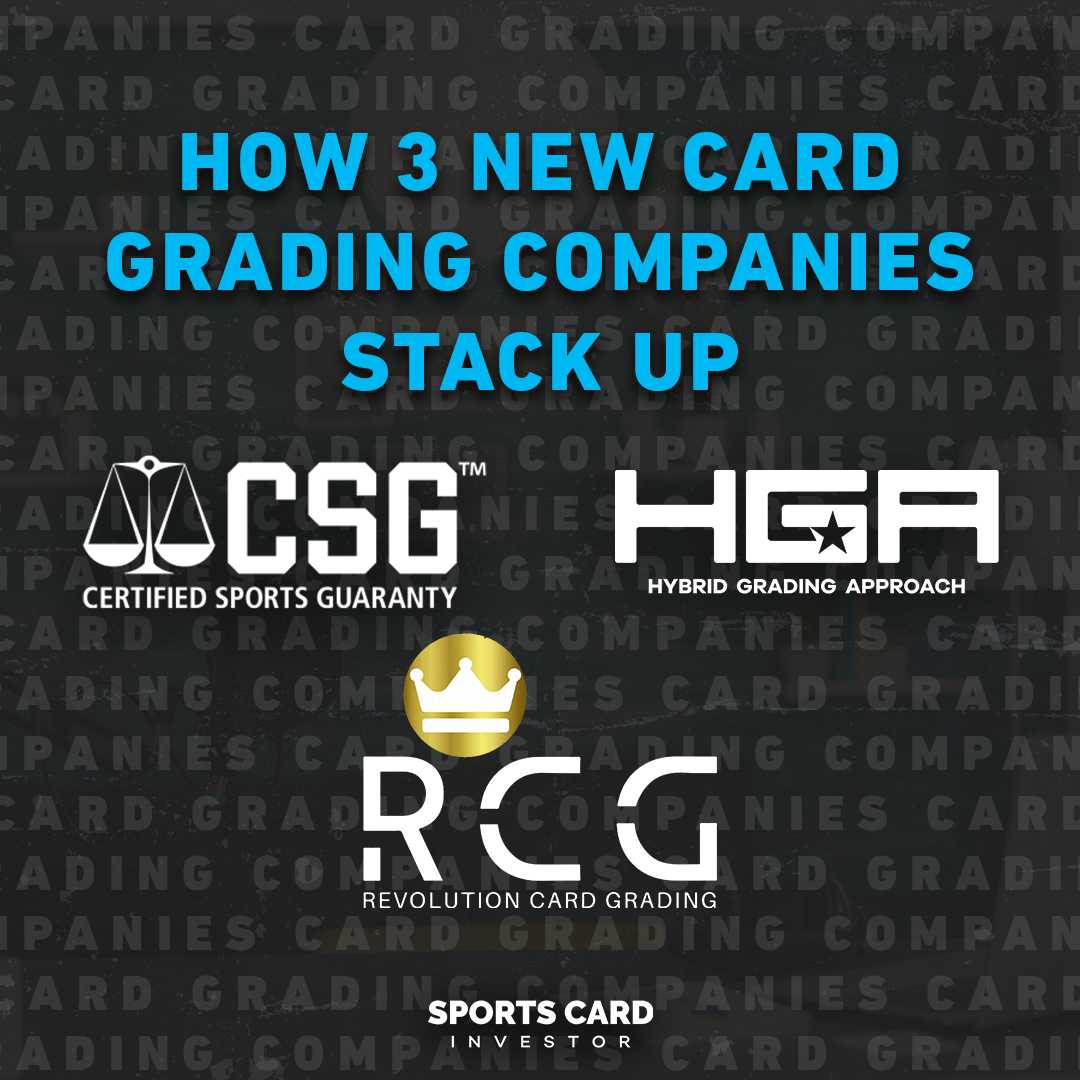 We're just like you. When PSA paused most of its business in late March to play catch-up on the millions of cards backlogged in its warehouses, we were also left wondering what our next moves would be with our grade-worthy raws. Do we just sit and be patient? Play a different waiting game with Beckett? Check out SGC or one of the other established graders?
And like you, our Instagram feeds and Twitter timelines have been filled with new companies trying to elbow their way into the crowded grading space. They're offering lots of vibrant colors and wacky slabs, but what does any of it really mean for our bottom lines? We thought about ignoring them, thinking they'd go away in a few months. But here they are, seemingly only getting stronger and more popular by the day.
Instead of pondering any longer if we should give them a try, though, we finally sent some cards off to the upstart labels to see how smoothly the whole process would be. We took it another step, too, and actually reached out to the heads of these companies and talked to them about cards, consumers and you-know-who.
Speaking of PSA, it could still be months before the company starts back up with submissions, giving brands like Hybrid Grading Approach, Certified Sports Guaranty and Revolution Card Grading even more time to make a good first impression with you.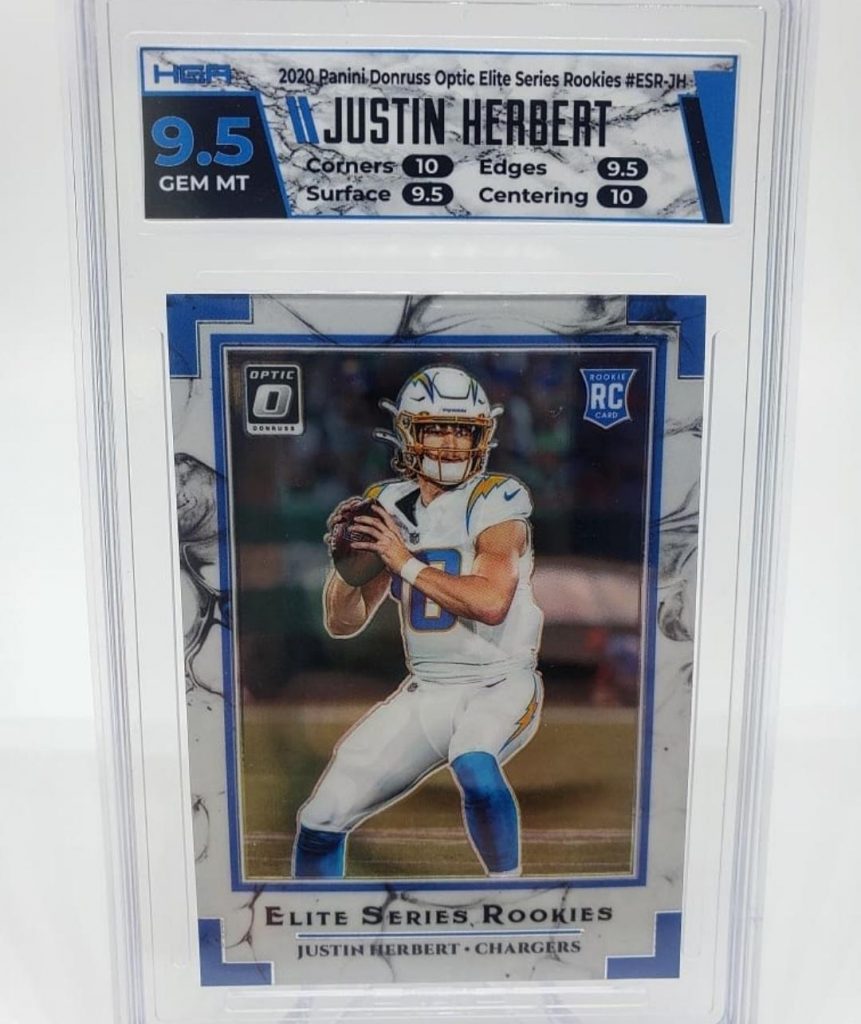 Name: Hybrid Grading Approach (HGA)
Date of Birth: January 19, 2021
Home: Knoxville, Tennessee
Turnaround Time/Price: 2 Business Days/$100 per card; 10 Days/$55; 30 Days/$35
SCI's Experience: After three unsuccessful attempts to get through HGA's queue, we finally made it on April 16. Our five-card package was received by HGA on April 26. As of May 29, we haven't gotten any updates on the cards' status.
Last 2019 Prizm Base Zion Williamson eBay Sale: HGA 9.5-$277; PSA 10-$485
Pros: Limited weekly submissions help ensure decent turnaround times; the colored slabs sometimes complement the cards well; some eBay sales rival those of PSA
Cons: The twice-a-week submission queues can be frustrating to get through; the vibrant slabs come off gimmicky to some collectors who like complete uniformity
What makes HGA special?
Tyler Hitt, HGA Founder: So much about it. With the actual grading aspect, we use deep machine learning. It's going to be more consistent, more accurate baseline for all of your grading. As far as card-trimming and everything, when it scans a card, it gives us precise measurements and flags anything that is varied more than 0.1 percent for us to double check. We do UV light scans on them to make sure [cards] have not been colored, painted, trimmed or anything like that. We have lots of detections in place to make sure it's an even, accurate grading score. And on top of that, we wanted to make a more artistic-looking slab and give more color-matching abilities to the labels as well.
How do you compete with PSA?
TH: What I've always told everybody is our customers will set the market. If they believe in our product, just don't sell short. They're the ones that ultimately get to assign the price. If they like it, they'll pay more for it. If you like the way the slab looks and trust our grading process, then you're going to pay more for it. A lot of things play into that, like exclusivity. We only have 8,500 spots this week—and that's grown. We started out at 800 cards a week, so we're more than 10 times that. We're at 130 employees, I believe. We've grown really fast. Exclusivity really helps. There's not a lot of our cards on the market but it's growing by the day.
I thought it would be six months to a year before we were price competitive. There have been a couple of people do studies out there, but that's not something we worry about. We want to provide a great product and service that people appreciate. That will help our prices [on the resale market], but that's not something we can control as a company. We've seen different charts out there that show us next in line behind PSA 10s. Our 9.5s sell for 74% on average of the PSA 10. BGS' 9.5 is like 52%. Our 9.5s are outselling BGS' 9.5s. Pretty solid prices for a four-month-old company.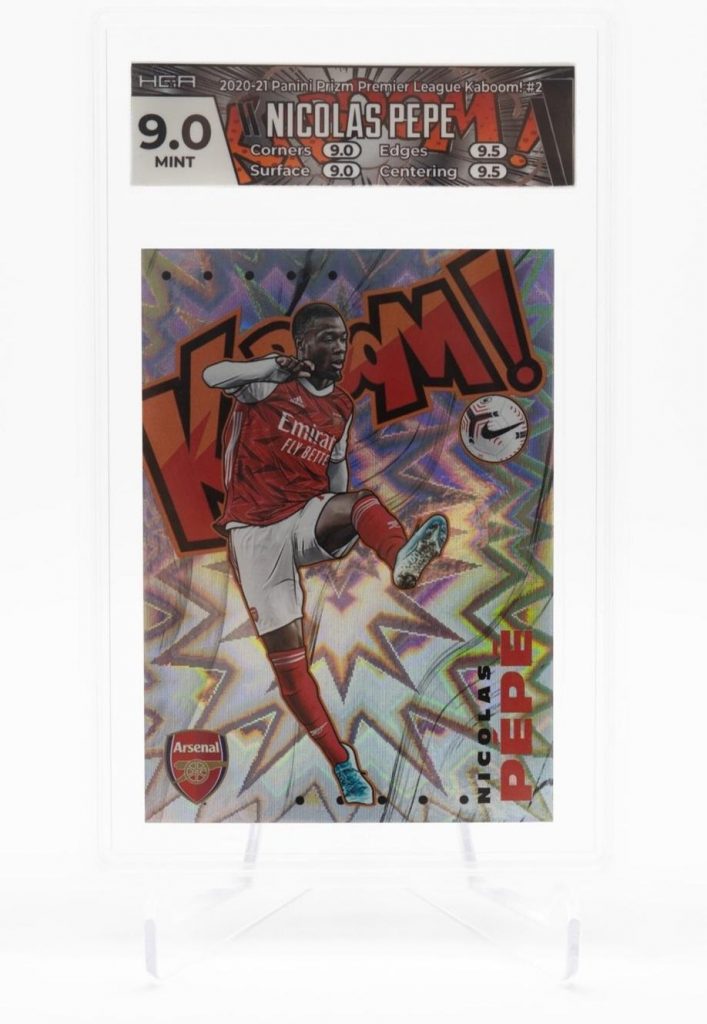 Talk to the person who's hesitant about trying your service.
TH: They're missing out on the future. We're continually innovating everything about us and we won't stop until we're the best. Want your slabs to be neutral? That's what we got from a lot of the PSA fans. They like that all of the slabs are red and white. That's when we rolled out our [neutral] option. We tried to do everything we can to be competitive and be an option for everybody. I've had a lot of doubters. A lot of people troll us on Facebook and then a couple of them said, "Hey, I actually ran across your cards and watched more of your videos and we've come to like you."
What's next for HGA?
TH: We have huge things in store. We have our new location in West Virginia. Our location down here [in Tennessee], we've been working on doubling the size. By June 20, we should be able to double the amount we're at right now. By the end of June, we should be somewhere in the 15 to 20,000-cards-a-week range. We're working aggressively. We have the demand behind us. We have the customer support we're trying to provide [to the public]. As long as we continue to have support, we're going to continue to grow just as quick as possible. But it has to be efficient and it has to be correct.
We're [also] doing a huge [Smoky Mountain] card show (September 18-19). We'll have around 600 vendors and over 50 celebrities and athletes attending. We've also made an offer on another 50,000-square-foot location in a Midwest state. That's all I'll give away for now. We made a full cash offer. There doesn't need to be hesitation around the fact that we're going to be around. We're very financially safe. We'll be here long-term. We're buying out all of our locations. We own all of our buildings that we're in, except for our first one. We're not going anywhere. We're going to continue to compete until we're the best.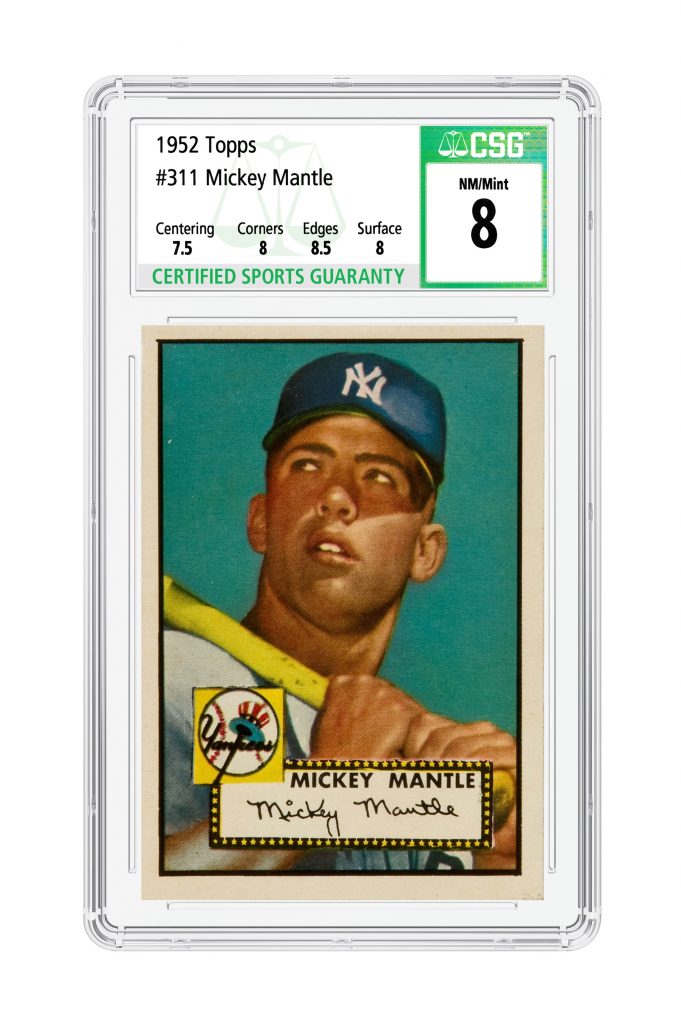 Name: Certified Sports Guaranty (CSG)
Date of Birth: February 16, 2021
Home: Sarasota, Florida
Turnaround Time/Price: 5 Business Days/$125 per card; 15 Days/$60; 47-Day/$30; 61 Days/$20
SCI's Experience: According to the U.S. Postal Service, our 25-card economy order was received by CSG on March 12, but didn't get into its system until March 26. The graded cards were shipped back to us on April 23.
Avg. of Last Two 2020 Donruss Optic Joe Burrow eBay Sales: CSG 9.5-$93.50; PSA 10-$397.50
Pros: Parent company Certified Collectibles Group (CCG) is well respected in the coin-, comic book- and stamp-collecting worlds; Certified Guaranty Company's Pokèmon card sales on eBay often rival PSA's; crystal-clear slabs give the card a clean, sleek look
Cons: Bigger labels on slabs are a little distracting; secondary-market prices have a ways to go to compete with the big boys
What makes CSG Special?
Max Spiegel, CCG's President: We went out and hired some of the top experts in the sports-card space. Our two senior graders, Andy Broome and Westin Reeves, came from a major card-grading service. They brought in the expertise from a card perspective and we brought in the operational and business expertise from having been successful in coins, comics, paper money and other grading categories. Combined together we were really able to build a company that serves sports card collectors with everything they need. We're not only doing that with expertise but with technology. We're using artificial intelligence to help improve the efficiency and accuracy of our grading. We have other machines that help to detect alterations. We have a comprehensive guarantee in both authenticity and grade. I think our guarantee is the strongest in the industry.
Unfortunately, as we've gotten busier, our turnaround times have gotten a bit longer. But I still think we have industry-leading turnaround times in our space. If you want things back accurate, in a great holder, with a very strong guarantee and in a reasonable amount of time, I think our company is the best choice.
Talk about the differences in sports card collectors compared to those in coins or comics.
MS: From a marketing standpoint, the sports card market is much more involved in social media. They're very engaged with us on Instagram or Facebook. That's far more so than our coin business. I think the reason they're collectors is because they're very passionate about the space. But I think the media that they express their passion varies from one to another. With sports cards, we're communicating on Instagram or Facebook. But with coins, maybe it's more by phone or email. And the comics and cards businesses are definitely experiencing this renaissance driven by new technology and this community aspect and probably some aspect of being stuck at home for a long period because of Covid. Those markets have just really, really accelerated and it all seems to be centered on the community aspect of social media right now.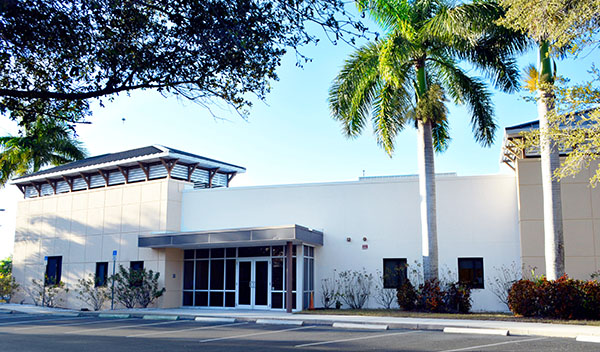 How do you plan on competing with PSA?
MS: I think there are two things [collectors] should look at. The first thing is look at CGC trading cards. CGC is our affiliate dedicated to Pokèmon and Magic cards. We launched that in July of last year. Our cards are now selling for as much or more than all of our competitors in that space. And the reason for that is people have come to trust our brand, the accuracy of our grading, they love our holder, they know that they're getting a great product and they're willing to pay for that when they're buying in the secondary market. I think it's already been demonstrated in a short amount of time that we can get the prices realized to where the competition is or even higher than the competition.
And on the sports card side, compare our grading fees to the competition and look and see where you would end up after paying our grading fees versus paying the competitor's grading fees. Obviously, [add in] the total cost of the card and see where it makes sense. At this point in time, it may not make sense for every card. But to my earlier point about CGC trading cards, the price gap will continue to narrow as more and more people realize the accuracy of this company and see the quality of their services is really comparable to other big players in the space.
What does the future look like for CSG?
MS: We want to hire a ton of graders and support staff. You don't need to know anything about cards to come work for us. We've got positions for anybody. We're a fast-growing company. We pay very competitive wages. We're giving a $2,500 signing bonus to anybody who starts and stays with us for six months. We're giving year-end bonuses. There are a lot of reasons to come work for us. It's really a great place. By coming to work for us, you're going to help us deliver the faster turnaround times that the whole sports card community wants.
Right now, we're investing in a lot of things. We're building out a population report. We're investing in building out a registry. Both of those things will be released on our website definitely by the end of this year, probably a lot sooner. We're also investing to build out different holder sizes so we can accommodate the variety of thicker cards on the market. Nothing specific to announce on timing, but people should know that we are investing to build out our array of services both digitally and physically with our holders.
Sports Card Investor offers discounted bulk grading through CSG. For more details on the submission process, visit this link.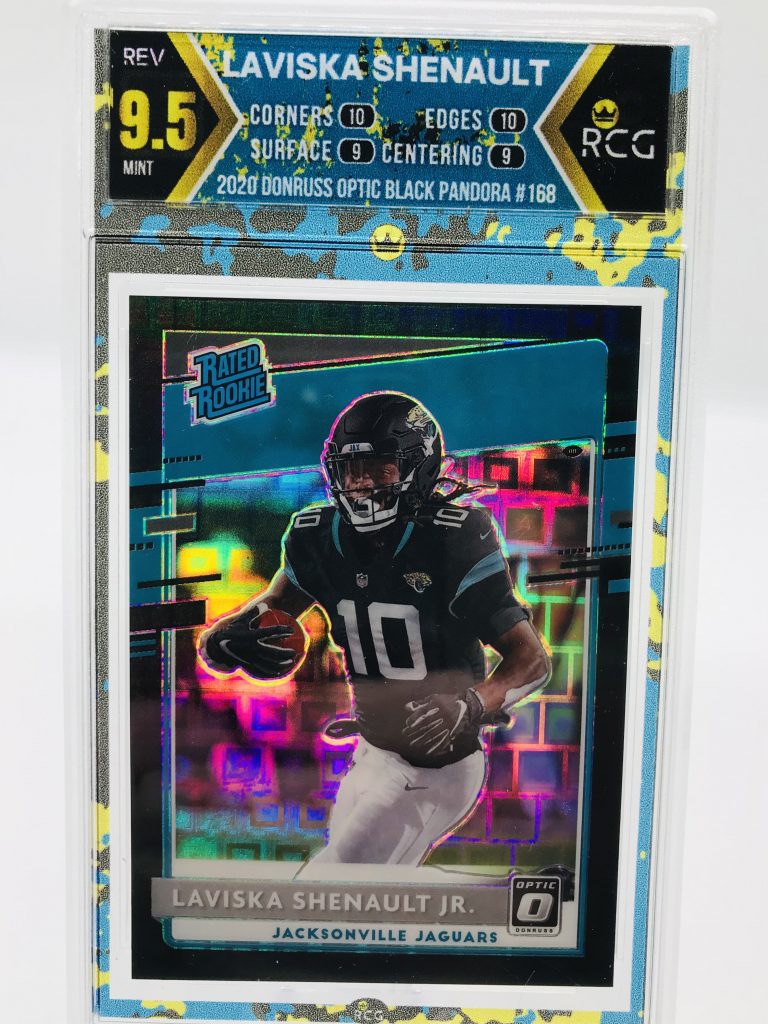 Name: Revolution Card Grading (RCG)
Date of Birth: April 11, 2021
Home: Winder, Georgia
Turnaround Time/Price: 10 Business Days/$55 per card; 20 Days/$45; 30 Days/$35
SCI's Experience: N/A
Avg. of Last Two 2020 Hoops LaMelo Ball eBay Sales: RCG 9.5- $97.99; PSA 10- $280
Pros: On-slab printing is rather unique; random refractor and prism slabs could potentially make the holder itself a collectible
Cons: The baby of the bunch with much to prove; like with HGA, some traditionalists don't like the colorful slabs; being so new, there aren't many eBay comps available
What makes RCG special?
David Dorogi, RCG Co-Founder: What we do is print directly on the slab itself, so there's no paper label at all. What that means is once the case is cracked, it's no longer usable so, in essence, it's tamper-proof. For us, printing on the slab is really a need in the market because you got a lot of people that do cracked cases. There's a lot of fraud out there. We bring that to the table.
Another thing we have is a registry, a database that keeps population and every item number on the website. What we do is double verify. You can check the item number or [we] issue a certification number to the owner when we send the delivered slab. So, if someone is searching on eBay and wants to buy my Michael Jordan rookie, you can check the item number or ask the owner for the certification number. If he doesn't have that, I'd be leery. Between the tamper-proof slab and the double-verification, I feel very good [about our place in the industry].
Explain the process of allocating refractor cases.
DD: We have a randomizer here. What that means is that, as we're grading cards, we go through the process of marking the amount of cards we grade a day. Every 25th card, or as close as we can, based upon the luck of the draw, you'll get a refractor slab. Every 50th, you'll get a prism-labeled slab. That makes it kinda fun. Just like when you're collecting and open a box, you might get a really nice card. We wanted to make the whole process [fun]. From getting that card to getting it to the grading, you never know what you're going to get. It's kinda like opening up a box.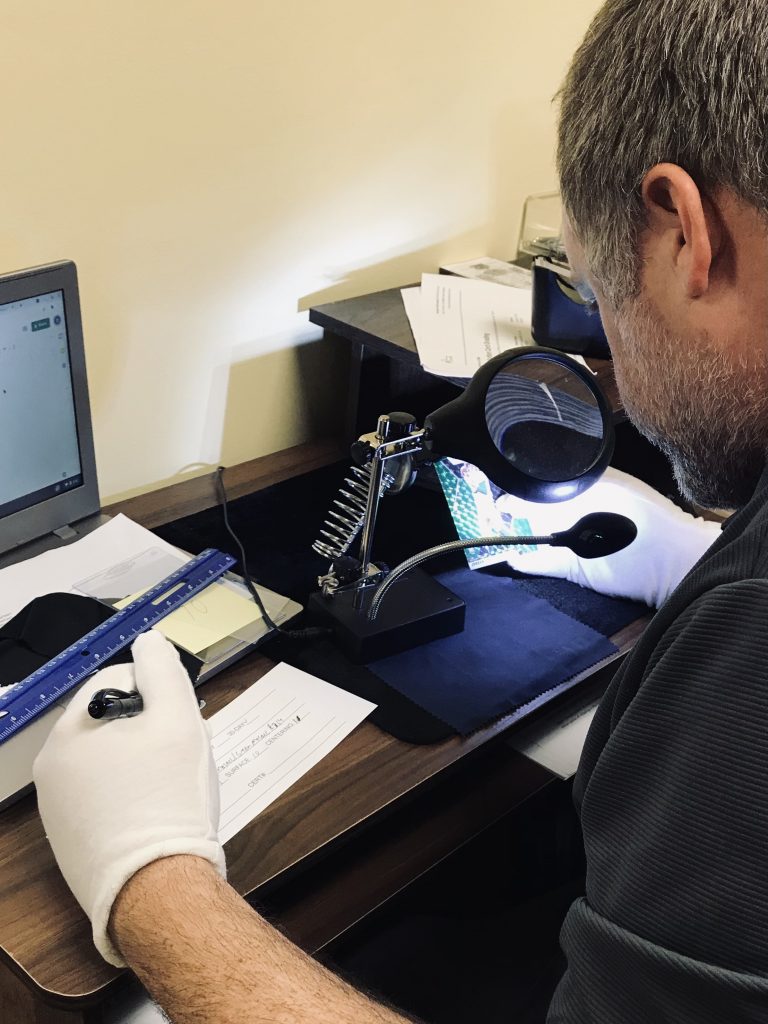 How do you compete with PSA?
DD: We're just starting to [show] on eBay and what I've seen is that [our graded cards] are holding their value. Our 9.5 is around a PSA 9. First of all, we came up with the prism refractors because, honestly, they're just pretty cool to look at. The market, over time, will either hold more value for those low-population [slabs] or it won't. That's up to the market.
As far as the company itself, we're all about integrity. As modern and new age as we look, we're all about old-school integrity and having the right graders, using A.I., which we don't have it yet, but we're developing it in a way that it'll be more accurate. The big thing for us is definitely the tamper-proof slabs. If the market's not holding value now 'cuz it just got listed on eBay, it will. We keep every record of every card, even the refractor and prism slabs, in the website's registry. With our tamper-proof slabs being non-transferable with the labels and the double verification, [the slabs] will hold value in the future. We're pretty positive about that.
What's next for RCG?
DD: We want to add more customizations that people can add [to their cards] on the website. We want to do memberships. We want to make it easy and fun and not a pain in the butt [to bulk submit]. We want to have these memberships on the site for discounts and benefits when you go with RCG. We also want to do different inserts and low-population labels. We want to expand. We want to keep growing, keep enhancing our design and the quality of the work. That's what's in the next six months for us. But we're scaling up. We've got a couple suites in the building. We've got a whole floor to expand to. We're going to keep expanding to handle the growth. We're going to scale up right so people aren't waiting even a day over their turnaround time.
Track your collection and maximize your profit with Market Movers, the hobby's most powerful sports card pricing platform! Learn more here.