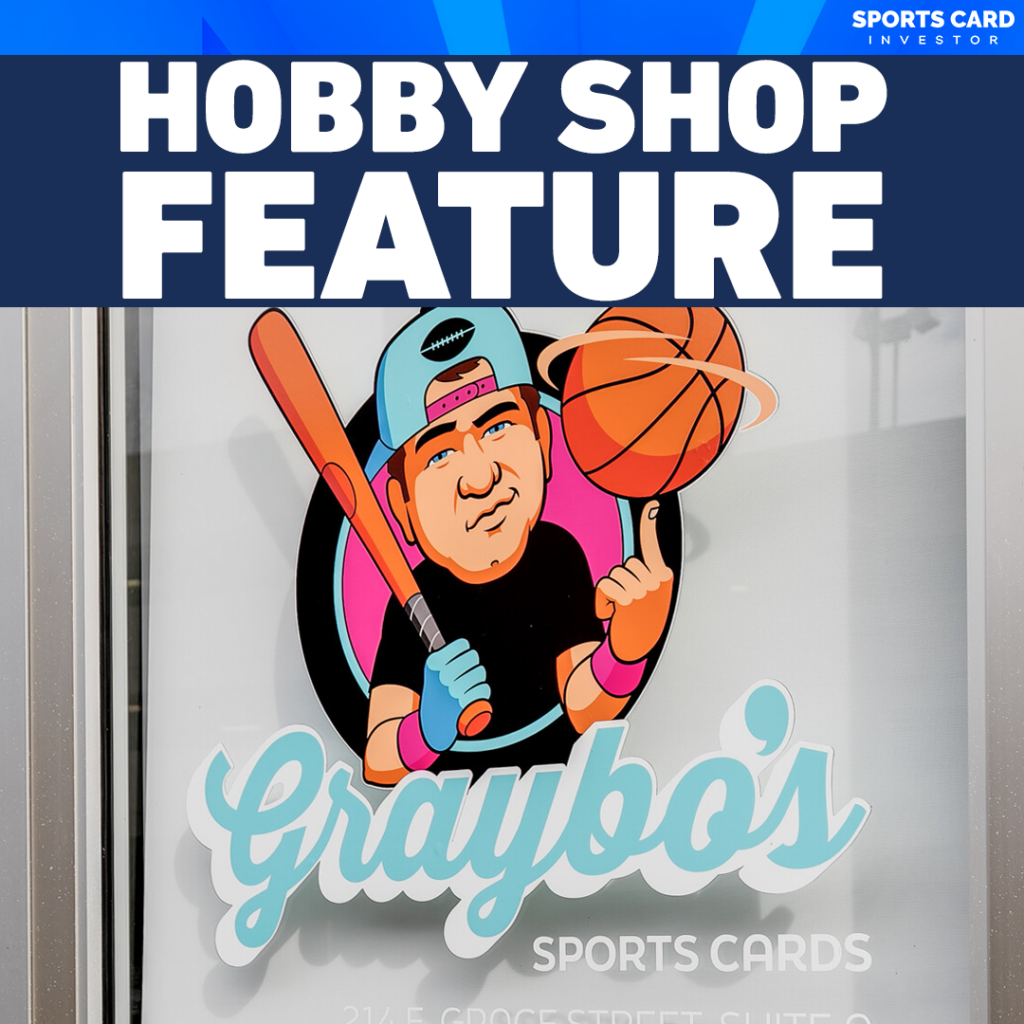 Hobby Shop Spotlight: Graybo's Card Shop
One sign that the sports card market is healthy and growing is the increase in new hobby shops across the country.
Last month, we sat down with the Texas Roadshow Shop team, and recently we were fortunate enough to have spent some time with a brand new group that just opened a hobby shop in Richmond, Virginia.
Duke Dodson, Ryan Fitz and Gray Burnette launched Graybo's Card Shop and https://graybos.co/ in early 2023, in a power-packed, 500-square foot space with amazing classy yet nostalgic vibes, already with plans to expand into some larger event space.
Here are the highlights from Sports Card Investor's conversation with Duke Dodson, CEO of Graybo's Card Shop:
Whose idea was it to start the shop?
The three of us (Gray, Fitz, Duke) text every weekend about sports betting, fantasy football, fantasy golf, etc. We were all collectors as kids. When we caught wind of the sports card industry making a resurgence, we quickly dove in, learned more about it and became instantly hooked. From there, the idea started percolating. So, all three of us contributed to the idea.
When did you fall in love with sports cards?

I was born in 1979 and started collecting with my friends around 1987. It was my favorite thing to do from 1987 to 1992. I fell out of the hobby around middle school/high school. We fell back in love with it in late 2021.

Are there ever days you wish you were doing something else professionally?

No! I started a property management business in 2007 and sold most of it in the summer of 2022, so the timing of this venture lined up perfectly. I still have my hands in a few other businesses (real estate development mostly), but I plan to spend the majority of my time here at the shop.

What was the biggest obstacle in getting the shop launched?

I imagine for most, a large obstacle is the capital needed to build out the real estate and to purchase the starting inventory. Because that is the industry that I came from, and because I just sold a business, that part wasn't the main challenge for us. The biggest obstacle for us was to establish a relationship with a distributor, Loupe, etc. It's a bit of a chicken vs. egg scenario. You need a storefront to have a distributor relationship and you need a distributor relationship to have inventory for your storefront. This is one of the few industries where you want to buy something and people don't want to sell to you (initially).

What separates your LCS from all the others?

I grew up going to a "dive" card shop in Roanoke, VA that reeked of cigarette smoke. Most card shops that I've been to have the "dive" vibe. Graybo's certainly isn't that. We hired top-notch designers and artists and focused 100% on wowing our customers with an amazing experience from start to finish. You could describe our shop's design as "clean, fun, with an urban flair."
What is the most rewarding part of running your business?

My favorite part of this business is seeing the customer, whether they are eight years old or 80 years old, find that "one thing" that they were looking for, and see their eyes light up.
What's your most memorable card sale or trade?

As a kid, we were mostly trading $1 cards with each other. One of my friends found a Nolan Ryan rookie in his uncle's basement, easily the most expensive card that any of us had touched at the time. I traded a lot of my cards to him to get it. Two weeks later, my other friend convinced me to trade it to him for six Don Mattingly's, two Kirby Puckett's and a Ricky Jordan (not my finest trade). I spent the next 10 years regretting that one.

What are your busiest days of the week?

We just opened last month! We will be open Tuesday – Saturday, 12 p.m. – 6 p.m. We expect Saturday to be our busiest day. We will have to see what kind of traffic we have during the week.

Slower days?

Don't know yet!

Do you host any events in the shop?

The shop that we just opened is a small temporary space (about 550-square feet). We can't host large events in this space, but we do plan to host some autograph signings. We are working on a larger space in one of our real estate development deals, which should open in about a year. This space will include event space that can host things like watch parties, fantasy football drafts, mini-card shows and trading nights.

Anything you'd like to promote?

We'd just like folks to follow us on Instagram for now. That is where we will get the majority of our messaging out to folks. We do plan to release a podcast that will drop 15-minute nuggets, or "Giblets" that will focus on Fantasy Golf, NFL, College Football and sports cards to buy/sell. Our podcast won't be your long-form, 60-minute kind of content. We'll spend hours each week aggregating data/info/content from folks like Sports Card Strategy, Sports Card Investor, Slabstox, Big Bets on Campus, Bet the Board, NoOffseason.com and will boil it down into 15-minute Giblets so folks that are super busy can hear a few recommendations and decide if they want to "ride with us" that weekend.

Ever have any celebrities or athletes visit your shop?

David Shriver, a VCU basketball player, came to sign autographs at the shop in February. We plan to utilize all of our local sports connections to have folks that have ties to the area pop in for signings/events (Lawrence Taylor, Bones Hyland, Justin Verlander, VCU players, Richmond Flying Squirrels players, etc).

What's the most surprising or unexpected thing about running your shop?

The initial difficulty in setting up relationships distributors, Loupe, etc.
Meet The Team:

Duke Dodson, CEO

His background is in real estate (property management and development). He started his first business when he was 16 (car detailing), started Dodson Property Management in 2007, and sold the majority of it in 2022. Collecting baseball cards was one of the highlights of Duke's childhood. He is a Yankees fan, and Don Mattingly was his guy. Duke also PC'd Ken Griffey Jr, Frank Thomas and Larry Bird. He still PCs those guys, along with Jay-Z, Ja Morant and Fernando Tatis. Specialties: Baseball, NFL, College Football, NBA.

Ryan Fitz, Director of Retail Operations

Fitz has worked in property management and was most recently working for a tech firm in customer integration. He has a great attention to detail in regards to anything that affects the customer experience (logo, signage, the retail space, IG content, eBay store, etc). Fitz is a huge 49ers fan and collects Trey Lance, or maybe Brock Purdy, or maybe it's Trey Lance. We'll wait and see (but it's definitely not Jimmy G). He also has this weird infatuation with Desmond Ridder. Specialties: NFL, Golf.

Gray Burnette, Director of Research and Content

Gray Burnette, aka "Graybo," is Duke's brother-in-law, and he grew up a few doors down from Fitz. Graybo teaches middle school History and has coached middle school and high school sports (basketball and soccer) for the last 13 years. Gray plans to come aboard full-time when this school year ends. Gray has encyclopedic knowledge of College Basketball, NBA, Golf and NFL. He's a Red Sox fan, and his dog was named "Nomar." We named the company "Graybo's" because Gray and his friends are the target audience for our shop and content. His friends do nothing but talk baseball, football, basketball and golf. They dabble in sports betting, fantasy sports and a lot of them are getting into sports cards. Gray's energy is contagious and you can feel that when the doors of the shop are opened and all of this students/athletes roll in! Specialties: College Basketball, NBA, NFL, Golf.

Graybo's Sports Cards is located at 214 E Grace St, Suite A, Richmond, VA 23219. For more information, visit Graybos.co and @Grabybos_Cards on Instagram.
Paul Hickey is a regular contributor to Sports Card Investor, the creator of the Sports Card Investment Report at NoOffseason.com, and the host of the Sports Card Strategy Show on Apple Podcasts, Spotify and YouTube. He can be found on Instagram at @sportscardstrategy and on Twitter @nooffseasoncard.