As the founder and face of the beloved Women of The Hobby platform, Samantha Shuford's schedule is generally filled with podcast taping, social media posting, card-show visiting and doing whatever else she thinks needs to be done in order to amplify the collective female voice in this testosterone-filled hobby.
How Shuford, a North Carolina native who attended the University of South Carolina and PCs the Carolina Panthers, finds time for anything else is astounding. But there she is, at trivia night every Tuesday and bowling just about every Thursday. Shuford says it's the competitive nature both present that really excites her. All we know is that it's incredible SCI found its way onto Shufurd's busy calendar so we could chat about WOTH's mission, her start in card collecting and generating more WNBA card excitement.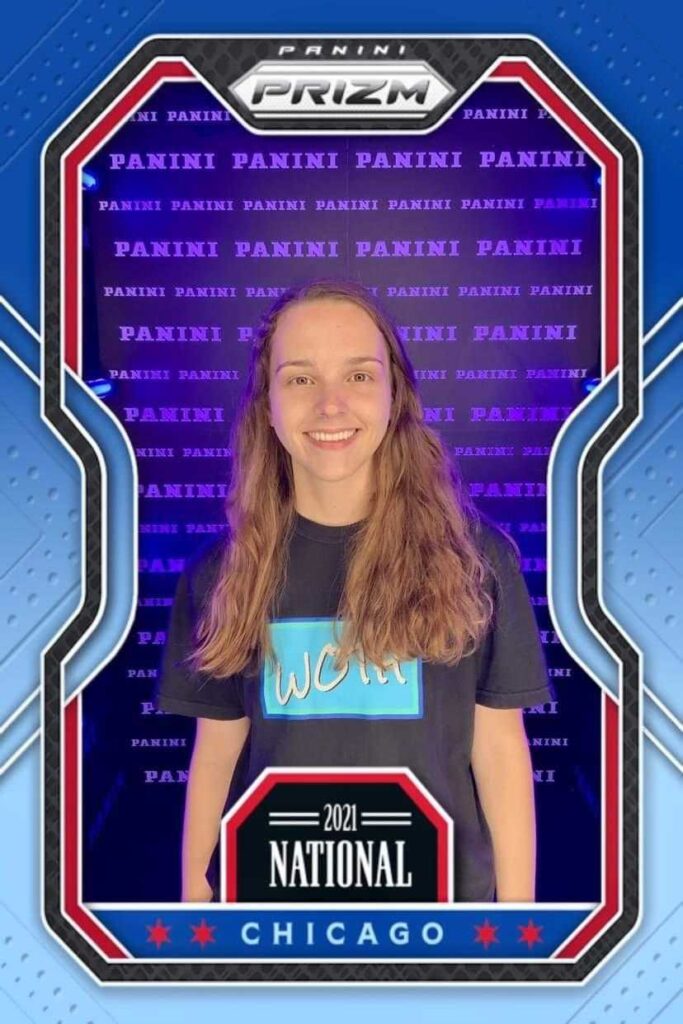 A little while ago, Layton Sports Cards did a break in Vegas that got a lot of negative attention for the models involved in it. When you hear about incidents like that, do you have "Man, we have so far to go in the hobby" thoughts in the back of your mind?
Yeah, I think so. I think incidents like that, more than anything, they probably bring more awareness to the disparity and the gender ratio that we have within the hobby. I think people are just more aware [and should think], "Oh, there are women who are in the hobby and we should probably be more respectful moving forward." In general, maybe it just opens people's eyes a little bit more to what's going on, and how we can make it more inclusive. Obviously, I don't know the specifics of that event. But I do know that Sara Layton is an owner of Layton Sports Cards and she's very involved with the Women in Cards Facebook group. I think she's definitely working to make sure events like that never take place [again]. She does a lot of good work. I know she was probably very upset with what went on, but I think she's making the right strides to make it up and continue to do right moving forward.
How long has Women of the Hobby been in existence?
Yeah, so Women of the Hobby has actually only been in existence for a little over a year. I started it as a page in late-February/early-March of 2021. Only about a year. But yeah, it feels like a lot longer. It's been really exciting.
Though it's only been about a year, speak on the narrative changes you've seen in the industry since you've become involved.
I think there's definitely been a change in the presence at shows. I don't know if it's just subconsciously, but I do feel like I've noticed more females at these different events. And I think, along with that, at the bigger events like The National or just recently at Mint Collective, there are dedicated nights for women to get together, meet and talk about all things hobby related. And I think those dedicated nights were something that, previously, I wasn't aware that they were going on. I think we're gonna continue to see more of that moving forward, these dedicated kinds of groups and meetups for other women to just come together and discuss the hobby. That's really exciting.
And as I mentioned, just kind of the presence of women [is becoming more of the norm]. I haven't received many messages lately of like, "Hey, dude" or "Hey, bro." I feel like that's kind of a tagline that's somewhat diminishing in terms of responses between different people in the hobby. I think that's a good thing. People are just not automatically assuming now that everyone they meet is going to be a male collector. They can also be female. I think that's exciting just to know that the general visibility of women is continuing to grow. It's not just a testament to Women of the Hobby, though. There are a lot of other women and other groups involved who have been allies for the visibility.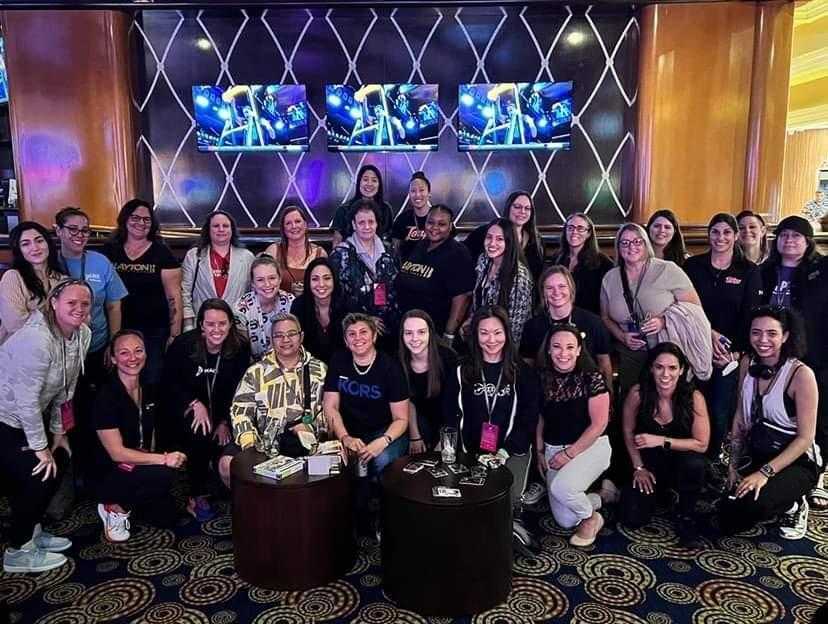 What are some things you'd like to see improved upon over the next year in the hobby?
I think there are a couple of things. I think the first is visibility, continuing to recognize women in the hobby and understanding their presence and that they are here. And then I think the second thing may be more support or respect for the female products like WNBA cards or soccer. I think just general support for female-oriented products would be a really big push for [attracting] women in the hobby. And I understand that women in the hobby don't always collect female players. I collect male players, too. But I think, for these female products, it's going to be big [that they get male support] moving forward. And lastly, I've seen a lot of male athletes get involved within the hobby, whether they're baseball players, football players or whatever, collecting their own cards. But I'm not really aware of any female athletes who are in the sports card industry. I think getting a bigger push of other female athletes being a part of the hobby or seeing if that's something that they're interested in is kind of a goal of mine. I'd like to see these athletes get involved and take more interest. I think that it makes it more fun when you're like, "Oh, so-and-so is a collector, too."
Yeah, how cool would that be for A'ja Wilson or Dawn Staley to sit around a table with all these WNBA cards on it?
Yeah, definitely. And I'm a South Carolina alum!
Congratulations on them winning the national title!
Thanks. They also won my freshman year, which was a great freshman year because our men made the Final Four that year, too. That was super fun. And I'm really excited that they got it again this year. So yeah, hopefully big things coming from them.
What are your fondest childhood sports memories?
I would definitely say going to the Carolina Panthers games with my dad is something I always remember. It's probably my fondest moment, just because we'd get there pretty early, we'd tailgate with some of his friends and go to the game. It's just a really fun time that I got to experience with my dad—occasionally my mom, too, if my dad couldn't make it. I think going to those games is something that really kept me interested in sports. Obviously, football has always been my favorite sport. I did play basketball growing up. But yeah, football is my true love. Specifically, the Carolina Panthers. We've gone to the Super Bowl twice. We've lost twice. My dad went the first year. Of course, I was too young to go. I was like three or four at the time but I just remember crying really hard when the Patriots won. You live and you die with your team. But it's been fun.
Did that love for the Panthers lead you into card collecting?
Growing up, sports has been just a huge part of my life. I've always loved sports. I had Sports Illustrated for Kids magazines and there were cards in there. I don't know if I would necessarily say I collected them [from the magazine], but I kept them. Some were kept in my room. That's kind of where it first started, but I wouldn't say I was a true collector or really in the hobby at that point. It really wasn't until Covid hit [that I got into collecting]. I was back home with my parents. It was my senior year of college. I was just sitting around, trying to waste time before I started my real job. That's when I found sports cards again. I was 21 years old or whatever and I was like, "How have I not been doing this my whole life?" I've loved sports and don't know why I haven't been collecting.
What are Women of the Hobby's main goals?
As I mentioned, I was always getting mistaken as being a guy online or going to shows and being the only female there. That was somewhat discouraging. So, I really wanted to create a landing page or a home base for a lot of other women collectors to go to if they wanted to meet other female collectors and just hear about other female collectors because that was something that I felt was kind of missing in my hobby experience. That was kind of the whole reason for creating it.
The name Women of the Hobby was somewhat a play of [the photoblog] Humans of New York. I more so wanted it to just be like a page dedicated to showcasing the stories of other female collectors. And so that's what I've tried to do with some of the interviews and the different podcasts I do is just bring on a wide variety of different women in the hobby and hear about their beginnings in the hobby, what they collect and their experience so far. That's mainly what I've been trying to showcase with these women. I also do a "Woman of the Week." Although it's somewhat inconsistent now, I'm trying to do a "Woman of the Week" every week, where I'm highlighting them, their PC and different products that they like.
Just trying to create that community effort and create that page that I was looking for initially. Okay, where can I find all the women who collect. I want to see what they're into. That's really what I've been trying to do so far. And I hope it's helped some people. I've definitely received some messages saying, "This is what I've been looking for. I've been wanting to know other women who collect." Hopefully, it's very helpful to people looking for that type of thing.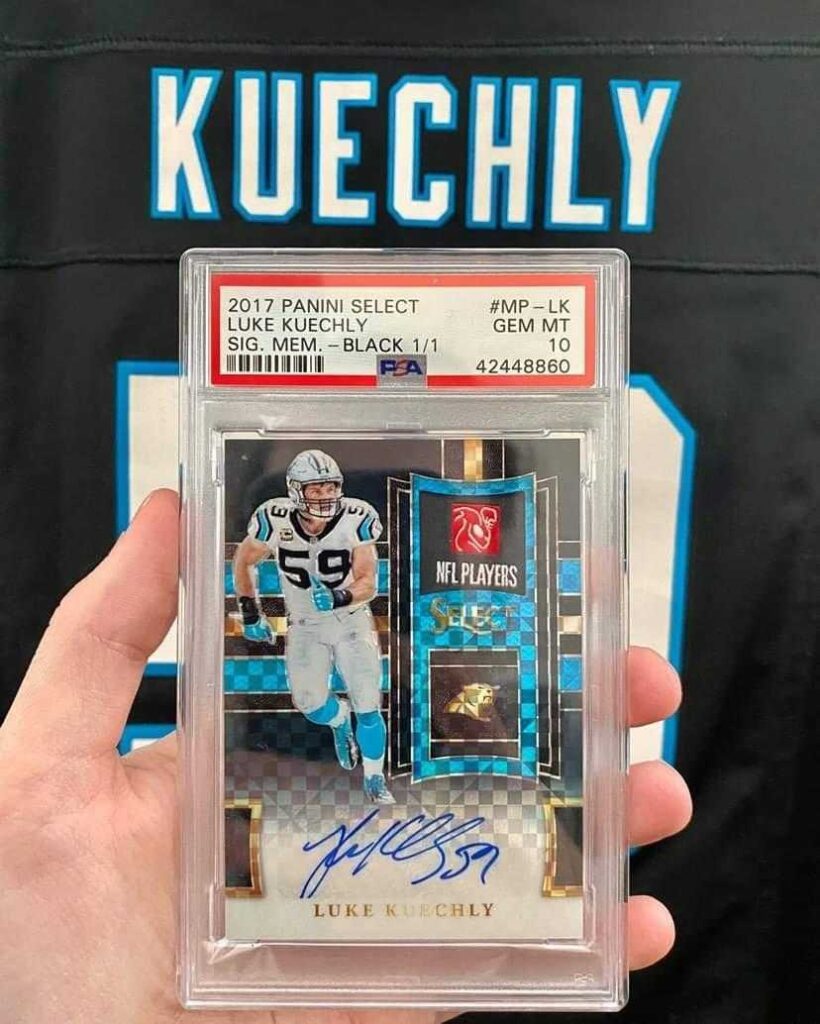 I know your PC is filled with Carolina Panthers and South Carolina Gamecocks alum. What are a few cards that really stand out in your collection?
I just got one recently as a gift from the Mint Collective. Ty from Bullpen L.A. gave me a 1/1 Luke Kuechly. Luke Kuechly is my favorite player. That is definitely one that sticks out in my head. But there's also another card that I just purchased. It's a 1/1 Kuechly as well. I got it through the connections that you make as a community. Someone randomly messaged me and said, "I know you collect Luke Kuechly. I have a 1/1. Whatever you're willing to pay for it, I'll take." People reach out, knowing that you collect someone. I think it's really thoughtful. Sometimes it can go unnoticed in the hobby the amount of gifts that you get from the community. Those types of cards are something that I really enjoy.
Track your collection and maximize your profit with Market Movers, the hobby's most powerful sports card pricing platform! Learn more here.
Note to readers: If you purchase something through one of our affiliates, we may earn a commission.