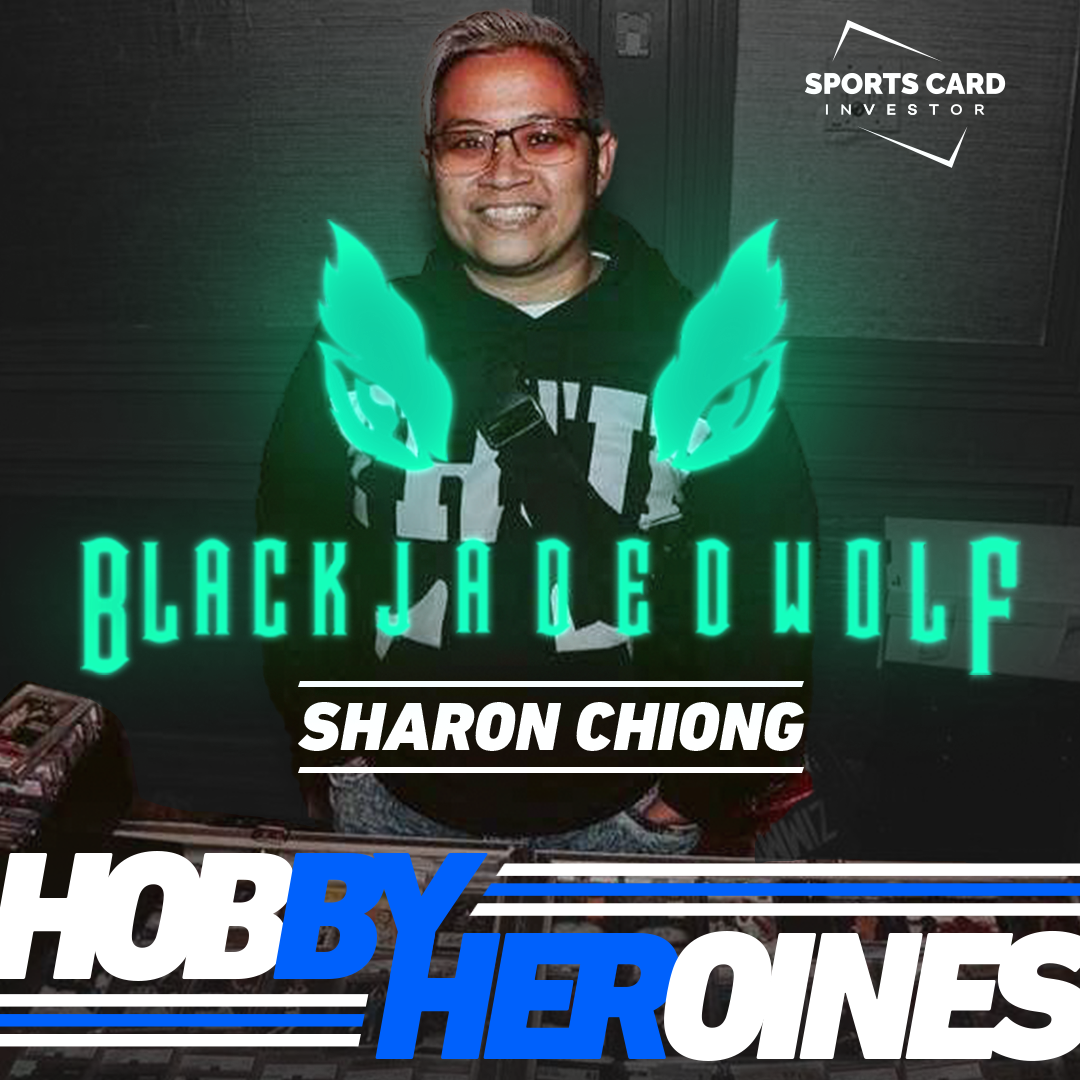 Sharon Chiong, co-owner of New York's highly respected Black Jaded Wolf card shop, supports the Brooklyn Nets. Even when most fans weren't allowed in Barclays Center to see games because of COVID protocol, she managed to get a seat. "I got invited by a friend," says Chiong. "His wife (a frontline worker) was being celebrated. We were literally the only people that were in the arena. I saw James Harden and Kevin Durant when they were still healthy."
Unlike the KD-led NBA crew, though, the hoops-loving Chiong hasn't ascended to the top of the card-collecting field by aligning with a whole bunch of industry stars. When she hits the road for shows or hops on podcasts, she's the main attraction. We're not saying there isn't a squad of supporters beside her. Of course, there's her wife/co-owner Shevon Collins and others. We're just stating that, for the last decade-plus, Chiong has shown the courage, determination and incredible card knowledge to lead her team through the male-dominated sports card industry and still come out on top. Now, that's what we call a baller.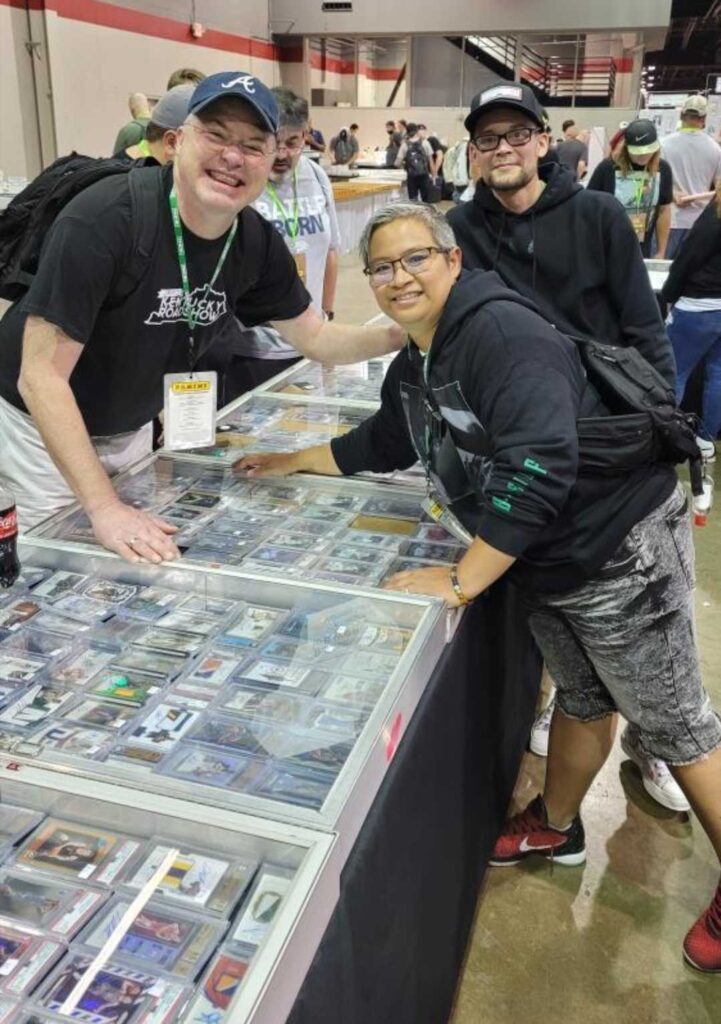 What grade would you give the industry right now in terms of how welcoming it is to women?
It's a slow-moving process, but I think we're moving in a great direction. A lot of bigger companies and auction houses, they're all hiring high-position females to be working in their companies, which is a positive thing. It's still getting there slowly. You might not see them, like out in front of a show, but a lot of them are working behind the scene. To me, it's still counted as a positive.
One thing more people in the hobby are doing is becoming more vocal about getting the youth involved. Do you see the interest with the young ladies?
Definitely. It's a big increase, actually. It's very positive. I think it still has a lot to do with parents. All my relationships that I've formed through the years are father and son. I don't see them bringing their daughters into sports cards [shops]. I've heard a lot of stories go, "Oh, yeah, my wife has my daughter. They went shopping." The father is with the son in the sports card shop. With this National, I saw a few fathers with their daughters and sons there, which is nice to see.
I also know that the visibility of the WNBA and soccer product [helps get girls' attention]. There's no female soccer product but they're all in the Topps Olympics box. Growing up, I know you want Michael Jordan and Kobe and LeBron and all the newer guys in sports [in your collection], but it's also nice to see that there's [WNBA star Sabrina] Ionescu. Pulling a nice Sue Bird autograph or Diana Taurasi, the greats in the female sports, is so positive. I think it will bring a lot more female collectors in the hobby. And not only that, it was nice to see three or four events with females featured. And Sports Card Investor is one of those advocates that kind of pushes for it, which is very positive.
Sharon, where did you fall in love with the hobby?
I just love sports. I've always been. I'm a Michael Jordan, Bulls-era of person. I love watching MJ and Pippen when they were winning. And then it just carried over. When I went to college, I got my first paycheck. Every time I'd go home, on my way home, the [neighborhood] corner store had these packs. That's actually my introduction to it. And the next thing I know, every paycheck was going to sports cards. So, after a few years, I decided I needed to sell some of this. I got introduced to sports cards shows, I started attending and that's where I'd begin.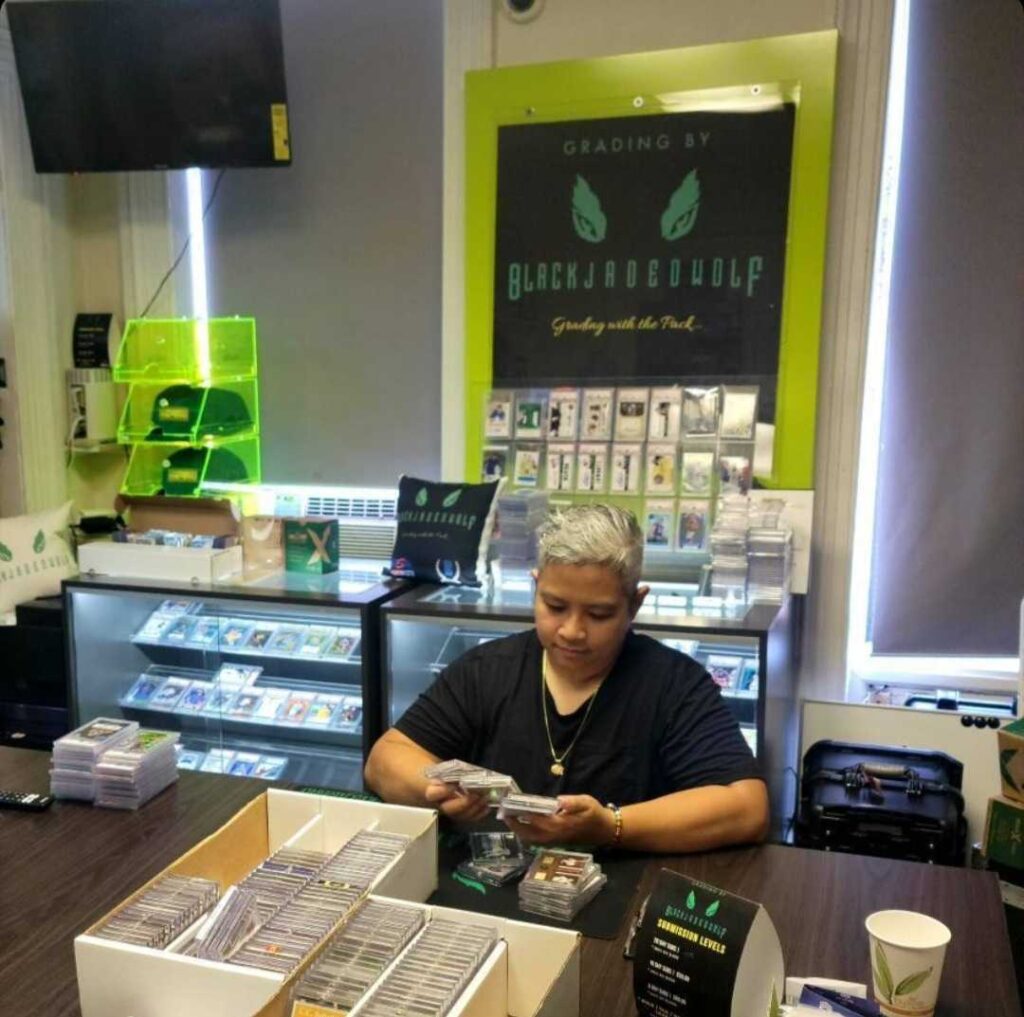 How were you able to go from attending card shows to actually having a shop?
A lot of years. I'll let you know I've been in the hobby for almost 15 years. Some guy gave me a showcase to put out my stuff and sell it. And next thing I know, he retired and I took over. It's my own business. I have like 20 showcases [on display] during the National this year, you know? That's it. And I'm hoping one day I could pass it down to someone.
I started the shop because, during the pandemic, I couldn't travel to shows as much. So, I decided to open an area where people could hang and just come. If they want to move some cards, [great]. I also opened the second business, which is Grading by Black Jaded Wolf, which we take submissions for PSA and SGC.
How did you come about that shop name?
Everybody asks me about that. It's really a boring thing. I thank Google for it. So, Google doesn't want you to put down a random name [for security purposes], so they asked you for your favorite color, favorite animal and favorite stone. If my favorite animal was ostrich or something… well, I'm not sure that would be the name.
Talk to me a little bit about the New York City collector right now.
I think New York collectors are very diversified. We range from small collectors to some of the biggest collectors in the hobby. Some of the big movers are in New York. The only thing is, during the pandemic, we shut down, so things kind of tamed a little. But now we're starting to open up.
I'm also talking to Bleecker Trading and Mondesi Sports, and we're thinking about starting a show in New York City. It's still in the first few stages, but maybe it could happen. We'll see.
Want to pick your collecting brain for a minute. Who are a few underrated football players or products that you don't understand why more people aren't talking about?
Let's see. I like Baker [Mayfield], who's starting to pick up. But I'm not fully invested in Baker yet. A lot of the new guys are hot. My guy [here at the shop] just chimed in and said he doesn't understand why football hall of famers are not [worth more in the hobby]. You know what I mean? Like John Elway, you could get him for like $100. In basketball last year, a lot in the hall of famers started picking up, especially with autographs. But for some reason, football hasn't picked up yet as much with the hall of famers. I mean, Peyton Manning is going in the hall of fame and it's still cheap.
What's your best theory on that?
I think the hobby is still in the early stages. And a lot of the new people that are coming in won't know what to tap yet. That's because each collector has to focus on something. And right now, I think a lot of collectors are focused on basketball still. It attracts the most attention. It sells the most. Slowly, I think [football cards] will finally catch on. Even me myself, I'm starting to pick up on some hall of fame autographs. I think it will pick up sometime maybe next year. It will catch on eventually.
I was early on [New England QB Mac] Jones. But now, I'm seeing some early preseason and I'm like, "I don't know. Maybe I should back up a little." I'm local. I'm a Giants fan, but I've never been sold on Daniel Jones. But I have a feeling that will come back and bite me somewhere. But with Saquon Barkley being healthy, I think it will affect Daniel Jones' performance and it will eventually affect his card market [in a positive way]. Talking about that, maybe after we hang on, maybe I should invest in some.
Where do you see the next 12 months going in the hobby?
There's not going to be a big boom, but I think there's going to be many mini booms. PSA also has a big effect on the market. I think people are not focusing as much on [grading]. It depends on if they open up their services. I think there's going to be a big boom again. The grading company has a big effect on how the next six months come out. It's hard to predict, but I think football is going to come out super-hot in the next month or two, just based on performance. If Joe Burrow comes out healthy and he's ahead of schedule [his cards will sell well]. And if Justin Herbert comes out firing [his will do well, too]. Josh Allen and Patrick Mahomes are predicted to have great years because the offensive lines improved a lot and the weapons are just there. I think football will have a big boom. And basketball, it depends on how the super teams do. Right now, it's looking like the Lakers and the Nets. LeBron's cards kinda dipped a little, but with Russell Westbrook [on the Lakers], it looks like some of the LeBron cards are starting to peek again.