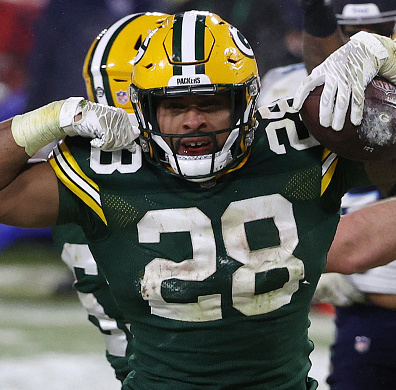 We should have known that Green Bay Packers running back A.J. Dillon would be into a lot more than football. When he attended high school in Groton, Massachusetts, Dillon was all about photography. Even snapped photos for the local paper.
As he got older, those interests diversified a little. Got more into video games. Wanted to travel some, too. But those pursuits had to be put on pause when football got serious at Boston College. Something about being the ACC Rookie of the Year and becoming the school's all-time leader in rushing touchdowns and all-purpose yards just has a way of forcing you to put down the camera.
As an NFL rookie last year, Dillon's role was limited to complementary back to Aaron Jones' full-time load in the backfield. Still, No. 28 remained focused, making sure to play well whenever his number was called. In the only 2020 game where he got at least 20 carries, Dillon steamrolled the Tennessee Titans for 124 rushing yards and two TDs.
With a little downtime before preparations for his second season began, Dillon was re-introduced to another childhood love—sports cards. In only a few months, Dillon's been buying into breaks, communicating with fellow hobbyists and being an all-around ambassador for card collecting. In the following chat, Dillon speaks to us about loving cards, understanding Pokémon and getting his Packers over the NFC Championship hump.
You seem excited about the hobby. Where did that love come from?
I probably started collecting back when I was a little kid. That's when it really started. Pokémon, Yu-Gi-Oh. I used to have the whole armband setup. I really got into sports cards when I saw my grandfather. My grandfather's name is Tom Gatewood. He played at Notre Dame and played with the New York Giants back in the 70s. When I was younger, I think he was 50 something, he was still getting cards to sign. I don't think it was Panini back then. Maybe Upper Deck or something. But he was still signing cards. I was like, "What, people still want your cards this many years later?" He's like, "Yeah, man. One of these days it's gonna be you [signing autographs]."
I kinda fell off the hobby. But obviously, just finished up my rookie year. I got cards of my own. I got tagged [on social media one night] by Rated Rips, so I hopped in. I started to notice that I was in there every night for a week. That's how it started. It's been really fun. I'm invested in it now. I'm seeing what kinds of possibilities there are further than just joining breaks.
It's almost like an addiction, right?
Yeah. And another thing I've noticed, man, is that the community is awesome. The one thing I noticed about Instagram — because I run breaks from another account called @notajsburner, where I do all my cards stuff — is that it has so many trolls and whatnot. When you get through that, it's such a great community. I joined Rated Rips and I just watch. I'm just in there watching and seeing what everyone else is doing. I'm saying good luck, joking and having a good time. It's definitely more than an investment for me.
When it comes to spending your money on cards, are you an NFL-only guy or do you spread things out over different sports?
Personally, I don't like to spend money on anything I haven't researched or understand. So, I made a spreadsheet of everything I spent and all the profit I made 'cuz I do some auctions on my other account. Just trying to stay close to even, you know. But mainly football [for my investments]. That's where it really started. Over the last couple of weeks, I've started to learn more about basketball. Been in a couple of basketball breaks. I've talked to some people about maybe getting into some baseball. I do have Pokémon but I just don't understand it too much. But eventually, I wanna be able to do it all. Probably most sports and Pokémon will be where I stand. I don't see myself spreading too thin.
With regards to football, are you into the young guys like Tua Tagovailoa or more old school with Walter Payton and Joe Montana?
I pretty much like the younger guys just because I feel like football is something I have a really good grasp on, especially predicting who's going to be good and what's going to work out. It's pretty much a gamble. No one really knows when it comes to investing, whether it's into stocks or cards. But I can understand when people say, "Oh, we're collecting Justin Herbert cards." Well, he won Rookie of the Year and he's balling out. But when somebody says, "Yeah, we gotta collect Dark Charizard." But what did Dark Charizard do this year? I don't know.
You've been hinting at a big sports card announcement on your social channels. Can you give Sports Card Investor a little insight into what's happening?
I can't share specifics yet because there are two possible outcomes right now. But I do think there may be a chance, in the next two weeks or so, I may be exclusively moving over all the breaks and auctions that I do over to another platform. That's all I can say.
Oh, so you're taking this hobby seriously?
Oh yeah. I've legitimately thought about opening up a card shop here in Green Bay. I thought about partnering with other card shops. I've thought about a lot of things. I'm just trying to figure it out. Some people have teams [working with them]. While you're going through a break, you've got a guy next to you sleeving the cards up and putting them in top loaders and you've got a shipping guy. I don't have that. It's just me and I just like the hobby.
When I was in California, I was at an Airbnb, auctioning off 30 packages and I'm waiting in a USPS line for like an hour. I'm sitting around, looking crazy. But I enjoy it. I just gotta figure out the logistics of it. This is offseason, so it's pretty easy to do it. But once the season starts, I can't be bringing out packages every day and staying up all night. I would love to keep doing breaks and keep having people involved. I just gotta figure out the logistics. Am I going to go into it with other people or what?
Now, speaking of the NFL season, you play with one of the most iconic organizations in all of sports. What is that like to proudly wear the green and yellow?
Man, it's a dream come true. But you know what's crazy? As much success as we've had this year –I had that game against the Titans—it didn't really hit me 'til this offseason. I went to California, that's where I offseason train. I was out there and I'd constantly see Packers fans. I went to Florida for a little bit and I'd see Packers fans. The fanbase is everywhere.
But no matter what you do, there's always going to be people who are negative about certain things. But for the overreaching sum of Packers fans, they love the team and love the people who represent it well. So, I wear that big "G" with pride.
It's kinda like the card community. You don't know exactly where they are. You might be somewhere and the guy next to you could be somebody into cards. You might be in Texas, but the guy right next to you might be a closet Packers fan and he doesn't want to tell his Cowboys friends. It's really cool.
Talk to those fans for a second. You all came close to the Super Bowl last year. What will it take to make that next step this coming season?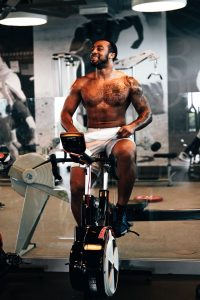 I've only been in the league one year. I don't know exactly what it takes. But I just feel like if everybody keeps putting their best foot forward and the team grows and build off each other, it'll happen when it's supposed to happen. I'm a big believer in things happening when they're supposed to happen. I feel like everybody [on the team] has a good mindset.
I was down in Orange County training with [teammates] Jordan Love and Kamal Martin, a linebacker from Minnesota. I came in with those guys last year as a rookie. We're all pumped. We're all excited to get back out there. The one thing I can definitely assure people is that I'm very excited to get back out there. I'm very excited to get back to work and bust my butt to do whatever we gotta do to be as successful as possible.
AJ, when you have a once-in-a-generation talent like Aaron Rodgers as a teammate, how involved is he in the offseason. Does he send group texts like, "Hey, let's work out"?
I can't comment too much on what he does. One thing I can say is that he's definitely a leader. When he does say something, everybody listens. He has that presence about him, but not in an overbearing way. He knows how to talk to players. He knows how to communicate. He's one of those guys that everybody on the team respects.
Besides football and card collecting, what else puts a smile on your face?
Obviously, spending time with family and friends. That would be my No. 1. I'm a family guy, for sure. I like doing things in the community. I got some things I'm hoping to do in Green Bay, not anything crazy. Maybe attend a few high school games, donating to some things. I'm working on that. But as far as hobbies, I love video games. I'm on Twitch. I love photography. I like to travel. A little bit of everything. I'm not your stereotypical athlete. I like "nerdy" stuff. But that's always how I've been. I've got no problem in showing it.
Track your collection and maximize your profit with Market Movers, the hobby's most powerful sports card pricing platform! Learn more here.