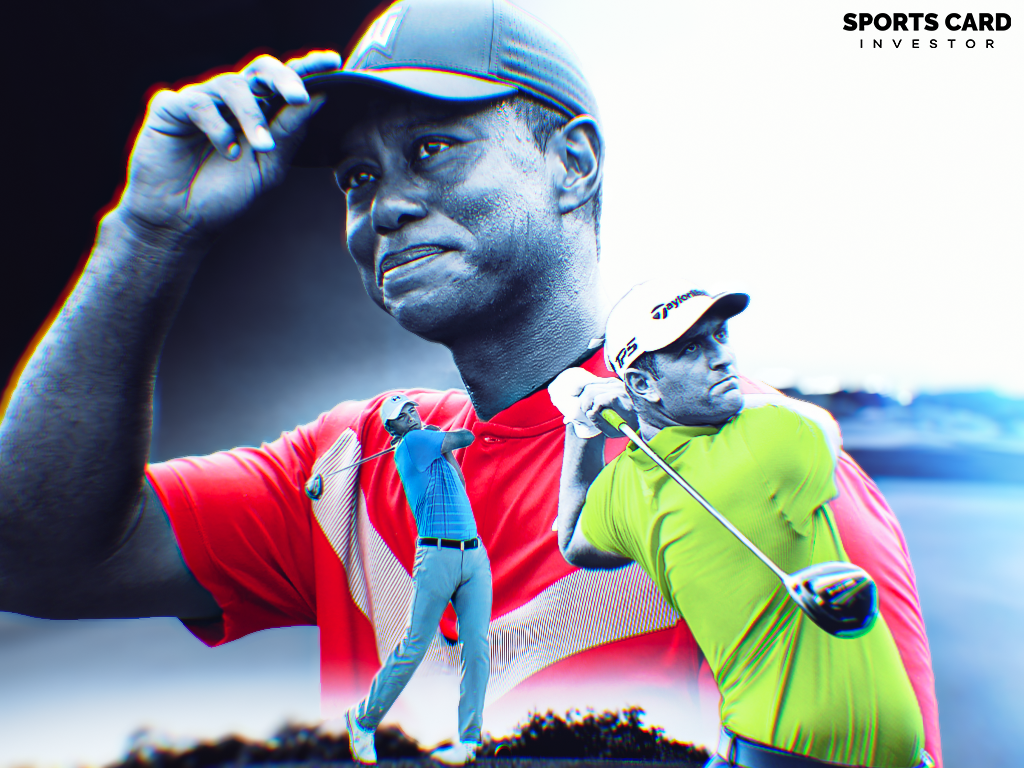 Golf Market Analysis: Ryder Cup Ripples and Takeaways
With Europe reclaiming rights to the Ryder Cup Trophy after a dominant performance against the United States, now is a great time for collectors to take a look at a settled golf card market to find plays. Below we'll detail changes we've seen over different periods of time to help see where undervalued cards may exist.
The first indicator that we've seen to suggest now is a time to purchase golf cards at a discount can be through the top pricing percentage growth risers of the last 30 days, or rather the lack-there-of. There has only been one rookie card in PSA 10 that has seen a positive pricing trend during this time period, and it belongs to Tiger Woods and his 2001 Upper Deck Base, which is up 10% over the last 30 days. The limited presence of cards trending up in value should serve as a strong indicator that the golf card market is sitting in a pocket of opportunity.
But which cards are discounted? Who should you look at? Below you'll see a list of the top five pricing decliners based on percentage decreases over the last 30 days:
1. Tiger Woods: 2001 Upper Deck Golf Gallery PSA 10 -52%
2. Tiger Woods: 2001 Upper Deck Victory March PSA 10 -48%
3. Phil Mickelson: 2002 Upper Deck Base PSA 10 -18%
4. Tiger Woods: 2001 Upper Deck Leaderboard PSA 10 -17%
5. Tiger Woods: 2001 Upper Deck Tour Time PSA 10 -5%
With golf cards not typically trading at high frequencies, it's no surprise that Woods holds four of the five spots on the list featured above, as he would likely dominate nearly every list that we could provide in regards to card performance and characteristics. Are these cards good options? Where is the upside and what would the sell markers be?
The answer is yes and no. While there are certainly a myriad of desirable Tiger Woods cards, there are a select few that have shown specific trends since being released that allow us to predict seasonal spikes and use upcoming events as sell markers. There are also some current top players that provide exciting investment opportunities. With options possessing decent liquidity often limited for golf cards, it's important to have a clear gameplan for exactly what you're looking for. Here's three card worth considering:
Tiger Woods: 2001 Upper Deck Victory March PSA 10
Our first selection is Woods' 2001 Upper Deck Victory March. This option is currently trading at a 365-day low, holds high levels of liquidity to help suit flippability, and sold most recently for less than $20. If you look at the all-time data shown below, you'll see that this card has been extremely volatile in relation to sales pricing. If you're able to find an option in the $20-30 range, you shouldn't have a difficult time turning profit using the right sell markers.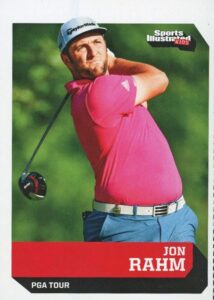 Jon Rahm: 2019 Sports Illustrated for Kids Base Raw
Jon Rahm's 2019 SI for Kids Base Raw is down nearly 90% over the last 60 days, dropping from $30 to just $3. Over the last couple of years, Rahm has shown practically zero weaknesses in his game as well as an improved mental approach. He's now tallied 11 PGA Tour wins compared to just 15 missed cuts in 151 starts. 
We expect Rahm to contend for a ton of majors over the next several years, which will serve as ideal sell indicators. This card already has shown abilities to spike, trading for $85 back in January of this year, and for the current going rate, could be a fantastic pickup.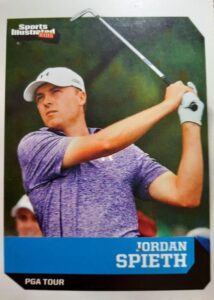 Jordan Spieth: 2015 Sports Illustrated for Kids PSA 8
Spieth, who was once being recognized early in his career as the next big star in the golf world, put fans and viewers through a rollercoaster of emotions in the subsequent years of his career as he struggled to string together impressive starts and secure another win. He was able to break the winless streak with a win at the Valero Texas Open during the 2020-21 season, and has since posted impressive results while providing strong advanced stats as well. 
Spieth has certainly cooled off again over the last several months, which can partially be attributed to injury. Nonetheless, the current valuation on Spieth's SI for Kids PSA 8 could be a great pick-up, particularly considering the highlight shots Spieth provides week-in and week-out. You can pick up his SI for Kids Card PSA 8 for around $50, a number that is sure to jump during Spieth's next hot streak.
With the Sports Card Investor app, you can profit from the hobby you love by keeping up with trending cards, tracking real-time prices with Market Movers and buying items on eBay. 
Download the industry-leading app here for Apple or Android. Note to readers: If you purchase something through one of our affiliates, we may earn a commission.
Paul Hickey is a regular contributor to Sports Card Investor, the creator of the Sports Card School & Sports Card Investment Report at NoOffseason.com, and the host of the Sports Card Strategy Show on Apple Podcasts, Spotify and YouTube. He can be found on Instagram at @sportscardstrategy and on Twitter @nooffseasoncard.