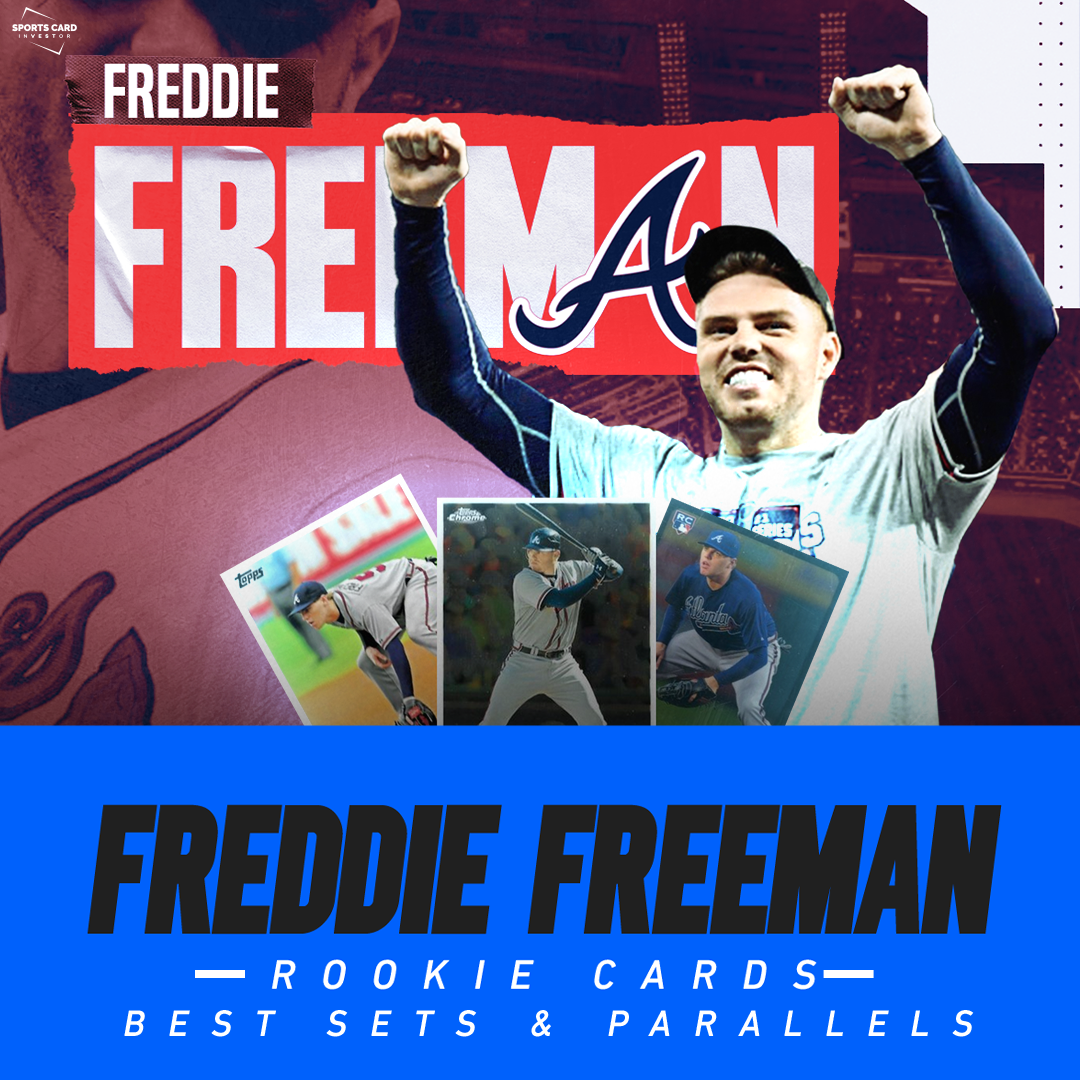 When the Atlanta Braves returned home to Hartsfield-Jackson International Airport after defeating the Houston Astros in the 2021 World Series, Freddie Freeman was the first person to ascend from the airplane with the trophy. The gesture was only fitting, seeing as how Freeman, the team's unquestioned leader, hit .304 with 5 HRs and 11 RBI in those playoffs and has slugged nearly 300 homers and made five All-Star games over his stellar career. The 32-year-old Freeman becomes a free agent in the '21 offseason. No matter if the 2020 NL MVP stays with the Braves or takes his sweet-swinging talents elsewhere, the hobby's budding love for Freeman should only grow stronger.
Freeman has dozens of rookie cards from 2011, so use this Sports Card Investor guide to see which ones we think you should focus on. Cards are broken down into tiers, ranging from the most affordable and more popular options to the most unique, expensive and rare.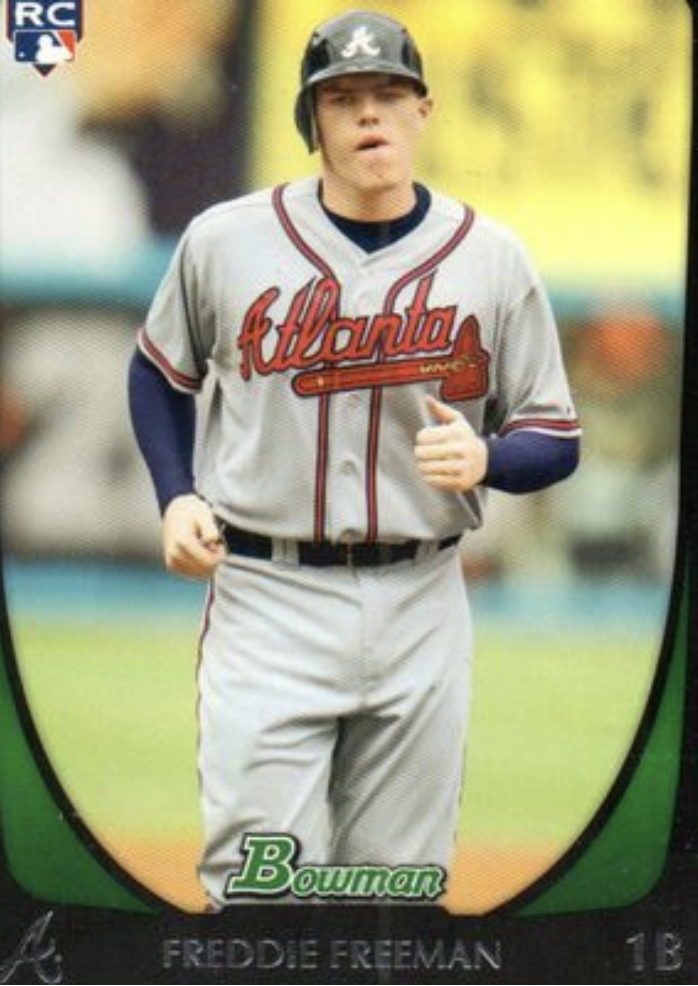 VALUE ROOKIES:
The Value Tier includes cards with high print runs or lower-quality cardstock. A good fit for new collectors or those on a limited budget.
2011 Bowman Baseball #205: Look at the youthful Freeman here, seemingly jogging back to the dugout after getting an out. Seeing as how the man's on-base percentage has been a whopping .384 for his career, that's quite the rare feat.
2011 Topps Heritage #76: This retro-filling rookie card had been comfortably sitting in the $185-200 ballpark much of '21, but with a World Series trophy in hand, it has ballooned over $330.
2011 Allen & Ginter #198: Another vintage-looking beauty that has seen a Fall Classic spark, this Allen & Ginter stunner now commands $160-180 when $95 transactions were once commonplace.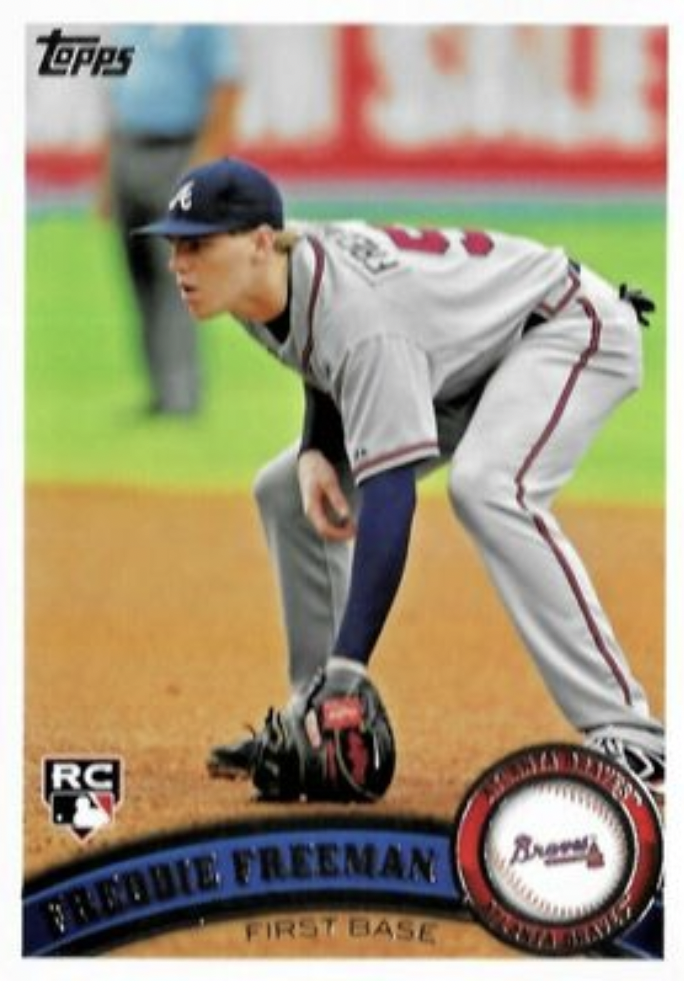 POPULAR ROOKIES:
This tier includes cards from the most popular sets across both retail and hobby formats. Typically easy to buy or sell when needed.
2011 Topps #145: When many collectors think of Freeman RCs, this card, with the Braves first baseman immortalized in a defensive stance, immediately comes to mind. A pop of nearly 1,000 certainly proves this point.
2011 Topps Chrome #173: Sales of this card really picked up during the '21 postseason. With its simple yet powerful image of a steely-eyed Freeman at the plate, it's easy to see why.
2011 Bowman Chrome #185: Considering the sheer scarcity of this one (just 23 PSA 10s), you'd expect it to covet more than the $280-360 it has in 2021. But we're guessing if one were to go on sale in a post-World Series climate, it would command much more.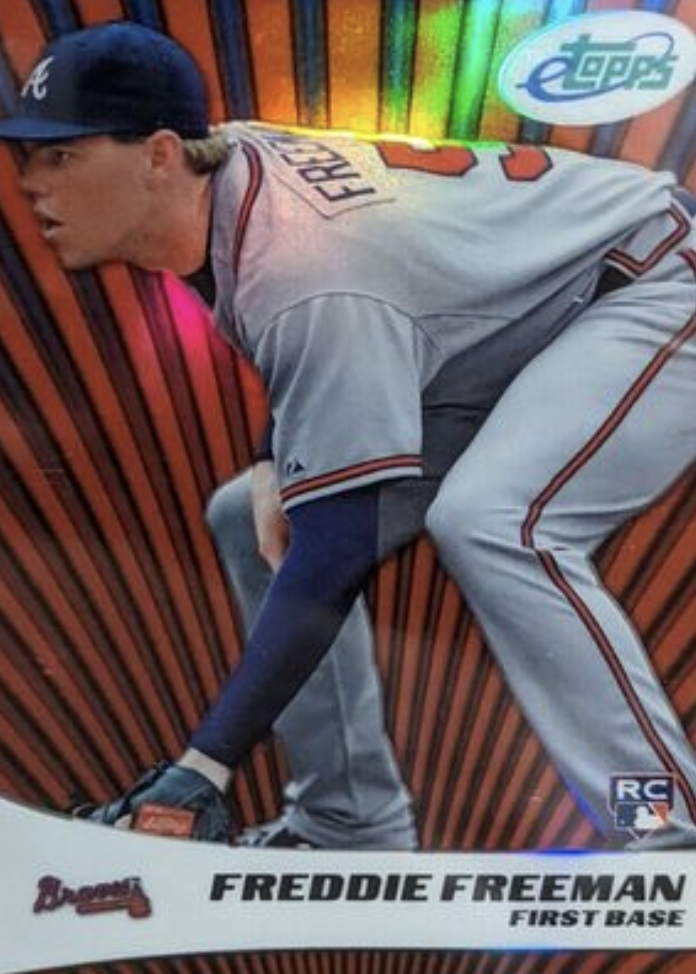 MORE UNIQUE ROOKIES:
This tier includes cards with lower print runs, unique designs, or cards from hobby-only products. Usually higher-quality cards than the Value or Popular tiers, though not necessarily more popular or easier to buy or sell.
2011 eTopps #2: Back in '11, the only way to get your hands on something from this 45-card set was online. Fast forward a decade and the best way to own one of the rare treasures (just 1,499 were printed) is still online–this time via eBay.
2011 Topps Diamond Anniversary Variation #145: You know this splashy parallel mostly because of the Mike Trout card that has seen sales well over $25,000 in a gem mint. Freeman's option won't set you back nearly as much ($900 at last check), but its beauty is right on par with the Angels star's card.
RAREST AND MOST EXCLUSIVE:
We won't spend much time here because this category is likely out of reach for most collectors due to price, but they are still fun to look at.

Sets like Topps Finest typically feature visually stunning designs and low-numbered cards.
This is also where you'll find the most impressive patches paired with high-quality, on-card autographs. Don't worry if this tier is too pricey as there's a host of options in other categories that could be perfect for your collection.
Track your collection and maximize your profit with Market Movers, the hobby's most powerful sports card pricing platform! Learn more here.
Note to readers: If you purchase something through one of our affiliates, we may earn a commission.