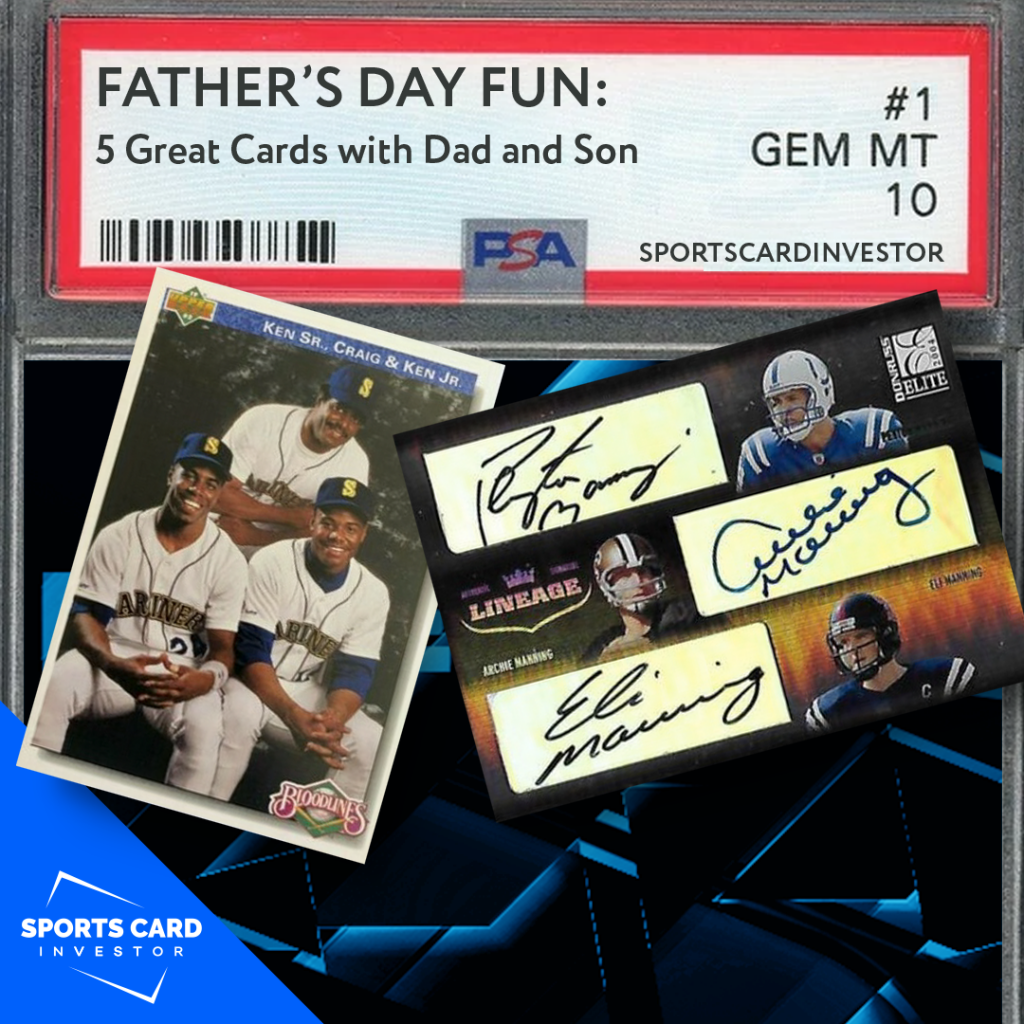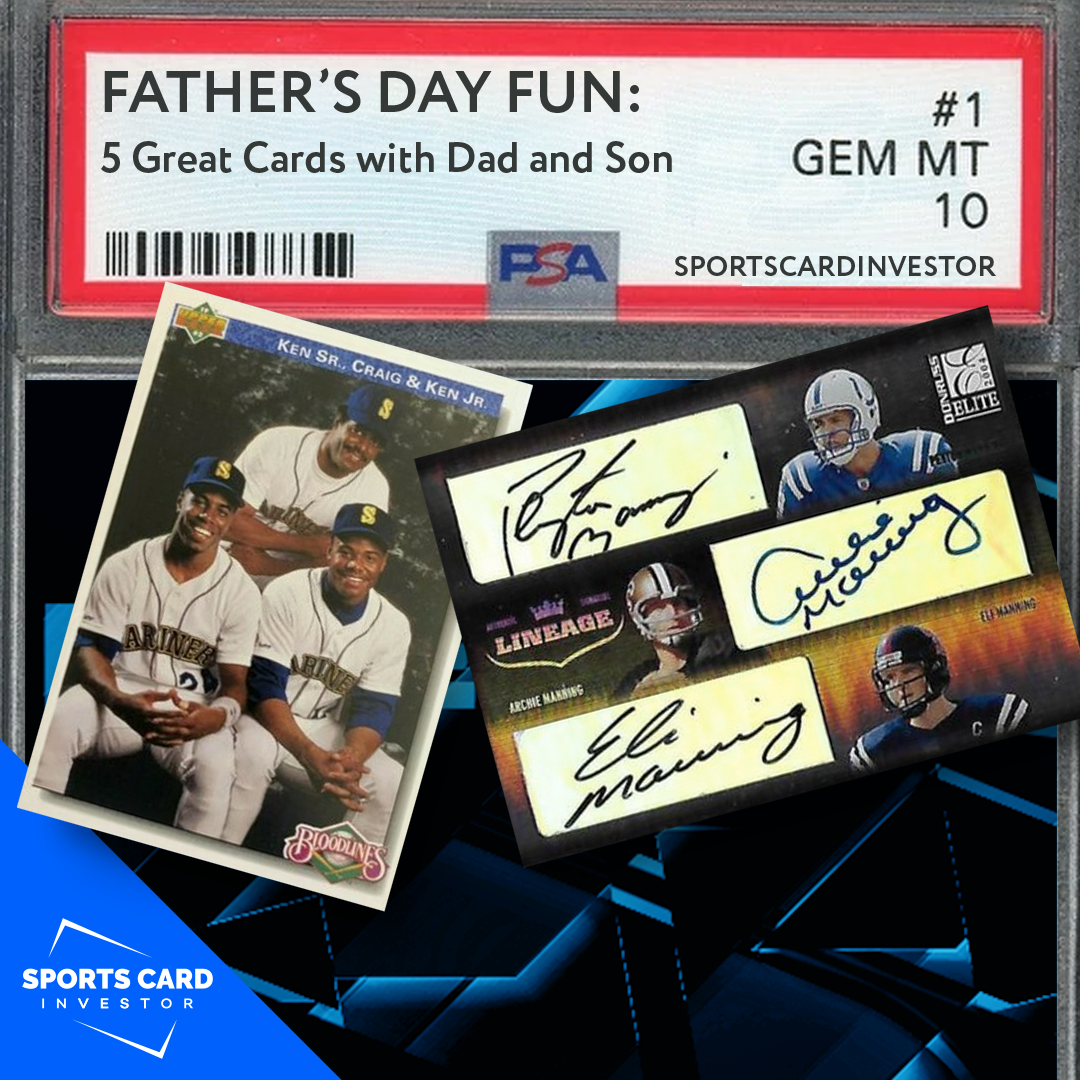 Father's Day Fun: 5 Great Cards with Dad and Son
LeBron James is one of the most fit specimens to ever lace up a pair of Nikes. Still, he's 36 years old and has logged more than 50,000 in-game minutes on his tires. But even with all the wear on his frame, James has hinted that he wants to stay in the league long enough to play on the same NBA court as his son, Bronny. A rising high school junior, the younger James needs to be 19 and at least one year removed from high school to become eligible for the league. That means the 2023-24 season is the earliest he can play. Will LBJ be able to last that long?
Over the years, only a handful of pro athlete dads have gotten the chance to be on the field with their sons. Others may not have ever played at the same time as their fathers, but they followed in their footsteps, often equaling or even surpassing their parent's status in the sport.
It's all been a fascinating ride through the generations that fans have been lucky to see with their own eyes. But in the event you missed the moment in real time (or simply want to relive it), card companies have done a pretty good job of capturing cool family memories on collectibles. In honor of Father's Day (June 20), we're taking a look at a few dad-son card moments that we'll never forget.
The Griffeys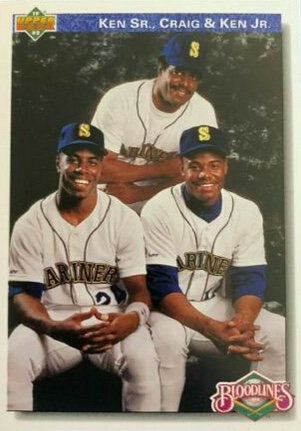 Between Ken and Ken Jr., the Griffeys hit 782 home runs and got more than 4,900 hits. The two played the 1990 season together, becoming the first father-son tandem ever on the same active MLB roster. They wrote another entry into the record books by actually homering in back-to-back at-bats on September 14, 1990.
The photo shoot from this 1992 Upper Deck "Bloodlines' card isn't quite as cool as that but it's darn close. Just look at the grin on dad's face as he poses with his two sons (Craig didn't make the Majors but he did hit 11 home runs over a six-year stint in the minors) and you can tell he couldn't be prouder of his kids.
The Hulls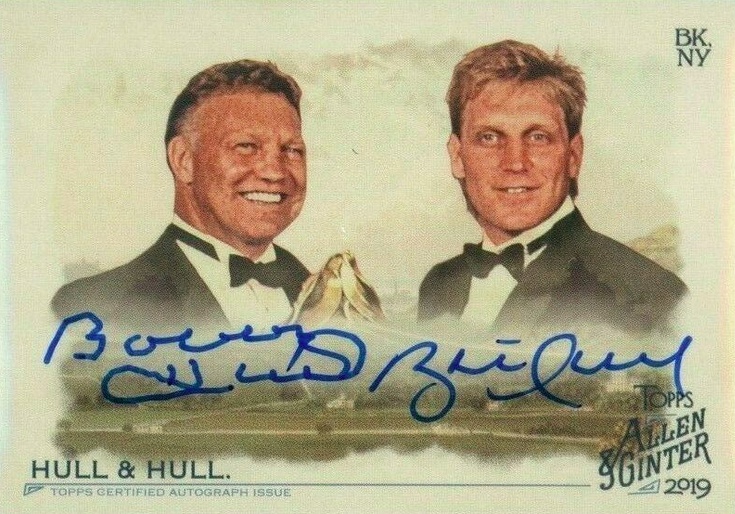 For the most part, Allen & Ginter cards are a value play best suited for folks building out their PC, people looking for odd, non-baseball-related cards or those just trying to satisfy their pack-ripping hunger.
But occasionally, the brand whips out a cool surprise, like it did with the Hulls' dual auto from the 2019 set. Dad Bobby and son Brett are unmatched when compared to the Howes, Stastnys or any other father-son duo the NHL has ever had. The Hulls combined for 1,351 goals, 2,561 points and this card of the tuxedo-clad twosome that could fetch between $100-200.
The Bondses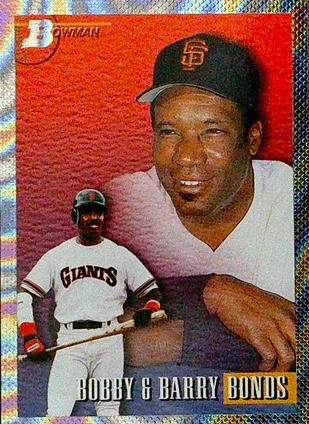 Probably the most fearsome father-son slugging pair of all time (apologies to the Guerrero and Fielder families), the Bondses collected 1,094 home runs during their illustrious playing careers. Dad and son were also hell on the base paths, and they have 10 30/30 seasons between them to prove it. (Barry has one 40/40 campaign while his dad was just one homer shy from his own in 1973.)
Though this card superimposes two shots of Barry and Bobby for one family portrait, we still dig the overall look, especially the rainbow foil border that makes this 1993 Bowman card pop so well.
The Mannings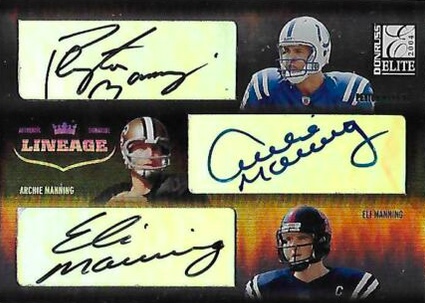 Even if you weren't a football fan, you'd know about these guys. Their off-the-field plays on Madison Avenue are only surpassed by their on-the-turf highlights in the NFL.
Sons Peyton and Eli had tremendous pro careers (four total Super Bowl wins, 18 Pro Bowls) and dad Archie was far from a slouch (two-time Pro Bowler). Their individual cards have all done respectfully in the hobby, but this 2004 Donruss Elite tri-auto is one of those rare instances where all three family members are captured on a single card. It's a thing of beauty that sold for $1,200 in May.
The Hardaways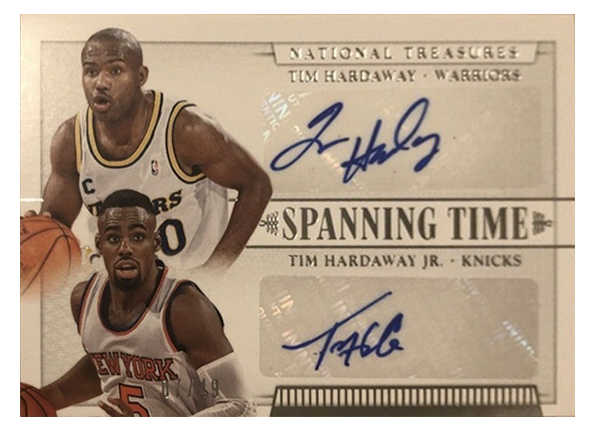 Tim Hardaway Jr.'s Dallas Mavericks were eliminated in the first round of the 2021 NBA Playoffs, but that didn't stop Junior's pop from leading the post-game applause from the stands. The elder Hardaway knew that his son (17-point average in the series) had given his everything.
After all, dad had done the same thing for 15 NBA seasons, highlighted by stellar years with the Golden State Warriors and Miami Heat. Some say Hardaway deserves to be in the Hall as one of the 1990s' most explosive players. If that calls ever comes, expect this low-print dual auto (just 49 were released) to go up quite a bit.
Track your collection and maximize your profit with Market Movers, the hobby's most powerful sports card pricing platform! Learn more here.