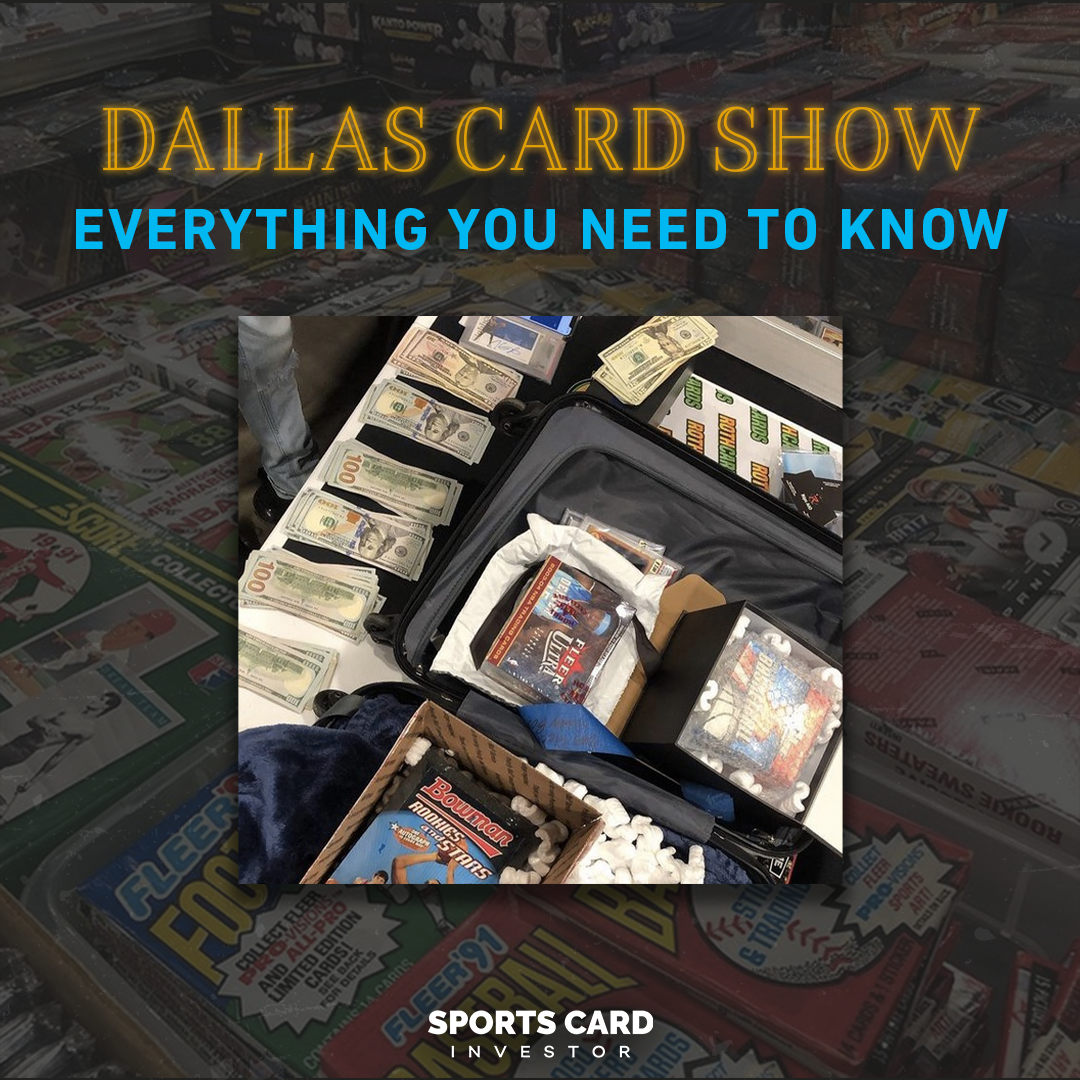 We're sure veteran event organizer Kyle Robertson is excited about every card show he puts together. But even he's hinting that the upcoming Dallas Card Show (May 20-23) is a little special. For starters, there are 500-plus vendor tables slated for this one. An early-May show he organized had just over 100. Secondly, this is expected to be one of the largest card shows in the nation since the pandemic began. Dallas Cowboys receiver Michael Gallup, Texas football legend Earl Campbell and New York Mets icon Dwight Gooden will be signing autographs. Sports Card Investor is also joining the fun as one of the event's main sponsors.
But even with all of the commotion, Robertson's voice has a calmness about it. When he speaks about the vendor screening or the process of lining up celebrity guests, he answers clearly and confidently. He's done this before. When SCI inquires about safety protocols, his responses come with no hesitation. He's done the necessary prep work. Robertson and his crew are ready to welcome the card-loving world to North Dallas' Watters Creek Convention Center. If you're taking him up on his invitation, read on as he answers specifics about the show, his introduction to cards and where he sees the industry going.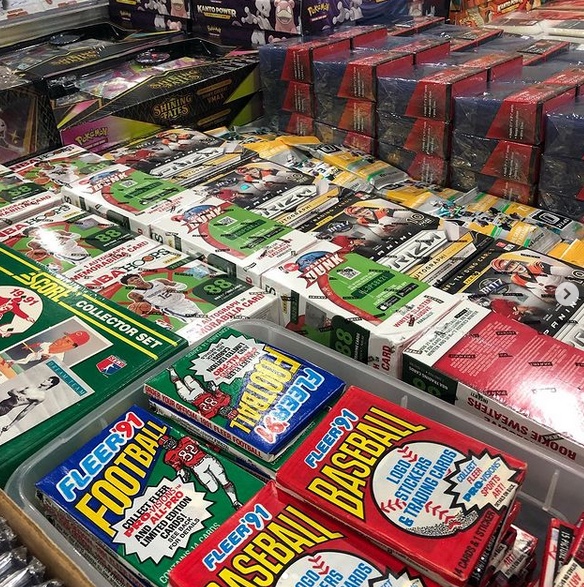 Kyle, how did you fall in love with sports cards?
So, when I was about eight years old, my cousin gave me a collection of cards. When I was 11 years old, my next-door neighbor, or down-the-street neighbor, his uncle and his dad came and knocked on my door and asked me if I'd like to sell those cards. The cards were from 1978. I don't know if there was some kind of demand for them then, but it was a collection that was given to me. Sold those for $40 and that drove me [into the business]. I liked that a lot better than mowing yards. So, I sold cards from that point on. And I collected until my daughter was in grade school. Then I sort of sat back until she graduated high school. After she graduated high school, I started putting on small shows. Then after she graduated college, I just went full time.
Speaking of shows, how big is the late-May one going to be?
That show is over 500 tables total. There are going to be vendors from all over the United States. We have VIP passes that are for four days. It's not a vendor pass, but they get in with the vendors on Thursday night and then early Friday. We had 20 that were VIP or vendors at that last show from California. We got almost 200 VIP and vendors coming from California [this time]. We have quite a few coming from Florida. It's all over the nation now.
How do you pick the vendors?
Good question. We had a building that we thought would be big enough that we could grow into for the next four or five years [but the popularity exploded]. Then, whenever COVID hit, everything sort of shrunk. But we're back up to pre-COVID attendance, so more and more vendors. It's not that we're picking them; it's just they have tables at our event that they're grandfathered into prices and their table spots.
I would love to be able to double the space and get more sponsor types in there, but right now it's a card show and it gets pretty loud in there. Gets a little ear piercing sometimes. So, there really is not a selection process. Now, for new vendors, we do request [to know] what type of collections they have and we try to make sure to get higher-end collections in.
Michael Gallup, Lenny Dykstra and others will be signing autographs at the show. How did you figure out which athletes the show would work out?
There's a guy that called me and said, "Kyle, man, we can bring you in autograph guests." I give those guys space for the autograph guests. We don't really want the autograph guests who are going to gouge our card collectors. That's not my motive. We had Jose Canseco last time and he was really affordable on autographs. I can think of one time I went to a show and Joe Montana was there and I believe he was like $400 per autograph and $150 for a photo. Something ridiculous like that. And, of course, I'm a Cowboys fan, too, so I'm looking at that and I'm thinking that is a little bit [off]. That's taking money out of the back pocket of card collectors. We don't want to mess with that. So as far as the autograph guests, they have to be affordable.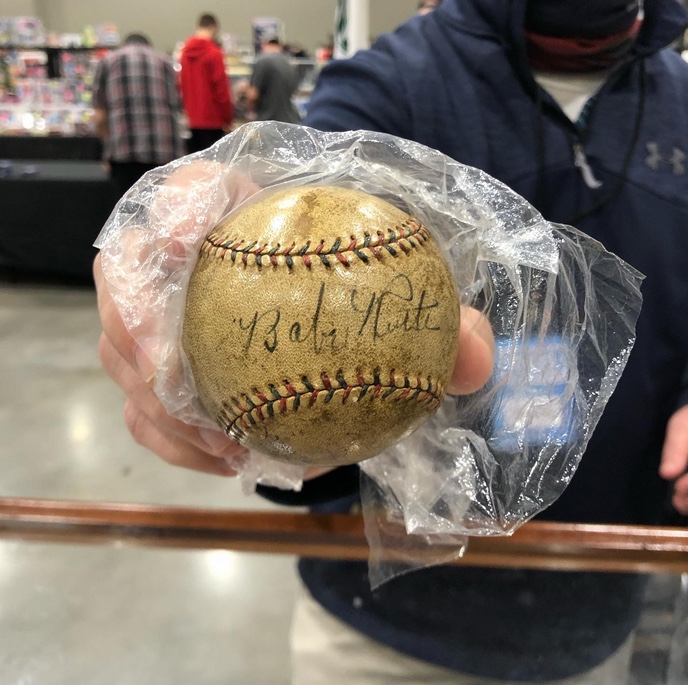 What aspect of the show are you most excited about?
I'll tell you what, the shows have been crazy. Now that everything's opening up, I'm excited to see what kind of attendance we have at this one. We have a pretty good attendance anyway, and this one, with people getting their shots and being a little bit more safe, people will be a little bit more comfortable with coming out. So I'm excited about seeing that. Also, we will have a Babe Ruth collection. In my opinion, Babe Ruth has the most underrated, believe it or not, cards in the market right now. I think we will see a huge increase in those in the next few years. It's hard for me to believe that LeBron sells for what he does. But like I say, I can understand how Babe Ruth [collectibles] would come up there and be, sort of, in the ballpark. Mike Trout cards sell for a lot. Just some of these numbers that we are seeing. Luka Doncic [card prices are] just crazy—in my mind anyway. But [the Babe Ruth cards are] something that we're looking forward to. I know that Heritage Auctions brings some big cards. Jordan rookie PSA 10s, Honus Wagners and stuff like that. Those are great. Even the guys who are flying in from Hawaii, they just bring great stuff that you just don't see. There is so much condensed in that area.
Can you talk a little more about the safety measures you all have taken to ensure a good show?
Yeah, we were the first in the United States that I know of to throw a show of this size. The first one we did was 200 tables, I guess, back in June 2020. Our number one goal is safety. So, if there is anybody who feels uncomfortable in the room, then we're uncomfortable. The hotel requires masks. You'll see some people in there who won't be wearing masks. But, for the most part, everybody is. They're conscious of everybody else's feelings. It's a respectable group and everybody wants to be safe. Even though I feel safe to walk around without a mask, I want the people that are walking around in there that don't feel 100% comfortable, I want those guys comfortable. So, that's what we ask of our customers—just be aware of their neighbor in there. So that's it.
And, of course, we have cops in there. So, as far as some of the large transactions, it makes it a little more comfortable with that. We just want everybody to be safe. I don't know how to totally encompass that but that's our goal. Safety is number one.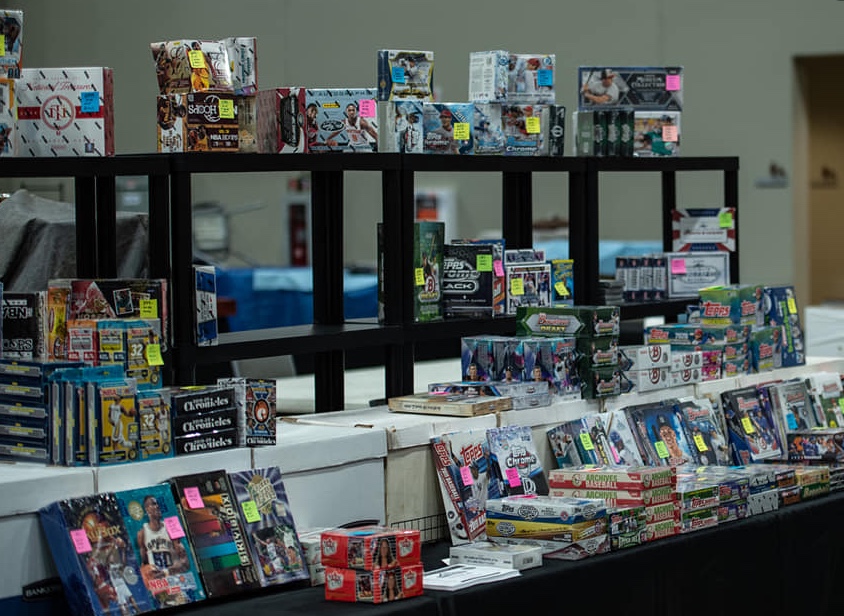 How often do you have shows?
Yeah, so our next show will be July 15-18. This [late-May show] will be a big show, but [the July one] will be even larger than that. It will absorb the entire hotel for the most part. It will be, like I say, a lot of the largest vendors in the United States will be down. Our list keeps on growing so, hopefully, we can accommodate everybody.
You mentioned how your building can't even hold all of the vendors who want to participate. These are busy times in the hobby. When you step back and analyze the industry as a whole right now, what do you see?
Yeah, so I see the industry a little bit differently than a lot. I mean, people see the '90s as the "dead card era." But I see the 2000s as "the eBay era" and the market became saturated. Here in Texas, everybody wants a Nolan Ryan rookie. And if you wanted a Nolan Ryan rookie in 1993, you had to go to a card show or a card shop. So, the supply was limited. But as soon as eBay came out, then everything got populated on eBay. So, if I'm in Detroit, and I wanted to sell a Nolan Ryan rookie, I'd just put it on eBay and sell it. But now, what's happened is you're seeing the depletion of the market. And as supply goes off eBay, people are realizing that, "Man, I've taken it for granted that I can buy a $300 Nolan Ryan rookie in very good condition." And now, all of a sudden, a PSA 5 will go for $500. I think the other day they were asking about $2,000 for a 5. 
There was a Venezuelan card when I was growing up, a Nolan Ryan rookie. I think there's 26 population total. I think that as soon as people start realizing how rare that card is, I think the generation that grew up with me will start [buying those]. I think one of them is on eBay right now and it's like $26,000, which sounds like a lot of money. But in today's terms, I mean, there's Luka Dončić cards selling for $4 million. It's a new world. We enjoy it, DeMarco. That's that thing. People ask me what to invest in. Whatever you like that you don't mind keeping. You don't lose money until you sell it. You keep it in your collection, 10 years, maybe 50 years later, but you can make money off of it eventually.
Track your collection and maximize your profit with Market Movers, the hobby's most powerful sports card pricing platform! Learn more here.