Last year, Pittsburgh's Oneil Cruz showed sports card investors that a 6'7" shortstop can make an impact in the hobby, but larger than that, a pattern has emerged that prospects' pricing ticks up significantly upon their first MLB call-up, as seen when Cruz's 2016 Bowman Chrome 1st Prospect Auto PSA 10 spiked to $859 in late June during his MLB call-up hype, after being as low as $400 just one month prior after he was sent to Triple-A following Spring Training.
As such, we're trying to help you identify the next sure fire prospect to buy now and sell immediately upon call-up, thus eliminating the "Jarred Kelenic effect."
That guy, clearly, is Elly De La Cruz. At 6'5", he also plays SS (as well as some 2B and 3B), and is expected to make his MLB debut in 2023. He sits as the #10 overall prospect on MLB Pipeline, and the hobby anticipates big things from this potential future All-Star.
Knowing his top Bowman Chrome 1st Prospects (not technically rookie cards), is super important heading into the baseball season, as there will be plenty of opportunities to profit, buy back in lower, and PC him if you time his call-up situation correctly.
VALUE ROOKIES:
The Value Tier includes cards with high print runs or lower-quality cardstock. A good fit for new collectors or those on a limited budget.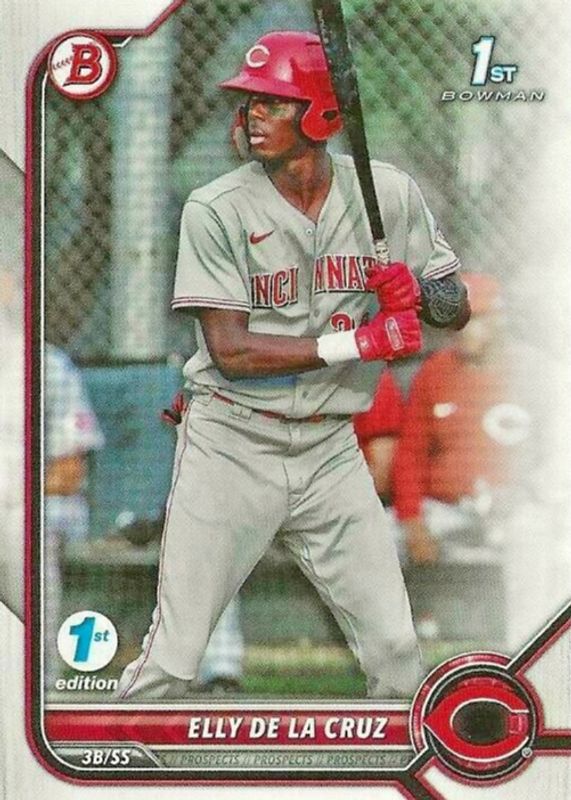 2022 Bowman 1st Edition Paper Prospects Base – A simple, paper card, but with a twist. The tiny white circle with the "1st" edition icon on the bottom right corner makes it special. Pulled from Bowman 1st edition, it's technically De La Cruz's first card, not to be confused with his regular paper prospects 1st. So it's a tad rarer, but still super liquid and affordable, trading often at around $30 in PSA 10.
2022 Bowman Chrome 1st Prospects – Released in 2022 Bowman Baseball, it's common to find one or more De La Cruz Chrome 1sts in hobby boxes or blasters. At $40 per PSA 10 though, it's super economical to just snag a Gem Mint for your collection or for flipping later in the season when he's called up.
POPULAR ROOKIES:
This tier includes cards from the most popular sets across both retail and hobby formats. Typically easy to buy or sell when needed.
2022 Bowman Chrome 1st Sapphire Edition – The Sapphire Edition release is interesting because it's a base card, and technically not rarer, but is more desirable to a certain extent simply because of its design, as it looks like a refractor or short print due to the cracked ice look of Sapphire. It trades for 2.5x the amount of its 1st Bowman Chrome equivalent.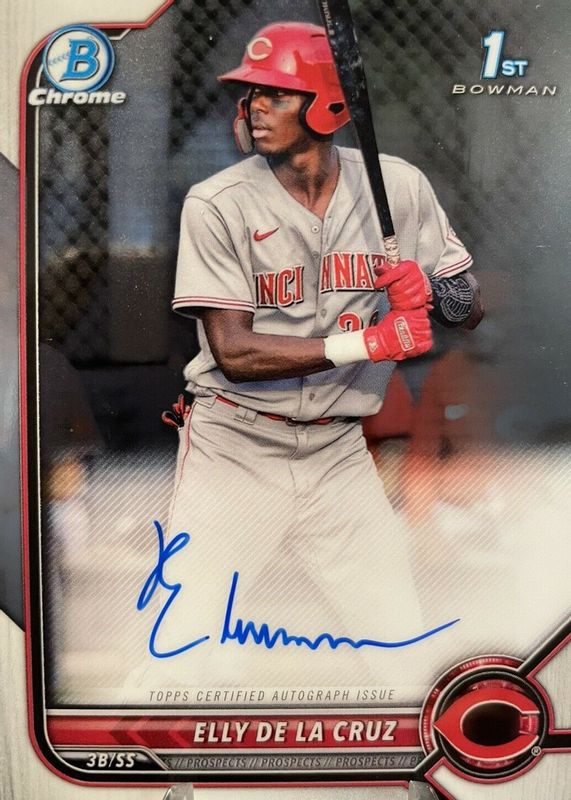 2022 Bowman Chrome 1st Prospect Auto – The 1st Bowman Chrome base auto is super popular, but definitely more expensive, as a short print we're not really sure exactly how many are in circulation, but De La Cruz's are hot and hard to come by at the moment, in anticipation of his Major League debut.
MORE UNIQUE ROOKIES:
This tier includes cards with lower print runs, unique designs, or cards from hobby-only products. Usually higher-quality cards than the Value or Popular tiers, though not necessarily more popular or easier to buy or sell.
2022 Bowman Chrome 1st Prospect Auto Atomic Refractor /100 – Atomic refractors autos come /100 in both 2022 Bowman and 2022 Bowman Chrome releases, De La Cruz autos appear on both checklists. This could mean that technically there are 200 of them (100 from each release), or it could mean that there are 100 total spread throughout each of the two releases, but either way, the super unique card design marries together the cracked ice feel of Sapphire, with a silver shimmer, making it unique and desirable.
2022 Bowman Chrome Prospects Fuchsia Lava Refractor /199 – The Fuchsia tint offers a near color match, and the high serial number to /199 with a non-auto makes it a limited edition yet achievable at the same time.
RAREST AND MOST EXCLUSIVE:
This category may be out of reach for most collectors due to price, but they have the highest upside as investments heading into future International and World Cup Competitions and are still fun to look at. Don't worry if this tier is too pricey as there's a host of options in other categories that could be perfect for your collection.
2022 Bowman Chrome 1st Prospect Red Lava Refractor /5 – The non-auto red lava refractor is super sought after given its color match to the Cincinnati Reds' uniform, but also of course because of its scarcity – as there are only five of them.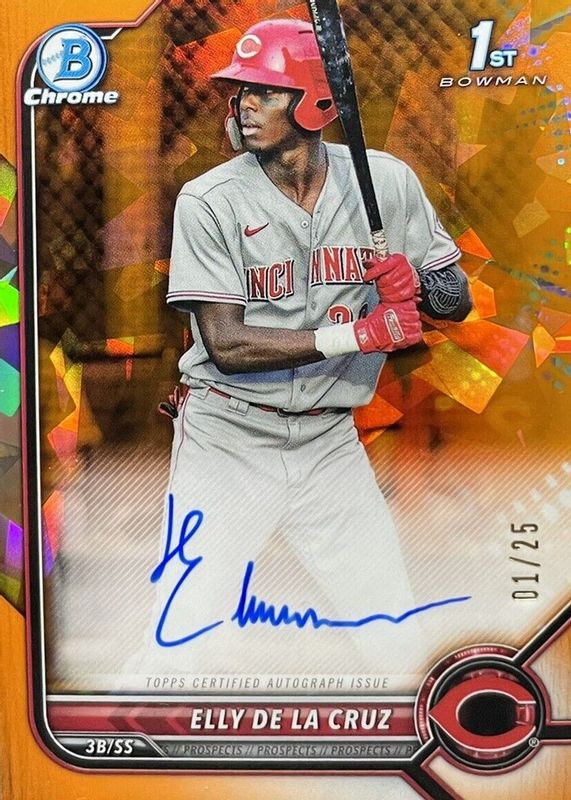 2022 Bowman Sapphire Edition Chrome 1st Prospect Auto Orange /25 – In October 2022, this card sold for $6k in PSA 10 and is absolutely gorgeous. With only 25 copies printed and signed, and way less than that in Gem Mint condition, this is one of the Elly cards possibly attainable.
2022 Bowman Sapphire Edition Chrome 1st Prospect Auto Red /5 – This is the one, or more accurately, one of the five. The color match, Sapphire Auto sold in August 2022 for $12k, and has even more high upside after Elly makes his MLB Debut.
With the Sports Card Investor app, you can profit from the hobby you love by keeping up with trending cards, tracking real-time prices with Market Movers and buying items on eBay. Download the industry-leading app here for Apple or Android
Note to readers: If you purchase something through one of our affiliates, we may earn a commission.
Paul Hickey is a regular contributor to Sports Card Investor, the creator of the Sports Card Investment Report at NoOffseason.com, and the host of the Sports Card Strategy Show on Apple Podcasts, Spotify and YouTube. He can be found on Instagram at @sportscardstrategy and on Twitter @nooffseasoncard.