Online marketplace eBay announced Tuesday that it's adding an additional layer of security for trading cards on the platform.
Considered the largest seller of sports and trading cards, eBay will be adding cards to its Authenticity Guarantee that previously included handbags sold for more than $500, sneakers sold over $100 and watches sold for $2,000 or more.
Starting Tuesday, single ungraded cards — this includes TCG, sports and non-sports — sold in the United States for more than $750 will be authenticated. The platform also says that it hopes to expand the service to graded cards, autographs and patch cards sold for more than $250 by mid-2022.
According to a press release, eligible cards will be shipped by the seller to authenticators at Certified Collectibles Group and its affiliates, CGC Trading Cards and Certified Sports Guaranty. Cards will then be shipped back to the buyer or seller after inspection.
Listed below are details on the process in full:
Thorough Inspection: Referencing an extensive database, authenticators inspect the overall condition and general quality. The overall condition of each card is checked against the auction listing description to ensure accuracy and authenticity.
Proof Of Authentication: The e-tag features a unique QR code that's attached to the card's protective packaging. The packaging is then placed in the card holder to finalize the process, reaffirming confidence in collectability and resale value. Scan the QR code on any mobile device to learn more about the card and its authentication journey.
Verified Returns: For sellers who choose to offer returns, eBay's Authenticity Guarantee service for trading cards ensures the exact item initially sold is returned to the seller, via a verified returns process. Returns are shipped back to the authentication center, where authentication experts verify each item and its condition before returning to the seller.
"Our trading cards business has been growing for the past six years, and the recent surge speaks to the immense cultural significance of the category," Dawn Block, VP Collectibles, Electronics and Home at eBay, said in a statement. "As hobbies turn into investments, authentication services in categories of high value have become a priority for collectors. With the introduction of Authenticity Guarantee for trading cards, we're giving enthusiasts exactly what they want, while continuing to improve confidence in the marketplace."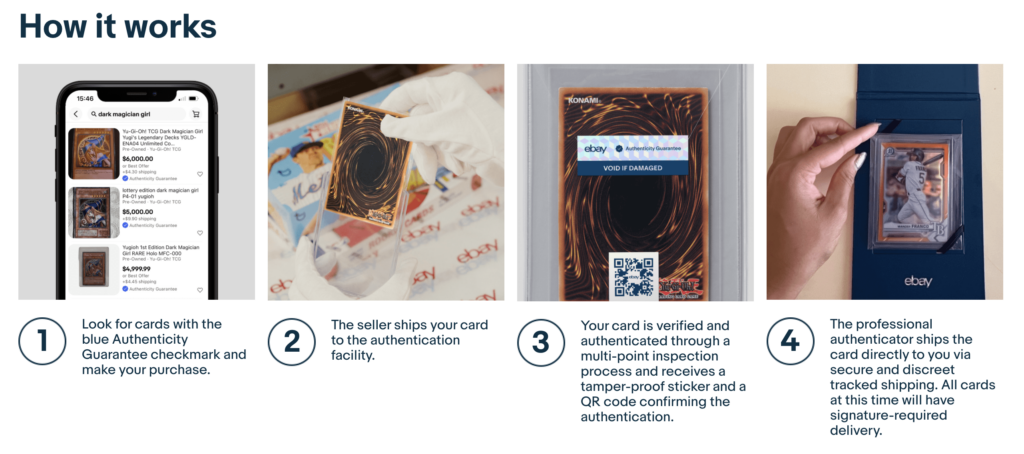 According to eBay, trading cards accounted for $2 billion in transactions on the platform in the first half of 2021, matching the total for all of 2020. The platform also says a sports trading card was purchased every second in 2020.
The service comes at a time when fake, trimmed and altered sports and trading cards have become more sophisticated than ever.
While sellers have trimmed and altered cards, especially high-dollar vintage, for decades, a rise in fake graded slabs has impacted the hobby in recent years as well.
Despite significant advancements in technology across grading companies like PSA, BGS and SGC in recent years, fake graded slabs and cards regularly sell online and in person at card shows — making improvements to authenticity more important than ever.
Track your collection and maximize your profit with Market Movers, the hobby's most powerful sports card pricing platform! Learn more here.
Note to readers: If you purchase something through one of our affiliates, we may earn a commission.