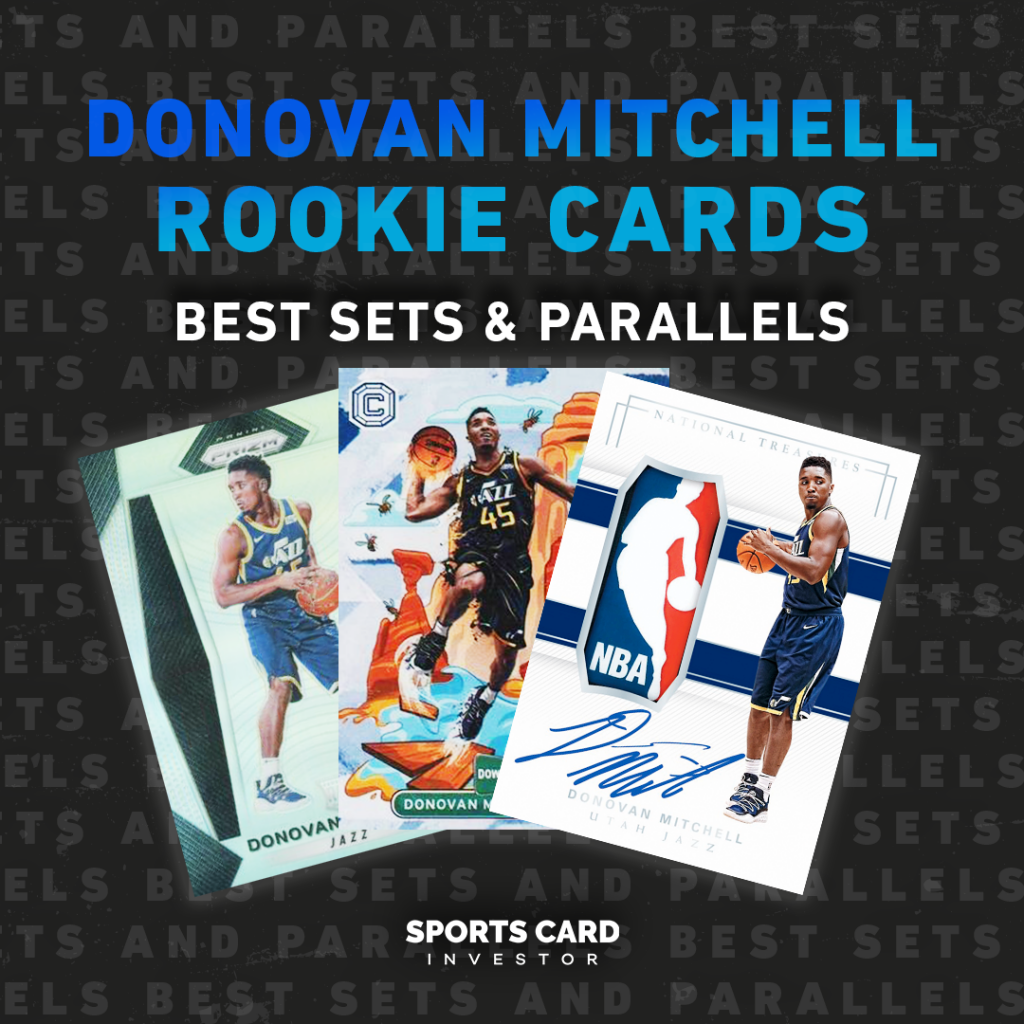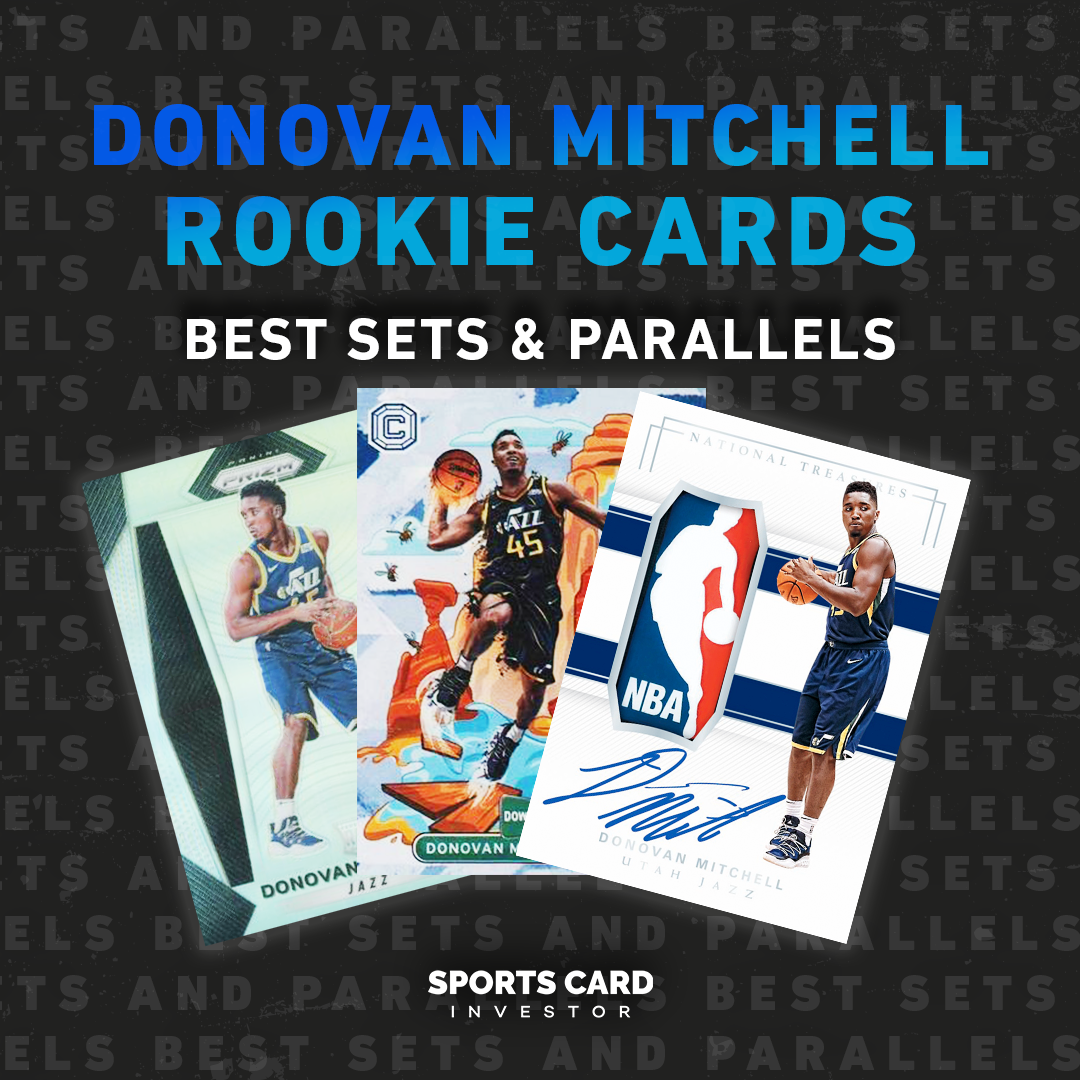 Donovan Mitchell Rookie Cards: Best Sets and Parallels to Buy
A dynamic and versatile scorer, Donovan Mitchell has grown into one of the NBA's top young stars since being drafted in 2017. Mitchell, along with stars like Jayson Tatum, De'Aaron Fox, and Bam Adebayo, has helped make products from the 2017-2018 release calendar some of the most desirable in recent years.
Mitchell has dozens of rookie cards from across the 2017-2018 season, so use the Sports Card Investor guide to see which cards we think you should focus on. Cards are broken down into tiers, ranging from the most affordable and more popular options to the most unique, expensive and rare.
VALUE ROOKIES:
The Value Tier Includes cards with high print runs or lower-quality cardstock. A good fit for new collectors or those on a limited budget.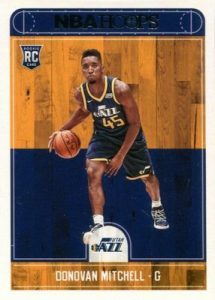 Contenders #13: A basic, entry-level set, Contenders is known for its impressive lineup of rookie autographs. Rookie Game Ticket and the Up and Coming sets are good starting points for autograph collectors. Shop now >
Donruss #188: A flagship product for basketball, the 2017-2018 release was one of the brand's least popular because of its brown and blue border. It still manages to sell relatively well, though, simply because of its impressive rookie class. Shop now >
Essentials #149: This set lasted just one year as a standalone product, and can now be found in products like Chronicles. Along with his base card, Mitchell appears in insert sets like Indispensable Rookies and License to Dominate. Shop now >
Hoops #263: Mitchell makes his first appearance in an NBA jersey in Hoops, but he also appears in four autograph sets as well as the We Got Next insert set. One of the most popular value sets every season, Hoops is the go-to for many new collectors. Shop now >
POPULAR ROOKIES:
This tier includes cards from the most popular sets across both retail and hobby formats. Typically easy to buy or sell when needed. Parallels like Prizm Silver and Optic Holo are among the most popular variations.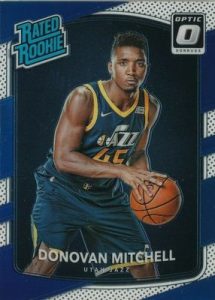 Mosaic #5: Exclusively available online through Panini in 2017, Mosaic featured a fantastic patterned background as well as color-based parallels. Despite a small 100-card base checklist and no inserts, an impressive lineup of parallels makes it a popular product among rainbow collectors. Shop now >
Optic #188: Typically just a chrome upgrade over the Donruss release, 2017 was a major improvement for many as Optic ditched the blue-and-brown border for blue and white. The Optic Holo is arguably the hobby's second-most popular parallel behind only the Prizm Silver. Shop now >
Prizm #117: The premier Panini product for rookies, Prizm carries a significant premium over other sets due to its extreme popularity. The Prizm Silver is the card to have for most rookies, and the 2017-2018 season is no different. Fast Break parallels are also strong options for those looking for variety. Shop now >
Select #11: Based around three tiers of rookies — Concourse, Premier and Courtside — Select also features fantastic die-cuts as well as the sought-after Tie-Dye parallel. Select has grown in popularity in recent years due to its high-quality cardstock, design, and more limited print run compared to other popular products. Shop now >
MORE UNIQUE ROOKIES:
This tier Includes cards with lower print runs and cards from hobby-only products. Usually higher-quality cards than the Value or Popular Tiers, though not necessarily more popular or easier to buy or sell.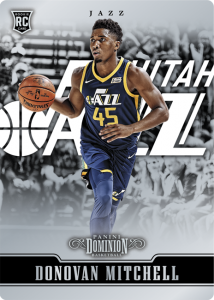 Cornerstones DT#10: A carryover from 2016's Grand Reserve, Cornerstones is known for its impressive lineup of quad patch-auto cards. Mitchell's best appearance in the release is in the celebrated Downtown set. Shop now >
Court Kings #103: One of Panini's most beautiful sets, Mitchell doesn't get much love from inserts this season, but he does appear in the extremely popular Fresh Paint autographs as well as the Sketches and Swatches auto-memorabilia set. Shop now >
Dominion #114: Originally a high-end hockey product, Dominion made its basketball debut in 2017 and featured beautiful autos and memorabilia cards. Rookies in this set are metal cards with the base set numbered to just 199. Mitchell also has cards in the Quad Rookies memorabilia set as well as the Rookie Dual Signatures checklist. Shop now >
Revolution #125: One of Panini's most unique looking designs, Revolution is built around one of the best parallel lineups in the hobby. Ranging from more common pulls like Astro and Impact to the ultra-rare Galactic, Revolution's wacky backgrounds make for a fun rip. Shop now >
RAREST AND MOST EXCLUSIVE: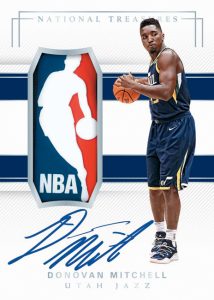 We won't spend much time here because this category is likely out of reach for most collectors due to price, but they are still fun to look at.
Sets like Flawless, Immaculate, Impeccable and National Treasures typically feature visually stunning artwork and low-numbered cards.
This is also where you'll find Panini's most impressive patches paired with high-quality on-card autographs. Don't worry if this tier is too pricey as there's plenty of options in other categories that could be perfect for your collection.
Track your collection and maximize your profit with Market Movers, the hobby's most powerful sports card pricing platform! Learn more here.
Note to readers: If you purchase something through one of our affiliates we may earn a commission.