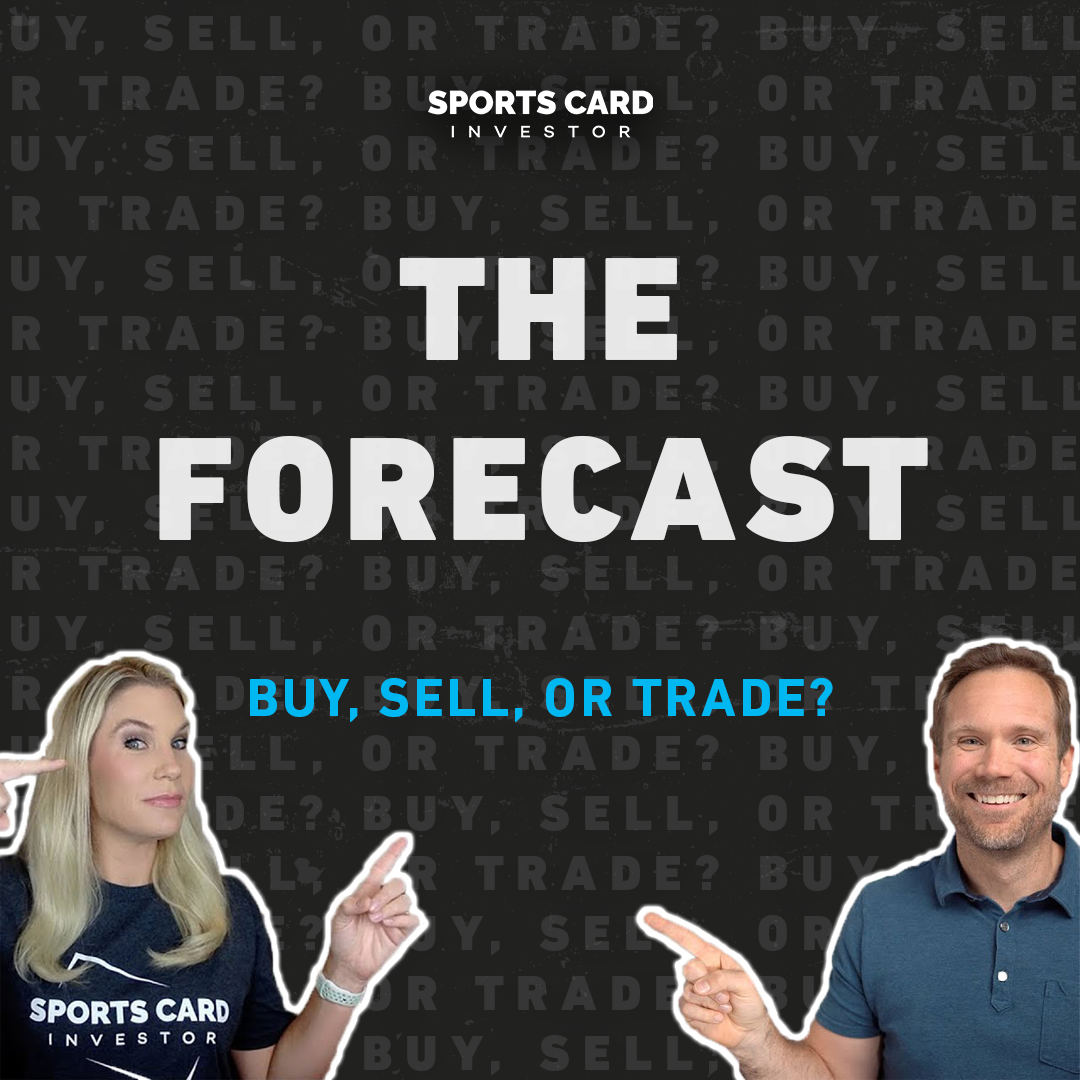 Should Joel Embiid get more hobby love, and can we expect him to get a playoff bump from collectors with his Sixers No. 1 in the East?
We cover that and more in this week's Forecast:
Joel Embiid
It's been a career year for Embiid — he averaged a double-double with 29 and 11 and shot 38% from 3 while leading his 76ers to the No. 1 seed in the Eastern Conference. He played just 51 games because of a knee injury, though, and might miss out on an MVP trophy because of it.
His rookies in Market Movers are collectively down 22% over the last 30 days, including his popular Prizm card. Embiid's 2014 Prizm Base PSA 10 is down 19% over the last month while his Prizm Base Raw is down even more at 38%.
Geoff's pick: Buy
Drew Brees
The recently-retired Saints legend already has a new gig lined up broadcasting for NBC after retiring as the NFL's all-time passing leader.
Brees' rookies in Market Movers are up 15% over the last year, but they aren't always the ones you'd expect. His Topps Chrome /999 is a fan favorite, but it hasn't sold as often as we'd like to see to trust the numbers.
His 2001 Bowman Base PSA 8 has been a popular seller, however, and is up 188% over the last 365 days. The most sold rookie we track is his 2001 Topps Base Raw, which is up 60% over the last year.
Geoff's pick: Sell
Aaron Judge
Judge has been off to a strong start in 2021 with 12 home runs and 24 RBI already. He was recently named AL Player of the Week, but his card prices don't exactly reflect his play.
Judge's Bowman cards are usually what collectors hunt for, but the most popular rookie in Market Movers has been his 2017 Topps Chrome PSA 10. That Topps Chrome is up 37% over the last 30 days while his Bowman cards have struggled.
Judge's first Yankees card, a 2013 Bowman Draft PSA 10, is down 54% over the last 30 days.
Geoff's pick: Buy
Buster Posey
Yes, Posey is still playing. He's been around forever and opted out of the 2020 season because of the pandemic, so it's easy to forget about him. He's playing extremely well with limited usage, and already has more home runs in 2021 than in all of 2018 or 2019.
Like Judge, Posey's Topps rookie has actually been more popular recently than the collector-favorite Bowman. Posey's Topps Base PSA has accounted for 111 of the 154 sales in Market Movers over the last year while the PSA 9 has accounted for 13 more.
That 2010 Topps Base PSA 10 is up 17% over the last 30 days.
Geoff's pick: Buy
Jalen Hurts
He hasn't gotten the hype that other QBs from the class have, but Hurts appears to be Philly's starter moving forward, which means the hobby is on alert. He played in 15 games last season with four starts, but didn't have a huge impact — Hurts finished with just nine total touchdowns and four interceptions.
So far, Hurts hasn't shown collectors enough to shift his prices up. His rookies in Market Movers are down collectively 45% over the last 30 days, but his key 2020 Prizm Base PSA 10 card has held about even over the same period.
Geoff's pick: Hold
Track your collection and maximize your profit with Market Movers, the hobby's most powerful sports card pricing platform! Learn more here.