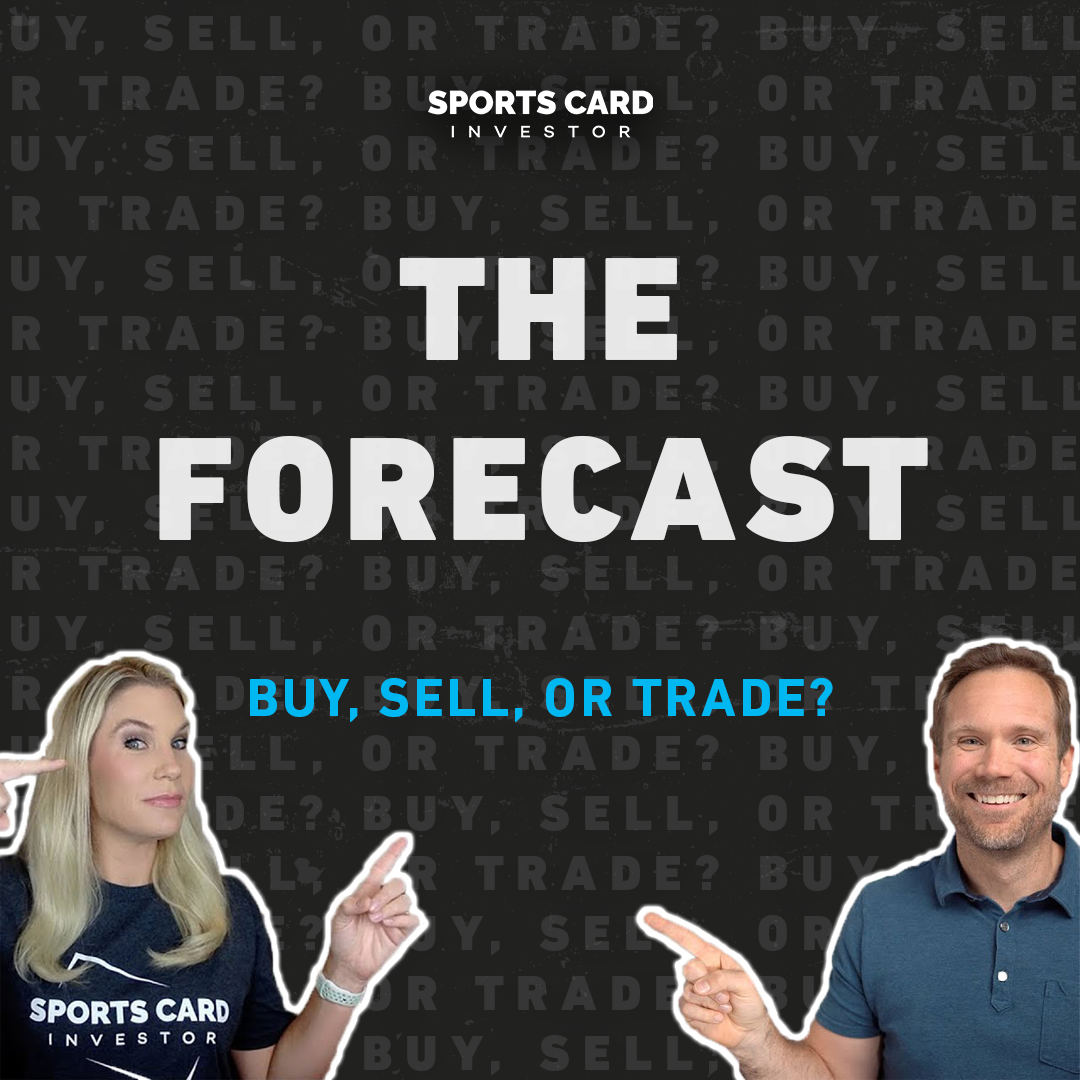 Novak Djokovic is on the verge of tennis history, and a US Open win in the coming days could have a major impact on his card market. Are his cards set to explode?
We cover that and more community submissions in this week's Forecast:
Connor McDavid
Still just 24, McDavid finished last season with an impressive 33 goals and 105 total points in just 56 games. He earned the hardware, too, bringing home the Art Ross Trophy, Hart Memorial Trophy and Ted Lindsay Award.
Hockey continues to grow within the card community, and McDavid's fantastic career so far is a major reason why. His 2015 Upper Deck Young Guns Base PSA 10 is up 19% over the last 30 days.
Geoff's pick: Buy
Novak Djokovic
Already one of tennis' all-time greats, Djokovic is looking to make some serious history with a US Open win in the coming days. He's currently set to play in a semifinal on Friday night, and a tournament win will secure Djokovic a record-breaking 21st major title.
A US Open win would also give him all four major titles in a single calendar year — something that's only been done by two men before. The next question for Djokovic is whether or not a win here makes him the greatest male tennis player ever.
Djokovic's 2007 Ace Authentic Straight Sets Base PSA 10 has a low pop of just 124 and is up 11% over the last 365 days.
Geoff's pick: Buy
Derek Jeter
The Captain went into the Baseball Hall of Fame Wednesday night, capping off an incredible career as one of the game's all-time greatest. Jeter likely gets at least a small Hall of Fame bump over the coming days or weeks, but how much is to be determined.
He's been trending up even before the ceremony, though, with his 1993 Topps Base PSA 10 up 22% over the last 365 days.
Geoff's pick: Buy
Ben Simmons
Clearly one of the NBA's best and most versatile defenders, Simmons' game on offense just leaves too much to be desired for many card collectors. His time in Philadelphia seems to be quickly coming to an end, and his next destination could have a major impact on his long-term outlook.
Landing in Golden State next to Steph Curry will be much different than landing in Minnesota with Anthony Edwards.
Simmons' signature 2016 Prizm Base PSA 10 is up 9% over the last 30 days while his 2016 Optic Base PSA 10 is down 6% over the same period.
Geoff's pick: Short-term value as a flip if he's traded, but avoid long-term investment
Mac Jones
New England's new QB1 is among this week's hottest sports cards, and has been a popular topic among fans and collectors alike. With Cam Newton out, Jones has been tossed into the starting role — which has ignited his card popularity despite few cards in signature sets.
Jones has almost no graded population currently, and very few cards in his Patriots uniform. That hasn't stopped collectors from scooping up his college cards, though. Jones' 2021 Prizm Draft Picks Base Raw is up 146% over the last 14 days with over 400 total sales.
Geoff's pick: Buy, but when newer sets with NFL uniforms are released
Track your collection and maximize your profit with Market Movers, the hobby's most powerful sports card pricing platform! Learn more here.
Note to readers: If you purchase something through one of our affiliates we may earn a commission.