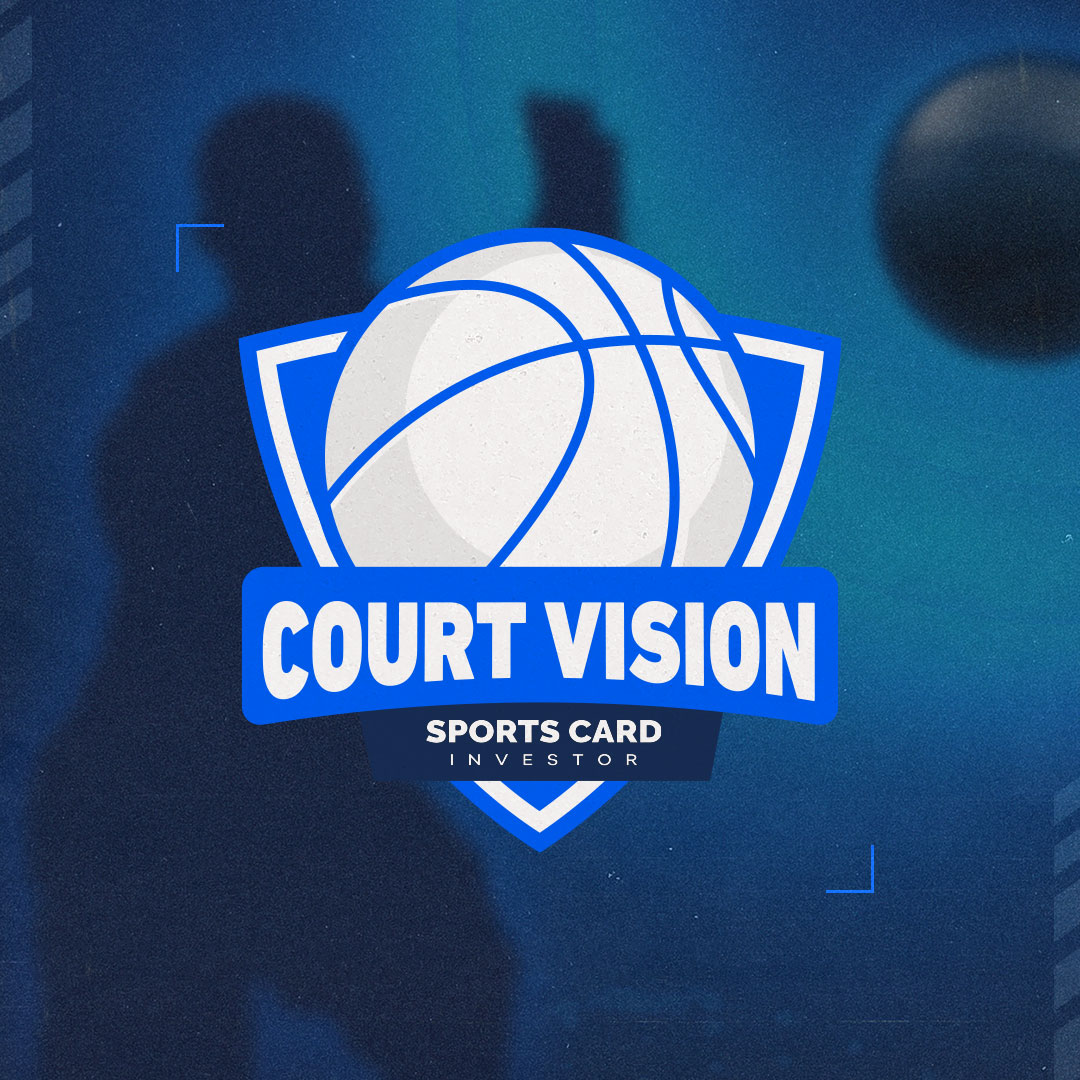 Luka Doncic and the Dallas Mavericks have cruised to a fast start to the 2021-2022 season, though Doncic's cards haven't caught up to his on-court hype so far. As his prices continue to sink, is now the time to buy the dip?
We cover that and more in this week's Court Vision.
Court Vision focuses on a premier list of players and their key rookies during the NBA season. The list will feature different players as the season progresses, depending on performance and any transactions/moves that may impact their existing value. 
Top Stars
Luka Doncic — Guard — Dallas Mavericks
As expected, Doncic has emerged as an early leader for MVP behind fantastic play and Dallas' 7-3 start. Despite hitting a game-winner against Boston, Doncic hasn't shot the ball exceptionally well to start the season, but it's fair to expect him to figure that out soon enough. His card prices haven't reflected his hot start, however, and the market dip could be an opportunity to grab one of the hobby's most popular targets.
Doncic's signature 2018 Prizm Base PSA 10 has dipped 20% over the last 30 days, and its $688 price is one of its lowest over the last year.
Nikola Jokic — Center — Denver Nuggets
The Joker's likely suspension from his shoulder slam against Heat forward Markieff Morris is potentially another blow to an underwhelming Nuggets start. Denver has really struggled with Jokic off the court, so roster upgrades might be needed for another deep playoff run. Jokic's card market is also off to a slow start, with his 2015 Prizm Base PSA 10 down 8% over the last 30 days. Averaging over $600, that Prizm is extremely pricey for a big — even one as talented as Jokic.
Damian Lillard — Guard — Portland Trail Blazers
Lillard appears committed to Portland again, so those holding hoping for a move to Los Angeles or Philadelphia might be out of luck. Currently shooting just 35% through 10 games, Lillard's slow start will eventually end, and collectors can look forward to another postseason bump when the rest of the NBA community is reminded how lethal he is with the ball in his hands. Lillard's 2012 Prizm Base PSA 10 is trending down about 7% over the last 30 days while his 2012 Select Base PSA 10 is down about 17%.
All-Stars
Paul George — Forward — Los Angeles Clippers
George won't be featured here much simply because the hobby just doesn't love him. His unpopularity in the hobby is worth mentioning, though, as another week of incredible play goes by and no one buys his cards. George is averaging 27 and 8 through nine games so far this season — all without Kawhi Leonard — but it still hasn't been enough to move his market much. His 2010 Donruss Base PSA 10 has a pop of just 57 and is up 7% over the last 30 days, though it has just two sales. Sometimes the hobby loves you, and sometimes it doesn't.
Ja Morant — Guard — Memphis Grizzlies
While most of the basketball market's stars are seeing a dip, Morant is trending up. Like Doncic, Morant has emerged as an early MVP favorite while scoring 26 PPG and shooting 37% from 3. If Morant's outside shooting stays this good, he'll sink deeper into the realm of truly unguardable players. Morant's 2019 Prizm Base PSA 10 has been a huge seller so far, with a 12% bump over the last 30 days on 435 sales. His 2019 Optic Base PSA 10 and 2019 Select Concourse PSA 10 are up, too, and are fine additions to most collections.
Trae Young — Guard — Atlanta Hawks
If you're thinking about buying Young, now might be a good time. With the Hawks sitting at 4-7 through Monday, Young's key rookies have taken a dip following last year's fantastic postseason run. Currently averaging about $205, his 2018 Prizm Base PSA 10 is down 13% over the last week as it continues to trend closer to its low over the past 365 days of $158. Young's 2018 Optic Base PSA 10 and 2018 Select Concourse PSA 10 have both slipped as well, and are now both floating below $120.
Second-Year Pros
Cole Anthony — Guard — Orlando Magic
Fresh off a career-high 33 points against the Utah Jazz, Anthony's raw cards have been some of the hottest from the 2020 NBA Draft class. The former North Carolina guard has followed up a strong rookie campaign with an even better start to his sophomore season — he's averaging 20-7-5 through 11 games while shooting 41% from 3. The 7% jump on his 2020 Prizm Base Raw over the last 30 days is nice, but the impressive movement his market has seen has been on his 2020 Prizm Silver Raw. Up 184% over the last 30 days on 116 sales, that Prizm Silver has quickly gone from a $20 card to a $50 one.
Tyrese Haliburton — Guard — Sacramento Kings
The Kings have been an early surprise at 5-6 through 11 games, and Haliburton has been a major reason why. He's been averaging nearly 14 PPG along with 5 assists, and the 37% shooting from 3-point range has been a big boost. The Kings aren't close to contending in the West anytime soon, but Haliburton's early growth has Sacramento on the right path. While his 2020 Prizm Base Raw has been his most popular card over the last 30 days, Haliburton's 2020 Optic Base Raw has plummeted 75% over the last month, from as high as $17 to about $4 over the last month. If you're a believer, that Optic Base Raw has become a cheap buy with plenty of potential growth.
Obi Toppin — Forward — New York Knicks
Toppin is an interesting player — and card — to watch over the rest of the season. He's been extremely explosive and productive in limited minutes for the Knicks, but his path to more playing time is uncertain. He doesn't protect the rim well, so he'll likely need to spend most of his time at Power Forward, where Julius Randle is expected to get most of the minutes. His 2020 Prizm Base Raw has been averaging between $1 and $2 over the last 30 days, so there are few better buy-low options if you believe in his long-term future.
Rookies to Watch
Chris Duarte — Guard — Indiana Pacers
He's mostly flown under the radar so far, but Duarte has quietly put together one of the best starts to the season among the rookie class. Injuries have forced Duarte into a bigger role, but he's averaging 16 PPG through 11 games while shooting 42% from 3. It's a long season, but he's a sneaky pick for Rookie of the Year. His 2021 Chronicles Draft Picks Optic Rated Rookie Raw has been especially volatile over the last 30 days, but has averaged about $6.50 over the last two weeks.
Jalen Green — Guard — Houston Rockets
Green has gotten off to a shaky start, but a 24-point outburst against the Lakers turned some heads last week. His card market hasn't heated up much with only Chronicles Draft Picks out, but what he does have has seen decent volume. Green's 2021 Chronicles Draft Picks Optic Rated Rookie Raw can currently be picked up for about $12.
Evan Mobley — Forward — Cleveland Cavaliers
The Cavs rookie was featured in this space recently, and he's back again after more excellent play. The league's early leader in contested shots, Mobley remains a key part of Cleveland's frontcourt that has become a problem for teams. Currently averaging nearly 15 points and 8 rebounds per game, Mobley has quickly become one of the stars of this draft class. His 2021 Chronicles Draft Picks Optic Rated Rookie Holo Raw has jumped 37% over the last 14 days, but can still be snagged for less than $18.
Track your collection and maximize your profit with Market Movers, the hobby's most powerful sports card pricing platform! Learn more here
Note to readers: If you purchase something through one of our affiliates, we may earn a commission.