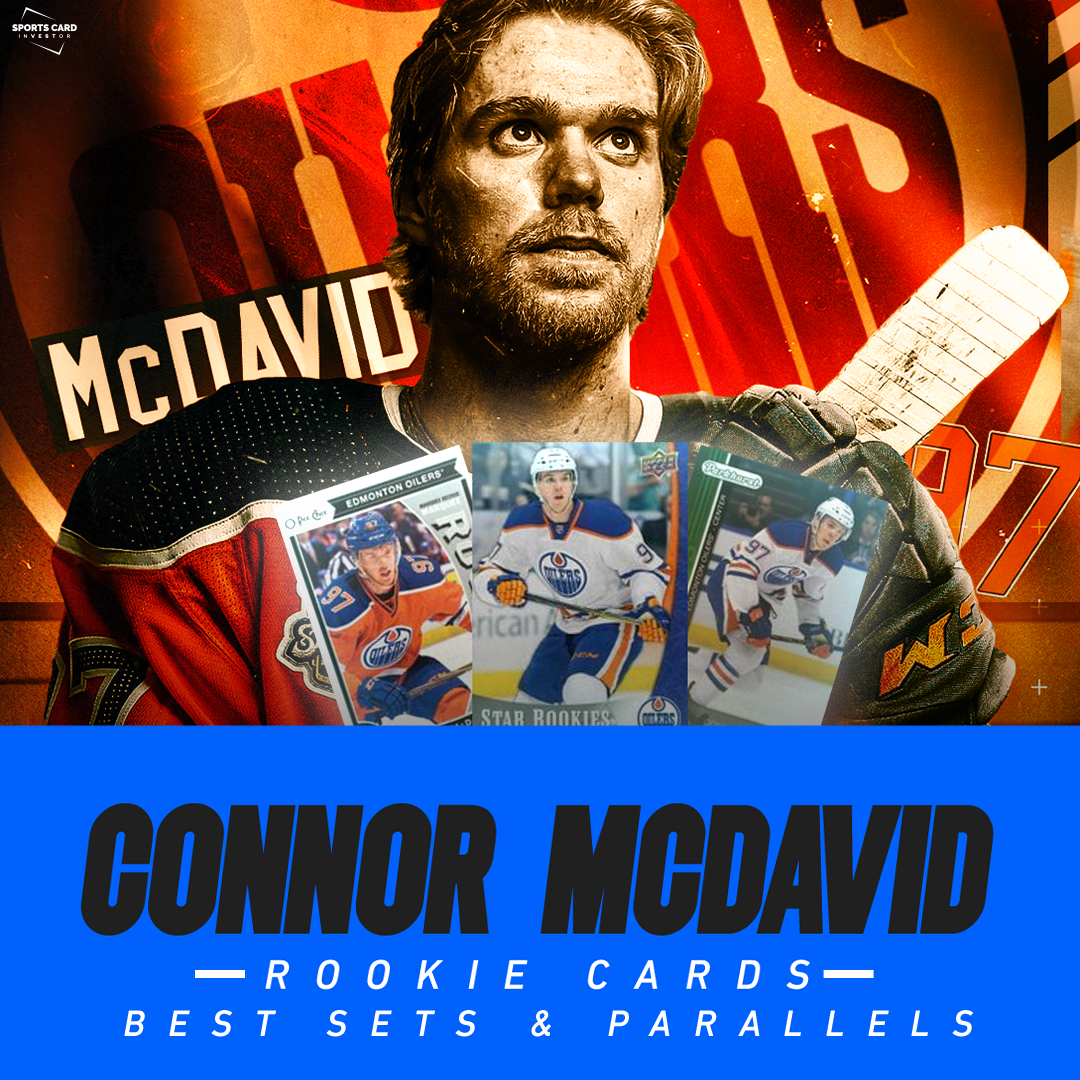 Connor McDavid, the superstar center for the Edmonton Oilers, won't turn 25 until January 2022, yet he's already gliding into hockey immortality. With two Hart trophies, three Art Ross honors and 600 career points quicker than almost everyone in NHL history, you see why the hockey world is in awe of the young man and why his native Ontario puts all its collective faith in him.
On top of all that, McDavid's got a chiseled jawline, a charitable heart of gold and he's even starting to show a pinch of personality away from the ice. The guy's got it all… well, everything except for the postseason success. If he can finally lead the Oilers to a few playoff series wins, those lofty comparisons to Wayne Gretzky will feel even more fitting.
McDavid has dozens of rookie cards from 2015, so use this Sports Card Investor guide to see which ones we think you should focus on. Cards are broken down into tiers, ranging from the most affordable and more popular options to the most unique, expensive and rare.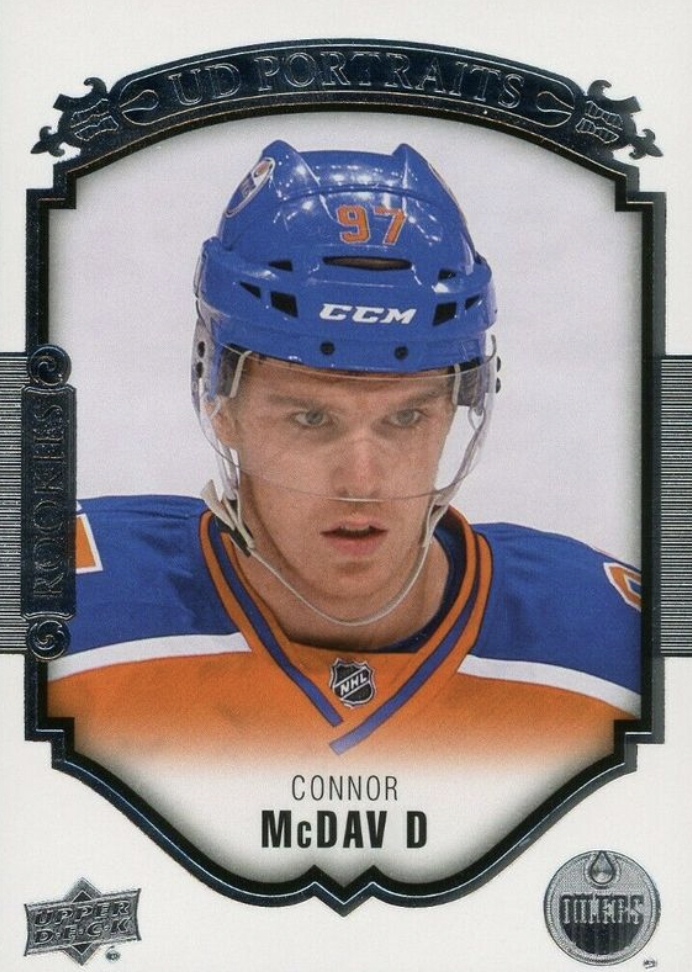 VALUE ROOKIES:
The Value Tier includes cards with high print runs or lower-quality cardstock. A good fit for new collectors or those on a limited budget.
2015 O-Pee-Chee Update #U11: While only one of these cards in a PSA 10 moved in October '21, the hype around McDavid (and presumably, the card's moderate $300 cost) sparked five transactions the following month.
2015 Upper Deck UD Portraits #P-100: The look of focus and determination captured here could only come from a person on the cusp of taking the league (and hockey card world) by storm.
2015 Upper Deck #PR-1 Parkhurst Rookies: Illustrating the '21 theme of McDonald cards steadily going up, this Parkhurst prize has jumped more than 60% in value from April to December.
2015 O-Pee-Chee Platinum #M1 Marquee Rookies: There's something alluring about a McDavid RC done with the platinum finish. This one earns an even longer look because its pop is just 126.
2015 Upper Deck #C270 Program of Excellence Canvas: Unlike other rookie cards in this guide, this one shows McDavid donning Canada's colors. But exactly like all the others, its prices keep rising with every great night McDavid has on the ice.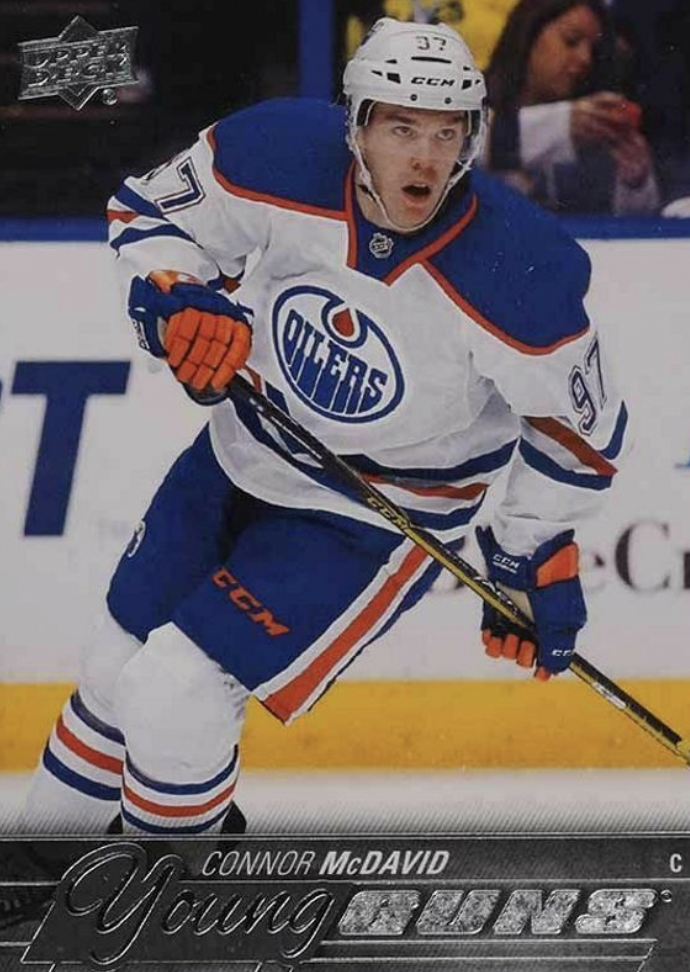 POPULAR ROOKIES:
This tier includes cards from the most popular sets across both retail and hobby formats. Typically easy to buy or sell when needed.
2015 Upper Deck #201 Young Guns Base: Though there are more expensive McDavid cards, this Young Guns is going to be the one that all others will be compared. Hobbyists appear to agree as the card that was around $1,200 in December '20 sold for $3,750 in December '21.
2015 UD Star Rookies #1: While the pop (628) on this one might be cause for pause, the relatively inexpensive sticker price ($350-400) makes this an excellent option for those just trying to get their skate in the mid-tier door.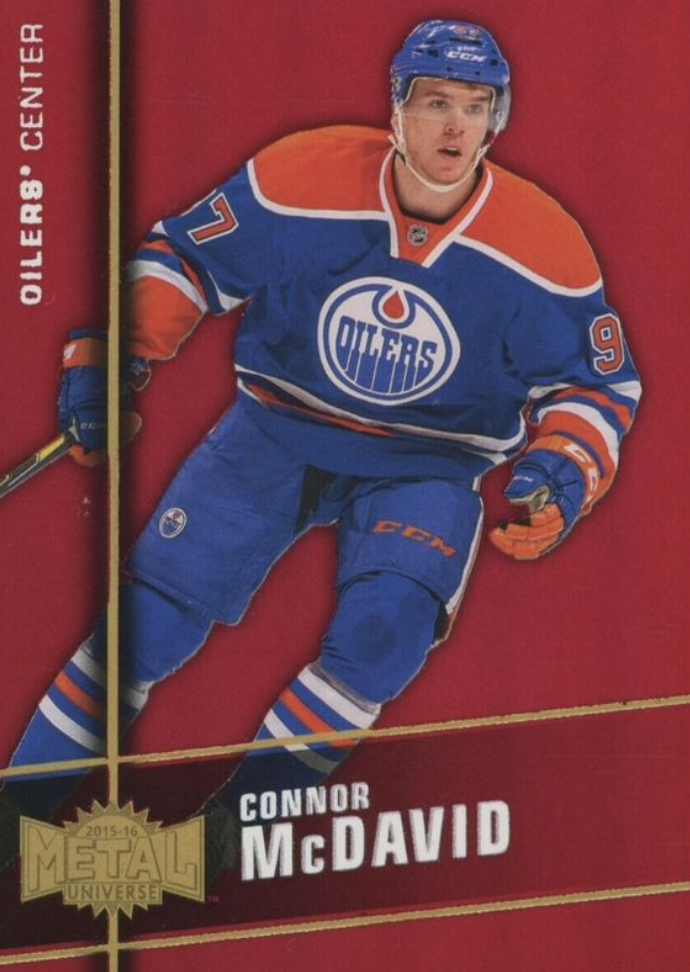 MORE UNIQUE ROOKIES:
This tier includes cards with lower print runs, unique designs, or cards from hobby-only products. Usually higher-quality cards than the Value or Popular tiers, though not necessarily more popular or easier to buy or sell.
2015 Fleer Showcase #MU-1 Precious Metal Gems: One of the premier McDavid RCs, this gorgeous Precious Metal Gems rarity (only 150 Reds were printed) has only earned a PSA 10 seven times. It's no wonder why a late-October 2021 sale went for more than $12,000.
2015 UD Black Diamond #RG-CM Rookie Gems: With just 399 of these in existence and only 10 with a PSA 9 distinction, this card won't be easy to find. But if you do somehow track one down, expect it to cost you around $500.
2015 Upper Deck #C211 Young Guns Canvas: In this stylish vertical image, McDavid appears to be celebrating an Oilers goal. Be it scoring or assisting, smart money says Connor had something to do with the end result.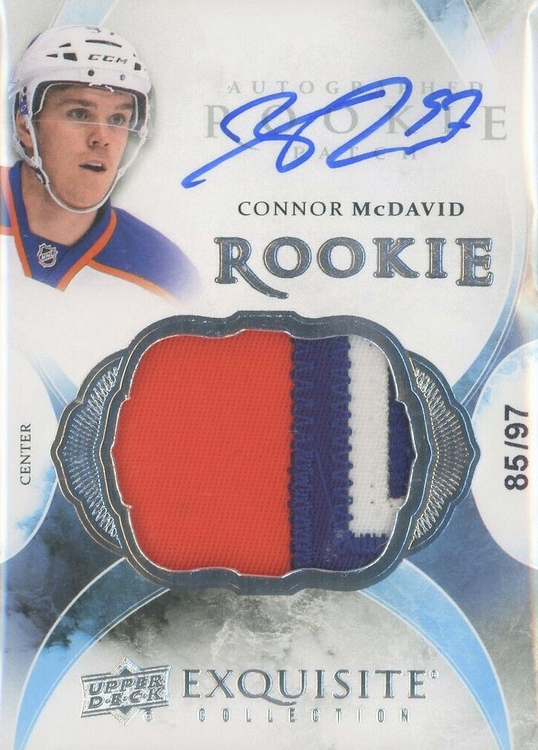 RAREST AND MOST EXCLUSIVE:
We won't spend much time here because this category is likely out of reach for most collectors due to price, but they are still fun to look at.

Sets like UD Exquisite typically feature visually stunning designs and low-numbered cards.
This is also where you'll find the most impressive patches paired with high-quality, on-card autographs. Don't worry if this tier is too pricey as there's a host of options in other categories that could be perfect for your collection.
Track your collection and maximize your profit with Market Movers, the hobby's most powerful sports card pricing platform! Learn more here.
Note to readers: If you purchase something through one of our affiliates, we may earn a commission.