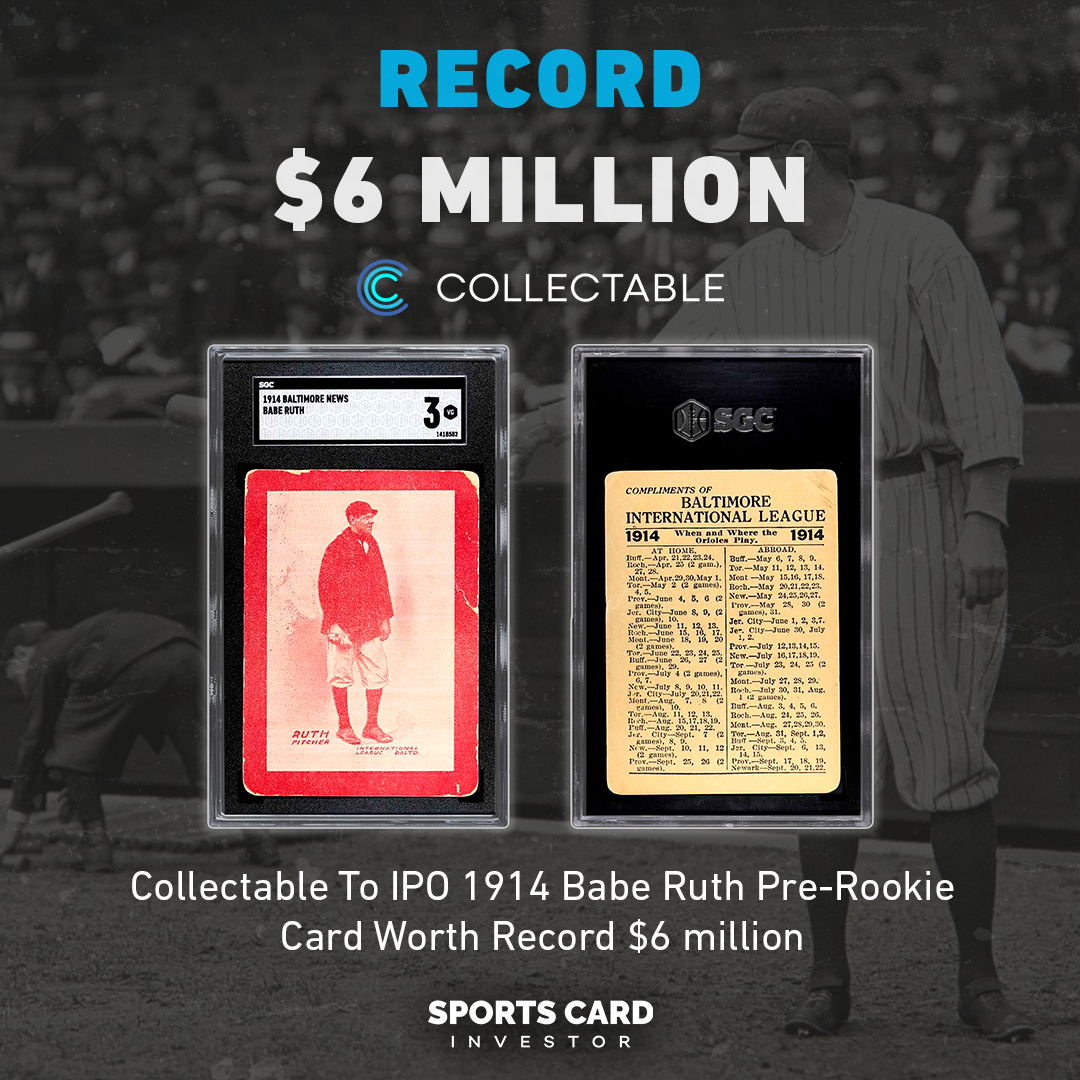 Sports memorabilia investment platform Collectable announced Wednesday that it will IPO a 1914 Baltimore News Babe Ruth Pre-Rookie Card worth a record-breaking $6 million.
Considered one of the rarest cards in existence, the $6 million valuation would make the 1914 Ruth the most valuable sports card of all time. A 1952 Mickey Mantle and 2003 LeBron James Exquisite RPA had previously sold for a record $5.2 million each.
Recently purchased by an anonymous buyer for an undisclosed amount, the card is graded an SGC 3 and is considered Ruth's minor league rookie. One of just 10 known examples in circulation, this is the first acquisition of the card since 2013.
"Today's announcement represents not only a record price for a sports card, but also a historic and seismic moment for the sports collectibles industry. For the first time in history, via Collectable, collectors and sports fans of all income brackets will be able to co-own this record setting asset", Collectable CEO Ezra Levine said in a statement. "We continue to see tremendous excitement for rare and exciting pieces of sports history, and we're thrilled that today's announcement showcases the power of fractional ownership to democratize and modernize our special industry."
According to Levine, the card will IPO at $3 per share in honor of Ruth's No. 3. Collectable will offer 20,000 total shares with the buyer retaining 99% equity in the asset, but may offer more at a later date.
Currently in Baltimore's Babe Ruth Museum, the card will remain on display for collectors to see in person.
"The Babe Ruth Birthplace and Museum celebrates and preserves the legacy of baseball's greatest star, George Herman 'Babe' Ruth," Shawn Herne, Executive Director of the Babe Ruth Museum, said in a statement. "This incredibly generous offer to exhibit Ruth's 1914 Orioles' rookie card enables the museum to offer visitors the unique opportunity to experience -up close and personal- the Mona Lisa of baseball cards, and to further appreciate Ruth's continuing impact on the game, and on our society, as an American cultural icon."
Track your collection and maximize your profit with Market Movers, the hobby's most powerful sports card pricing platform! Learn more here.