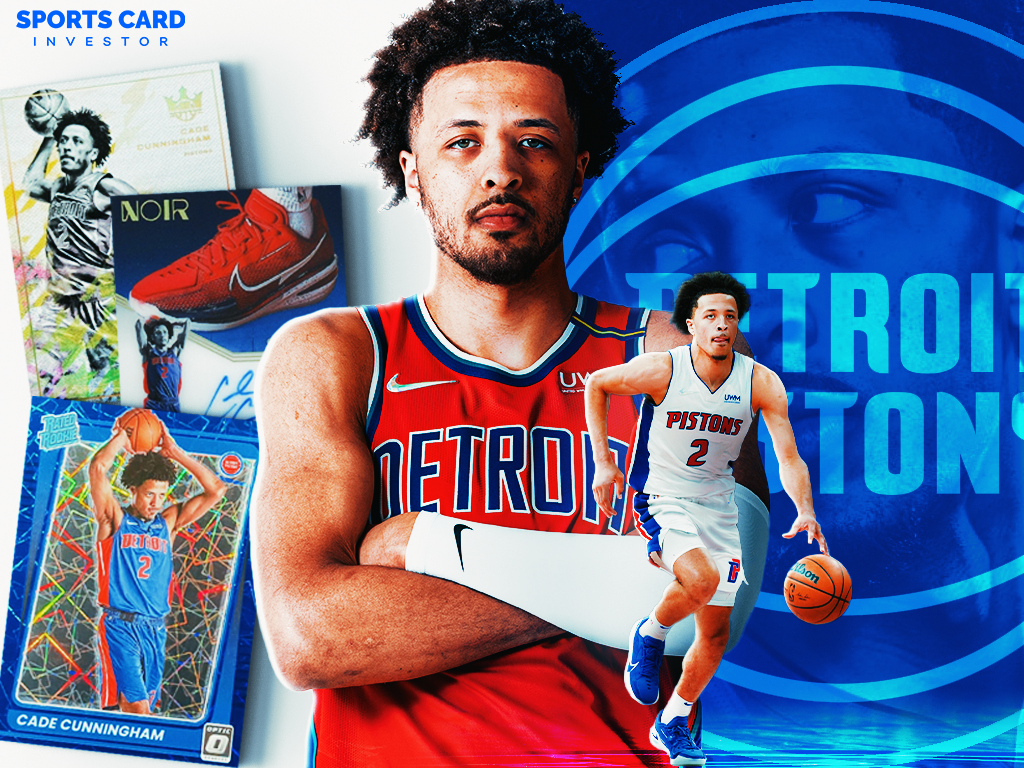 Cade Cunningham Rookie Cards: Best Sets and Parallels
It's easy to forget about Cade Cunningham, the 21-year old No. 1 overall pick in the 2021 NBA Draft out of Oklahoma State, as the 6-foot-7 guard has only played 76 games in a possible 164 that come within a two year career. But the Pistons season ends with hopes of the number one overall pick after finishing with an NBA-words 17-65 record.
Not only could they end up with generational prospect Victor Wembanyama, the 7-foot-4 french phenom, but Cunningham himself is fully healthy and ready to contribute in 2023-24 after missing 65 games with a shin injury.
With Market Movers yielding that Cunningham's 2021 Prizm #282 Raw being the most sold basketball card over the last 180 days, it's a sign that the market has spoken. They want more Cunningham. So let's dig into his rookie cards.
VALUE ROOKIES:
The Value Tier includes cards with high print runs or lower-quality cardstock. A good fit for new collectors or those on a limited budget.
2021 Hoops Base #201: A great entry-level purchase for those wanting to PC is his 2021 Hoops Base #201 PSA 10, trading for around $20, about the equivalent of having the card graded and slabbed at most grading companies. It's his first card in a pro uniform, and while it is highly unlikely to rise in value throughout the years, it should be easy to move out of for a similar price you bought it for at any point in time, making it a relatively risk-free, fun purchase.
2021 Donruss Base #211: Speaking of relatively risk-free, fun purchases, the classic Donruss Rated Rookie design remains a huge value. For roughly the same PSA 10 price as the aforementioned NBA Hoops release, the simple classic is another great, quality option for entry-level collectors.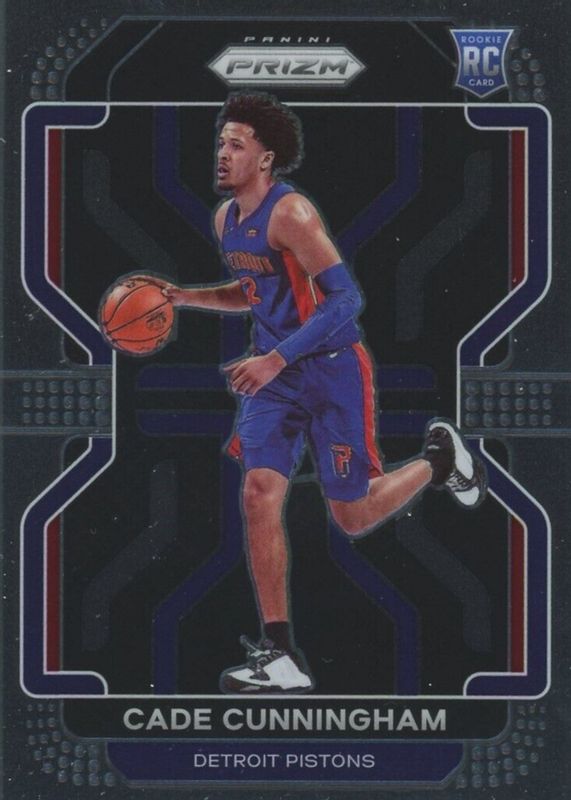 2021 Prizm Base #282: Cunningham's flagship rookie card is the Prizm Base PSA 10, and it happens to be the most liquid card over the last 180 days according to Market Movers, trading just over $40 currently. When he returns to the court, this card — unlike the NBA Hoops release above — does have some potential to rise in value if Cunningham performs well and helps the Pistons playoff chances in future seasons.
2021 Optic Base #161: Like Prizm, Optic features high-quality chromium material, with a design consistently modeled after Donruss, with the classic Rated Rookie mark but a different photo. Surprisingly, this card sells for slightly less than its Donruss paper counterpart, making it a great option for collectors who want a high-quality card.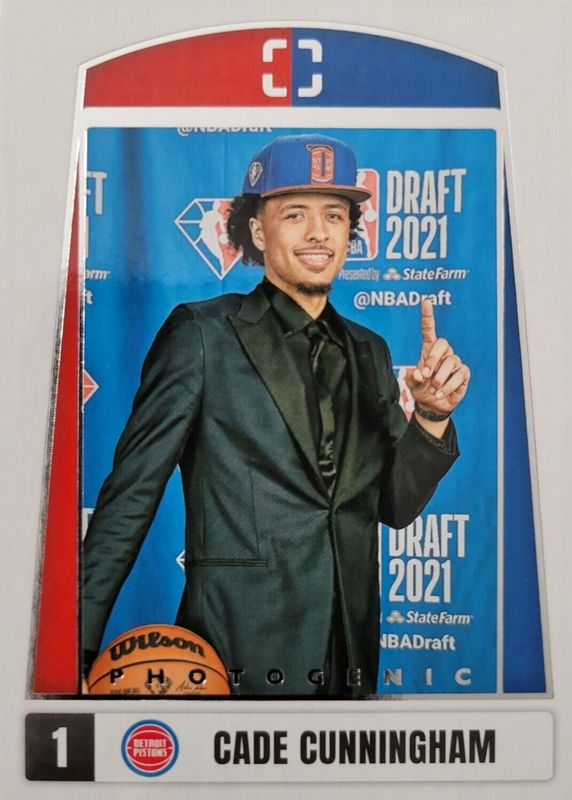 2021 Photogenic First Night #1: For those of you not familiar with "Photogenic Basketball," don't worry, it debuted in 2021-22, sold directly from the Panini website in a hobby only format, with each box containing one autograph. This card is just his regular base card from that release, making it a solid value at about $9 raw.
POPULAR ROOKIES:
This tier includes cards from the most popular sets across both retail and hobby formats. Typically easy to buy or sell when needed.
2021 Prizm Silver #282: This card has sold 580 times in the last 365 days, making it one of the most popular, liquid, Cunningham rookies. The Prizm Silver is a short print, with "Prizm" on the back, denoting it as a "Silver." The good ole "Prizm, Prizm" may be a bit confusing to those just entering or reentering the hobby, but it's an important designation, as the shinier, holo Prizm Silver PSA 10 sells for more than $600, while the non-silver base equivalent trades at the aforementioned $40.
2021 Donruss Orange Laser #211: The flashy orange laser has sold 346 times raw in the last 365 days, for an average price of $22, putting it perfectly in the popular rookies section of this piece. With the same photo as its Donruss paper base cousin, the Orange Laser is a short print parallel in the Donruss release.
2021 Revolution Base #120: Revolution Basketball is slowly but surely growing in popularity and relevance in the hobby, case in point in Cunningham's #120 base rookie from 2021-22. The simple, yet eye-catching design featuring the point guard in his home white uniform, sold a whopping 275 times in the last 365 days.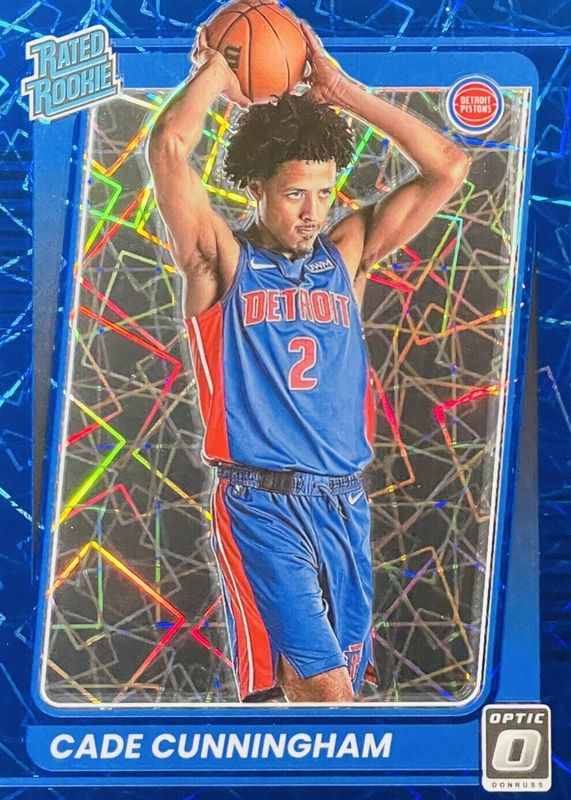 2021 Optic Blue Velocity #161: This popular short print variation from 2021-22 Optic Basketball sells well, having been transacted 208 times in the last 365 days, selling for $100 in PSA 10. It's a sweet looking color match to the Pistons road uniform that the former #1 pick is sporting in the photograph.
MORE UNIQUE ROOKIES:
This tier includes cards with lower print runs, unique designs, or cards from hobby-only products. Usually higher-quality cards than the Value or Popular tiers, though not necessarily more popular or easier to buy or sell.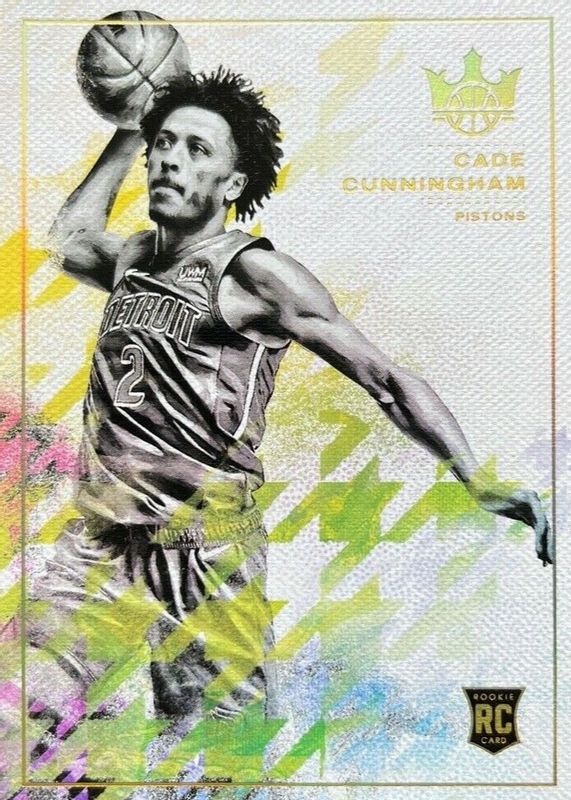 2021 Court Kings Rookies IV #176: For those of you not familiar with Court Kings, there are essentially four subsets of rookies, I, II, III and IV. Rookies IV is home to super short prints (SSP), making this Cunningham rookie super unique. A black and white action shot with an illustration overlay type feel, its most recent sale in PSA 10 was back in December 2022 for more than $600.
2021 Hoops Artist Proof Gold #201: Not all NBA Hoops cards are created equal. The artist proof gold versions are serial numbered to /10. A PSA 10 sold on April 17, 2022 for $1,786. Not your average Cunningham card. Even though this looks like the base card, you can't miss the serial number and the script "Artist Proof" right on the front left corner.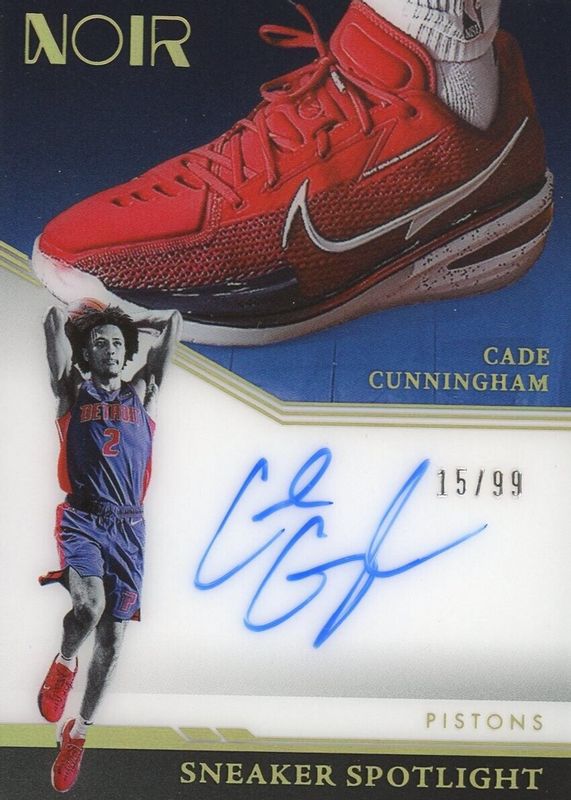 2021 Noir Sneaker Spotlight Signatures #SNS-CCA: The Noir Sneaker Spotlight features a close up of his red Nike's on the front, accompanied by a solid action shot, on-card auto, and is serial numbered to /99. Most recent sale was in February, 2023 — a raw card for $1,287.
2021 Prizm Photo Variation – Silver #282: A photo variation of the Prizm Silver SSP, these are horizontal, making them impossible to miss. There are non-silver versions of this card as well, so if you're hunting them down, make sure they say "Prizm" on the back. The last sale of this card in PSA 10 was March 7, 2023 for $330. So while they're much more achievable than the other cards in this section, they're also extremely hard to find in PSA 10, and very desirable.
RAREST AND MOST EXCLUSIVE:
This category may be out of reach for most collectors due to price. Don't worry if this tier is too pricey as there's a host of options in other categories that could be perfect for your collection.
2021 Crown Royale Kaboom! #21: Quickly becoming one of the hobby's favorite and widely accepted SSP, the Kaboom! features its signature comic book superhero illustrated style. To get a rookie of Cunningham in this format is huge. Last sale in PSA 10 was for $3,600 on January 22, 2023. 
2021 Select Courtside #288 Gold /10: This gorgeous card features Cunningham driving to the hoop in the Pistons' alternate gray uniform, and is Gold /10. The last sale was for nearly $6,000 in January 2023.
2021 Prizm Gold #282 /10: The Prizm Gold /10 has become one of the most widely recognized and desirable cards in the hobby. Not only is it extremely rare to find one of only 10 copies of a rookie card out of the most popular release, but for anyone trying to complete "the rainbow," it's the most elusive, thus the one people are willing to pay the most for. In this case, Cunningham's only recorded sale in the last 365 days was for $24,000 on November 26, 2022.
2021 Prizm Black/Gold #282 /5: Wait, there's a Black/Gold /5 variation? Yep, with some black coloring on the bottom half, gold on the top, this card serial numbered to /5 sold at one point in the last 365 days for $32,400.
With the Sports Card Investor app, you can profit from the hobby you love by keeping up with trending cards, tracking real-time prices with Market Movers and buying items on eBay. Download the industry-leading app here for Apple or Android
Note to readers: If you purchase something through one of our affiliates, we may earn a commission.
Paul Hickey is a regular contributor to Sports Card Investor, the creator of the Sports Card Investment Report at NoOffseason.com, and the host of the Sports Card Strategy Show on Apple Podcasts, Spotify and YouTube. He can be found on Instagram at @sportscardstrategy and on Twitter @nooffseasoncard.