Before a forgettable 2021 Eastern Conference Semifinals series with the Atlanta Hawks, Ben Simmons was considered a top-shelf defensive talent with good ball-handling skills and an eye for crafty passing. His jumpshot had major holes but the No. 1 pick in the 2016 NBA Draft flourished in so many other ways that he largely got a pass for the shooting woes. But then he averaged 6.3 points in the final three games of the aforementioned series for the Philadelphia Sixers. After that, an offseason of social media torment happened. And then a mental-health break turned into an awkward standoff with Philly that turned into a trade to Brooklyn.
At this story's publishing, Simmons still hadn't played his first game with the Nets. But with Kevin Durant doing Kevin Durant-like things on a nightly basis and Kyrie Irving sprinkling in 60-point outings, excitement is building around the team's championship hopes. If Simmons can help with the '22 postseason run, the up-and-down journey his cards have been on lately should smooth out. And if he can parlay that into a productive, drama-free '22-23 campaign and beyond, we might have a 6'11" defensive stopper who double-doubles his way back into collectors' good graces.
Simmons has a number of rookie cards from 2016, so use this Sports Card Investor guide to see which ones we think you should focus on. Cards are broken down into tiers, ranging from the most affordable and more popular options to the most unique, expensive and rare.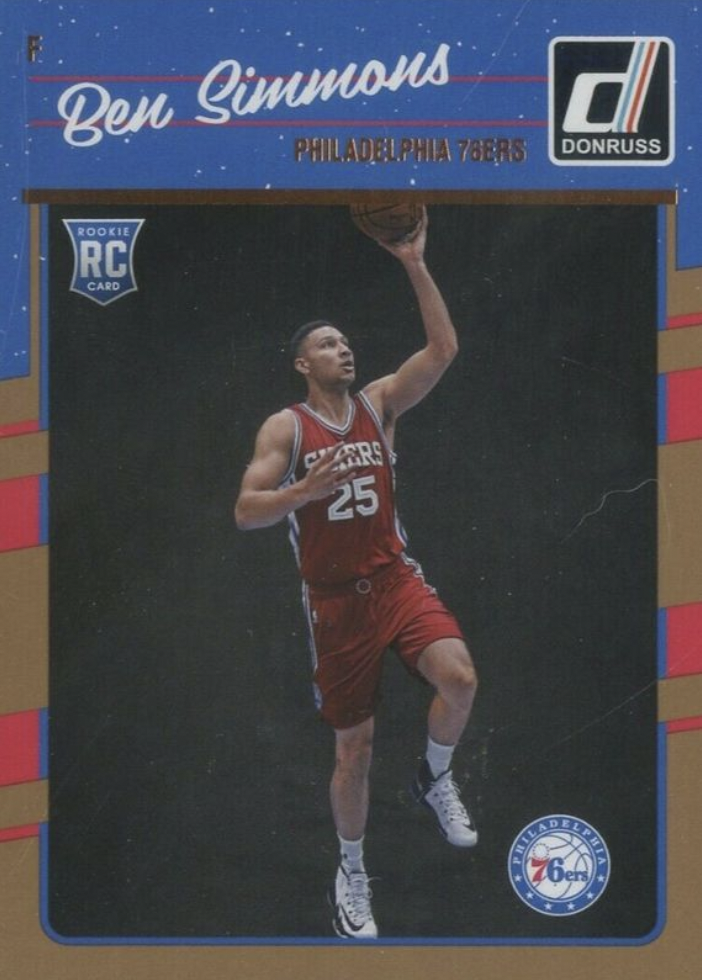 VALUE ROOKIES:
The Value Tier includes cards with high print runs or lower-quality cardstock. A good fit for new collectors or those on a limited budget.
Hoops #261: Consider this the ground floor for Simmons rookie cards. Grab a PSA 10 of this one between $40 and $60, cross your fingers and hope the young man gets back to the all-star level talent he was a few seasons ago.
Donruss #151: A slightly more coveted card (only 308 PSA 10s compared to more than 1,400 of the Hoops), this Donruss Base in a gem mint can be in your collection for under $80.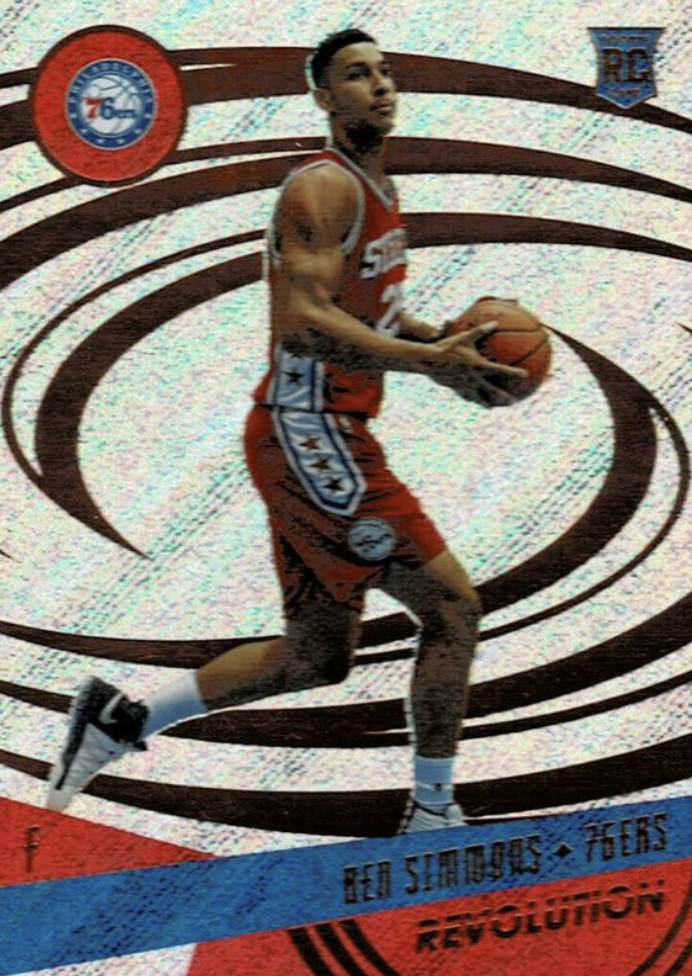 POPULAR ROOKIES:
This tier includes cards from the most popular sets across both retail and hobby formats. Typically easy to buy or sell when needed.
Select Concourse #60: If you count all the PSA 9s and 10s of this one, you have nearly 1,500 cards. That may explain why slabs routinely move for only $100 for this otherwise decent RC.
Optic #101: The chrome-coated Optic usually commands more money than regular Donruss, but in this case a high pop (1,700 PSA 10s) is causing prices to stay in the same ballpark. If you're looking for scarcity, Optic Reds, Greens and a host of other color varieties sometimes pop up on eBay.
Revolution #143: While the Infinite and Sunburst parallels of this Revolution are fun (and potentially quite valuable), the shimmery, swirly base is a good-looking card in a slab, too.
Prizm #1: Peek at the smile on Simmons' face. It's the look of an NBA rookie ready to join teammate Joel Embiid on his quest to bring the Sixers their first title since 1983. Though that never happened, the card at least is a winner that sells between $200 and $300.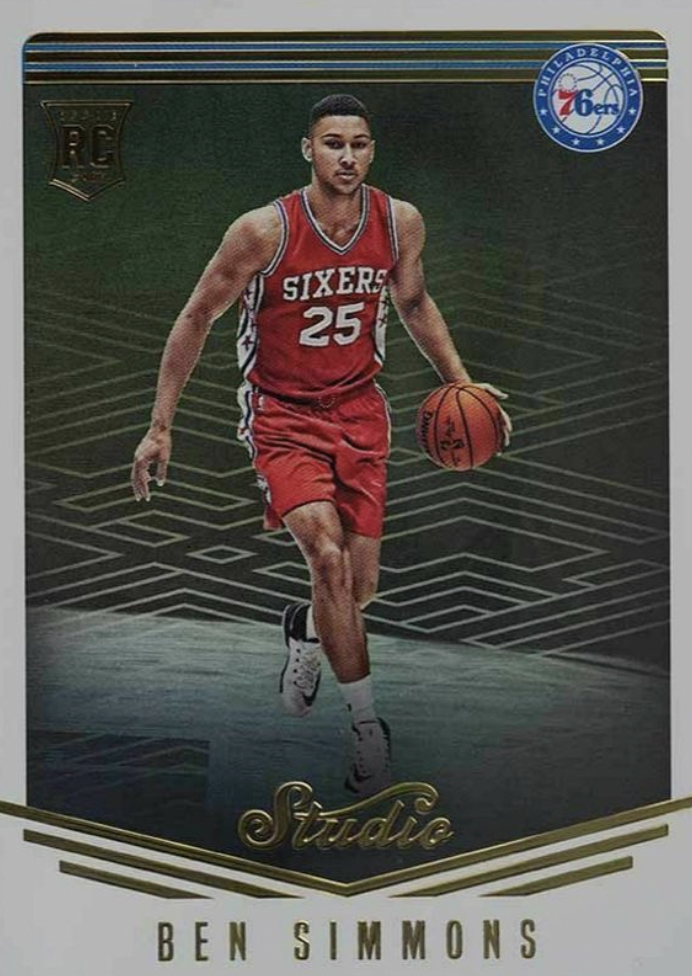 MORE UNIQUE ROOKIES:
This tier includes cards with lower print runs, unique designs, or cards from hobby-only products. Usually higher-quality cards than the Value or Popular tiers, though not necessarily more popular or easier to buy or sell.
Studio #84: With "Studio" written in an elegant script and the head-on image bordered in white, this card has a subtle sophistication to it. That there are only 385 in a PSA 10 make it even more attractive.
Mosaic #6: Between New Year's Day and St. Patrick's Day 2022, 15 of these dazzling Mosaics sold ungraded. Prices ranged between $20 and $66. PSA 10s during that span sold for upwards of $245. Sure, going the Raw route is a gamble but it's one with a nice potential payoff.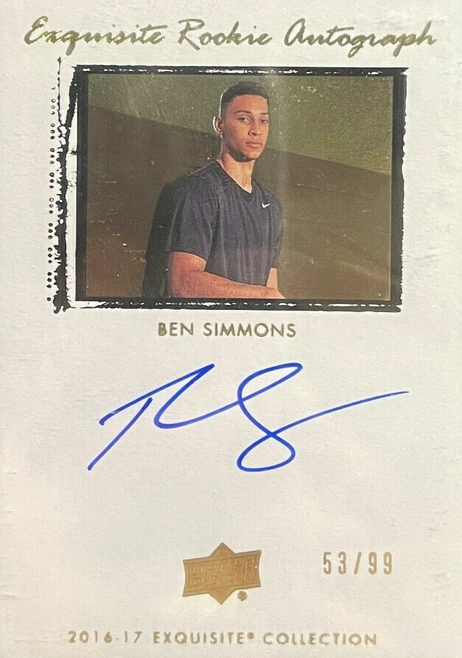 RAREST AND MOST EXCLUSIVE:
We won't spend much time here because this category is likely out of reach for most collectors due to price, but they are still fun to look at.
Sets like Exquisite typically feature visually stunning designs and low-numbered cards.
This is also where you'll find the most impressive patches paired with high-quality, on-card autographs. Don't worry if this tier is too pricey as there's a host of options in other categories that could be perfect for your collection.
Track your collection and maximize your profit with Market Movers, the hobby's most powerful sports card pricing platform! Learn more here.
Note to readers: If you purchase something through one of our affiliates, we may earn a commission.