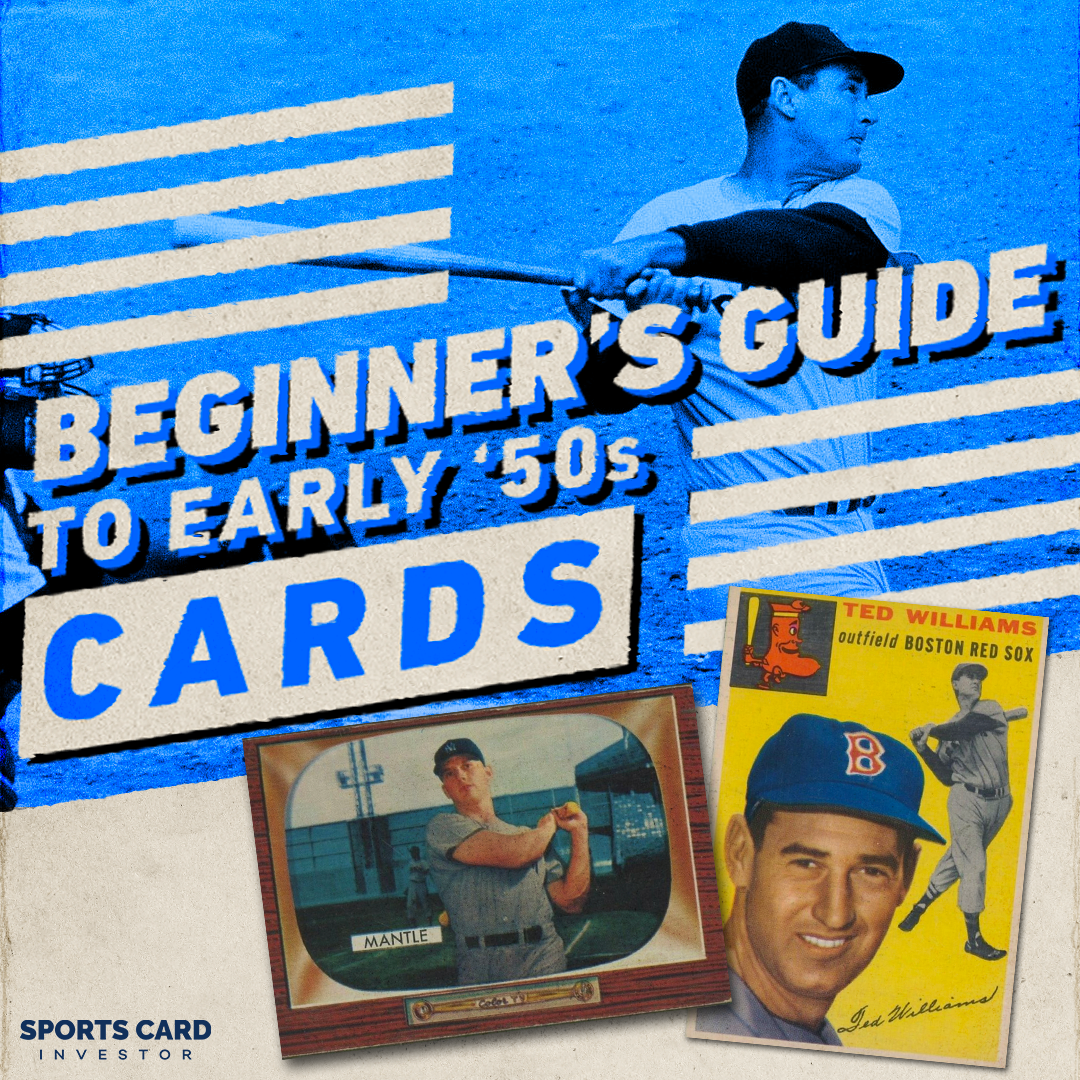 The first five years of the 1950s was an era defined by the Bowman and Topps rivalry. While many know that Bowman products today feature prospects and collegiate athletes, the company was once the biggest competitor to Topps. Both brands tried signing athletes to exclusive contracts. That way their rival couldn't print those players' baseball cards.
One great example was Ted Williams. In 1954, Teddy Ballgame signed an exclusive deal with Topps. In that year's set, Williams was card No. 1 and No. 250, the first and last card within the release. That same year, Mickey Mantle signed with Bowman. That's why Mantle only has '54 and '55 Bowman cards and nothing with Topps until '56.
Topps, of course, would go on to buy Bowman that year for $200,000; however, they shelved the intellectual property until the Bowman brand's triumphant return to the diamond in '89.
Even without the Bowman purchase, I think it's fair to say Topps produced more iconic cards within the era. This is also exemplified with the value of a '51 Bowman Mantle versus a '52 Topps. Though both can be readily found at card shows, the '52 Topps has been graded much less (1843 to 2505 at last count). The second-year Topps also outsells the Bowman rookie in both low and high grades, which isn't the norm. Typically, first-year cards are worth the most, with sophomore releases getting around 10-25% of the value.
A lot of people say the '52 Topps Mantle is both a "rookie card" and "scarce," but neither of which are true. This card was actually a double print. So, although it was in the last series and is a high number, the iconic card isn't as rare as a true high-number card like Eddie Mathews' No 407. The Mathews card, by the way, is last in the set. It's also one of the most expensive base rookie cards Topps ever produced. The total PSA pop on it is only 877.
While the Topps-Bowman rivalry was going on, there were numerous regional releases from food and beverage companies. Unlike Topps-Bowman, these other cards were only distributed in local areas and have a much lower print run. For example: Hunter Wieners cards only feature the St. Louis Cardinals where Briggs Meats' options only showcase Washington and New York players.
These cards can be tough to source, are hard to find in a high grade and fetch a premium. Beyond Hunter Wieners and Briggs Meats, a few other food/beverage brands to cook up noteworthy cards include:
Tip Top Bread
Dan-Dee Potato Chips
Stahl Myers
Wilson Franks
Red Heart Dog Food
Two other companies worth mentioning in the category are Berk Ross and Red Man Tobacco. Berk Ross featured baseball players as well as athletes in sports like boxing, golf, basketball and football. Some of Berk Ross' bigger cards are from 1951 (Whitey Ford RC, the last Joe DiMaggio card) and 1952 (Mantle's card uses '51 Bowman imagery).
Red Man Tobacco made cards from '52 to '55. You can find many of the game's major stars within these releases. The cards are much larger than others of the time and they have tabs at the bottom, which many people cut off. That's why, under the pop reports, you can find graded results with and without the tab.
Ryan Nolan writes about vintage cards and other topics for Sports Card Investor. He also runs Breakout Cards. Follow him on Twitter and YouTube for more content.
With the Sports Card Investor app, you can profit from the hobby you love by keeping up with trending cards, tracking real-time prices with Market Movers and buying items on eBay. Download the industry-leading app here for Apple or Android
Note to readers: If you purchase something through one of our affiliates, we may earn a commission.