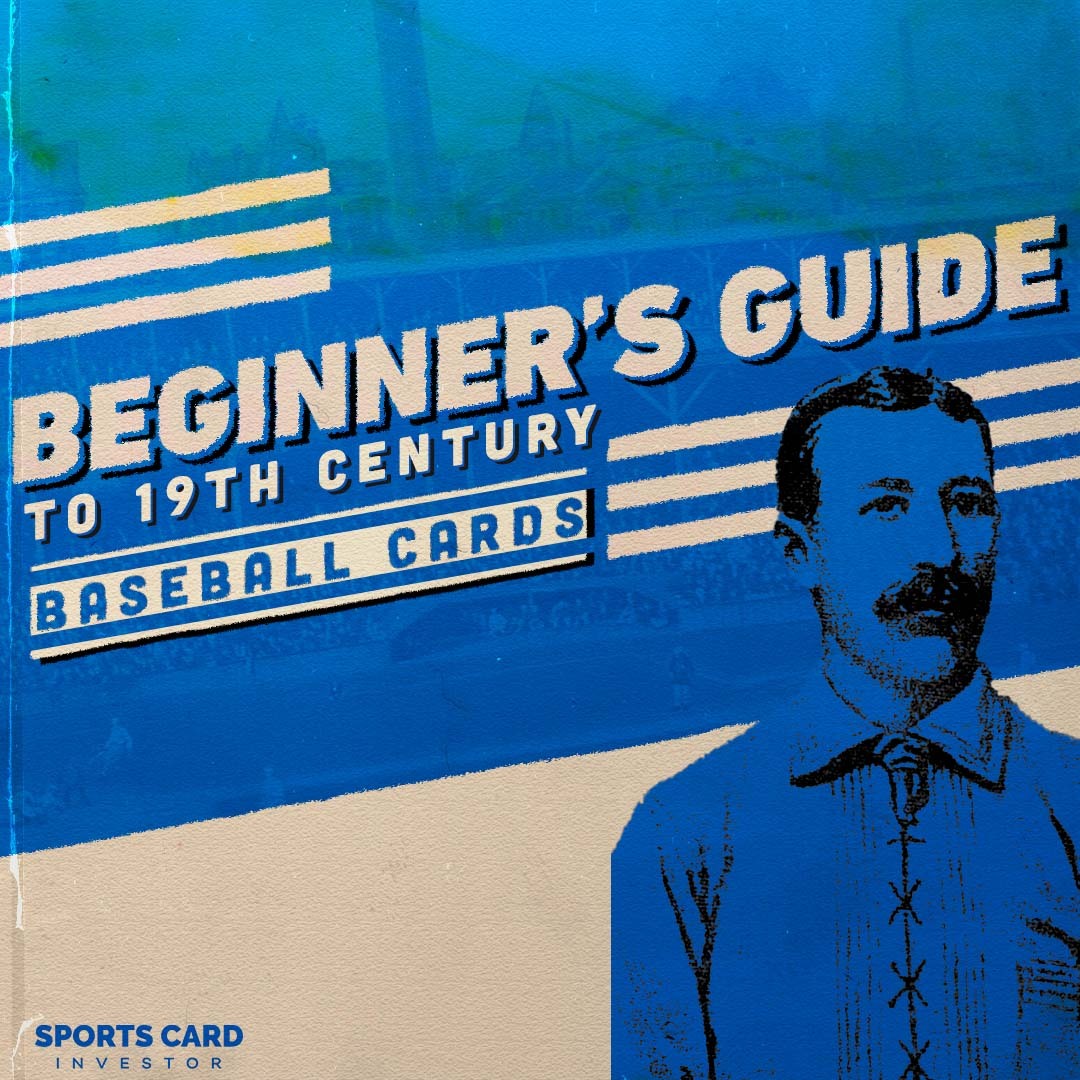 Some of the best-looking baseball cards came from tobacco manufacturers in the late 1800s. Unlike cards of today, these weren't meant to hold monetary value. Instead, they were advertisements for a brand and helped with the packaging of cigarettes.
Before we get into these tobacco cards, we should address an important point about cabinet cards. While cabinet cards can be traced back to the 1860s, they don't fit the typical definition of what we call a card today, and many view them more as posters for the era.
They were large photographs put up for display within a household and the intent wasn't to advertise tobacco or another food/beverage.
Due to this, we'll consider the first set of baseball cards as the N167 Old Judge from 1886. Other collectors might view some of the team cabinet cards from the 1860s as the first cards. This is a debated topic within pre-war and vintage cards.
Condition of the Cards
Getting high-grade cards from this era is extremely rare. These cards were largely viewed as worthless, so individuals didn't preserve them as there were no supplies to keep them in pristine condition. They didn't go straight from the tobacco container to a toploader, sorry.
Those who kept the cards often inadvertently altered them as well. Many would trim the tobacco advertisement, shave the back off of a card, or glue them into a binder. All of these alterations caused a card to grade as Authentic or a 1 at best.
And remember, these cards are more than 130 years old. They can get exposed to a range of elements over that lengthy span.
5 Important Sets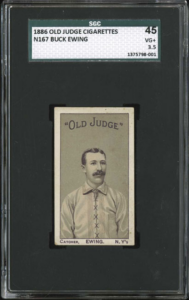 1886 N167 Old Judge
As mentioned previously, this is considered by many to be the first baseball card set. The roster consisted of 12 players from the New York Giants. Five of the 12 eventually became enshrined in Cooperstown: Buck Ewing, Mickey Welch, John Ward, Jim O'Rourke, and Tim Keefe.
These cards are super scarce and bring a huge premium in auctions.
The last Buck Ewing sold in 2016 for $52,000 as an SGC 3.5
PSA has only graded 15 total cards while SGC has only looked at 37.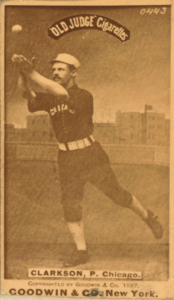 1887-90 N172 Old Judge
While some people point to the T206 set as one impossible to complete, others think of the 87-90 OJs. There are close to 5,000 different cards and variations in the set while many of them are considered one-of-a-kind. The set features both Minor and Major league players as well.
These cards are sepia photographs pasted on cardboard. Due to them being old images, many have faded tremendously. This is one of the few sets in which there is more value on the picture quality than the numerical grade. OJ collectors care more about the boldness of the photo than anything else.
It's also important to note that this set is notorious for people removing the back or trimming them down. They are super thick and heavy cards. If they were pasted to binders, that extra weight was unnecessary.
Some modern OJ collectors will try to restore these cards. They will often remove the back from an unknown actor or actress from the N171 set and apply it to the N172, restoring the card.
The card is considered altered, but now will feature the full back once again.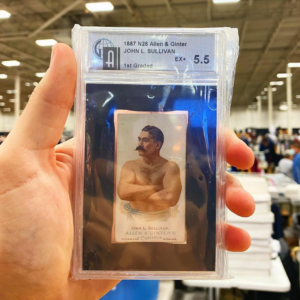 1887-88 N28 and N29 Allen & Ginter
While you might know Allen & Ginter as the Topps brand, the company started producing tobacco cards in 1887. Unlike the OJ photos, these were lithographs. They don't fade as much and the colors really pop in person.
A&G baseball cards were spread out among two different releases in 1887 and 1888. The sets feature cards of athletes across many different sports.
For example, you'll find boxing great John L. Sullivan in the N28 release. Sullivan is considered to be one of the most influential figures in sports.
You can also stumble across many of the early baseball Hall of Famers within Ginter.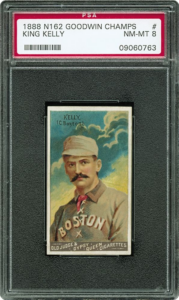 1888 Goodwin Champions (N162)
The N162 Goodwin Champions could be the best-looking card ever produced. Online pictures don't do them justice – you have to see them in person at a card show.
Like Ginter, they feature multiple sports and are still being produced today. Upper Deck owns the rights, however; not Topps. In this 50-card release, you can find hall of famers such as Cap Anson, Tim Keefe, and King Kelly.
In 1890, Goodwin & Company and Allen & Ginter merged to form the American Tobacco Company. This partnership would mean the beginning of the end of tobacco card production from the iconic brands of OJ, Goodwin Champions, and A&G.
Don't worry, though. One of their next releases was the famous T206 set.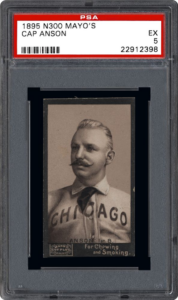 1895 Mayo's Cut Plug (N300)
After the ATC merger, this was the next major baseball product. These cards were produced by the Mayo Cut Plug Tobacco Company, which was based out of Virginia. This was the first company to also produce football cards. They created the first set of college football cards back in 1894.
The 1895 baseball cards use the same exact design. Due to the black border, they are really condition sensitive.
The most iconic baseball card from the set has to be Cap Anson. It's one of his last playing-day cards as he retired in 1897.
Important Hall of Fame Players
Cap Anson
Considered one of baseball's first superstars, Anson was also one of the game's first great hitters. He played in a record 27 consecutive seasons while winning two NL batting titles.
Some believe Anson is the first player to reach 3,000 career hits.
John Clarkson
The winningest pitcher in National League history at the time of his retirement, Clarkson won over 300 total games, including an incredible 53 in 1885.
Inducted to the Hall of Fame in 1963, Clarkson won the pitching Triple Crown while leading the National League in wins, ERA and strikeouts in 1889.
King Kelly
Inducted into the Hall of Fame in 1945, Kelly is often credited with some of baseball's signature plays, like the hit-and-run and the hook slide.
Kid Nichols
Behind seven 30-win seasons, Nichols became the youngest pitcher to hit 300 wins at the age of 30. Nichols was inducted into the Hall of Fame by the Veterans Committee in 1949.
Tim Keefe
Inducted into the Hall of Fame in 1964, Keefe is famous for being only the second pitcher ever to record 300 wins. Keefe led the NL in wins twice, ERA three times and strikeouts once. He also won the pitching Triple Crown in 1888. 
Dan Brouthers
Considered one of the great sluggers of the 19th century, Brouthers was a four-time NL batting champion and led the NL in home runs and RBIs twice. He was inducted into the Hall of Fame by the Veterans Committee in 1945.
Old Hoss Radbourn
A Hall of Fame inductee in 1939, Radbourn set the record for wins by a pitcher – with 59 or 60, depending on the source – in 1884 while also winning the NL's pitching Triple Crown. 
Ryan Nolan writes about vintage cards and other topics for Sports Card Investor. He also runs Breakout Cards and is the co-host of Moneyball Cards. Follow him on Twitter and YouTube for more content.
Track your collection and maximize your profit with Market Movers, the hobby's most powerful sports card pricing platform! Learn more here.
Note to readers: If you purchase something through one of our affiliates, we may earn a commission.