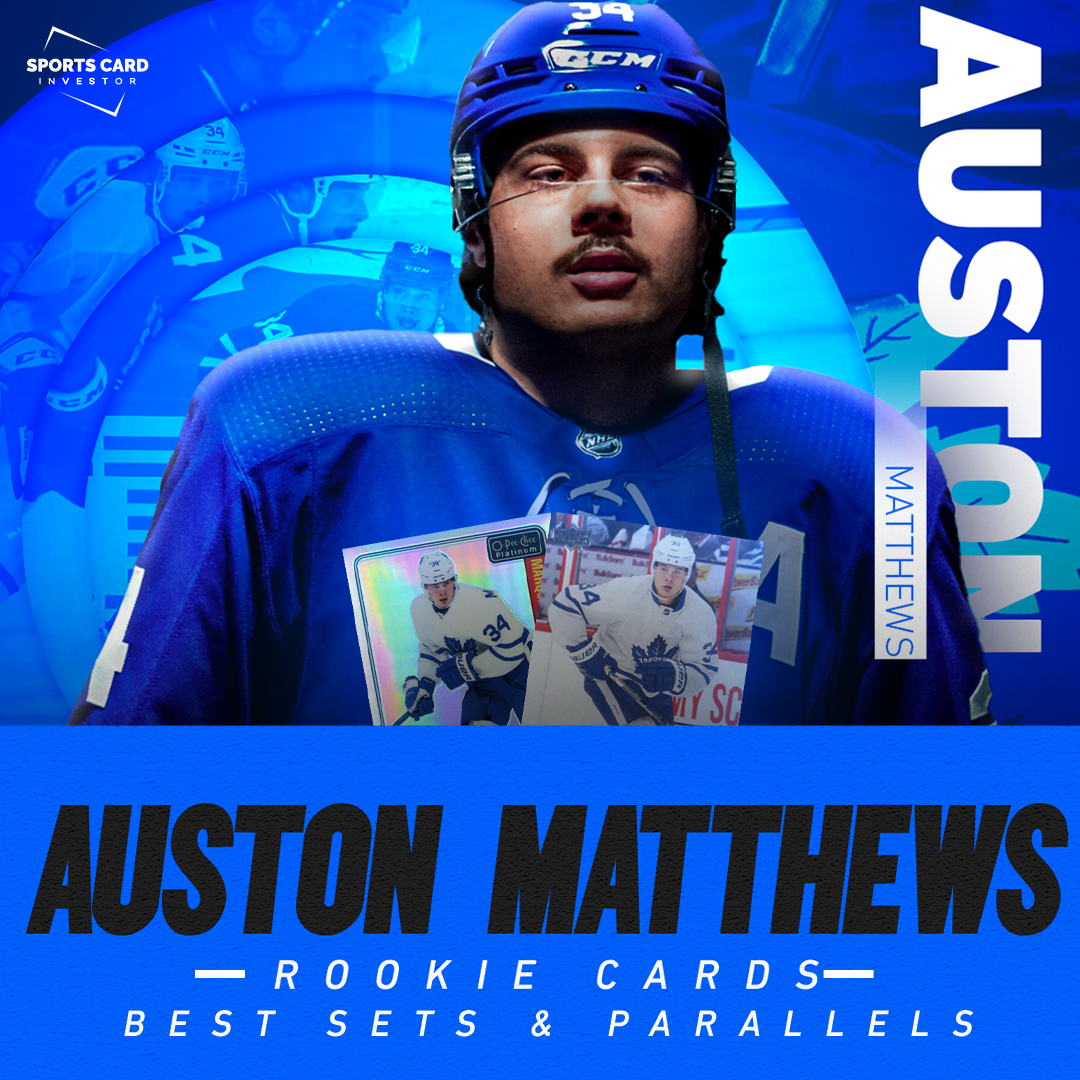 As Auston Matthews attempts to become the first NHL player to score 60 goals in a season since Steven Stamkos in 2012, one has to wonder if there has ever been a less traditional NHL star than the dynamic kid from Arizona. Born in California, and moving to the desert as an infant, Matthews is the poster boy for a much more eclectic NHL. Gone are the days when every player had to be from the prairies of Western Canada or descendants of loggers in Northern Quebec. An NHL star can grow up watching Shane Doan and Daniel Briere on the ice from the balmy, golf course-laden landscapes of the Southwestern United States.
After two dominating performances in the under-18 World Juniors, Matthews continued his less-than-traditional route to pro hockey by signing with Swiss professional team ZSC Lions. At 17, Matthews was one of the best players in a league brimming with grown men and ex-NHLers. After much fanfare, the desperate Toronto Maple Leafs scooped up Matthews with the first overall pick in the 2016 NHL entry draft.
With the eyes of the entire hockey world watching, Matthews started his career in Toronto with bang, scoring four goals in his debut. Auston has been a bonafide sensation ever since. Whether he's gallivanting around town with pop star buddy Justin Bieber or sniping insane goals for the Maple Leafs, the young man's star factor can't be overstated.
Matthews has a number of rookie cards from 2016, so use this Sports Card Investor guide to see which ones we think you should focus on. Cards are broken down into tiers, ranging from the most affordable and more popular options to the most unique, expensive and rare.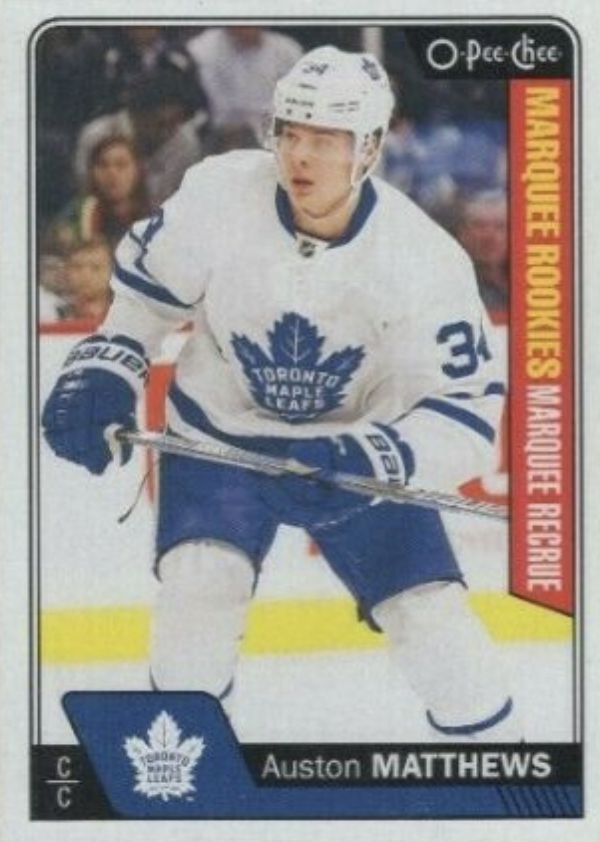 VALUE ROOKIES:
The Value Tier includes cards with high print runs or lower-quality cardstock. A good fit for new collectors or those on a limited budget.
OPC Marquee Rookies #694 Base: If you're looking to get in on the ground floor for a Matthews rookie, this would be a great place to start. With raws still selling under $20, this remains one of the most affordable entry points for Matthews.
OPC Platinum Marquee Rookies #151: A step up from the paper OPC product, the Platinum offers a more high-end card stock and typically goes for 2-3x its counterpart. There's also variations to chase if one chooses.
Upper Deck UD Portraits #P-110: Another inexpensive entry point for Matthews, the UD Portraits can fetch exponentially more, with PSA 10s netting 10x their raw.
Upper Deck #PR-10 Parkhurst Rookies: One of the least flashy of the list, the Parkhurst RCt offers a no-frills rookie option, with a preview variant fetching 2-3x more in most cases.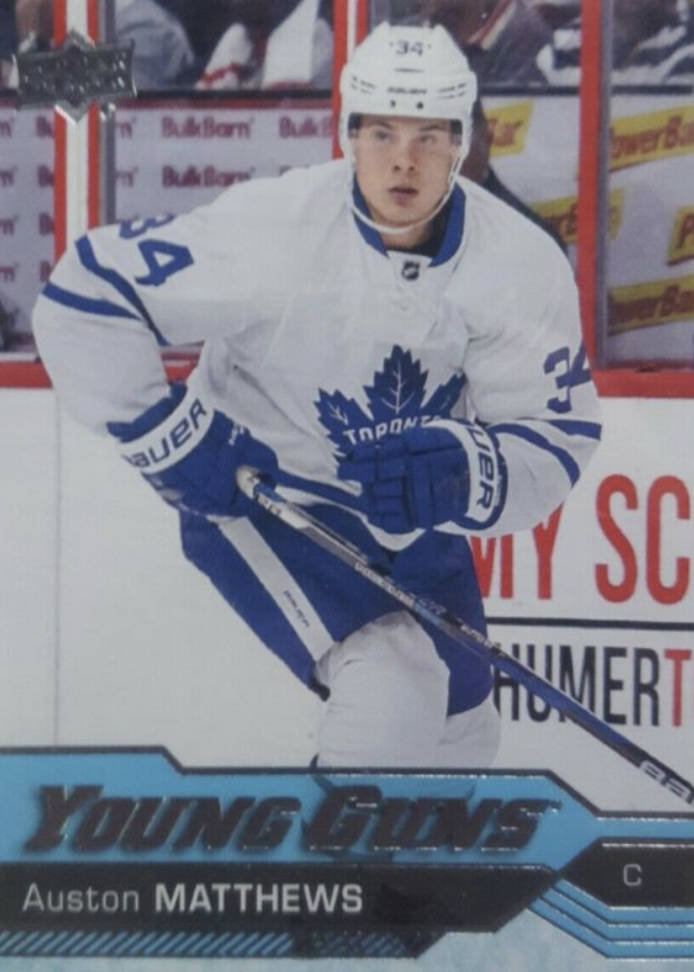 POPULAR ROOKIES:
This tier includes cards from the most popular sets across both retail and hobby formats. Typically easy to buy or sell when needed.
Upper Deck Young Guns #201: As the undisputed most popular rookie card set going in hockey today, you'd be hard pressed to find one with more current fanfare than Matthews'. PSA 10s of this have hovered just under the $2k threshold for most of the season, though lofty expectations in Toronto tend to cause a spike before the start of each season.
Upper Deck Young Guns Canvas #C211: While there continues to be debate over if the Canvas variation is still a "true rookie," this hasn't really deterred buyers. Gem Mints remain in the $1,200 range and could offer a decent alternative to those looking to own a Matthews YG.
Upper Deck Ice Premieres Auto: These slick acetate cards have garnered a lot of attention in recent years. Numbered to 99, this beauty has become incredibly hard to find. At the time of writing this article, there were none listed on eBay. 
SP Authentic Future Watch Auto: The Rolls Royce of Auston Matthews rookies, the Future Watch auto, numbered out of /999, has seen astonishing listing prices on eBay for higher grades.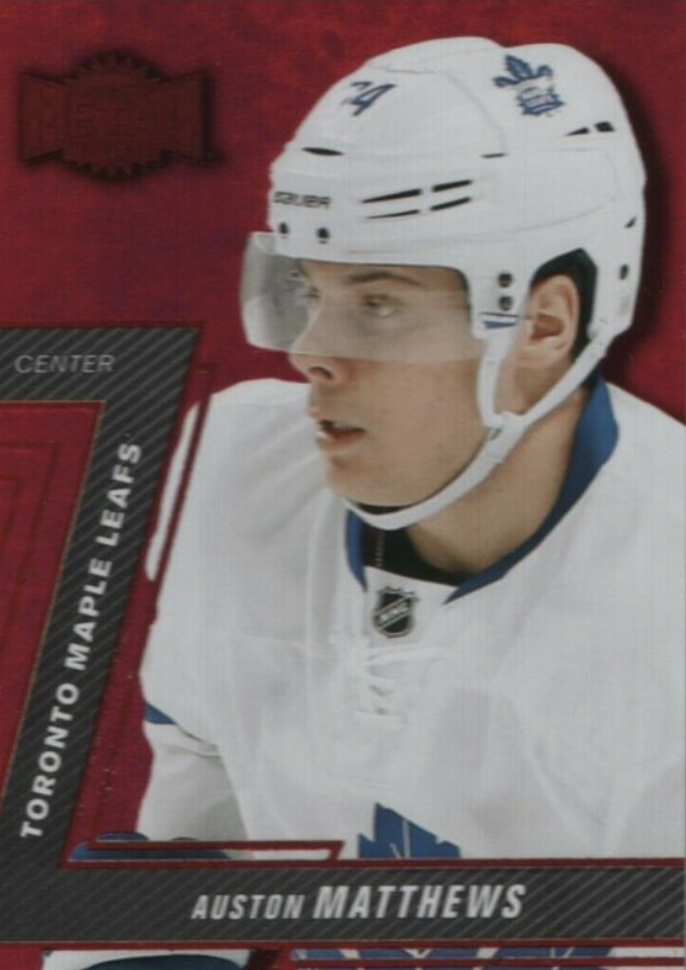 MORE UNIQUE ROOKIES:
This tier includes cards with lower print runs, unique designs, or cards from hobby-only products. Usually higher-quality cards than the Value or Popular tiers, though not necessarily more popular or easier to buy or sell.
Fleer Showcase #MU-50 Metal Universe: While this base tends to be more in the $50 range, some of the PMG variants have seen astronomical listings recently. With the purple and red PMGs being among the most rare, there may not be a more sought-after Auston Matthews rookie card.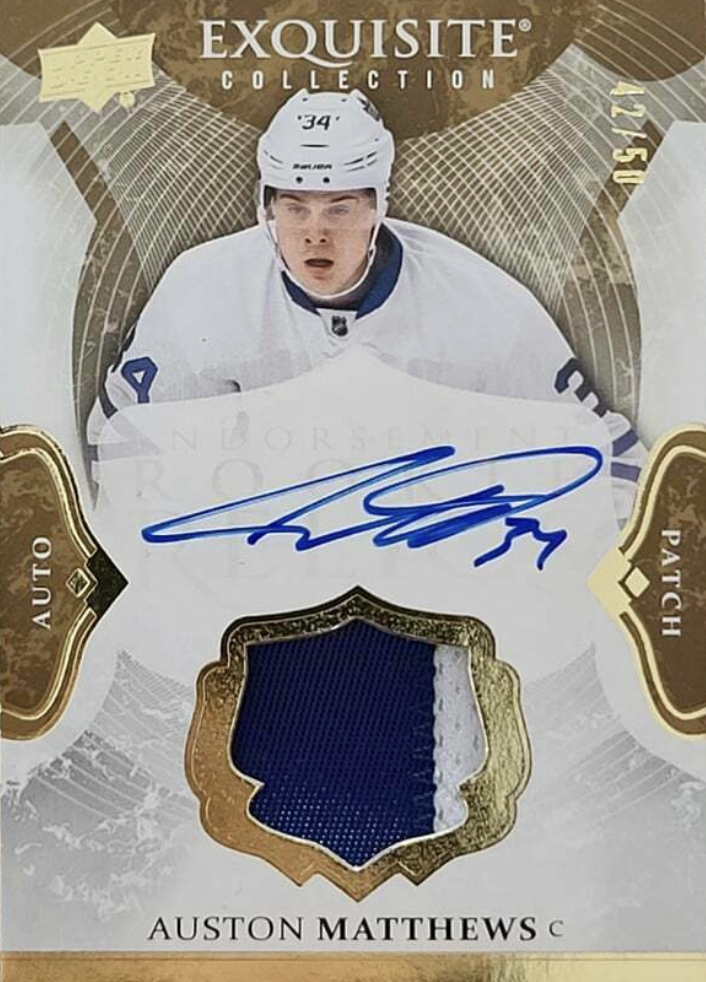 RAREST AND MOST EXCLUSIVE:
We won't spend much time here because this category is likely out of reach for most collectors due to price, but they are still fun to look at.
Sets like Exquisite typically feature visually stunning designs and low-numbered cards.
This is also where you'll find the most impressive patches paired with high-quality, on-card autographs. Don't worry if this tier is too pricey as there's a host of options in other categories that could be perfect for your collection.
Track your collection and maximize your profit with Market Movers, the hobby's most powerful sports card pricing platform! Learn more here.
Note to readers: If you purchase something through one of our affiliates, we may earn a commission.