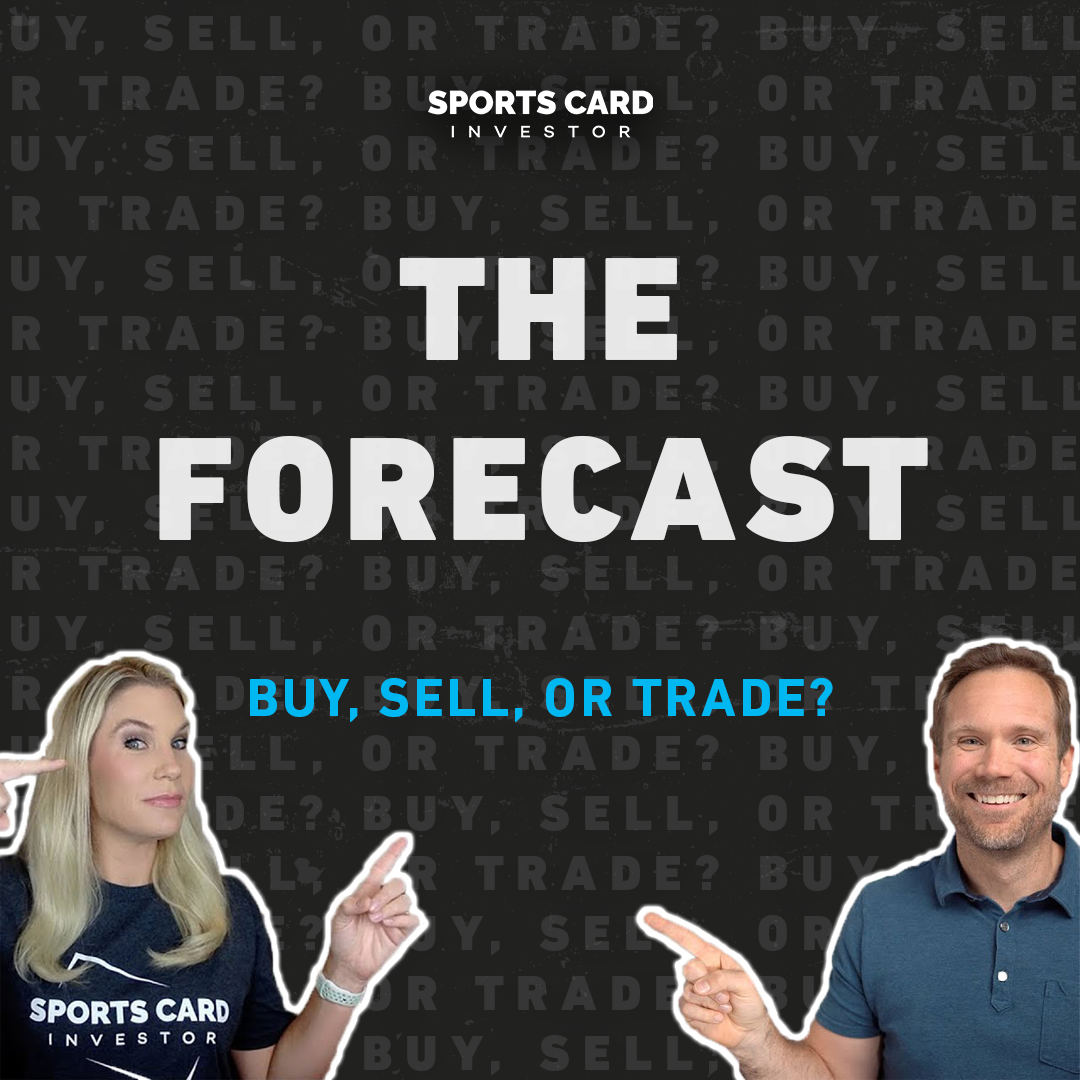 Like everyone expected, Peyton Manning's career was one of the easiest ever to place in the Hall of Fame among the game's all-time greats. His card prices haven't caught up to his place in the NFL, though, which means there might be buying opportunities out there.
We cover that and more community submissions in this week's Forecast:
Peyton Manning
Manning's place among NFL greats is solidified — his Hall of Fame induction this summer made that clear — but his place within the sports card hobby is somewhat surprising. Despite two Super Bowl wins and five MVPs, Manning isn't quite as popular among collectors as you'd expect. He's more popular than most, but his cards come at a fraction of Tom Brady's.
For those looking to scoop up Manning, key rookies like his Bowman, Bowman Chrome, Topps, and Topps Chrome have relatively low PSA 10 populations and have been trending down over the last year. Manning's 1998 Bowman Chrome Base PSA 10 is down 18% over the last 365 days while his 1998 Bowman Base PSA 10 is down 11% over the same period.
Geoff's pick: Buy
Dak Prescott
Andy Dalton was a serviceable backup in 2020, but the Dallas Cowboys desperately need Prescott back under center. The star QB was limited to just five games last season because of a major ankle injury, and his play when he returns is a major concern.
One of the NFL's more dynamic playmakers, Prescott has been a hobby favorite since joining the league. His cards have been trending down over the last year, however, so could now be the right time to buy before the season starts?
Prescott's 2016 Optic Base PSA 10 is down 25% over the last 30 days while his 2016 Prizm Silver PSA 10 has actually gone up 4% over the same period.
Geoff's pick: Buy
Justin Herbert
Alongside Joe Burrow, Tua Tagovailoa, and Jalen Hurts, Justin Herbert has helped turn the 2020 NFL Draft class into one of the best for QBs in recent memory. Herbert put up massive numbers for a rookie last season while passing for over 4,300 yards and 31 TDs.
While Herbert's talent is undeniable, collectors have major questions about whether he can get past Patrick Mahomes in the AFC to win a Super Bowl. With already-high prices for a rookie, how much more can Herbert's cards climb?
His 2020 Prizm Base PSA 10 is down 4% over the last 30 days while his 2020 Optic Base PSA 10 is down 2% over the same period.
Geoff's pick: Hold
Trea Turner
Recently moved from Washington to the LA Dodgers, Turner continues to put up big numbers in another All-Star season. Turner had a wild ride, though — he tested positive for Covid-19 at the end of July and was traded just two days later. He's back in the lineup, however, and appears to be a key piece LA was looking for.
Despite strong numbers, Turner isn't incredibly popular in the hobby. How his trade to LA changes that is to be determined, and a bigger factor could be what kind of extension he gets after this season when he becomes arbitration eligible.
Turner's 2016 Topps Chrome Base PSA 10 is down 21% over the last 30 days.
Geoff's pick: Buy
Damian Lillard
After rumors swirled that Lillard was looking to get out of Portland, things seem more likely that he plays for the Blazers to start the season. The star guard has carried Portland for years and continuously come up short in the playoffs despite fantastic individual performances.
He added a gold medal with Team USA this summer, and collectors seem to be after Lillard more than usual — his cards tend to see a postseason bump with big performances before dipping as he returns to late-night games on the West Coast.
Lillard's 2012 Prizm Base PSA 10 is up 15% over the last 60 days while his 2012 Select Base PSA 10 is up 6% over the same period.
Geoff's pick: Buy
Track your collection and maximize your profit with Market Movers, the hobby's most powerful sports card pricing platform! Learn more here.
Note to readers: If you purchase something through one of our affiliates we may earn a commission.