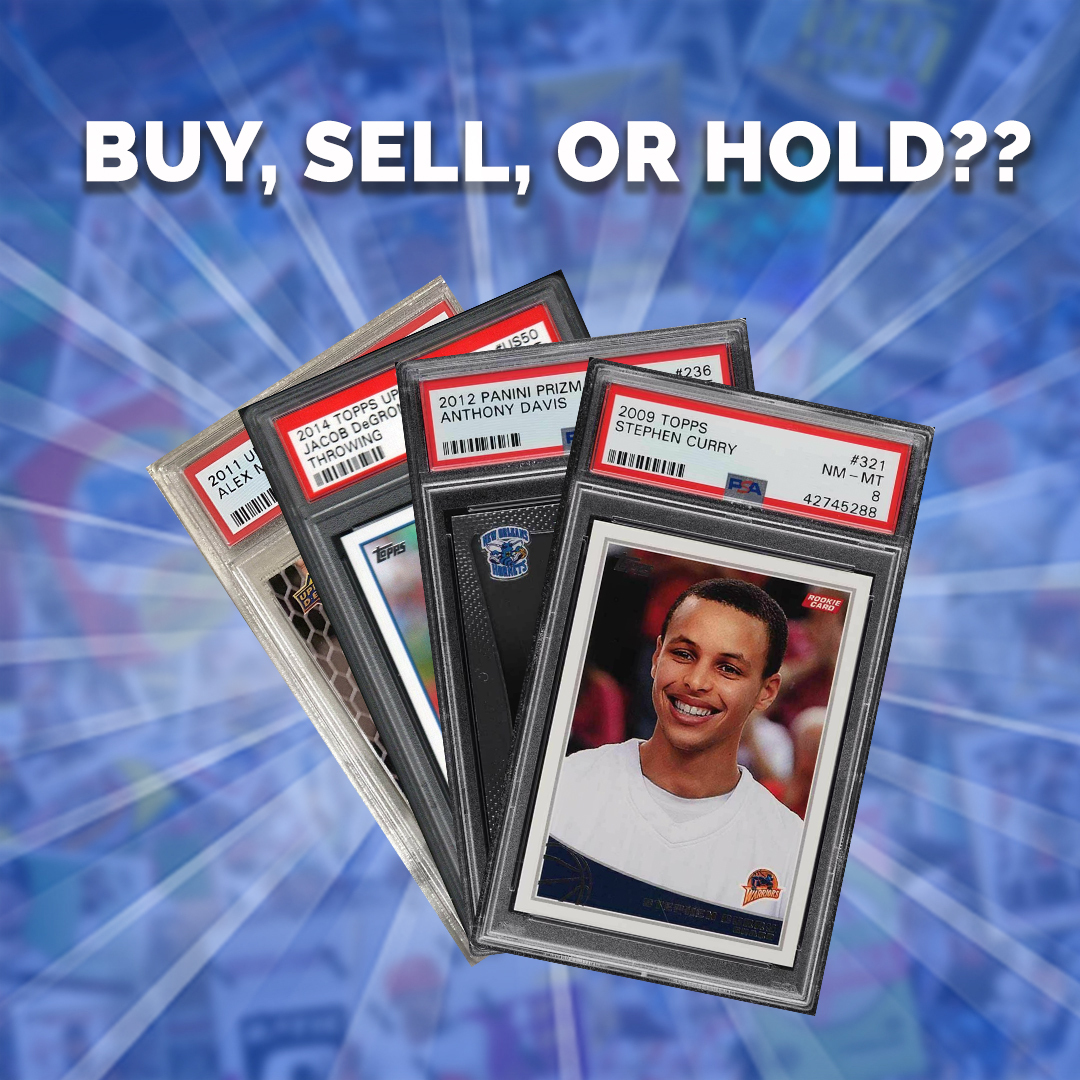 This week's Forecast covers a historic scoring run and one of the NBA's top stars returning to the court.
Despite being on an unbelievable scoring run while pushing the Warriors towards a playoff spot, Steph Curry's cards are actually down recently. Is now the right time to buy?
In Lakers news, Anthony Davis is set to return this week after a lengthy injury recovery. He's never been incredibly popular in the hobby, but he could be a smart pick-up now if prices jump during another playoff run.
Here's a breakdown of this week's Forecast, but be sure to watch us on YouTube for a deeper dive on each card:
Stephen Curry
No Klay Thompson? No problem. Curry will do it himself. He's been scoring at an unbelievable rate and is now the first player 33 or older to score 30-plus in 11 straight games. Curry's run has worked him back into the MVP conversation, though his cards haven't really reflected that.
Curry's 2009 Topps Base PSA 8 is actually down 18% over the last 30 days.
Geoff's pick: Buy
Anthony Davis
The Lakers have taken Davis' injury recovery extremely seriously with LeBron James also sidelined. Originally expected to return around the All-Star break, Davis will finally get back in the lineup Thursday night against Luka Doncic and the Dallas Mavericks. Consistently undervalued in the hobby, it could be a good time to buy before he and the Lakers make their playoff run.
Geoff's pick: Buy
Jacob deGrom
deGrom struck out nine straight batters against the Rockies on Sunday and is up to 35 through just three starts this season. The current problem is that pitchers already don't get much hobby love and playing for the New York Mets won't change things.
deGrom's 2014 Topps Update Base PSA 10 is up 16% over the last 30 days.
Geoff's pick: Hold
Alex Morgan
Huge events can always change card values and the upcoming World Cup could be a serious moment for soccer cards. Is Alex Morgan a player to target? Despite missing time last season due to a pregnancy and Covid-19, Morgan's 2011 Upper Deck MLS Base PSA 10 is up 41% over the last 60 days.
Geoff's pick: Hold