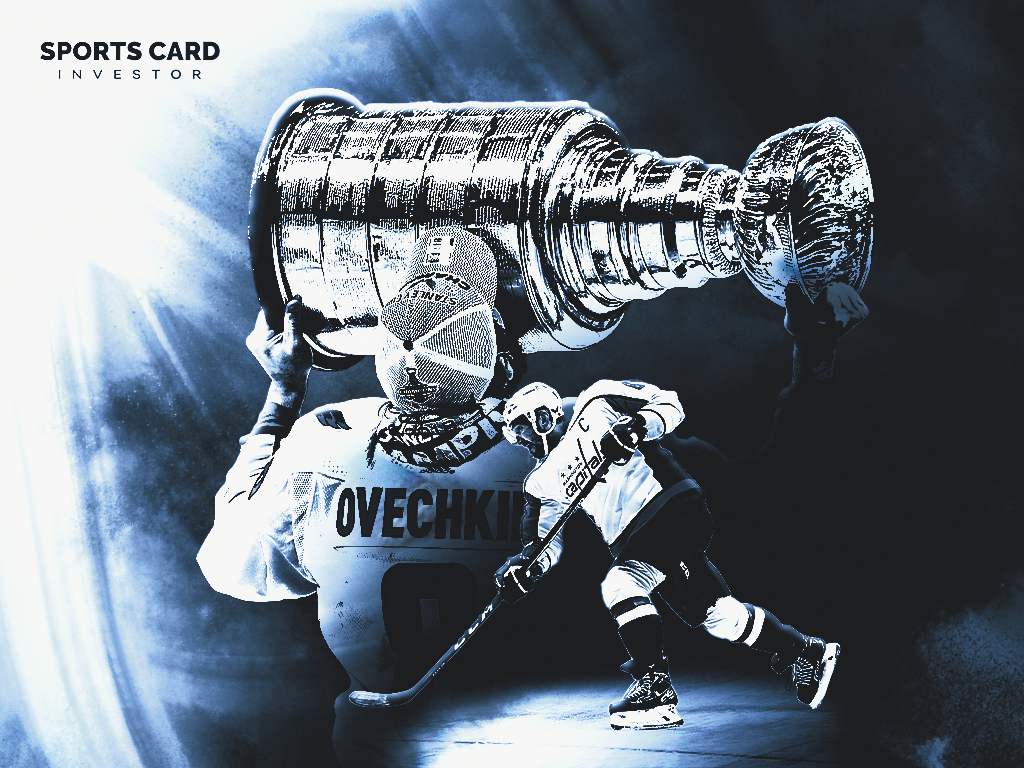 Alexander Ovechkin Rookie Cards: Best Sets and Parallels
LeBron James passed Kareem Abdul-Jabbar as the NBA's all-time leading scorer earlier this year, and the NHL may be looking at a similar situation as 37-year-old Alexander Ovechkin is within range of passing Wayne Gretzky for the league's all-time goal scoring record.
The No. 1 pick in the 2004 NHL Draft has been nothing short of dominant throughout his career, serving as the captain of the Washington Capitals and was tied for ninth in goals during the 2022-23 regular season with 42.
With a renewed interest in hockey cards, and prospects of an enormously historic milestone ahead, it's a great time to look into Ovechkin's rookie cards.
VALUE ROOKIES:
The Value Tier includes cards with high print runs or lower-quality cardstock. A good fit for new collectors or those on a limited budget.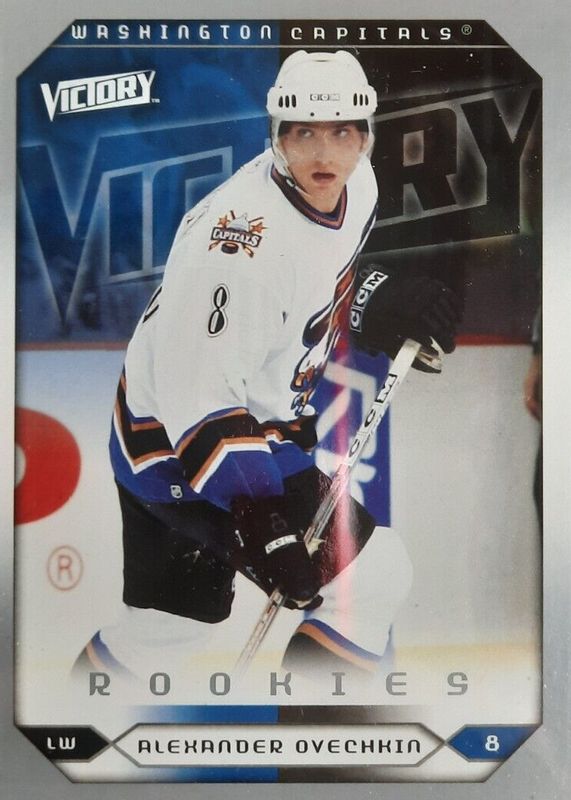 2005 Upper Deck Victory Base #264: Going for about $41 raw, this is the least expensive Ovechkin rookie on the market, but it's not cheap, as it trades for more than $400 in PSA 10. The card clearly has an early 2000s feel, with an action shot of the young Great 8 and the Victory brand Watermark in the background, a set they stopped making back in 2012.
2005 Upper Deck Rookie Class Base #2: Featuring the classic Upper Deck logo and a great action shot of Ovi firing off a wrister, the Rookie Class base goes for about the same price raw as the Victory, but sells for about half the price in PSA 10, likely because this has a population of 779 while the Victory base only has a pop of 75.
POPULAR ROOKIES:
This tier includes cards from the most popular sets across both retail and hobby formats. Typically easy to buy or sell when needed.
2005 Parkhurst Base #669: Becoming more popular and rising in price, the Parkhurst base features one of the first fully designed backgrounds for base cards of the era, with a Parkhurst Rookies watermark at the top. It's sold 55 times over the last 365 days in PSA 10, for an average of $405.
2005 Fleer Ultra Base #252: The Fleer Ultra brings with it the shiny logo in the top left corner, "Rookies" block at the bottom right below his last time in script font. And while popular, it trades much less often than the Parkhurst — as it only sold nine times in the last 365 days in PSA 10, likely because the pop count is only 168.
2005 Upper Deck Young Guns #443: By far the most recognizable, desirable and liquid rookie card for most hockey players, Ovechkin's Young Guns has sold 84 times in PSA 10 over the last 365 days for an average of $5,220. It's so sought after that it sells for $750 raw, $1,200 in PSA 8, and almost $2,000 in PSA 9. It's not the most achievable Ovechkin RC, but it's certainly the most popular.
MORE UNIQUE ROOKIES:
This tier includes cards with lower print runs, unique designs, or cards from hobby-only products. Usually higher-quality cards than the Value or Popular tiers, though not necessarily more popular or easier to buy or sell.
2005 Fleer Gold Medallion #252: The Gold Medallion is a parallel to the Fleer Ultra Base, featuring the same design and action shot, but produced with a gold shine background. With only a population of 59 in PSA 10 it trades for more than double the base card in PSA 10.
2005 Upper Deck Black Diamond Base #191: Upper Deck Black Diamond is its own set, but back in 2005 was considered a bit higher end. It has a solid action shot above the Rookie Gems and Black Diamond logo. The last sale was on January 14 in BGS 9 for $939.
RAREST AND MOST EXCLUSIVE: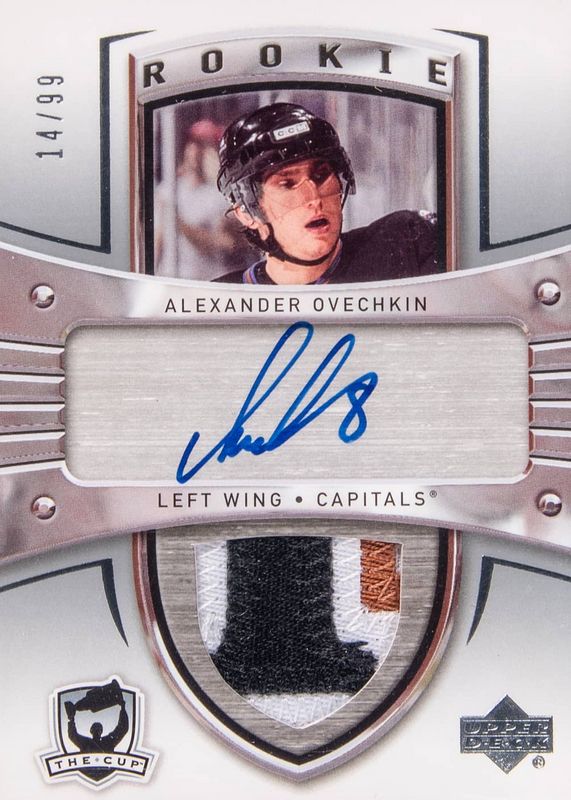 2005 Upper Deck The Cup Rookie Patch Auto #179: In the perfect storm, Ovechkin's rookie year happened to be 2005-06, the inaugural year of Upper Deck's The Cup Hockey. The Cup is Upper Deck's version of Panini's National Treasures or Flawless, featuring gorgeous patches, on-card autos and short print serial numbered rookies. Ovi's Rookie Patch Auto /99 last sold in BGS 8 for just under $45,000 back in 2021. The fact that both Sidney Crosby and Alexander Ovechkin have RPAs in this release is also probably part of why The Cup has become far and away the most desirable high-end release in hockey card investing and collecting.
2005 SP Authentic Future Watch Auto #190: While "The Cup" is the true RPA, SP Authentic is a classic and highly recognizable brand across all sports. The Future Watch Auto is highly desirable, featuring a draft day photo of Ovechkin, with an on-card auto numbered to /999. It last sold in PSA 10 on April 9 for $25,800.
This category may be out of reach for most collectors due to price. Don't worry if this tier is too pricey as there's a host of options in other categories that could be perfect for your collection.
With the Sports Card Investor app, you can profit from the hobby you love by keeping up with trending cards, tracking real-time prices with Market Movers and buying items on eBay. Download the industry-leading app here for Apple or Android
Note to readers: If you purchase something through one of our affiliates, we may earn a commission.
Paul Hickey is a regular contributor to Sports Card Investor, the creator of the Sports Card Investment Report at NoOffseason.com, and the host of the Sports Card Strategy Show on Apple Podcasts, Spotify and YouTube. He can be found on Instagram at @sportscardstrategy and on Twitter @nooffseasoncard.