On September 8, 2008, Aaron Rodgers made his debut start for the Green Bay Packers, becoming the first quarterback since 1992 not named Brett Favre to begin a regular-season game for the franchise. In the 14 seasons since, A-Rod has not only lived up to expectations but has lapped many of them. You could recite stats from the QB's jaw-dropping resumé — three-time MVP, 10-time Pro Bowler, more than 55,000 passing yards — for an hour and never have to repeat yourself.
If there's one chink in the sure-fire Hall of Famer's armor, though, it's that he only has one Super Bowl win. But while the rocky Rodgers-Packers relationship could be coming to an end, a fourth straight 4,000-yard season in '21 proves that No. 12 still has lots of football left in his 38-year-old arm to change that fact.
Rodgers has a host of rookie cards from 2005, so use this Sports Card Investor guide to see which ones we think you should focus on. Cards are broken down into tiers, ranging from the most affordable and more popular options to the most unique, expensive and rare.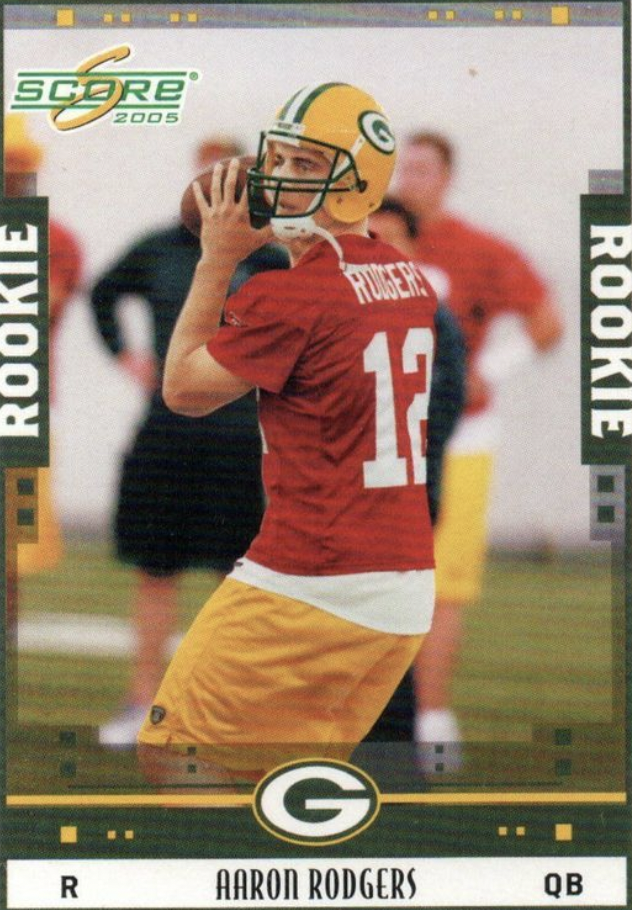 VALUE ROOKIES:
The Value Tier includes cards with high print runs or lower-quality cardstock. A good fit for new collectors or those on a limited budget.
Score #352: There's nothing particularly exciting about this card—a bland green-and-yellow border surrounds a young Rodgers as he's prepping to make a toss in what looks like Packers training camp. Things get interesting, however, when you look at the card's value, which has jumped 40% from late-October '21 (roughly $200) to early-January '22 ($300).
Topps Total #483: No, you're not seeing double. With A-Rod cranking back to toss a ball in a red practice jersey, this card and the aforementioned Score look like near duplicate images. But because of its relatively low pop (just 90 PSA 10s), this card is a slightly more expensive purchase ($355 at press time).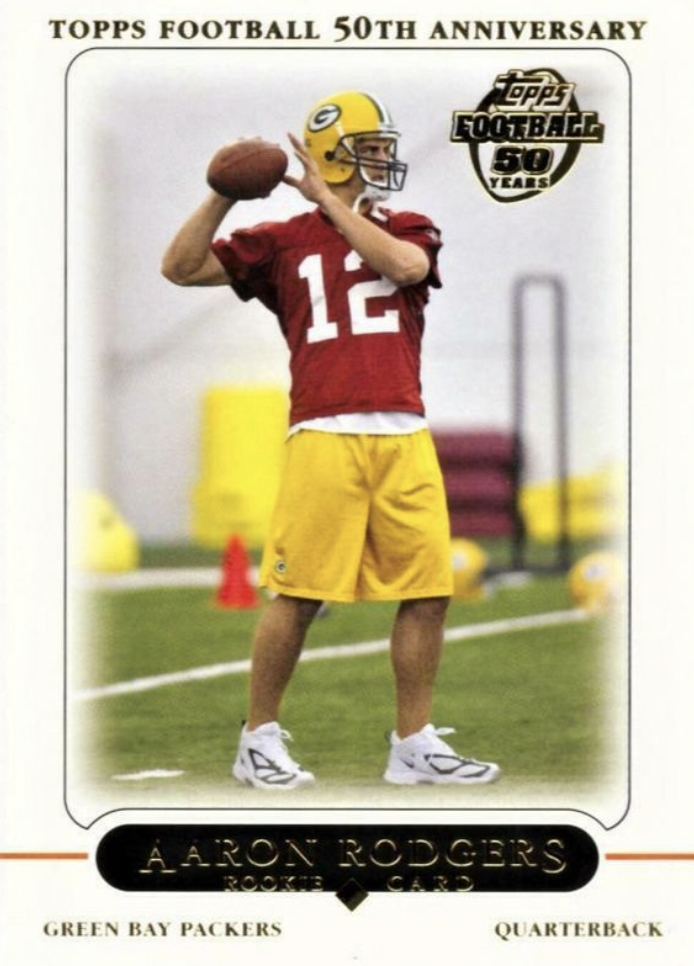 POPULAR ROOKIES:
This tier includes cards from the most popular sets across both retail and hobby formats. Typically easy to buy or sell when needed.
Topps #431: Though it's yet another shot of the young Green Bay QB in a red practice jersey, this one at least feels a bit fresher. Maybe it's the "Topps Football 50th Anniversary" stamp at the top of the card. Might just be the fact that it consistently comes with a $1,000 price tag on the secondary markets.
Upper Deck #202: Another red-jersey shot. It's almost comical at this point, right? But at least this one demonstrates a pinch of originality and goes horizontal with the card. Less than 70 of these are out there in a gem mint, so handle with care if you see any good-looking ones out there in the wild.
Topps Chrome #230: If we're talking the crème de la crème of Rodgers cards, this Chrome beauty has to be in the conversation. PSA 10s routinely sell for north of $5,500. Should a second Lombardi Trophy be hoisted before he retires, who knows where it'll end up?
Bowman #112: Between early-April and mid-November '21, only six of these gem mints were sold. But as the Packers heated up (and Rodgers kept hitting milestones), so too did this card's sales volume. Six more sold in the tight window between November 20, 2021 and January 1, 2022.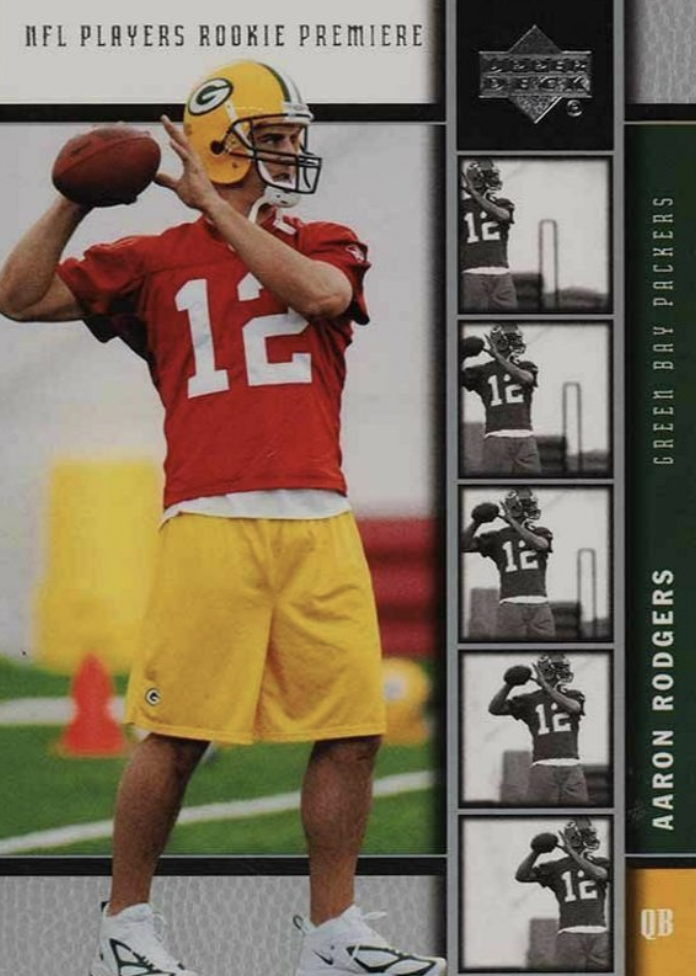 MORE UNIQUE ROOKIES:
This tier includes cards with lower print runs, unique designs, or cards from hobby-only products. Usually higher-quality cards than the Value or Popular tiers, though not necessarily more popular or easier to buy or sell.
eTopps #57: An online exclusive printed to just 1,200, this RC is one of the rarest in the Rodgers collection. PSA says it's only seen 24 of them ever in a 10.
Upper Deck Rookie Premiere #16: Looking for your first Rodgers rookie card? This one might be your best bet, as it's priced right (between $210 and $320) and readily available, meaning you can find one on your favorite virtual marketplace pretty easily.
Topps Bazooka #190: While this action shot might look nearly identical to just about every other card on this list, Bazooka shows some individuality with gold and blue parallels. Score a colored variety that grades a 9 or 10 and you have yourself something special.
Track your collection and maximize your profit with Market Movers, the hobby's most powerful sports card pricing platform! Learn more here.
Note to readers: If you purchase something through one of our affiliates, we may earn a commission.