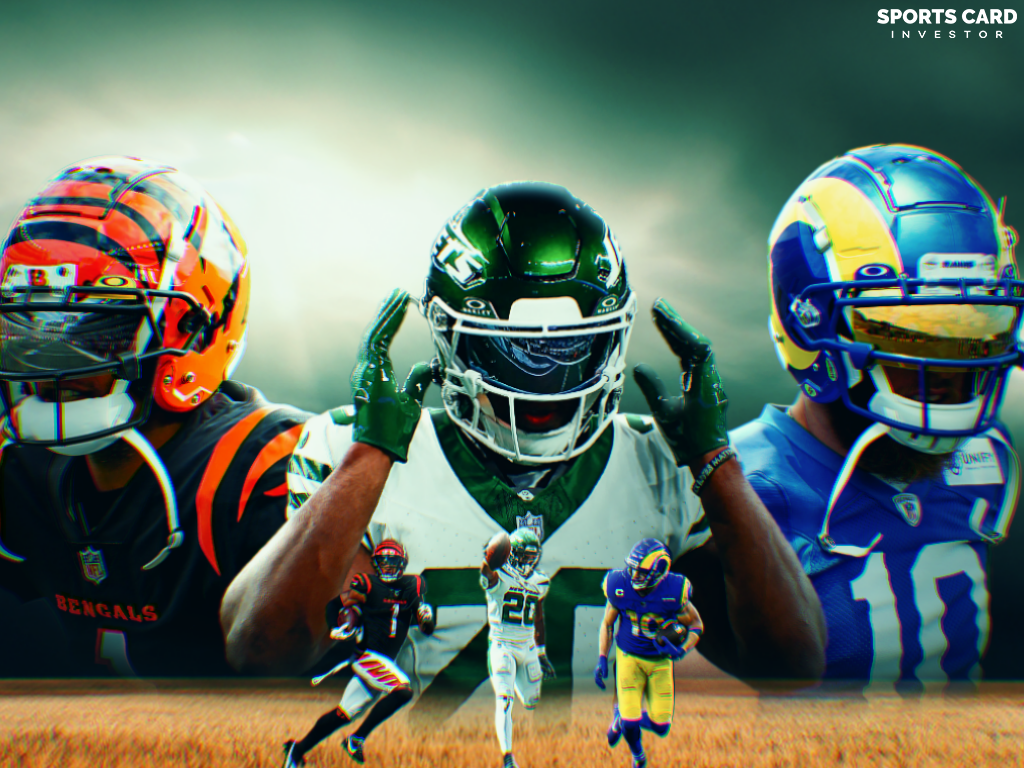 5 Undervalued NFL Skill Position Players to Target
With the NFL season fully in gear, sports card collectors find themselves in a position where finding plays can be both confusing and overwhelming. With this in mind, we'll focus on less sought after cards in terms of position: the skill players. While quarterbacks are often the main focus due to longevity and an increased spotlight, there could be several profitable plays that feature skill position players at a discount.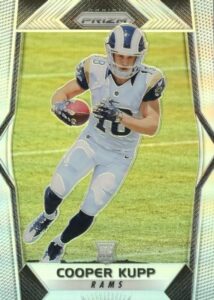 Cooper Kupp 2017 Prizm Silver PSA 10
Kickstarting our list is Cooper Kupp and his 2017 Prizm Silver. Cupp was sidelined with a hamstring injury for the first four weeks of the season, which has resulted in his cards remaining stagnant in pricing. While there aren't a ton of cards trading at a discount over the last 30 days, his 2017 Prizm Silver in PSA 10 is down 13% over that time period.
The card features a pop count of 695 and is relatively liquid, with 10 trades over the last 30 days. Something we like about this option is the affordability, as collectors can grab this card for less than $100. 
Kupp has established himself as an elite high-target receiver over the last couple of years, with a massive 2021-22 season that included him hauling in 145 catches, good for second all-time in a single season.
With Kupp returning healthy, expect the Rams offense to lean on him heavily as they look to turn around what has been a slow start to this year's campaign. This print has spiked as high as $581 back in February of 2022, and it could climb once again as Kupp shows he is still a top receiver in the NFL.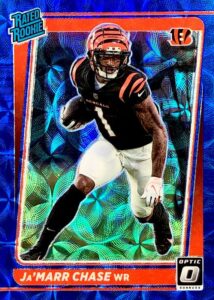 Ja'Marr Chase 2021 Optic Blue Scope PSA 10
It's no secret that the Cincinnati Bengals have begun the season with a rocky start. With a hobbling Joe Burrow and what appears to be a frequently collapsing offensive line, Ja'Marr Chase has seen a fairly sizable dropoff in production, tallying just over 200 yards in the first three games without scoring.
We can likely attribute his blanketed card value falloff to this slow start, and now is an opportunistic time to look for options to invest before the Bengals right the ship. 
Chase's 2021 Optic Blue Scope in PSA 10 is down 43% the last 30 days. The current valuation of this card could be off some, especially considering that this option has spiked near $120 multiple times over the past 365 days. Look to secure Chase's card options now and be ready for a quick Bengals turnaround to help fuel profits.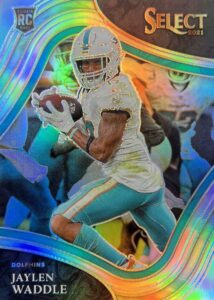 Jaylen Waddle 2021 Select Field Silver PSA 10
Our third option sticks with the current trend of receiver picks, and for good reason. While the Miami Dolphins offense has shown explosive capabilities in terms of scoring, Jaylen Waddle has been at the wayside for most of the action with him already missing one game. Last year Waddle proved to be a top-end receiver alongside Tyreek Hill, meshing well with Tua Tagovailoa as he posted over 1,350 receiving yards while scoring eight touchdowns.
His lackluster performances to kick off the season have led to a dip in several of his cards, and his 2021 Select Field Silver in PSA 10 could be a good target. This print is down 54% over a 30-day period, discounting the card from $160 to below $75. We expect Waddle to return posting similar numbers to his first two years in the league, resulting in this option settling back towards its median price range around $100..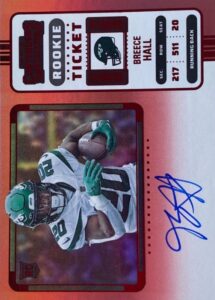 Breece Hall 2022 Contenders Optic Rookie Ticket Auto Variation – Silver PSA 10
Before a season ending knee injury in his rookie campaign, Breece Hall was off to a stellar start in the NFL as a driving force in what felt like the beginning of a franchise turnaround for the New York Jets. In just seven games, Hall tallied over 450 rushing yards while averaging a very impressive 5.8 yards per carry.
While Hall is still on load management in terms of touches, so far he has put those doubting him to rest this season. Hall has also proven to be a valuable receiver out of the backfield, which could raise his stock and player upside. 
With Aaron Rodgers out for what appears to be the entire season, and Hall still working his way to full strength, it appears collectors have put him at the wayside, making now the perfect time to pick up his cards. A solid option is his 2022 Contenders Optic Rookie Ticket Auto Variation Silver edition in PSA 10, which is trading at a 65% discount over the last 30 days. You can pick the card up for less than $40, a number that could be a steal for a running back that has shown the ability to be elite in today's league.
This card has already shown the capability to spike well above $100, and could climb back towards this direction as Hall re-establishes himself at the clear RB1 in New York over a declining Dalvin Cook.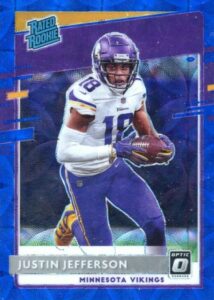 Justin Jefferson 2020 Optic Blue Scope PSA 10
Optic's Blue Scope line makes another appearance as we round off this list, this time featuring the league consensus No. 1 receiver. Despite what has been a fantastic statistical start for Jefferson, this card is down 82% over the last 30 days. It's a highly liquid card, trading 16 times over this period, and can be purchased for less than $25.
There is some serious upside to this option, as it has sold well over the $150 mark several times over the past year. This card checks a ton of boxes in terms of flipping profitability, but it's worth noting that it may be a slightly longer hold than the other options on this list with Jefferson now out with an injury.
With the Sports Card Investor app, you can profit from the hobby you love by keeping up with trending cards, tracking real-time prices with Market Movers and buying items on eBay. 
Download the industry-leading app here for Apple or Android. Note to readers: If you purchase something through one of our affiliates, we may earn a commission.
Paul Hickey is a regular contributor to Sports Card Investor, the creator of the Sports Card Investment Report at NoOffseason.com, and the host of the Sports Card Strategy Show on Apple Podcasts, Spotify and YouTube. He can be found on Instagram at @sportscardstrategy and on Twitter @nooffseasoncard.