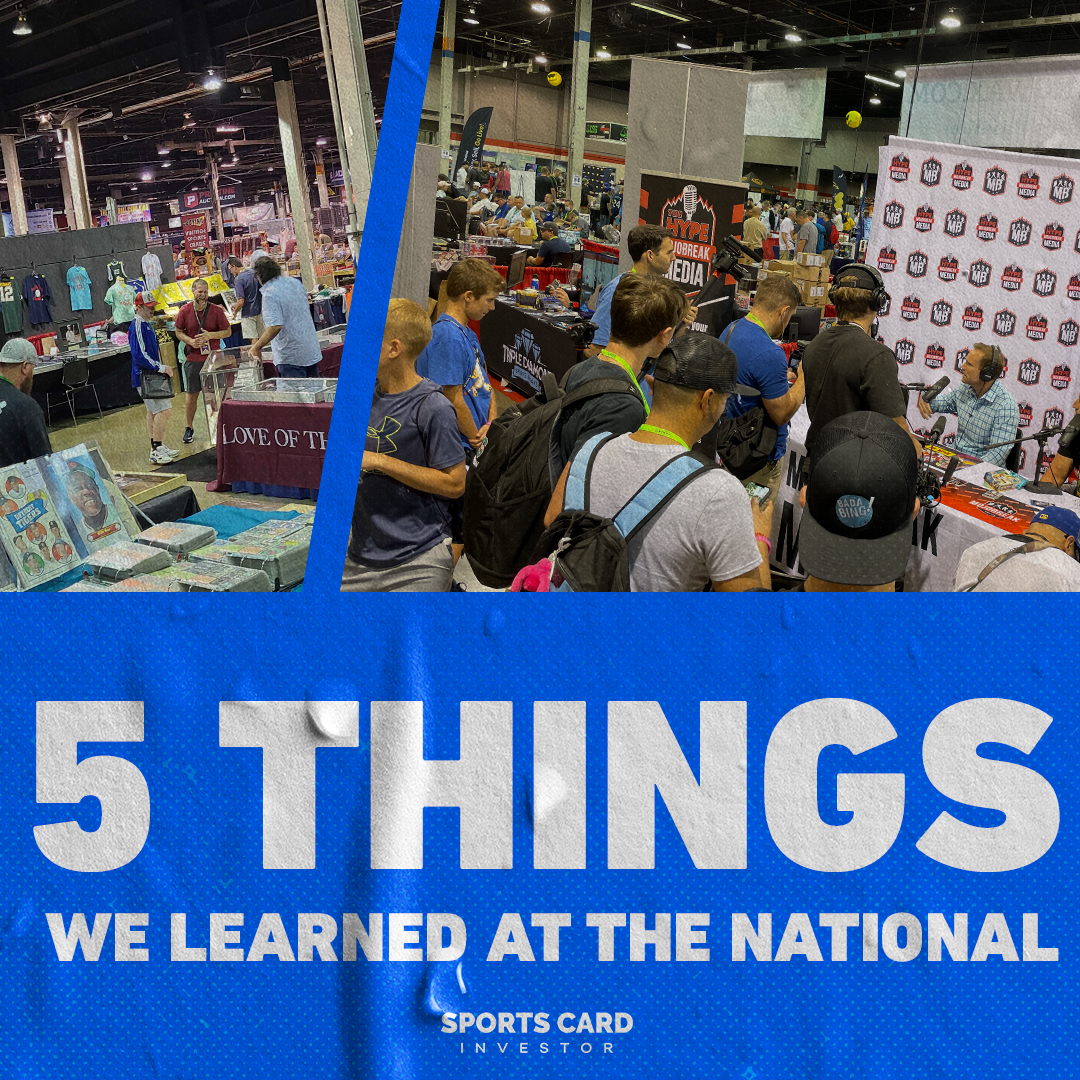 The YouTube videos, tweets and Instagram stories told part of the 2021 National Sports Collectors Convention story, but they couldn't come close to fully encapsulating all that the show was about. With anticipation for the event at a fever pitch for months because of the '20 cancellation, this year's National felt like a card convention, class reunion and a kick-ass party all rolled into one unforgettable weekend in the Chicago 'burbs. The Sports Card Investor team did an exceptional job chronicling it all here. While we were venturing up and down the aisles, a number of things stuck with us. Here are the five items we'll probably still be talking up until the next National commences in Atlantic City on July 27-31, 2022.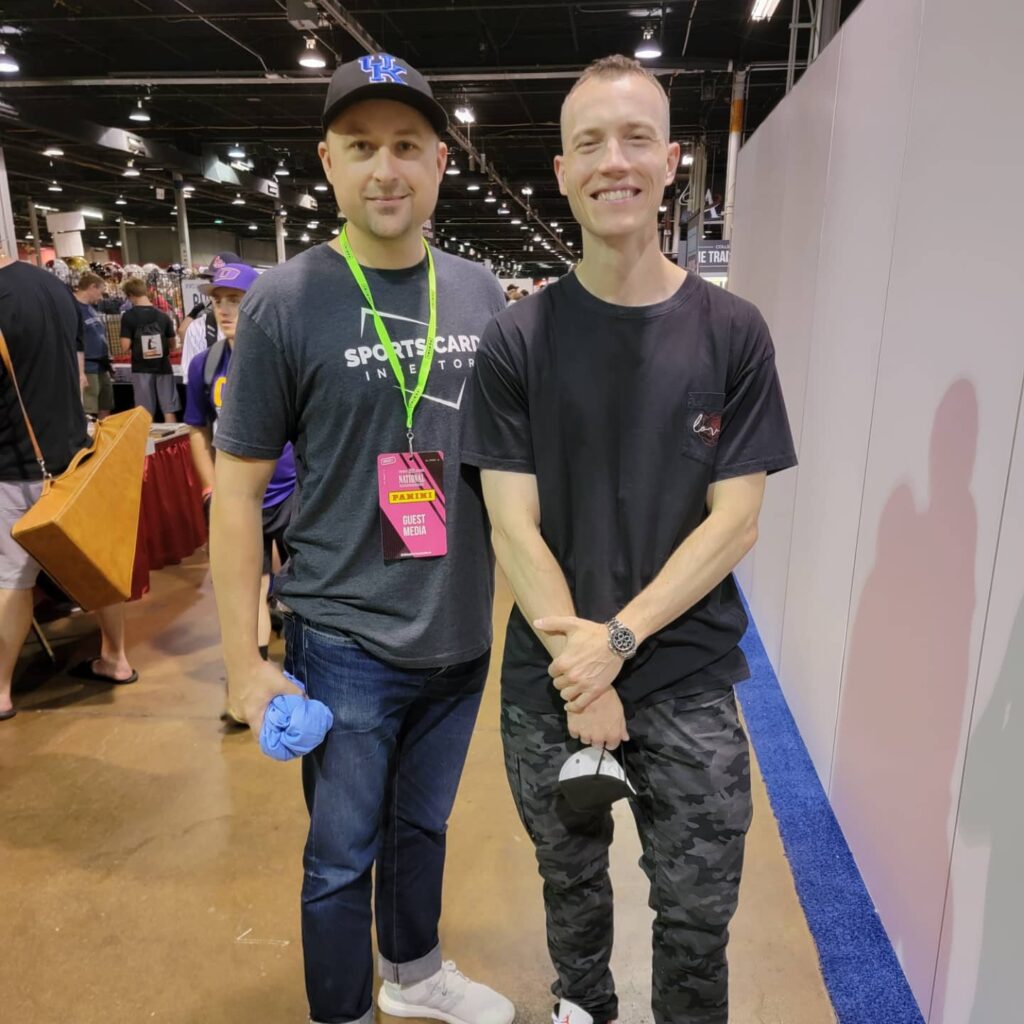 Big deals were done
If you made it to the Robert Edward Auction booth, you probably saw a couple of armed guards marching about. Makes sense, seeing as how a T206 Honus Wagner, valued at more than $5 million, was on display. But while that legendary card didn't exchange hands at the National, a number of other big cards did. Sports Card Investor founder Geoff Wilson purchased a 2018 Panini Kaboom Gold Christian Pulisic BGS 9.5 for $10,500. Cards and Coffee co-founder Dan Fleyshman proudly posted about closing on a $200,000 card collection. And that's not to mention the numerous occasions over the weekend we saw tens of thousands of dollars fanned on counters as deals were being done.
Still, one of the event's biggest headlines came when famed entertainer/entrepreneur DJ Skee announced that he and his business partners, Courtney and Carter Reum, had purchased the 2011 Tops Update Platinum Mike Trout 1-of-1 for nearly $1.1 million. "We had been hunting, tracking down the seller and negotiating for a while and finally bit the bullet," Skee told SCI. "We kept it under wraps and decided the National was the perfect place to not only announce, but showcase and release my Trout Topps Project 70 card alongside it!"
…But not everything was expensive
Of course, not every transaction at the show involved six zeroes. Most, in fact, did not. And that truth is a direct contradiction to what many feel the National is all about. Maybe it's the splashy, million-dollar purchases or the jaw-dropping social media posts, but the perception that the only way to enjoy the conference is with a lot of money is the farthest thing from the truth.
As we trekked around the 400,000-square-foot showroom, we routinely saw the biggest crowds surrounding vendors' $1 and $5 bins. And when you dug into the piles, you weren't met with a bunch of base waste and wrinkled vintages; instead, we found numbered blue 2018 Topps cards and '84 Donruss Mike Schmidts with perfect corners. We can't wait for the chance next year to pull up a chair and hunt for more PC fodder and potential quick flips.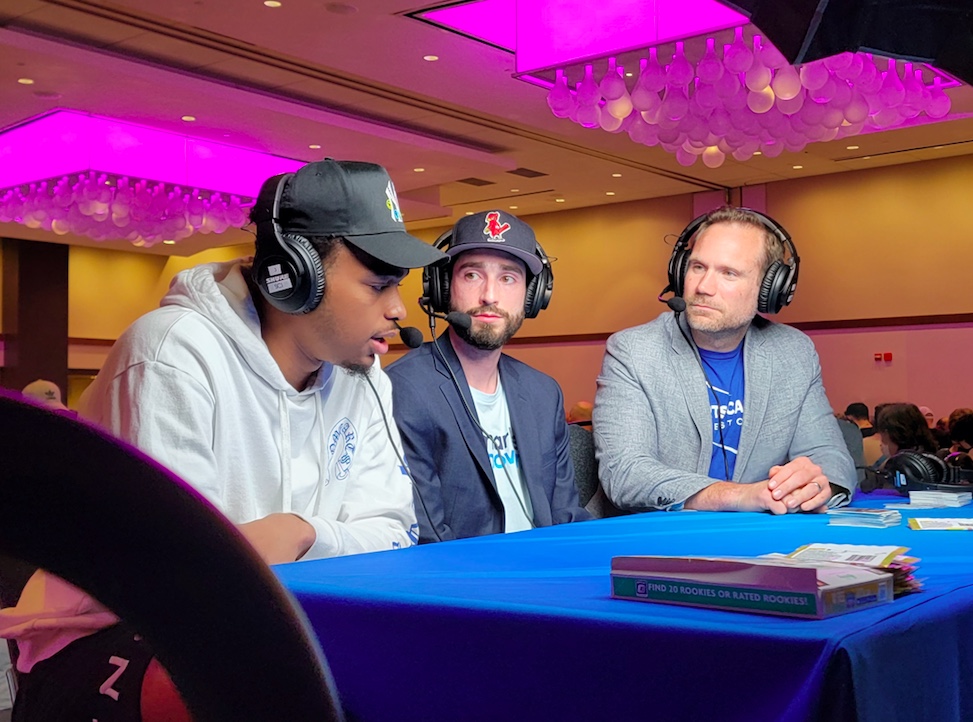 Trade Night was a huge hit
We're still in awe at the turnout at the July 29th Trade Night that Card Collector 2's Ryan Johnson and Jimmy's Kentucky Roadshow Shop's Jimmy Mahan put together. There were literally people covering nearly every inch of the ballroom, cracking jokes, trading cards and trying to get an autograph from Charlotte Hornets forward PJ Washington. SCI, one of the night's sponsors, livestreamed for three hours amidst all the action. During the broadcast Washington talked hoops, TJ Card Collector ripped into a box and a few folks who weren't even on the program popped by with their unbelievable cards. (Just wait 'til you see the Pele 1-of-1 here!)
With the event growing in popularity so fast — Johnson said the 2019 event had under 100 attendees — it's going to be interesting to see if any changes will be made to make the 2022 experience even better. But whatever happens on the logistical end, one thing Ryan and Jimmy have made clear is that the night will be free and shall remain focused on bringing the card community closer together.
Unfortunately, soccer was not
Shockingly, the one thing we didn't see much of at Trade Night (or during the day at the National, for that matter) was soccer cards. Yes, we came across the occasional graded Erling Haaland. And sure, collector Damian Olivera was super clutch in getting soccer icon Ronaldinho to make an appearance. But overall, there still seems to be a lack of excitement for the sport in the hobby. Though sales in the category have cooled a bit recently, only seeing a handful of tables catering to the sport was a little disappointing—especially considering how the next World Cup is only about 15 months away. Fingers crossed that dealers will get in on the futbol fun a bit more soon.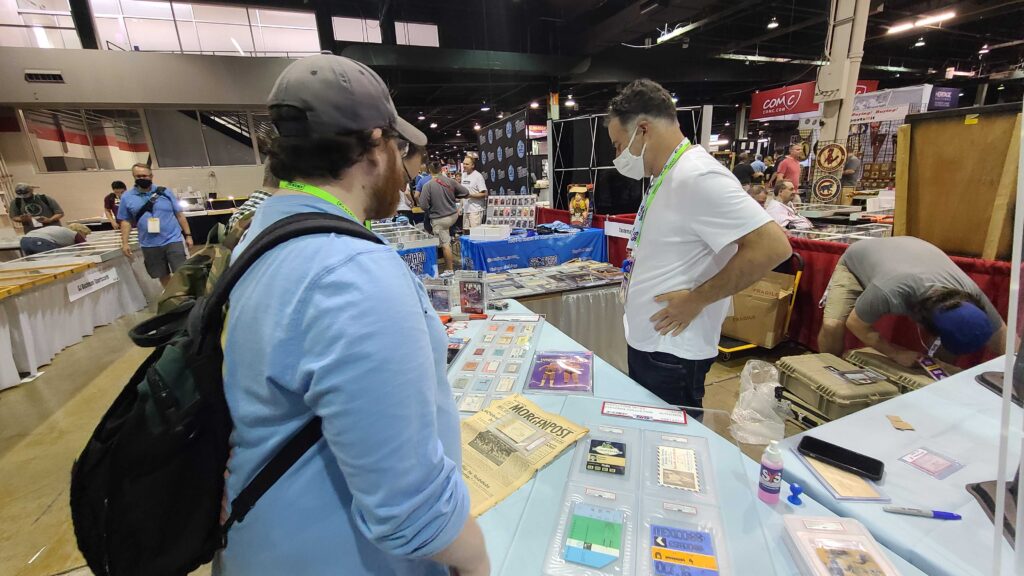 Much more than sports cards
But whatever the show lacked in the soccer department, it made up for in non-sports-cards areas. It didn't matter if you were a collector in search of custom art, miniature stadiums, vintage baseball gloves or signed helmets, the National had a few booths with your name on them. Some exhibitors had newspaper clippings detailing historic sports events while others sold clothing worn by icons. One other pleasant trend we saw was custom baseball cards. With their vibrant designs and a vast catalog (Simone Biles!), LJ's Custom Cards may have been our favorite in the department. Lee Johnson has a good-looking product and demonstrated great energy while selling it. If he has a booth in Atlantic City next year, we wouldn't be shocked in the least.