Welcome to the 2022 FIFA World Cup, arguably the biggest sporting event in the entire world and one that many savvy soccer card investors have been preparing for since 2020. The storylines are endless, from the US Men's National Team earning a spot and fostering some great young talent, to favored countries like Brazil, Argentina, France, Spain and England touting some of the best players the world has ever seen.
And of course, this will be the first World Cup in recent memory to be played in November and December – a seemingly arbitrary fact that could actually drive more US viewers than ever before, simply because it's occurring over the winter holidays and not in the summer outdoor recreational season.
With the World Cup upon us, soccer card investors are likely in one of two positions. Some have been planning for this and are holding solid cards of stars like Cristiano Ronaldo, Lionel Messi, Neymar Jr. and Vini Jr. and are ready to start listing these players for sale as they hit the world stage in Qatar.
And then there are those that are just now getting excited about the action and are looking to get involved.
The former are likely better set up for success and probably bought much lower and can crystallize some immediate returns. The latter can still buy in now, make some money, and have a lot of fun in the process.
If you're on the buying end, here are five players worth focusing on during the 2022 World Cup and their top cards to target.
5. Cristiano Ronaldo — Portugal Striker
Investors who acquired his recent Prizm autos from 2021-2022 Premier League, or pretty much any ultra-modern product, including his 2018 Prizm World Cup cards, could be best-served by listing them for sale now. There are still solid cards to buy – you just have to go back a little further.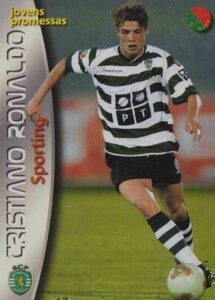 His 2003 Panini Mega Craques true rookie in any PSA slab is a great long-term buy. In PSA 4 it's only a Pop 33 with only 209 higher. This is the type of rarity that true investors yearn for. As an active GOAT, it makes sense to liquidate his ultra-modern stuff and go vintage.
His cards could be super liquid and there should be a solid profit opportunity once fans see him back on the pitch after essentially being sacked so far this season for Manchester United.
Regardless of how he performs in the World Cup, it's going to be better than how he's performed in the Premier League so far this season, and Portugal is a serious contender to win it all.
Investing in the true rookie of a consensus top-five footballer of all time is a smart move that should pay off long term.
4. Kylian Mbappe — France Forward
The hero of the 2018 World Cup has had some ups and downs since he last helped France capture the Jules Rimet World Cup Trophy. As a result, his overall market is down by 42% over the last 365 days. But France is a favorite to win the World Cup, and there's really no reason why he can't establish himself as an active GOAT by helping his country defend its title. It's a riskier proposition than investing in Ronaldo, but has a much higher potential ceiling.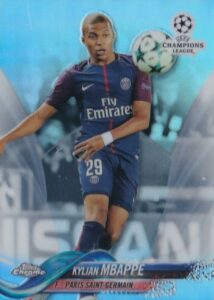 Rather than going after his 2016 Panini Foot Sticker (considered his true rookie), which already has a PSA graded population of more than 1,200 and is $500 minimum for a PSA 8, it makes sense to snag his 2017 Topps Chrome Refractor PSA 10.
It's only pop 158, and is extremely liquid for a low population card, having sold 59 times in the last 365 days. Currently down 63%, it could be a great time to pounce. It last sold for $1,675, and was previously a $5,000 card.
Even though it seems like he's been around forever, the reality is that Mbappe is still only 23 years old. If he leads France to another World Cup title, there's no reason why that card can't vault up to its previous highs with plenty of room for growth in the long term.
3. Lionel Messi — Argentina Forward
Since his move to PSG a year ago, Messi's card market is down 26%, but he's about to hit the world stage as an active GOAT. He's appearing in his fifth world cup for Argentina, which is a favorite to win it all, so a bump in prices is a realistic scenario. Like Ronaldo, you'll want to look past his ultra-modern cards and target his low pop long-term investments. With his 2004 Mega Cracks Rookie PSA graded population at less than 590, it's a solid long-term investment at even a PSA 1 or 2 for less than $2,000.
2. Vinicius Jr. — Brazil Forward
While it seems like we've been hearing about him for a long time, Vinicius Junior is still only 22 years old, and after scoring the game-winning goal in the UEFA Champions League final in June, his card prices have dipped 18% over the last 60 days since he hasn't really been in the headlines. But that is about to change with him representing World Cup-favorite Brazil.
With Neymar Jr. and Antony alongside him, Vini could once again find himself in a huge spot. When this happens, a nice card to be holding will be his 2018 Donruss Press Proof Red PSA 10 with a pop of just 244. It's a mix of rare, liquid, and affordable, which is a hard combo to find. It's currently down 37% with plenty of room to grow and a super high ceiling based on his future performance. The more expensive and risky play would be his 2018 Panini Treble Blue /75. But if you believe in him, that's the card to own.
1. Erling Haaland — Norway Forward
Yes, that's correct. Haaland isn't in the World Cup and that's exactly why you should seriously consider targeting his cards.
Go where they ain't.
With the world's attention all over the guys hitting the pitch, the world's best player will be about as forgotten as he can be after setting the Premier League on fire with his record-setting start for Man City.
With the spotlight off of him for the last 30 days he's already down 17%, and his prices could continue to dip with him off the pitch for another six weeks. The collector-favorite 2020 Obsidian Color Blast SSP PSA 10 is only a pop 64 and is down 53%.
With this kind of scarcity and collectability, it is the perfect card to invest in at the perfect time.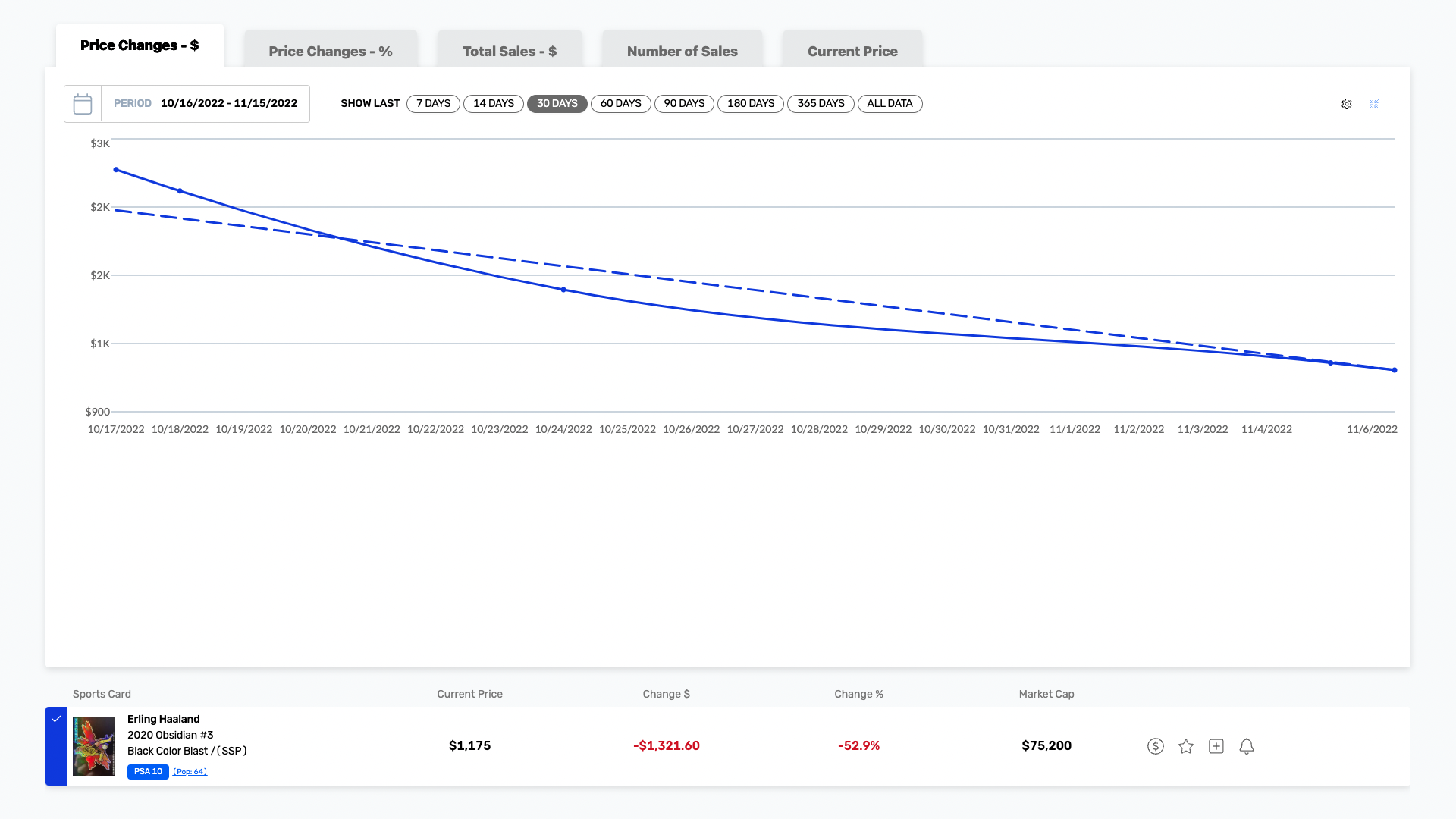 Paul Hickey is a regular contributor to Sports Card Investor, the creator of the Sports Card Investment Report at NoOffseason.com, and the host of the Sports Card Strategy Show on Apple Podcasts, Spotify and YouTube. He can be found on Instagram at @sportscardstrategy and on Twitter @nooffseasoncard.
With the Sports Card Investor app, you can profit from the hobby you love by keeping up with trending cards, tracking real-time prices with Market Movers and buying items on eBay. Download the industry-leading app here for Apple or Android
Note to readers: If you purchase something through one of our affiliates, we may earn a commission.