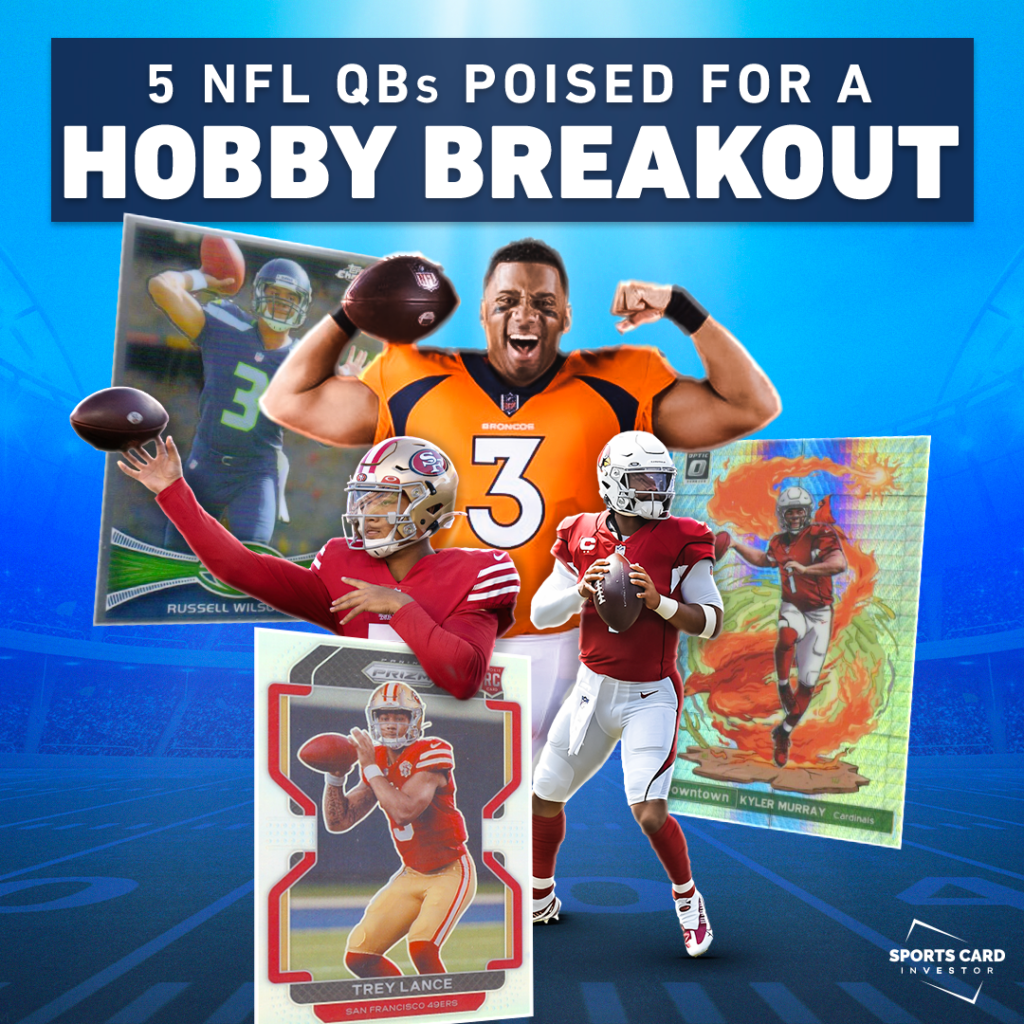 5 NFL QBs Poised for a Sports Card Hobby Breakout
This past offseason was packed with deals and other activity, with a number of new contract signings and high-profile draft picks getting the nod after solid performances during OTAs. There are a multitude of possible investing plays as the 2022 season ramps up, so here's a look at five quarterbacks in various stages of their careers who may be worth keeping an eye on.
Proving Himself Sooner Rather Than Later
A standout at Oklahoma, a Heisman Trophy winner, and a first-round draft pick in two sports, Kyler Murray is used to being in the limelight. The QB got off to a scorching start last season, leading the Cardinals to an NFL best 7-0 record before suffering an ankle injury. The Cardinals struggled upon his return, and Murray, for his part, was pretty streaky. While Arizona made it into the playoffs, it lost to the eventual Super Bowl-winning Rams in the first round.
Despite an anticlimactic ending to the season, the team made it clear that Murray is going to be the face of the franchise. And in July Murray signed a five-year extension worth up to $230 million, making him the third-highest paid QB in the NFL.
One of Murray's top cards is his ultra-rare Downtown. Surprisingly, investors can see that over the last 12 months his 2019 Optic Downtown PSA 10 has seen its price decline by 54%, with the most recent sale fetching $1,850 in late August. Outside of SSP cards, another category to consider is numbered cards. Numbered parallels from 2019 Prizm Football are significantly more rare than those from 2021, which includes hobby favorites Mac Jones and Trevor Lawrence. The table below illustrates some of Murray's more popular numbered parallels from 2019 Prizm:
| | | | | |
| --- | --- | --- | --- | --- |
| Card Number | Print Run | Grade | Latest Sale | 6-Month Avg |
| 301 | /10 | PSA 10 | $12,100 | $12,100 |
| 301 | /99 | PSA 10 | $1,800 | $1,677 |
| 301 | /75 | PSA 10 | $1,200 | $1,175 |
| 301 | /199 | PSA 10 | $1,200 | $897 |
There is an interesting trend here. Investors can see that in most of the cases above, the latest sale is higher than the six-month average. This indicates that, on average, Murray's value is increasing as we head into the season. There is no doubt that he has a lot of pressure on his shoulders after signing a monster extension. However, despite his popularity, Murray has yet to get close to a Super Bowl or post comparable stats to newer stars like Joe Burrow or Justin Herbert, both of which have seen astronomical values in some of their more desirable cards.
While he is prone to injury, Murray certainly appears to be a decent speculative buy going into the season. The thing to keep in mind is that not all parallels are equal. The data shown above illustrates that the numbered parallels, particularly from Prizm, are beginning to see some uptick in value compared to other inserts from Optic and other sets.
Giddy Up, Broncos Fans
If there is one generalization we can make about the hobby, it's that, more often than not, players that are hyped up before entering their respective league often see the most activity in their card prices. Despite being a Super Bowl champion and consistent name in MVP races, Russell Wilson is not the most popular play to invest in.
Being a third-round pick back in 2012 certainly did not lead to much hype. Some investors may also be skeptical of Wilson's abilities as a QB – did he win a Super Bowl because he was the product of a good system, or is he really a gamer? Well, during the offseason, the Denver Broncos were purchased for a whopping $4.65 billion by an investor syndicate led by Walmart heir Rob Walton. And just last week, Broncos ownership signed Wilson a five-year deal for $245 million dollars. Now, as Wilson joins one of the most beloved franchises in football, it'll be interesting to see if his cards are worthy of an investment.
One of the easier investments one could make is with Wilson's 2012 Topps Chrome Base. Topps stopped producing football cards in 2016, and for this reason some in the hobby will view Wilson's 2012 Topps as rare, or at the very least, unique. We can also see that a 2012 Topps Chrome Blue Refractor has declined in value by 18% over the last six months. The most recent sale from late August was for $1,500, one of its lowest sales on record. However, in terms of absolute dollars, this is not terribly far off from its peak value of $1,700.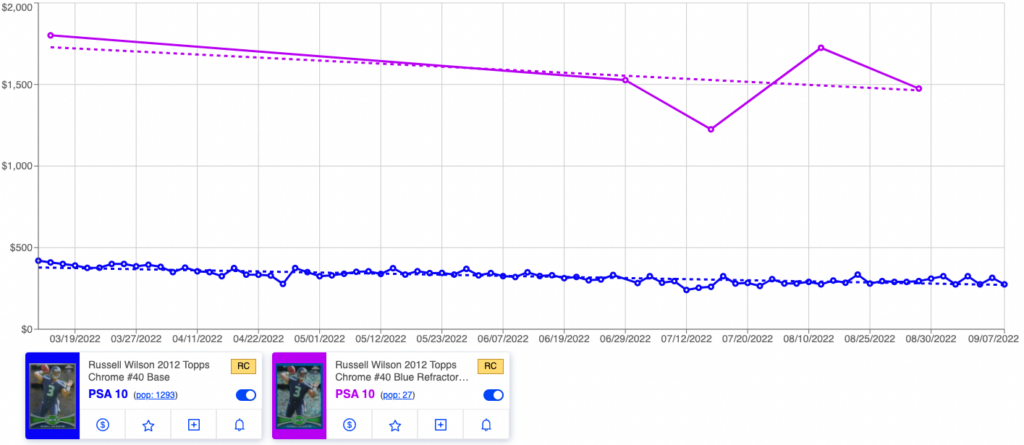 While Wilson does not have a ton of offensive weapons in Denver, one common theme with him is that he always seems to make plays happen on the field. Despite not being the most popular player in the hobby, there is less risk investing in rare cards of proven veterans. At the very least, one should be able to pick up some of Wilson's more desirable rookie cards at decent prices with somewhat limited risk.    
Big Names with Big Questions
After a sensational college career at Clemson, Trevor Lawrence was picked first overall by Jacksonville in the 2021 NFL Draft. Unfortunately for him, he was not equipped with the most robust offensive weapons. Turnover in the front office, namely from head coach Urban Meyer, probably added some unwanted anxiety for the freshman QB.
Now, with a new head coach in Doug Pederson and offensive threats like Travis Etienne Jr., Lawrence could very well be in a position for a breakout season. When it comes to the 2021 Draft class, though, investors should keep a few things in mind. For one, trading card companies have noticed the significant increased interest in the hobby over the last few years and have responded with loads of new types of cards.
While this may sound great, from an investment standpoint, it's important to remember that as more cards enter the system, the prices for some of those cards will inevitably drop. A more straightforward way to say this is that there are tons of Trevor Lawrence rookie cards out there, and only some of them are really worth the big bucks.
Additionally, Lawrence is part of a stacked AFC when it comes to QBs. For this reason, it is somewhat hard to justify that one of Lawrence's cards, albeit extremely rare, just sold for over $30,000. Similarly, his Downtown has consistently eclipsed $1,000 raw. Data shows that a raw Kaboom sold for $1,500, whereas that same card as an SGC 9 sold for $1,200, and a PSA 9 sold for marginally more than the raw. All of these sales occurred within 10 days of each other.
The point here is that some collectors are paying certain valuations that don't seem to make much fundamental sense. As investors, it is paramount to use reliable data to make informed decisions when purchasing cards for any value, let alone a significant sum.
The second name on this 2021 QB list is Trey Lance, and the 49ers have more or less mortgaged the future on him. Remember, this is a team that has gone to the Super Bowl and the NFC Championship Game two times in the last three years. They did this with a different QB, but nonetheless Lance got the promotion to starter and he certainly has a lot of eyes on him. 
While they are expensive, some of the most desirable cards in the hobby come from National Treasures. National Treasures Football creates some of the most appealing cards out there, and people salivate to get their hands on coveted RPAs. Lance's National Treasures RPA has already been ripped. That same card in PSA 10 /99 sold for $90,000 at the end of August. Like Lawrence, it is difficult to justify some of these valuations based on the lack of experience they have.
By comparison, Lance's 2021 Prizm Silver has seen a pretty steady decline over the last 90 days. The same could be said for some of his rarer inserts like Color Blast, Stained Glass, and Downtown. It's interesting that a small cohort of investors seem to have gone all-in on his National Treasures RPA, while allowing prices for other rare parallels and inserts to drop. While still expensive, investors may be better suited buying some of Lance's other desirable cards while they continue to drop, as it's difficult to imagine a card that already sold for $90,000 will increase significantly (unless he wins a Super Bowl or multiple MVP awards).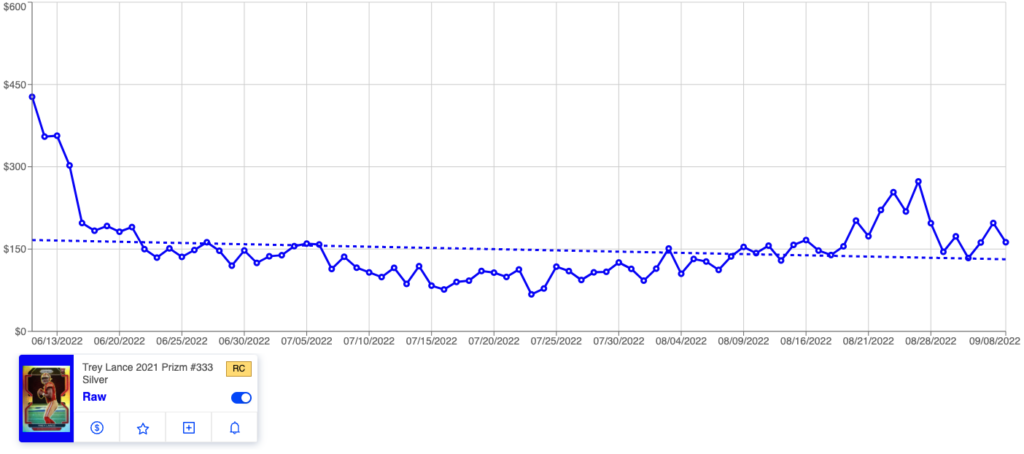 The last name here is Patriots QB Mac Jones. Let's face it, Jones does not exactly carry the swagger of his New England predecessor. His stats as a rookie were very average, and while he did manage to make the playoffs, he also got rocked in the first round by a superior QB in Josh Allen. Similar to Lawrence, there are a lot of Jones rookie cards floating around out there. And one could argue that the holy grail has already been ripped.
The QB's National Treasures RPA /99 recently sold for $11,700 in BGS 9. It's incredible that this same card (but in PSA 10) sold for eight times as much for Trey Lance, a QB who has yet to play or contribute in a meaningful way. This is yet another example that prices in trading cards can be, and currently are, very sporadic.
Perhaps an arbitrage opportunity lies with Jones' 2021 Prizm Silver Auto. Over the last 90 days this card is down roughly 60%. On the flip side, this same card in PSA 10 routinely fetches over $2,000. While it's always risky buying raw, there could be a nice opportunity to flip this for a profit if you purchase at a lower price and get the card graded. Of course, your profit is completely reliant on two variables out of your control: the grading and Jones' performance.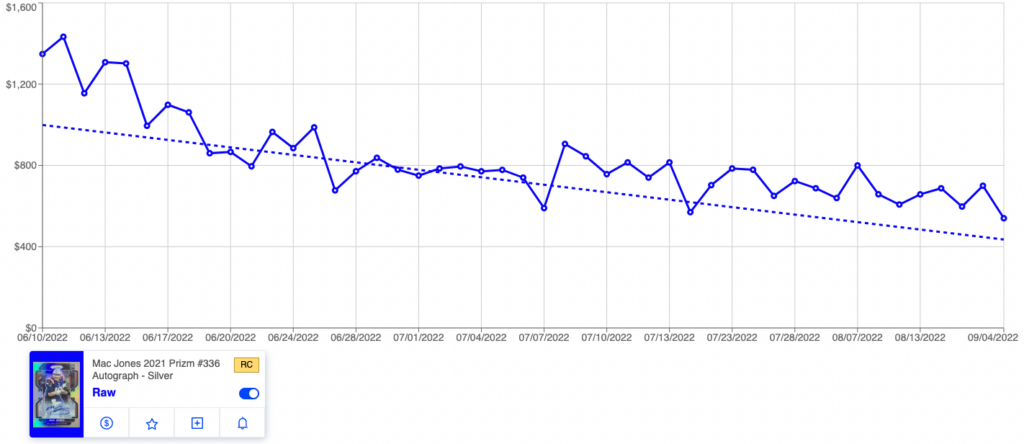 Of the three young QB's, Jones seems like the safest investment. He already has an entire season and some postseason experience under his belt. While Lance is an incredible athlete, his prices seem to be overvalued even when accounting for the fact that they have been dropping recently. In other words, even though his prices are dropping, they still do not appear normalized when compared to his cohorts.
And while Lawrence has the ability to succeed, his performance could remain an enigma for quite some time. If you're looking to invest in some QBs that could break out this year, Jones seems to be a reasonable bet. Additionally, despite the pressure of a big contract, Murray has proven he has what it takes to thrive in the NFL. Investors will simply need to keep a keen eye on his health as the season progresses.
With the Sports Card Investor app, you can profit from the hobby you love by keeping up with trending cards, tracking real-time prices with Market Movers and buying items on eBay. Download the industry-leading app here for Apple or Android
Note to readers: If you purchase something through one of our affiliates, we may earn a commission.