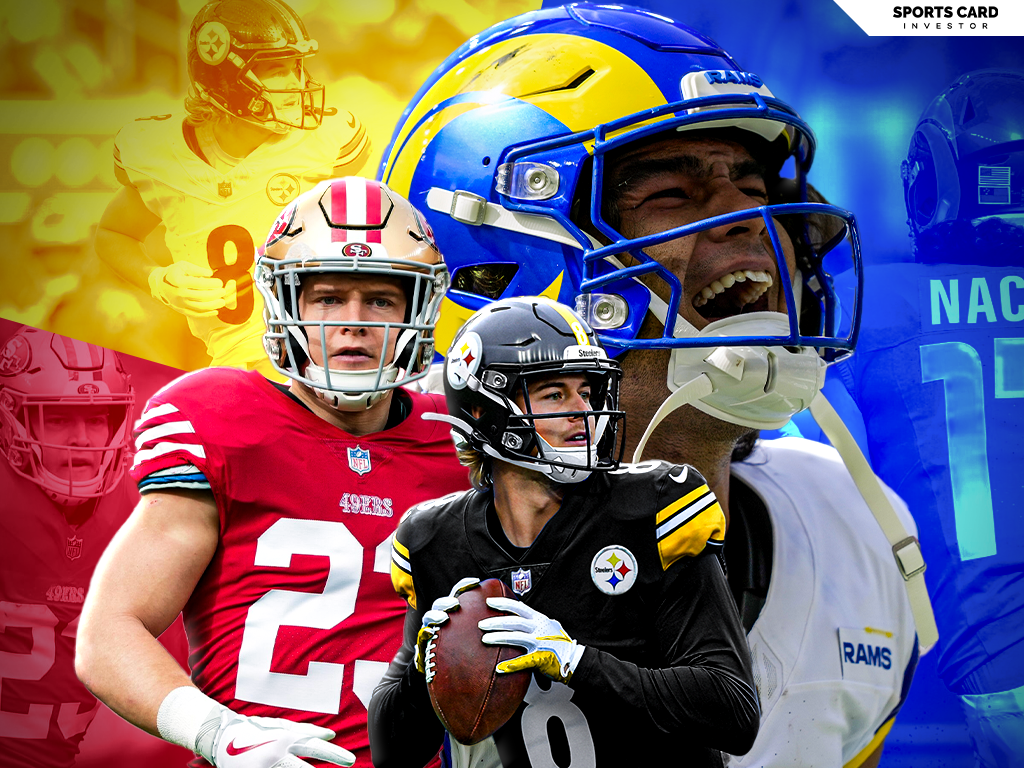 5 NFL Players You Should Look to Sell Now
With the ever-changing landscape of the NFL being driven in so many different directions weekly via injuries as well as player performances, it can often be difficult for sports card collectors to maintain up-to-date knowledge to sell cards at the correct time. Today we're going to call out five NFL players that you should look at getting listed for sale to reduce risk in your portfolio. 
Even if you PC the following players, who wouldn't want some extra cash? You'll be able to buy back into these guys for much less possibly as early as later this NFL season.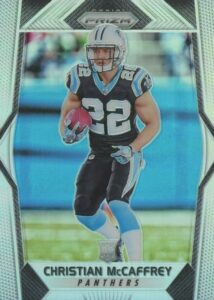 Christian McCaffrey, 49ers RB
Since joining the league in 2017, Christian McCaffrey has shown to consistently be a top dual-threat running back in the NFL when healthy. He's started the 2023 season off on an absolute tear, posting rushing averages of over 100 yards per game and eight total touchdowns. He's also a hot topic as an early-prediction AP Offensive Player of the Year candidate. All of these things should paint a very clear picture of McCaffrey being a sell right now.
Running backs in today's league are simply too cyclical and injury prone to hold on to them for an extended period of time in hopes of historic performances fueling greater card growth. Take advantage of McCaffrey's card market seeing a pocket of growth and crystallize those profits.
Baker Mayfield, Buccaneers QB
Baker Mayfield and the Tampa Bay Buccaneers got off to a 3-1 start before cooling down in recent weeks. They've also drawn the attention of fans and analysts around the league by exceeding offensive expectations to pair along with a strong defense. Mayfield's stats were solid in his first four starts, passing for just under 900 yards while tossing eight touchdown passes and just one interception.
Mayfield's card market responded accordingly, but the wheels have already fallen off and his PSA 10s tracked by Market Movers are down 22% collectively over the last 30 days.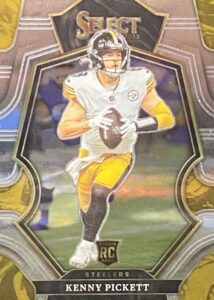 Kenny Pickett, Steelers QB
Kenny Pickett and the Pittsburgh Steelers kicked off the 2023 season with a solid record, going 3-2 over their first five and even beat the Baltimore Ravens 17-10. While Pickett hasn't posted overly impressive numbers over this time period, his card market has seen a decent enough jump to make him a sell in our books. Pickett's 2022 Prizm Base PSA 10 is up 146% over the last 14 days and his 2022 Select Premier Level PSA 10 is up 79%. 
He has a flurry of other cards seeing similar trends that give us confidence that his card market may currently be overvalued. Potentially some of this spike could be attributed to the large Steelers market and fanbase, but we just don't see Pickett's upside increasing through strong QB play over the course of a full season.
Puka Nacua, Rams WR
Puka Nacua is likely one of the more obvious sell recommendations on this list. With star receiver Cooper Kupp sidelined to injury the first four games, Nacua took full advantage while posting historic numbers through five games that featured 46 catches for 572 yards and a game-winning score against the Indianapolis Colts. 
As much as we like Nacua's game, he runs such similar routes to Cooper Kupp and we expect to see Nacua's numbers fall off drastically. If you're still holding his prints in hopes of his impressive performances continuing, you're exposing yourself to unnecessary risk. Get him moved before his production and card prices fall off, and maybe look to buy back in when his cards dip in pricing.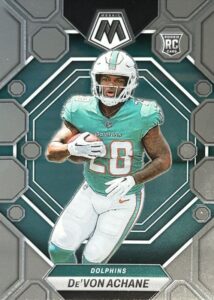 De'Von Achane, Dolphins RB
For those that decided to hang on to your early De'Von Achane cards after his breakout performance in Week 3 against the Denver Broncos, you've been both risky and fortunate. Since his 200-yard rushing performance that featured two touchdowns through the air and another two on the ground, Achane has hardly slowed down. 
Week 4 saw another 100-yard performance on just eight carries for another two rushing touchdowns, and he was even better as he tallied 151 yards on the ground with his 5th rushing score in three weeks against the Giants. While the Dolphins offense has clearly shown us just how explosive they can be, how long will it continue? With Tua Tagovailoa's health always in question and weekly injuries changing offensive and defensive lines, it's best to remove the risk of a couple of poor performances by getting him listed now. Take your money and run.
Note: With Nacua and Achane being rookies this year, they don't even have a full year's worth of rookie cards out yet in NFL uniforms, a factor that will further devalue their current cards as new releases are expected to hit the market over the next 6-8 months. 
With the Sports Card Investor app, you can profit from the hobby you love by keeping up with trending cards, tracking real-time prices with Market Movers and buying items on eBay. 
Download the industry-leading app here for Apple or Android. Note to readers: If you purchase something through one of our affiliates, we may earn a commission.
Paul Hickey is a regular contributor to Sports Card Investor, the creator of the Sports Card Investment Report at NoOffseason.com, and the host of the Sports Card Strategy Show on Apple Podcasts, Spotify and YouTube. He can be found on Instagram at @sportscardstrategy and on Twitter @nooffseasoncard.