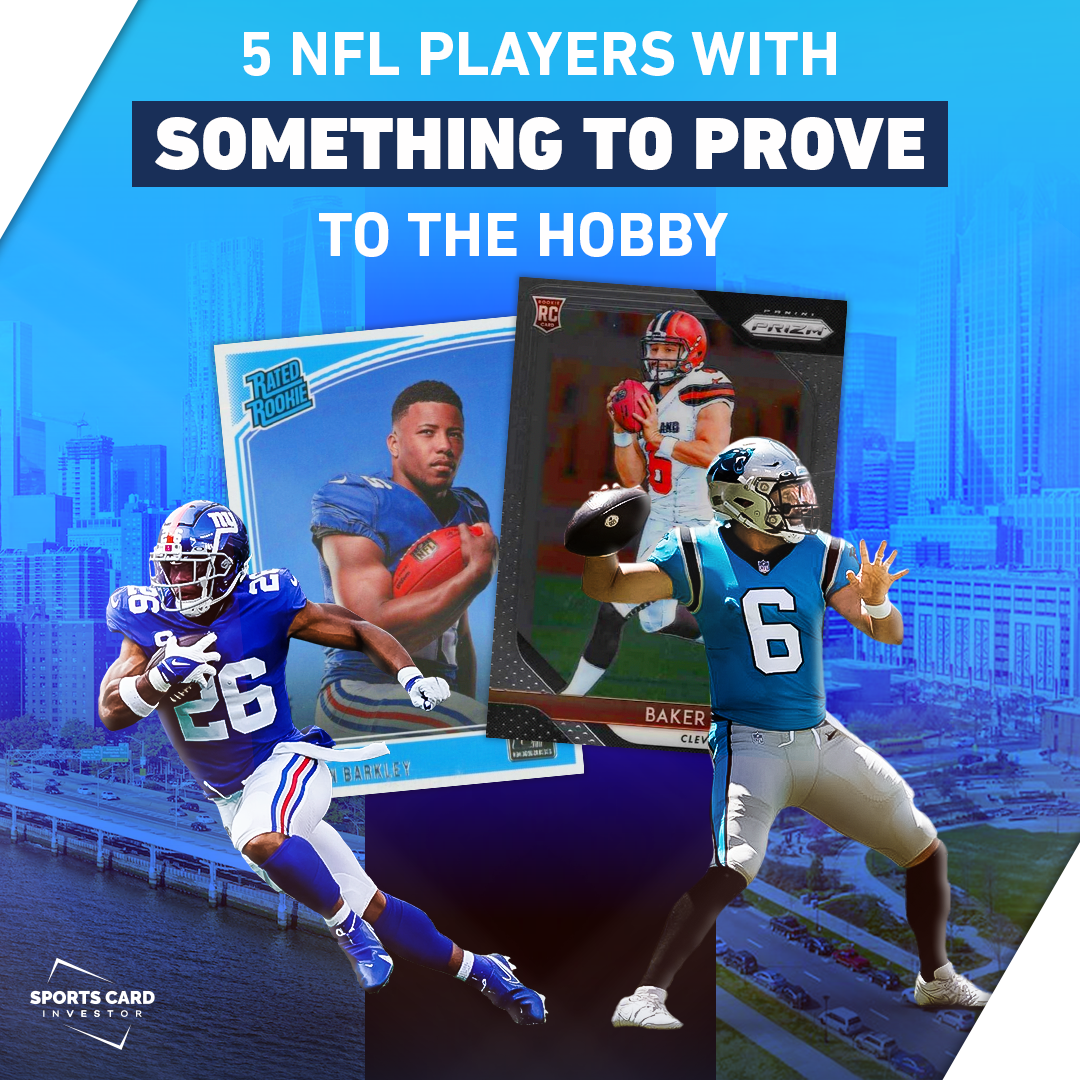 Fall is in the air. Time for some football. Though the old guard of Aaron Rodgers and Tom Brady may be returning, now more than ever there is an influx of impact young QB talent in the NFL. Joe Burrow took the Cincinnati Bengals to the Super Bowl in his second year. The L.A. Chargers' Justin Herbert was an MVP candidate. Oh, and Kansas City's Patrick Mahomes is still only 26 years old. Throw in the rise of skill position players like Justin Jefferson, Ja'Marr Chase and Jonathan Taylor and the future of the league looks to be in great offensive hands.
The below list consists of players who were once mentioned in the same breath as those guys, but be it due to injury, poor play or just football-related circumstances, their outlook on the field and in the hobby has gotten a bit hazy. The following roster of guys needs impressive years to regain confidence of both collectors and fans.
Jalen Hurts, Philadelphia Eagles QB
With a strong offseason, Philadelphia is looking primed as contenders. But the big "If" is still if Jalen Hurts can be the guy to take them to the next level. By all accounts, Hurts is looked at as an excellent leader on and off the field and is seen as extremely easy to root for by his fellow players. But despite leading the Eagles to a playoff appearance last year, his performance against the Tampa Bay Buccaneers (23-43, 258 yards and two interceptions) left a lot to be desired .
On the field, there remain questions about Hurts' ability to read a defense, stick in the pocket and deliver the ball accurately down the field. But there's little debate that few QBs in the league possess his athleticism and running ability, which makes Hurts an exciting player, especially if he can continue to improve as a passer.
Hurts' 2020 Prizm rookie cards can be had for under $10 raw and just over $100 in a PSA 10. You could also look towards retail variations like the Prizm Orange Laser, Disco, Red Ice or a nice color match with a Mosaic Green, all which can be had under $35 raw right now. With the QB market still going strong, these prices could catapult with a strong season from the third-year player.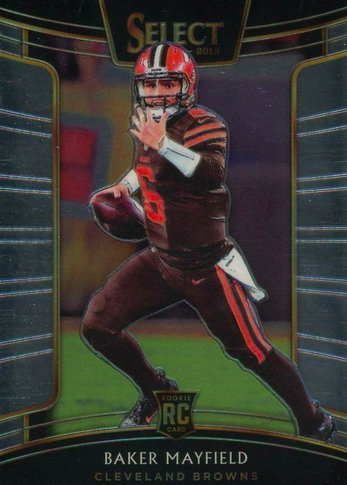 Baker Mayfield, Carolina Panthers QB
What a fall from grace it has been from the former No. 1 pick in the 2018 NFL Draft. From leading the Cleveland Browns to their second playoff appearance in the 21st century to playing his way out of Northeast Ohio and into a trade with Carolina, Mayfield has been on quite the ride over his professional career.
Luckily, all hope is not lost, as the 27-year-old has been named the Panthers' starting quarterback for the start of the 2022 season. Assumed to be healthy coming off shoulder surgery, Mayfield needs to regain some of the gun-slinging shine he had during the 2020 season, where he led a miserable Browns franchise to an 11-5 record and playoff win. He certainly has some weapons in Carolina with Christian McCaffrey (barring any health setbacks) in the backfield and DJ Moore and Robbie Anderson on the outside.
Mayfield's 2018 Prizm base is hovering under $15 while PSA 10s can be had for under $100. Silvers were much harder to come by a few seasons ago and thus are pricey. With that in mind, Select is a great brand to look into for collectors, as its silver parallels for Mayfield are sharp in the Concourse and Premier and can be had for under $40 raw. The Field Level Silver is another standout option, trending over $200 as a PSA 10 with a high-end look.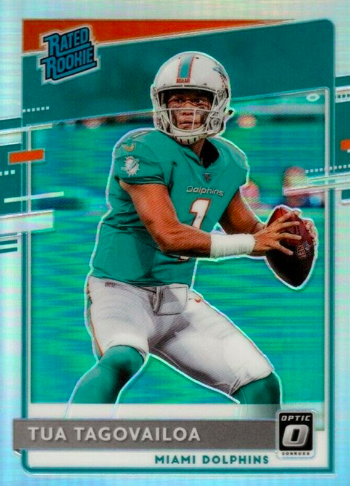 Tua Tagovailoa, Miami Dolphins QB
With a new coaching staff in Miami and a dynamic offensive addition in Tyreek Hill, it's time for Tua to show Dolphins' fans why he was worth the 5th overall pick in the 2020 NFL Draft. Up to this point, it has been a rocky road for the former Alabama QB, what with injuries, a lack of confidence from former head coach Brian Flores and questions around his decision making. The first step in changing the narrative will be staying on the field for a full season. The second will be showing improvement in reading the defense. Leaning on a talented offensive cast made up of Hill, Jaylen Waddle, Mike Gesicki and Chase Edmonds certainly should help.
Tua's Prizm RC can be found under $10 raw, if you're patient. His Silver Prizm, on the other hand, is trending around $75. Savvy collectors could also take a look into his Optic Holo Rated Rookie, which carries plenty of favor in the hobby and sits around $45 raw.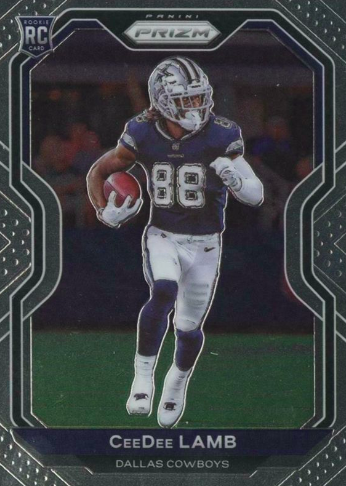 CeeDee Lamb, Dallas Cowboys WR
Despite a strong '21, the Cowboys once again fell victims to themselves as they dropped a home playoff game to the San Francisco 49ers in the opening round. That's the bad news. The good: the team is bringing back the core of Dak Prescott, Ezekiel Elliott, Micah Parsons, a solid offensive line and, of course, the dynamic Lamb.
The weight of the offense shifted onto Lamb last year as he reached the first 1,000-yard season of his career and led the Cowboys in receiving targets, receptions and receiving yards. Like Hurts, though, Lamb's forgettable playoff performance (21 receiving yards) leaves more question marks than answers for fans. With the team's No. 2 receiver Amari Cooper now a Cleveland Brown, can Lamb get the numbers needed to solidly join the tier of top WRs in the league?
The non-QB market is very different but there is still plenty of value to be gained. Lamb's 2020 Prizm Silver RCs, for instance, can be scooped for under $20 while the same card for another young standout wideout, Justin Jefferson, consistently sells between $60-70. If collectors were to speculate that another Lamb leap was coming (couple that with the luster of being on "America's Team"), this card could see plenty of room to grow during the season.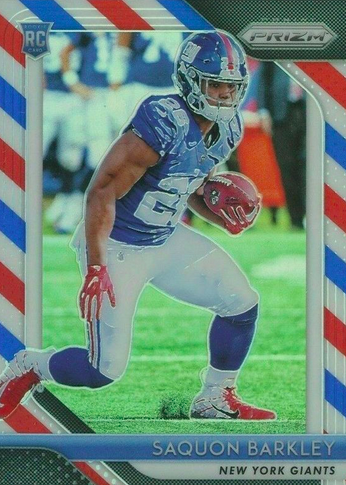 Saquon Barkley, New York Giants RB
Barkley has become the poster child for why NFL teams should be leery about drafting running backs near the top of the draft. Despite winning Offensive Rookie of the Year in 2018, the former Penn State Nittany Lion's pro career has been riddled with disappointment. Coming off an ACL tear in 2020, Barkley looked like a shell of himself in 2021. His individual performance was not helped any by the Giants' poor team showing across the board.
Now in a contract year, Barkley needs to show some of that same shine that made him so sought after as a rookie. We saw flashes of his old explosiveness last season, especially during a 102-yard performance against the Chicago Bears late in the '21 season. If fellow back Kadarius Toney takes a step forward as an explosive playmaker and New York's offensive line improves, that might be just enough pressure taken off Barkley for a bounce-back year.
Optimistic collectors can look into raw 2018 Prizm RCs around $10 or seek out the Red, White and Blue parallel, which makes a great Giants color match, between $15-$30.
With the Sports Card Investor app, you can profit from the hobby you love by keeping up with trending cards, tracking real-time prices with Market Movers and buying items on eBay. Download the industry-leading app here for Apple or Android
Note to readers: If you purchase something through one of our affiliates, we may earn a commission.