I didn't achieve my childhood dream of becoming an NBA star. I didn't reach my adult goal of becoming an NBA GM, either. Luckily, I have been able to do the next-best thing — make money off prospecting basketball cards.
To do this, you can't be Captain Obvious. You can't follow the crowd. You have to be an independent thinker who's willing to take risks. You can't buy guys like Tyrese Maxey and Jordan Poole now. You have to find the next Maxey and Poole.
These two have already arrived. Those who bought Maxey and Poole cards early or held them after pulling them from packs have already cashed in. Yes, they may continue to improve and leave a profit margin for the next buyer, but unless they jump to become MVP candidates or perennial NBA Finals stars, that ship has sailed.
So, we need to find the next exciting, high scoring guards on super competitive teams that could become future hobby darlings. To do this, you need to look for guys who fit a certain profile. Both Maxey and Poole were late first-round picks from solid basketball programs, taken by competitive NBA teams that didn't need them to play right away. They also both score well, handle the ball, create shots for themselves and play within a system.
From an on-court perspective, a number of guys can play like Maxey or Poole from time to time, but that's not what I mean. I'm wondering which players can have their card value go from $40 last off-season to $100 in-season like Maxey's 2020 Silver Prizm raw did. Who's the guy with a card that goes from $50 in September '21 to $388 in March '22 like Poole's 2019 Blue/Yellow/Green Prizm raw? Maxey's 2020-21 Contenders Rookie Ticket Cracked Ice Auto /25 just sold for $3,000 on June 16 after getting $2,000 back in March. Poole's 2019 Contenders Rookie Ticket Auto Base jumped from $183 in March to over $230 in April to $375 in June. That's the kind of action we're looking for!
Here are five guys who could see their Contenders Rookie Ticket Autos leap in that fashion over the next 12-18 months due to their expected on-court performance: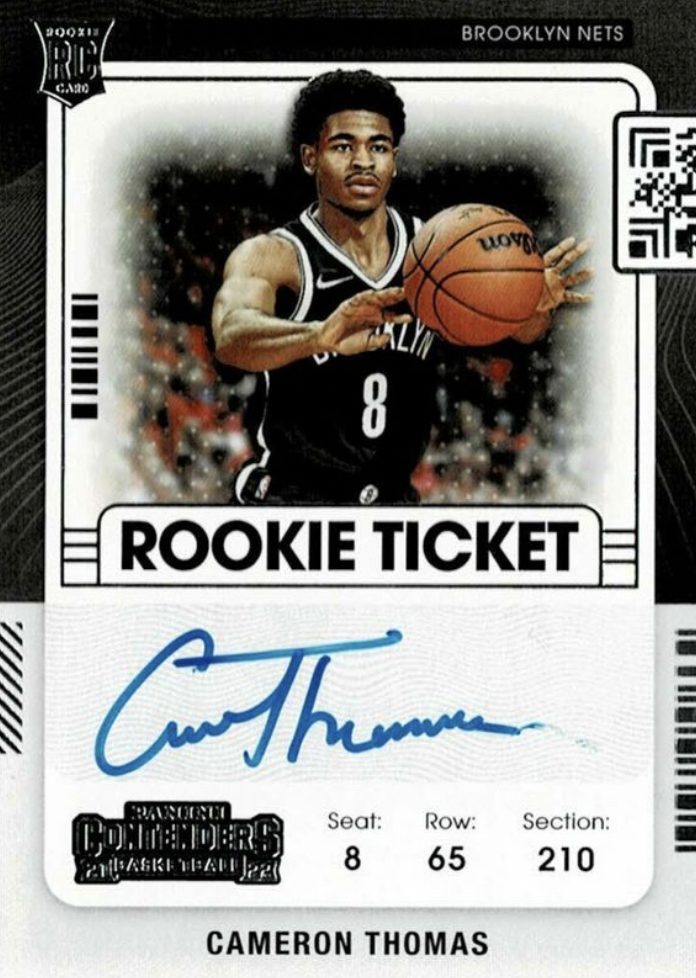 Cameron "Cam" Thomas, Brooklyn Nets – Taken with the 27th pick in the first round of the 2021 NBA Draft, Thomas was a guy many pundits called a steal for Brooklyn. In only 17 minutes per game, he averaged 8.5 points and shot 27% from three-point range on just 2.6 attempts per contest in spot relief of guys like Patty Mills, Kyrie Irving and Seth Curry. 
His rookie averages over 48 minutes look like this: 23.3 points, 6.6 rebounds and 3.2 assists with more than seven three-point attempts.
With Curry and Irving's futures in Brooklyn up in the air, Thomas should have plenty of opportunities in the next two seasons to show his ability to score and be the primary ball-handler in Brooklyn.
I believe Thomas is a star in the making. Playing with Kevin Durant on a playoff-ready team puts him in the best position of anyone on this list to see an increase in card value. This is likely to make the following card sales look like steals right now:
2021-22 Panini Contenders Rookie Ticket Auto Cracked Ice /25 ($275 sale at presstime)
2021-22 Panini Contenders Rookie Ticket Auto Premium Shimmer /20 – ($227.50)
2021-22 Panini Contenders Rookie Ticket Auto Base – ($20)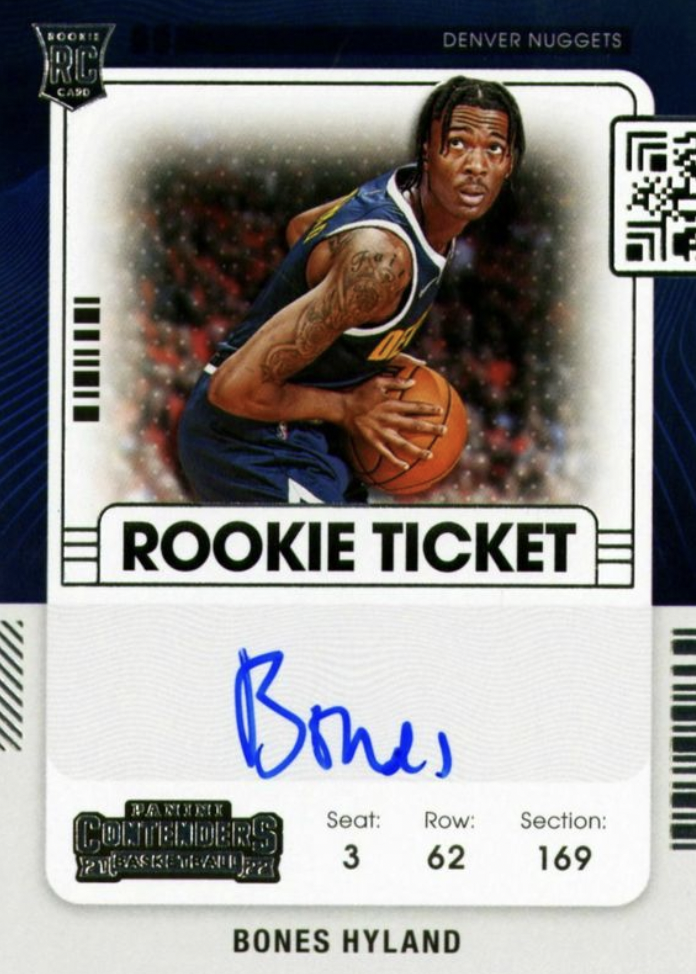 Nah'Shon "Bones" Hyland, Denver Nuggets – Taken one pick before Thomas in '21, Bones lit up the stat column his rookie year, stepping up as a solid secondary option for Nikola Jokic in Denver. The former VCU star is a dynamic two-way guard with a lot of game to go with the great nickname. He averaged 10 points a night and shot 36.6% from deep. The only reason I'd suggest Cam Thomas over him is because I believe Hyland's more likely to be a role player than a superstar with Jamal Murray coming back. Plus, Bones' card prices are MUCH higher than Thomas'. Still, the following cards should leave plenty of room for profit over the next year and a half:
2021-22 Contenders Rookie Ticket Auto Green Shimmer Prizm – ($200)
2021-22 Contenders Rookie Ticket Auto "The Finals" Variation /49 – ($300)
2021-22 Contenders Rookie Ticket Auto Base – ($42.99)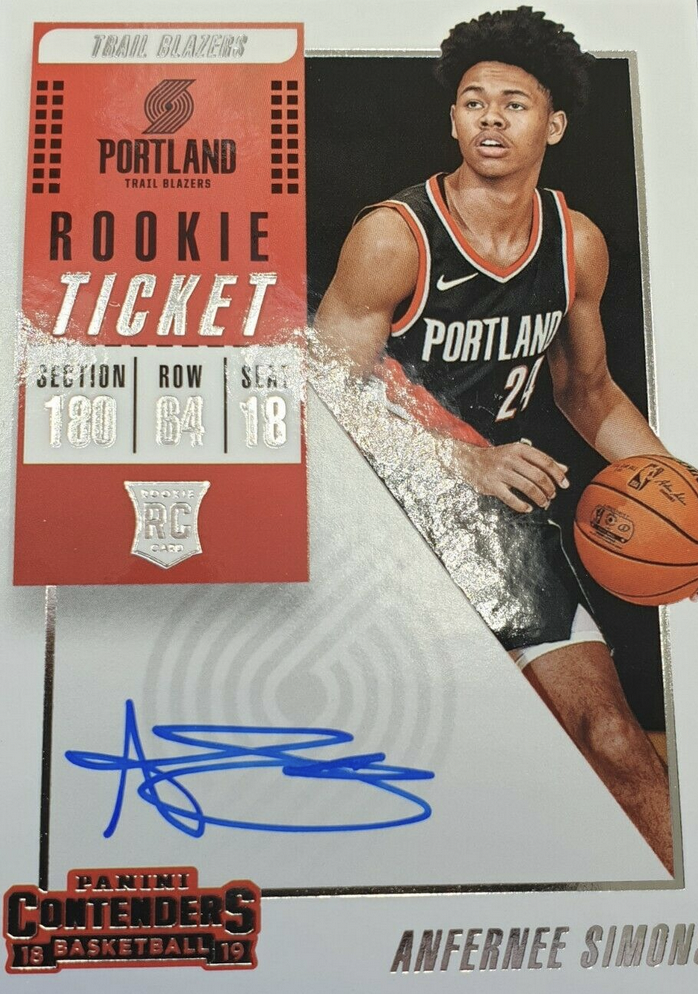 Anfernee Simons, Portland Trailblazers – The 24th pick in the 2018 Draft, Simons became an impact player this past season when Damian Lillard's campaign ended early due to injury and the Blazers dealt CJ McCollum. With the expanded role, Simons broke out, averaging 17.3 points and shooting over 40% from three for the second straight season. He's no longer a secret, but Simons' prices are still relatively low compared to other guys around the league in his position. The young guard projects to continue to start in Portland, potentially helping the Blazers get back into the playoffs.
The following cards look like solid buys, with the ability to jump 2-3x, should Simons take another step forward in 2022-23:
2018-19 Panini Contenders Rookie Ticket Auto Playoff Variation /65 – ($205.50)
2018-19 Panini Contenders Rookie Ticket Auto Cracked Ice Variation /20 – ($660)
2018-19 Panini Contenders Rookie Ticket Auto Base – ($107.55)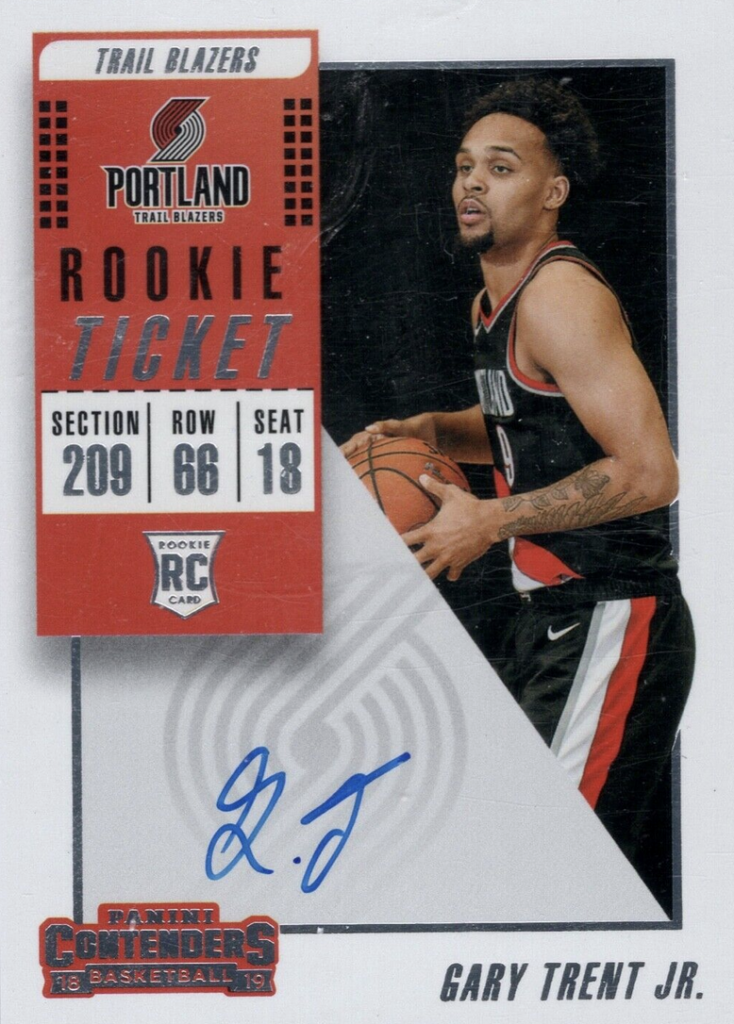 Gary Trent, Jr., Toronto Raptors – Am I the only one who loves this guy's game? It seems as well as he plays, Trent Jr. has zero hype around him. The talented 23-year-old forward helped lead a super young Raptors team to the sixth seed in the East this season. Maybe the oversight is because he was a second-round pick in the top-heavy 2018 Draft or because he plays in Canada. Whatever the reason, just know that Trent Jr. has steadily improved each season, going from 2.7 PPG as a rookie, to 8.9 in his second season to 15.3 in 2020-21 and to a career-high 18.3 last season (his first in Toronto).
Entrenched as a backcourt starter on a team that has oodles of frontcourt talent, the following Trent cards look like great investments:
2018-19 Panini Contenders Rookie Ticket Auto Base – ($19.99)
2018-19 Panini Contenders Rookie Ticket Auto Premium Prizm Variation – ($165)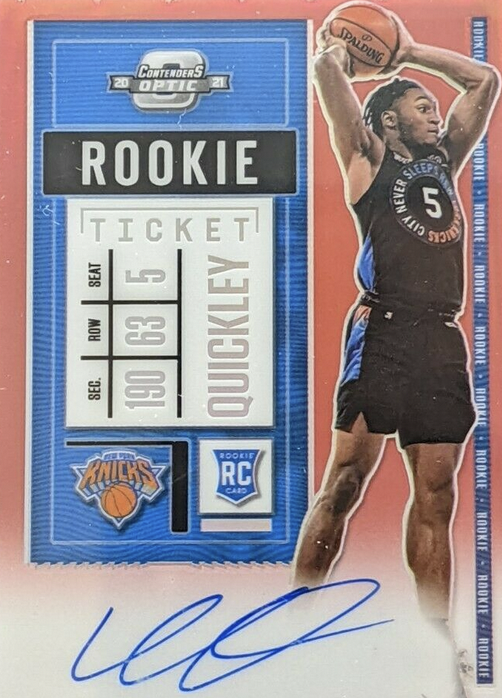 Immanuel Quickley, New York Knicks – Taken just four picks after his college teammate Maxey in the 2020 NBA Draft, Quickley has shown promise in his inconsistent two seasons with the Knicks. New York is a big market but the franchise has big issues. If the team can start turning things around next year and play Quickley more at the point, he could shine. The Kemba Walker experiment didn't go well. Derrick Rose is old. Quickley Time should be coming quickly in the backcourt. The young guard played well in his second season, averaging 11.3 points, 3.2 rebounds and 3.5 assists. He closed the last week of the season with a double-double, a triple-double and a 34-point performance.
Compared to 2021-22 rookies, his stuff is dirt cheap and primed to rise:
2020-21 Panini Contenders Optic Rookie Ticket Auto /149 – ($43)
2020-21 Panini Contenders Optic Rookie Ticket Blue Auto /49 – ($152.50)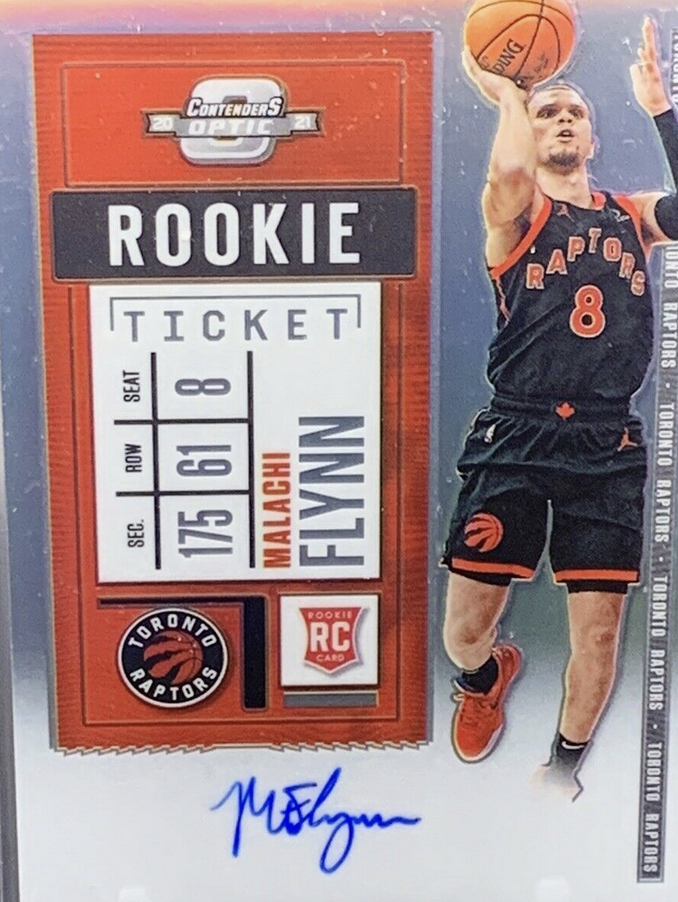 Honorable Mention
Malachi Flynn, Toronto Raptors – I like to go super deep sometimes. While this is the least likely one to pan out on the list, Flynn still fits the mold. The 29th selection in 2020, Flynn played pretty well as a rookie, averaging 7.5 points in only 19.7 minutes. Even though his minutes and scoring took a dip last season, he filled in well for Fred VanVleet when he went down in injury in the second half of the season, averaging 16.9 points, 5.6 rebounds and 6.3 assists per 48 minutes as a reserve. 
VanVleet's contract is up in 2024, at which time Flynn will be 26 and could step into a starting role on a team ready to compete for championships with guys like Trent Jr., Scottie Barnes and Pascal Siakam making up a nice young nucleus. Anything can happen between now and then, but with the following cards looking like solid penny stock investments, Flynn isn't a bad flier play.
2020-21 Contenders Optic Rookie Ticket Auto Orange Prizm /25 – ($39.78)
2020-21 Contenders Optic Rookie Ticket Silver Auto – ($24.99)
2020-21 Contenders Optic Rookie Ticket Auto Blue Variation /49 – ($46)

Paul Hickey is a regular contributor to Sports Card Investor, the creator of the Sports Card Investment Report at NoOffseason.com, and the host of the Sports Card Strategy Show on Apple Podcasts, Spotify and YouTube. He can be found on Instagram at @sportscardstrategy and on Twitter @nooffseasoncard.
With the Sports Card Investor app, you can profit from the hobby you love by keeping up with trending cards, tracking real-time prices with Market Movers and buying items on eBay. Download the industry-leading app here for Apple or Android.
Note to readers: If you purchase something through one of our affiliates, we may earn a commission.