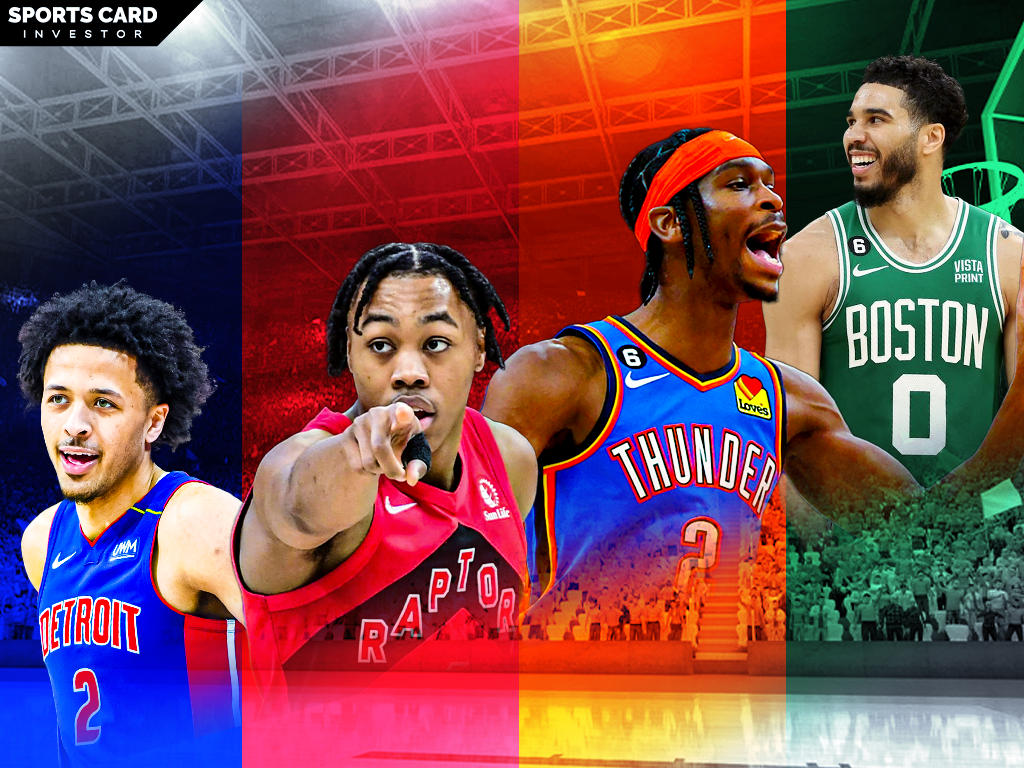 5 NBA Players to Target Before the Season Starts
With a number of substantial trades happening this offseason, NBA rosters have once again been heavily shaken up, resulting in changes in expectations for several top contenders across the league. Here's five players you should consider adding to your portfolio ahead of the 2023-24 season.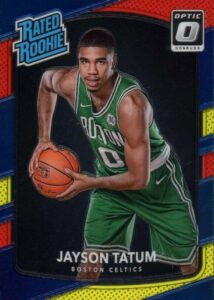 1. Jayson Tatum: 2017 Optic Red & Yellow PSA 10
With the Boston Celtics coming up short over the last two years, it feels as though fans and analysts are writing off the Jayson Tatum-Jaylen Brown tandem as one that can't win the big games. While there may be some merit to the criticisms of the current Celtics rotation, it's certainly worth noting that Jayson Tatum is just 25 years old, and Jaylen Brown is just one year older.
With the Celtics re-signing Brown to a massive extension and Tatum showing no signs of looking to move on to another franchise, the runway for the Celtics, combined with them gaining important playoff experience with a young roster, leads us to believe that some large sell markers may present themselves in the near future. Tatum's 2018 Optic Red & Yellow is a place to start, which is down 25% the last 30 days in PSA 10. With 19 sales over the last 30 days, It's a highly liquid option when the time to sell appears. Selling most recently at just $112, it has already shown the ability to spike above $400 back in 2020.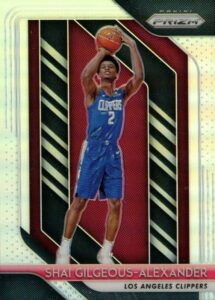 2. Shai-Gilgeous Alexander: 2018 Prizm Silver PSA 10
Next is Oklahoma City Thunder combo guard Shai-Gilgeous Alexander and his 2018 Prizm Silver in PSA 10. This card touts strong liquidity while trading 14 times over the last 30 days. Prizm Silvers are often a more popular pick for their combination of solid pop counts, decent affordability, and high upside. 
While this print isn't currently trading at a discount, it can still be purchased around the $450 mark, a number that could climb this season as he looks to lead the rapidly-improving Thunder organization to the playoffs alongside Chet Holmgren.
3. Chet Holmgren: 2022 Prizm Red Ice PSA 10
Speaking of Holmgren, his 2022 Prizm Red Ice in PSA 10 is another signature card to target. This is another print that holds a lot of desirable characteristics for collectors. It's moved hands 11 times over the last 30 days while trading at a 44% discount over that time period.
It's also a fairly affordable option, trending currently at just $110, which is down nearly 50% from a $198 365-day high. This card showed capability to spike close to $200 during a time period where he wasn't playing, there's a chance that the 7-foot-1 forward will provide plenty of performances that can push this card near and above the 365-day high.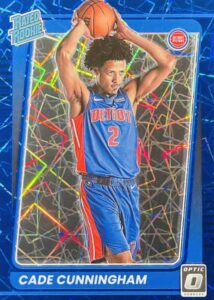 4. Cade Cunningham: 2021 Optic Blue Velocity PSA 10
Our 4th pick comes from Cade Cunningham's 2021 Optic Blue Velocity in PSA 10. This option is down 15% over the last 30 days, and is currently trading at just $86. This card has already shown potential to trade above $160 at its peak, and we're a sucker for a good color match. While Cunningham's career has gotten off to a rocky start, which can mostly be attributed to injury, he's still proven to be an impressive floor general with scoring capabilities.
If Jaden Ivey shows flashes toward reaching his potential this season, Cunningham and Ivey could prove to be a dangerous backcourt duo that teams have to seriously gameplan for. The in-season tournament could prove to be a strong sell marker if Cunningham performs well.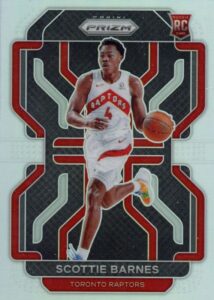 5. Scottie Barnes: 2021 Prizm Silver PSA 10
The Toronto Raptors are moving on after Fred Van Fleet's departure in free agency for the Houston Rockets, and Scottie Barnes should see an increased role compared to what was already an impressive sophomore campaign. Barnes has averaged over 15 points per game in both of his first two seasons in the NBA, while also posting solid numbers in the rebounding and assists categories. 
We love Barnes' long-term upside as a result of his desirable intangibles and poised game for someone so young. His 2021 Prizm Silver in PSA 10 is down 40% over the last 30 days, and can be picked up for just over $100. Compared to players from his draft class like Josh Giddey and Jalen Green, who both have Prizm Silvers trading above $200, Barnes is undervalued and could be a great pickup for collectors.
With the Sports Card Investor app, you can profit from the hobby you love by keeping up with trending cards, tracking real-time prices with Market Movers and buying items on eBay. 
Download the industry-leading app here for Apple or Android. Note to readers: If you purchase something through one of our affiliates, we may earn a commission.
Paul Hickey is a regular contributor to Sports Card Investor, the creator of the Sports Card Investment Report at NoOffseason.com, and the host of the Sports Card Strategy Show on Apple Podcasts, Spotify and YouTube. He can be found on Instagram at @sportscardstrategy and on Twitter @nooffseasoncard.