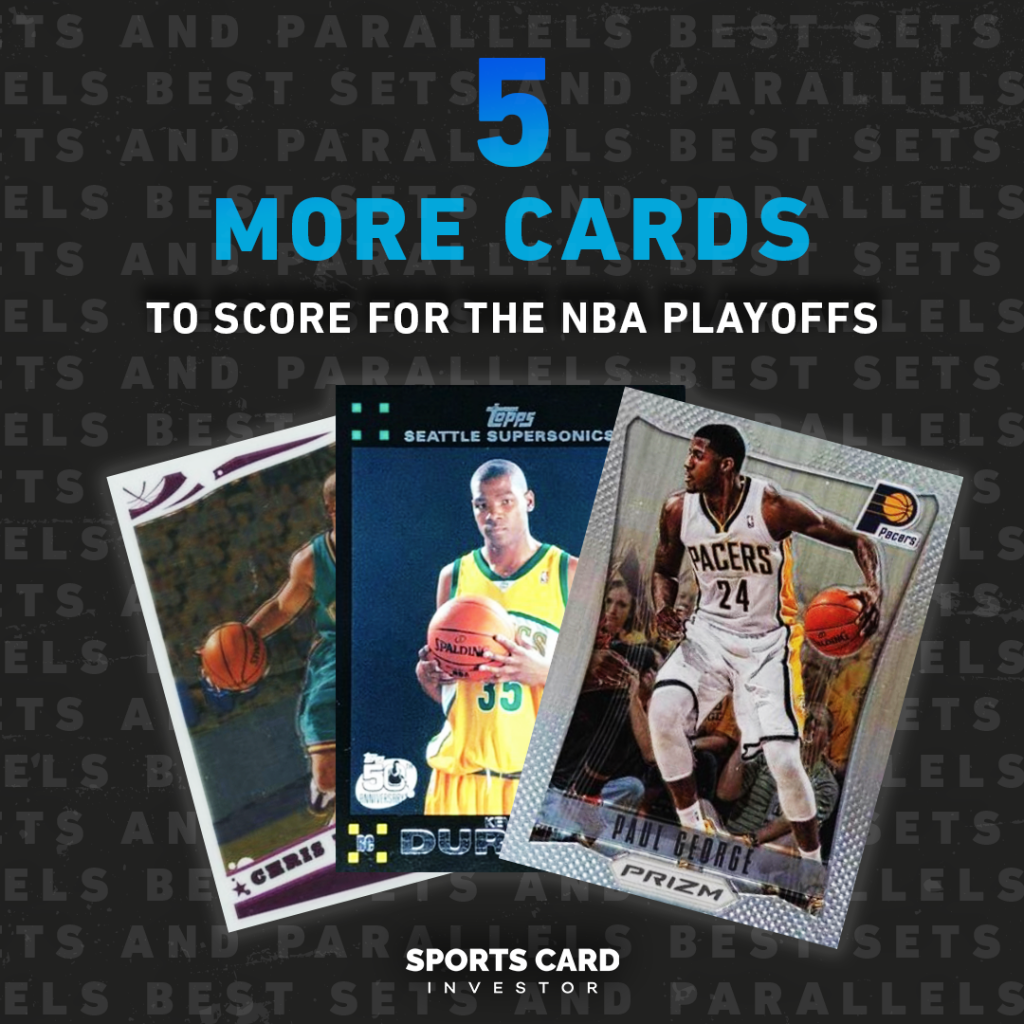 5 More Cards to Score for the NBA Playoffs
With the L.A. Lakers' first-round exit to the Phoenix Suns, this year's NBA Playoffs promise to be the first one in 11 seasons where LeBron James nor Steph Curry are Finals participants. While unfortunate for the league's media relations department, it's a refreshing sign that a new day in the NBA is upon us.
Of the eight teams still in the title hunt, the Philadelphia 76ers are the only ones to have earned a championship since the 1980s. In other words, these remaining fanbases are starving for a winner. What that could mean for collectors is a flurry of excitement in these hungry markets. Excitement often translates into interest and interest generally means sales.
A number of players have had great postseasons thus far, but these are the five still playing that we'll be keeping our eyes on the most as this journey to find a new NBA champion continues.
Chris Paul's 2005's Topps Chrome
Even if he never gets to an NBA Finals, Paul will go down as one of the best point guards the game has ever seen. But from the way he and his Phoenix Suns are playing right now, that "never gets to an NBA Finals" part of the equation might finally get resolved. Paul is facilitating at an extremely high level (averaging 13 assists in the first two games vs. Denver) and finding some breathing room for his patented mid-range jumper—and he's doing it all with a banged-up shoulder.
CP3's rookie cards have always captured the hobby's attention. The lowest sale for this Topps Chrome over the last six months has been $670 while the highs were over $2,000. At press time, prices were steadying around $1,000. Should Paul lead the Suns to the Western Conference Finals (or, better yet, the NBA Finals), this card could go right back up to those earlier heights.
Paul George's 2012 Prizm
As much of a superstar Kawhi Leonard is on both ends of the floor for the L.A. Clippers, they wouldn't be where they are without George. L.A. has needed every one of the 23 points and nine rebounds that Playoff P has averaged this postseason. The Clippers have a certified fight on their hands with the Utah Jazz in the Western Conference Semifinals, but if they're to exorcise their NBA Bubble demons — the Clippers were the No. 2 seed a year ago and didn't even make the conference finals — they're going to need the seven-time all-star to be great.
George's 2012 Prizm hasn't had a great postseason (down 34% to $195 since late May), but we're not giving up on it just yet. How could we? The card from Prizm's first year was going for $475 in early May. If George can keep the 20/10 nights rolling (and help the Clips earn a few Ws along the way), we like this card getting back in the price range it once was.
Kevin Huerter's 2018 Prizm Silver
While the sensational Trae Young has dominated the national spotlight this postseason for the Atlanta Hawks, it's been the timely shooting of Bogdan Bogdanovic and Kevin Huerter that could be the keys to the Hawks upsetting Philadelphia in the Eastern Conference Semifinals. Though the Maryland product has come off the Hawks bench thus far in the series, Huerter's putting up starter's numbers (averaging 17 points in 32.5 minutes vs. Philly) and showing the confidence of a player ready to have his moment.
Huerter's cards might be ready, too. His 2018 Prizm Silver rookie card was selling for over $190 back in January. Prices dropped under $40 in late May. But as Huerter keeps making shots and his Hawks continue surprising the basketball world, attention around his cards has picked up. On June 6, Huerter dropped 15 points. He followed that with a 20-point show on June 8. This card sold for $96 that same night. Just imagine where this card will go after a couple more outstanding outings.
Kevin Durant's 2007 Topps
If there was one player you had to bet on having a stellar postseason, it would probably be this guy. Durant loves the big moment — lest you forget, Durant averaged 35.2 in the 2017 NBA Finals and 28.7 in the 2018 Finals — so it surprises no one that he already has five games this postseason where he's scored 30+ points. While an Eastern Conference Finals date isn't promised, it's getting closer with every bucket Durant gets against the Milwaukee Bucks.
Durant has a few RCs worth hunting down, but something about this 2007 Topps just resonates with us. Might be the youthful look on the all-star forward's face. Could be that the card has a relatively low POP of 129. Or it may just be that the card is going for around $4,000 now, but it had a few $10,000 sales earlier in the year. Whatever the reason, it's one of the best Durant cards to have if the Nets Express keeps rolling this postseason.
Deandre Ayton's 2018 Donruss Optic
Next to Luka Dončić and Trae Young, almost every young player looks inferior. But for some fans to call Ayton, the 2018 NBA Draft's No. 1 pick, a bust is just short of ludicrous. Even before the 2021 Playoffs, Ayton was a walking double-double. He's not terribly demonstrative about any of it on the court, though, so some have discounted him as boring. While teammates Chris Paul and Devin Booker excite from the perimeter; Ayton's workman-like approach under the rim might be just what the Suns need.
Of course, the card world wants to see some Suns success, too. Initially, one of the buzziest cards in the 2018 Donruss Optic set, the Ayton rookie hasn't sold for over $136 in the past year. Right now, it's wavering between $50 and $70, but something tells us it's ready to blow past $100 again with the right push. We don't know what kind of effect a few more 15-15 games could have on the Ayton market, but we're certain that they can't hurt.
Track your collection and maximize your profit with Market Movers, the hobby's most powerful sports card pricing platform! Learn more here.