The past two years have undoubtedly been tough for baseball and its minor league affiliates. Between the shortened 2020 baseball season, which included zero MiLB games, to the numerous organizational pauses around MLB in 2021, newly drafted and signed prospects have been put into tough developmental situations lately.
With live-game situations among the best ways to improve and develop as a prospect, numerous top prospects have disappointed and have dropped down in the rankings. Keep reading to find five players who should come back stronger in 2022, as well as some cards to keep an eye on from those guys.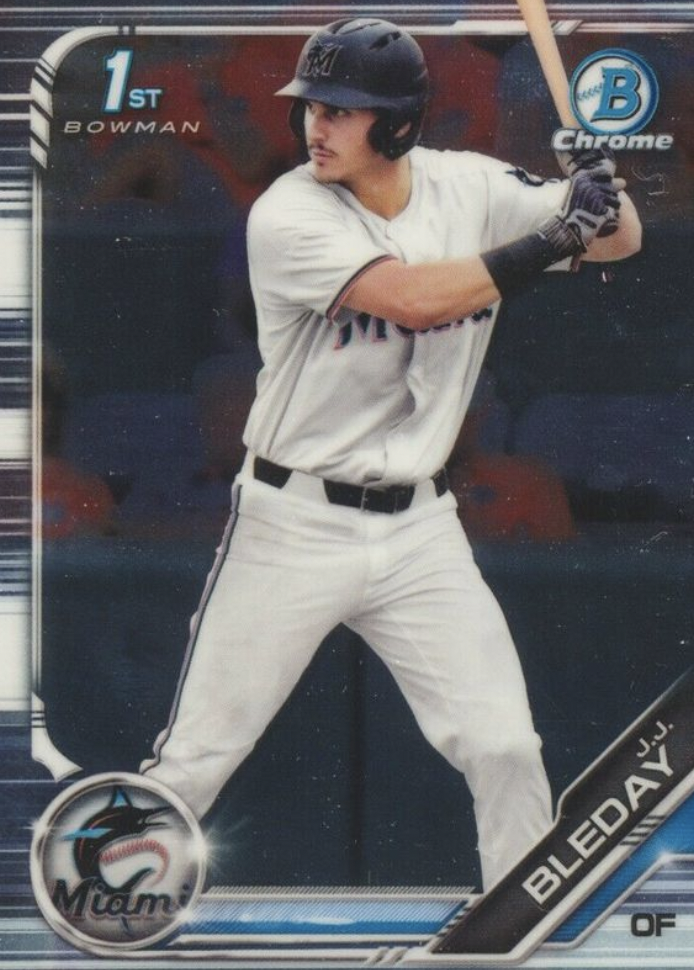 J.J. Bleday, Miami Marlins
The former fourth-overall pick in the 2019 MLB Draft, Bleday was a top college bat out of Vanderbilt who was expected to be a complete offensive package capable of hitting for power and having a great feel for the strike zone. Unfortunately, Bleday came out flat in his 2019 debut, had his 2020 season cancelled like everyone else and slashed a weak .212/.323/.373 with only 12 homers in a tough AA assignment in Pensacola.
Hope remains for the former top pick, though. After the season, he headed to the Arizona Fall League with a stance adjustment and subsequently mashed his way to a 1.035 OPS with five homers across 24 games. Look for Bleday to reestablish some of his prospect pedigree early in the season.
Can't go wrong with picking up his 1st Bowman Chrome in 2019 Bowman Draft. We'd lean towards his first refractors and autos, but his second-year autos out of 2020 Bowman are a great choice as well.
Geraldo Perdomo, Arizona Diamondbacks
It was an interesting 2021 for Perdomo. Despite struggling immensely with the bat early on in his minor league season, a slew of Diamondback injuries in early April led the 22-year-old shortstop to being called into MLB action. He struggled in his debut series (1-for-10), was sent back to AA, then was placed on the developmental list to retool his swing.
Dividends paid off immediately upon his return to the minors, as Perdomo hit .329 with a .942 OPS, which included five HRs in 38 games. The power was most impressive, as Perdomo had never hit more than four long balls across a full season. The top-100 prospect could be primed for a big bounce-back season with improved power at the plate and a locked-in spot at short.
Perdomo has his 1st Bowman Chrome in 2019 Bowman Chrome. Also, autos in the same set are looking quite attractive right now at their $20 price point. But also consider Perdomo's Topps flagship rookies in 2021 Topps Update.
Joe Mack, Miami Marlins
Going a different route and picking a 2021 draftee this time. A 2021 supplemental first-round pick, Mack struggled early on in rookie ball, hitting a measly .132 across 53 ABs. Seen as a steal and signed above slot at $2.5 million away from a Clemson commitment, the NY native was heralded for his upside as a hitter and exceptional athletic ability.
We buy into his track record in pre-draft summer showcases, and a 20/22 BB/K ratio in Mack's debut stretch lends comfort to his zone recognition. The Marlins have become exceptional at developing prospects, and Mack is only a more-aggressive approach away from being an impact player for the franchise.
Mack's card selection is limited to 2021 Bowman Draft at the moment. His first autos there are pretty affordable at around $25-30 for base. His Black & White Ray Wave (Lite Box exclusive) is a sneaky-good pick-up as well.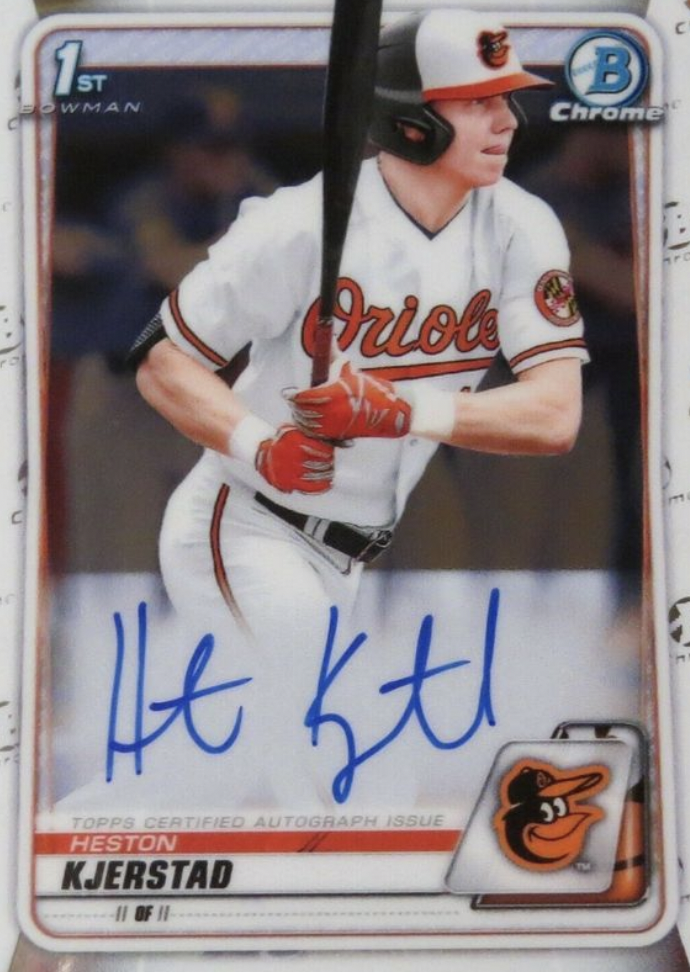 Heston Kjerstad, Baltimore Orioles
Kjerstad is an easy addition to this list. The 2020 MLB Draft's second overall pick had his debut season cancelled, then he was diagnosed with myocarditis (heart inflammation) that took away his 2021 season. Now back on the field and, hopefully, healthy, the former Arkansas Razorback will look to put his immense lefty power on display and re-solidify himself among the top hitting prospects in baseball. O's fans should look at his career college line (.343 AVG/.421 OBP/.590 SLG) and drool over what could be.
Kjerstad has plenty of prospect cards since his debut in 2020 Bowman Draft. His 1st Bowman Autos are still a bit pricey, but there is great value to be had with autos from 2020 Bowman's Best (under $30).
Andrew Vaughn, Chicago White Sox
No longer a prospect, Vaughn is a former top-15 guy who faded from popularity a bit this past season. The pandemic created an interesting window for Vaughn, as he was thrust into a full-time big-league role with only 52 games in the minors under his belt. The third pick in the 2019 Draft out of the University of California, Vaughn bounced around defensively (oddly, he even got time at second base) and was unable to find consistency at the plate.
At his best, Vaughn's a middle-of-the-order bat with 30+ HR potential. Look no further than the first baseman's numbers from last July (.308 AVG/.347 OBP/.516 SLG), as he settled into consistent time at left field with the Chicago White Sox, to see his offensive potential. Vaughn closed out the season playing a different position just about every day. His bat regressed as a result. The Sox are deep, but if Vaughn finds a consistent position, he'll be set to break out.
Vaughn's most popular card is his 2019 Bowman Draft Chrome. His 1st Bowman autos still push close to $100. On the flip side, his base 2021 Topps Chrome rookie auto ($40-50) is an affordable option for collectors looking for a signed card from the future Chicago star.
Track your collection and maximize your profit with Market Movers, the hobby's most powerful sports card pricing platform! Learn more here.
Note to readers: If you purchase something through one of our affiliates, we may earn a commission.