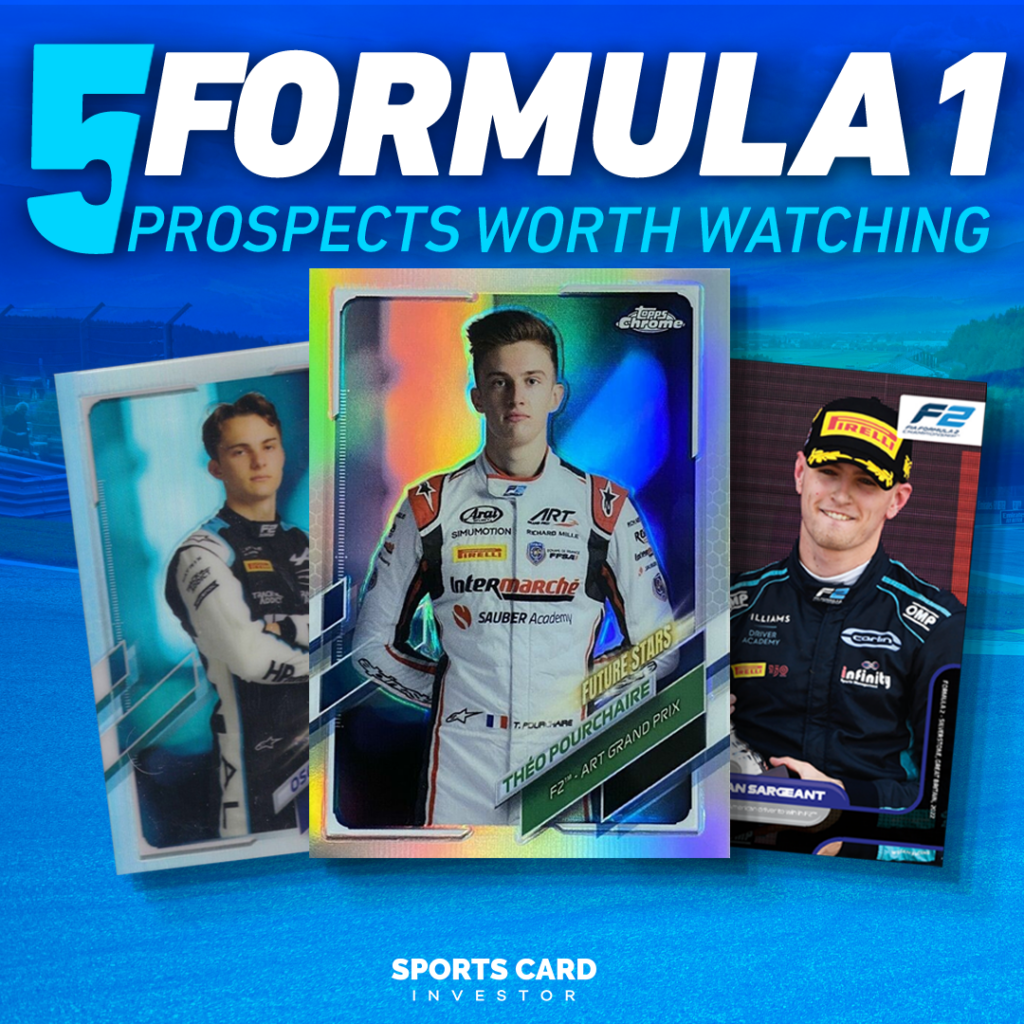 5 Formula 1 Prospects to Watch for 2023
With the F1 side of the hobby still in its infancy, there's a fine line between veterans and beginners.
Formula 1 veterans are typically sports card collectors that have followed the sport for several years or people relatively new to the sport in the last two years – these collectors may have purchased releases like 2020 Topps Chrome F1 and Topps Dynasty F1 before the huge surge in pricing during 2021 and 2022.
Veterans to the F1 hobby are likely sitting on plenty of equity in many of the very expensive and desirable singles floating around the market today.
The beginners – likely people who have purchased F1 wax or singles on the secondary market in 2022 – are more likely to be a bit upside down on their investments of stars like Lewis Hamilton, Max Verstappen, Lando Norris, George Russell and Charles Leclerc.
So how can new F1 investors find the same opportunities and value that the veterans did a couple years ago?
The same answer as in all other sports: Prospecting.
The cool thing about F1 driver prospecting is that there aren't as many prospects, products, releases and years to sift through. This makes it relatively easy for F1 beginners to get in the game. It's mostly like baseball, with a pretty clear minor league-style system and contracts with organizations when they get into F4, F3, F2, and eventually F1.
One of the more frustrating things about prospecting in other sports, like basketball, football, soccer and hockey, is the lack of a clear system, and licensed cards that prospects have. Other than Bowman Baseball, other sports are a Wild Wild West of potentially unlicensed products that investors can't really count on to liquidate easily when the time comes.
But when it comes to F1, we can all thank Topps for including F2 drivers within the F1 sets, starting in 2020. This ensures that prospects have the same investable cards as the stars, and puts a structure in place that is easy to follow, and welcoming for new investors – which is good for the market.
Here's a look at five F1 prospects you should be following, and their top cards you should be targeting.
1. Oscar Piastri, McLaren (F1)
The 21-year-old former Renault Eurocup, F3 and F2 champion didn't compete this season, serving as a reserve driver for Alpine — a sort of "graduation" from their Academy program, which he was part of since 2020.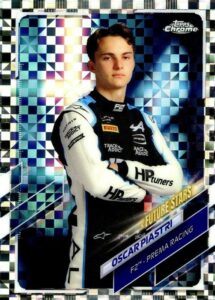 He made huge headlines and almost "broke the internet" in August when he disputed Alpine's announcement that he'd drive for them in F1 in 2023, replacing Fernando Alonzo, who will leave Alpine for Aston Martin.
Instead, he took a seat with McLaren, replacing fellow Australian Daniel Ricciardo, and ultimately vaulting him into a more powerful constructor and greater chance at early F1 success.
As his F1 debut approaches in 2023, his 2021 Topps Chrome F2 Future Stars serial numbered cards, refractor short prints, and certainly his autos are all great buys.
He's someone that F1 veterans have known about for a while, so his card sales were huge upon the release of 2021 Topps Chrome F1 earlier this year, then dipped and spiked during the August hype cycle. But there now looks to be another window to buy Piastri before he actually hits the grid early next year with teammate Lando Norris.
2. Theo Pourchaire, ART Grand Prix (F2)
He's the youngest F3 and F2 race winner of all time and he just turned 19. The France native sits second overall in the F2 standings behind the more experienced Felipe Drougovich and has caught the eye of F1 constructors over the last 18 months.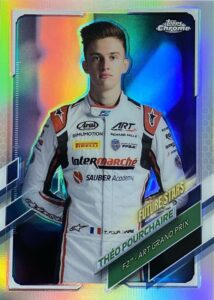 Not only that, but F1 card investors have taken notice, as sales volume across nine of his cards has increased by 90% over the last 30 days according to Market Movers. He has extremely investable cards from the 2021 Topps Chrome F1 release (his first prospect cards as he's noted with the Future Star F2 designation), including his first auto refractors /391.
A 2021 Topps Chrome Orange Refractor auto /25 sold for $511 with 22 bids on eBay on August 31. Cards like this and even his non-autos like the 2021 Topps Chrome F1 Purple Checkerboard /50 raw and /199 in PSA 10 have recently sold for more than $100 and should increase over time as he approaches an F1 seat.
3. Felipe Drugovich, MP Motorsport (F2)
The Brazilian is in his third season in F2 and is tracking toward the championship. He leads Pourchaire by 77 points as of this writing. He'll be 23 in May, and has more cards than both Piastri and Pourchaire, as he was included in the 2020 Topps Chrome F1 and 2020 Topps Chrome Sapphire F1 releases, as well as the 2021 Topps Chrome F1 release.
Many F1 investors/F2 prospectors feel he's undervalued due to his domination of the F2 circuit this year, but the fact that he hasn't earned an F1 seat, and doesn't have as much hype as Piastri or Pourchaire, hurts his market.
The fact that he has two years of prospect cards naturally fragments things and also lowers the prices of his singles a bit.
That said, he does have some investable singles, such his 2020 Topps Chrome F1 Green Refractor auto /99, likely his most liquid card. It's super sharp, achievable (last sold for $255 with 25 bids on eBay on September 1), and from his first set of autos.
4. Logan Sargeant, Carlin (F2)
OK, everyone, get ready for the first American in the conversation so far. Could he be the Christian Pulisic of motorsports cards? The soon-to-be 22-year-old is in third place in the F2 driver's standings in his first year since making the jump after three years in Formula 3. He sits behind the aforementioned Pourchaire and Drugovich in the standings and projects to be a serious contender again next year.
For now, he only has a series of Topps NOW cards and no known officially licensed/witnessed on-card autos. The Black /99 sold on September 3 for $150 and on August 14 for $151 (each were best offers accepted on eBay). The base version is super liquid, having sold weekly for between $4-$8 consistently.
The buyer/collector base is growing for him, making him a likely top prospect chase in any upcoming 2022 Topps Chrome, Sapphire, etc. releases.
5. Colton Herta, Andretti Autosport (IndyCar Series)
Considered one of the most exciting young drivers in all of motorsports, the 22-year-old became the first IndyCar driver born in the 2000s and is already a seven-time winner. It has been reported that Herta's team owner, Michael Andretti, wants to own an F1 team and has been attempting to for a while. If this happens, it could open up an immediate seat for Herta. It has been reported that even if that falls through, he was signed to McLaren as an F1 development driver to test their car last season, and was in consideration at one point for the seat that has now been filled by Piastri.
While this jump from IndyCar to F1 is fun to dream about, Herta has no licensed cards right now, anywhere. Nothing to invest in. This makes Sargeant America's current hope for an F1 prospect from the home country to invest in.
How soon could Herta, Sergeant, Drugovich and Pourchaire earn an F1 seat? Well, according to some media outlets, there are still upwards of five seats available for 2023.
Paul Hickey is a regular contributor to Sports Card Investor, the creator of the Sports Card Investment Report at NoOffseason.com, and the host of the Sports Card Strategy Show on Apple Podcasts, Spotify and YouTube. He can be found on Instagram at @sportscardstrategy and on Twitter @nooffseasoncard.
With the Sports Card Investor app, you can profit from the hobby you love by keeping up with trending cards, tracking real-time prices with Market Movers and buying items on eBay. Download the industry-leading app here for Apple or Android
Note to readers: If you purchase something through one of our affiliates, we may earn a commission.