Now that Max Verstappen has officially wrapped up the 2022 F1 Drivers Championship with a ridiculous 146-point margin after winning the 2022 Abu Dhabi Grand Prix on November 20, it's time for sports card investors to turn toward the many opportunities lurking for the 2023 season.
The first question on everyone's mind is: Will Verstappen run away with the title again in 2023 for his third straight? And subsequently, if he does, are there any other drivers worth investing in?
The first answer is, maybe. But even if he does, yes – there are plenty of other drivers worth investing in. And his card market doesn't reflect his dominance on the track, as he's down 23.5% across 20 cards over the last 90 days, which could be a sign of things to come for his card value.
With the F1 season officially over, all of the seats announced for 2023, and attention on the World Cup, NFL, NBA and even the NHL, now could be the perfect time to buy F1 cards with plenty of markers ahead to sell for a profit in 2023.
Here are five F1 card investing opportunities for 2023.
1. Charles Leclerc, Ferrari
Even though only two drivers have won the title in the last six years, there has actually been more parody at the top than meets the eye recently. Verstappen barely won the 2021 championship over Lewis Hamilton in a very controversial way, and even though he ran away with the title towards the second half of 2022, it was actually Leclerc who held the points lead through the first two months of the season after winning two of the first three races.
Leclerc's 2020 Topps Chrome Formula 1 Sapphire Edition Base PSA 10 sold consistently for less than $600 heading into the first race of 2022, but spiked to over $1,600 after his hot start. 
This card has a PSA 10 population of less than 400, and in spite of him finishing second in points to Verstappen, winning three races, and being Ferrari's No.1 driver at age 25, sells for less than $300 consistently.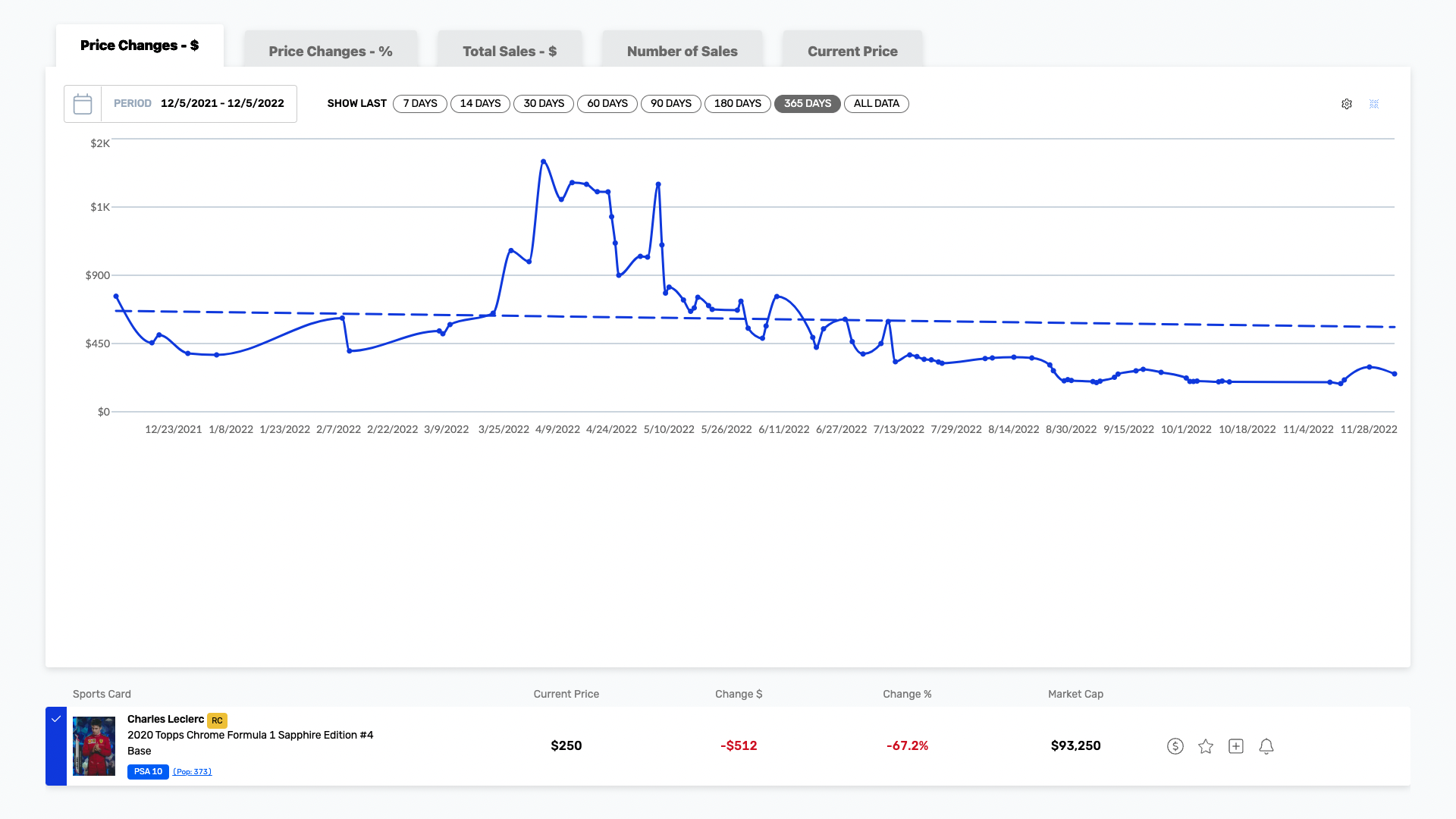 Leclerc will be a threat to win on any given Sunday in 2023, and presents himself as a sleeper contender to win a driver's championship, making him a great buy-low this winter.
2. Lewis Hamilton, Mercedes
It's easy to rule out the 37-year-old Hamilton from returning to the top of the driver's standings after a subpar individual 2022 season. While he failed to win a race, and finished behind teammate George Russell in points, he did podium nine times (fourth most in F1 in 2022), and remains extremely competitive.
It's worth noting that Hamilton's card market is down 72.4% across 26 cards over the last 365 days, according to Market Movers.
His 2020 Topps Chrome Formula 1 Refractor PSA 10 sold several times for more than $4,000 leading up to and during the first few races of 2022, but hasn't sold for more than $2,000 since August 2.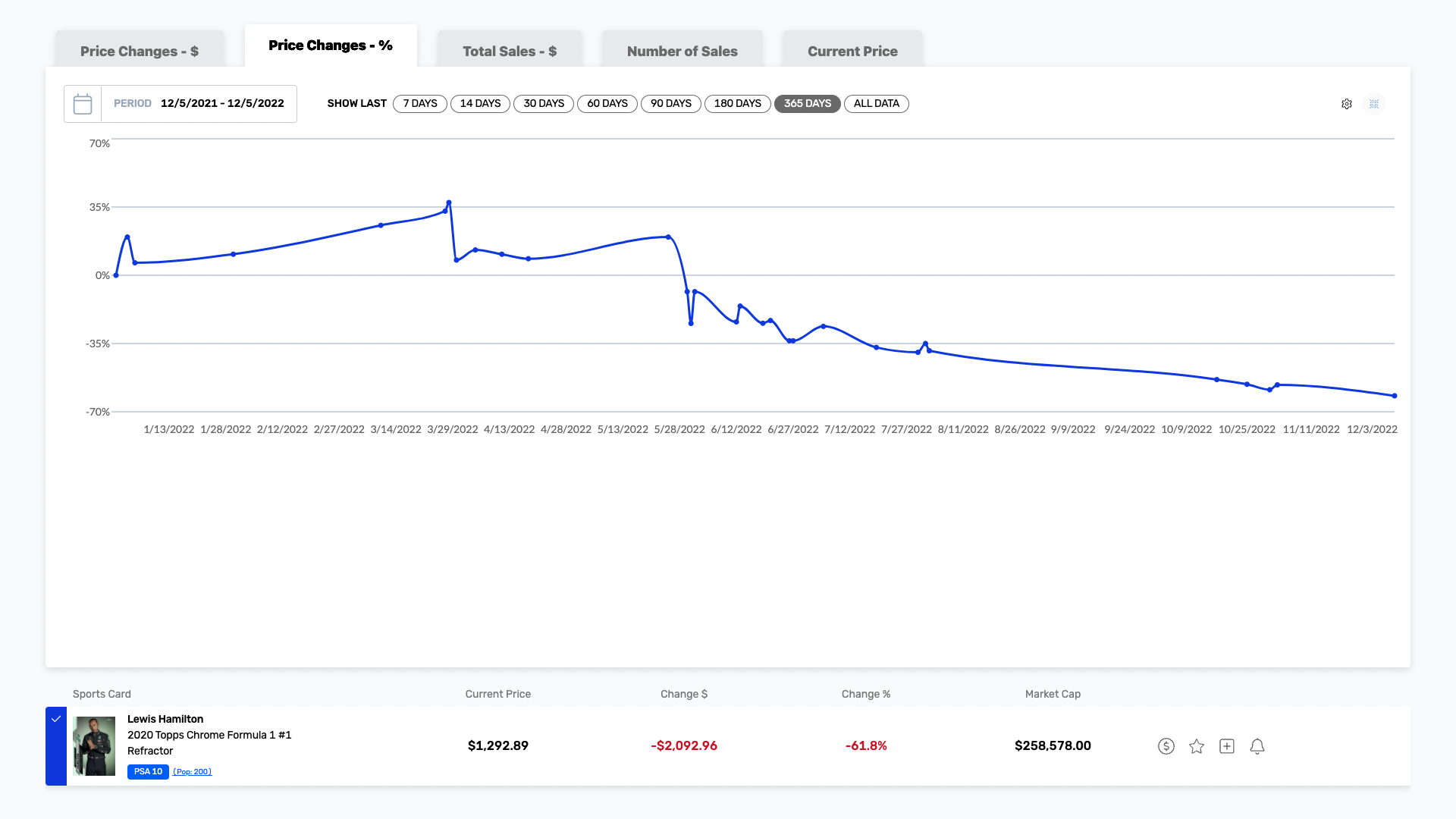 It's hard to imagine Lewis not winning at least a couple races in 2023, and when this happens, if you're holding his cards, there will be a direct path to profit, as he's the most liquid F1 driver in the card market and widely acknowledged as the GOAT.
3. George Russell, Mercedes
The 24-year-old is coming off of his best F1 season, having started 2022 with nine straight top-five finishes, and topped off the season finishing fourth in the driver's points standings after winning his first career race in Brazil on November 13.
Many in F1 circles have long believed Russell to be a future champion, and it's not out of the realm of possibility that it happens in 2023.
His 2020 Topps Chrome Formula 1 Base PSA 10 has an RC designation on it, which could help this card have long-term value as more and more collectors dabble in F1 cards and relate to the familiarity of the rookie card designation.
There was so much hype around Russell heading into 2022 that this card sold for more than $600 multiple times and stayed at $300 through April, but has sold consistently for less than $100 throughout October and November.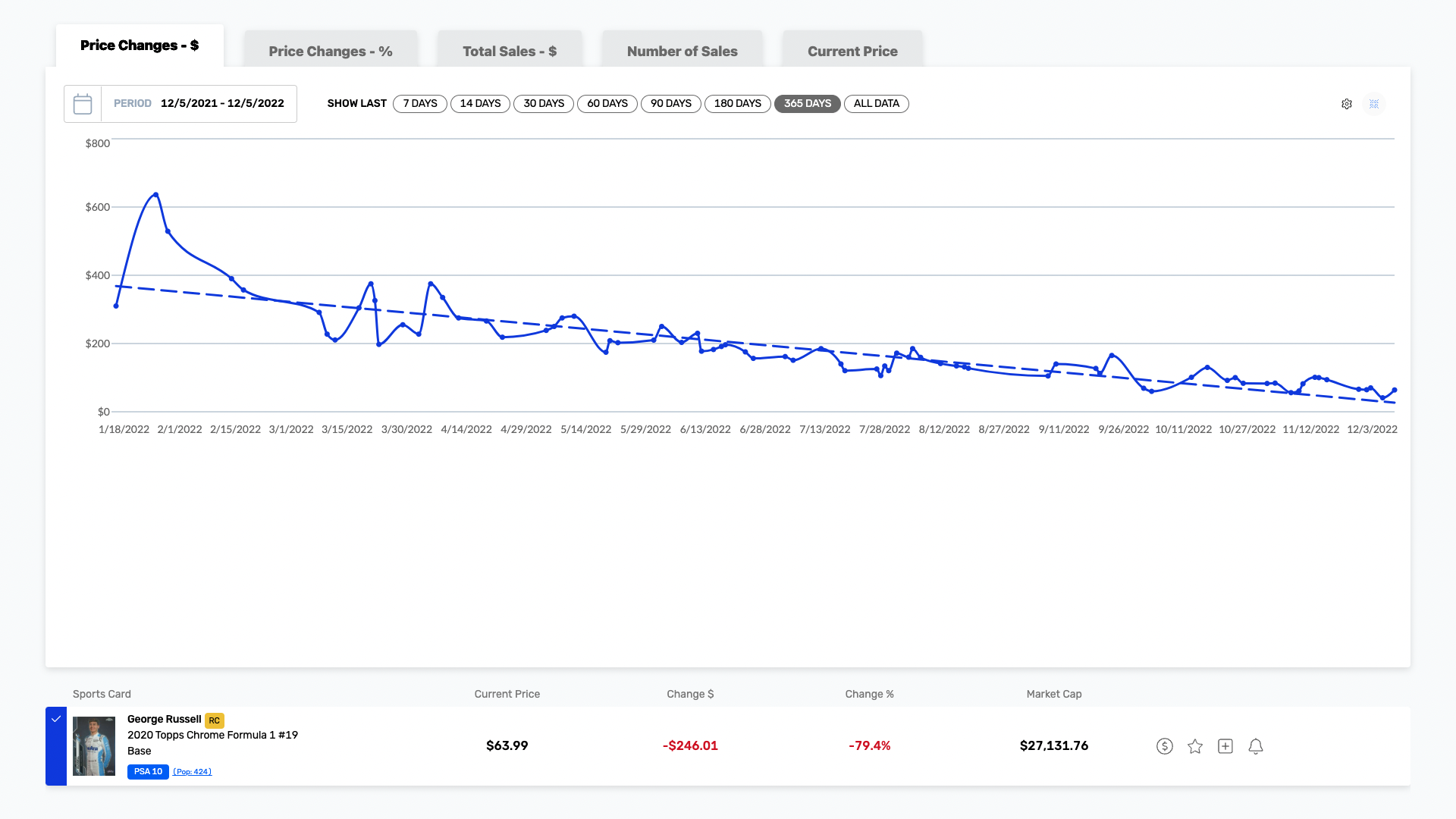 A seasonal bump at the start of the 2023 season could happen again, making Russell an easy buy now to sell in March on the F1 hype. And if he starts off the season with a few wins, your profit margin could increase quite a bit, like Leclerc last year.
4. Lando Norris, McLaren
Even though his lone podium of 2022 was in Italy on April 24, the 23-year-old lead driver for McLaren finished seventh in driver's championship points and remains a favorite of F1 collectors and prospectors. His mix of personality and talent gives him high upside in the sports card market.
His 2020 Topps Chrome Formula 1 Refractor PSA 10 has the most friendly entry-level price point for a short print making it attractive for new F1 investors to take a stab at, having fallen 80% since the start of the 2022 F1 Season.
5. Oscar Piastri, McLaren
The former F3 and F2 champion didn't race last year, serving as a reserve driver for Alpine, but his 2021 Topps Chrome F2 Future Stars Auto /499 debuted in March while selling consistently for more than $1,000 before dipping below $350. This is partially due to the fact that he was out of the F1 hype cycle most of the season, not racing in F2, nor F1.
But it became clear in July 2022 that the 21-year-old is the most highly-touted F1 prospect in a while, after a bit of a clash happened between Williams and McLaren over getting him into an F1 seat for the 2023 season. Ultimately, he chose McLaren, and teamed up with Norris, making for an extremely interesting and hype-filled lead-up to his debut on the grid.
His 2021 Topps Chrome Formula 1 Purple Refractor /399 PSA 10 with the Future Stars designation is considered his first serial numbered non-auto, much like how a baseball card investor would see a prospect's 1st Bowman Chrome Refractor PSA 10. It's down 19% over the last 180 days, and could be a great buy with high upside heading into his official debut on the F1 grid.
Honorable mentions: Logan Sargeant will make his F1 debut this year after finishing fourth in F2. He only has a Topps NOW release currently, but should be included in upcoming releases with an F2 Future Stars designation. He's currently the only American slated for an F1 seat in 2023. And, If you think Max Verstappen will three-peat, which definitely could happen, there is some opportunity to snag his 2020 Topps Chrome Formula 1 Refractor PSA 10, which is down 58% from a year ago, but still less than pop 200. The risk with Verstappen is that if he doesn't three-peat there might not be much margin – if any at all.
Paul Hickey is a regular contributor to Sports Card Investor, the creator of the Sports Card Investment Report at NoOffseason.com, and the host of the Sports Card Strategy Show on Apple Podcasts, Spotify and YouTube. He can be found on Instagram at @sportscardstrategy and on Twitter @nooffseasoncard.
With the Sports Card Investor app, you can profit from the hobby you love by keeping up with trending cards, tracking real-time prices with Market Movers and buying items on eBay. Download the industry-leading app here for Apple or Android
Note to readers: If you purchase something through one of our affiliates, we may earn a commission.